This list of Valentine's Day picture books are great February read alouds to share with your elementary students the days leading up to and on Valentine's Day. They are some of the best valentine books out there! Your students will thoroughly enjoy listening to these stories and engaging in thoughtful conversations about love, friendship, and the holiday. Check out the full list of Valentine's Day picture books below!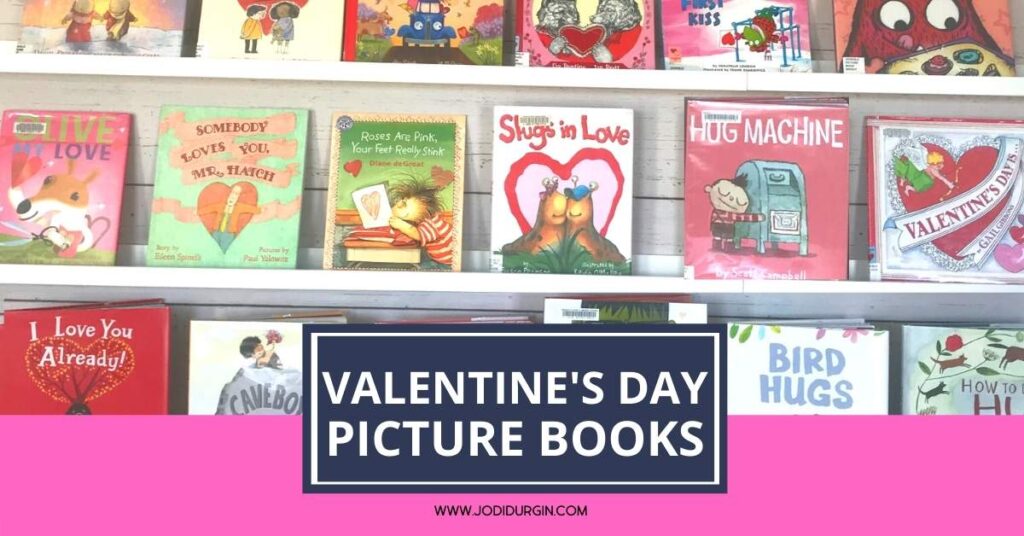 This post highlights the following Valentine's Day books:
Roses Are Pink, Your Feet Really Stink
Somebody Loves You Mr. Hatch
Hug it Out
The Valentine Bears
Love Monster and the Last Chocolate
Love
Click, Clack, Moo I Love You!
This is Not a Valentine
The Day it Rained Hearts
The Biggest Valentine Ever
Love Is
Bagel in Love
Valensteins
Love Machine
Here Comes the Valentine Cat
15 Valentine's Day Picture Books
Read the summaries of some of my favorite Valentine's Day picture books below! They make great winter read alouds!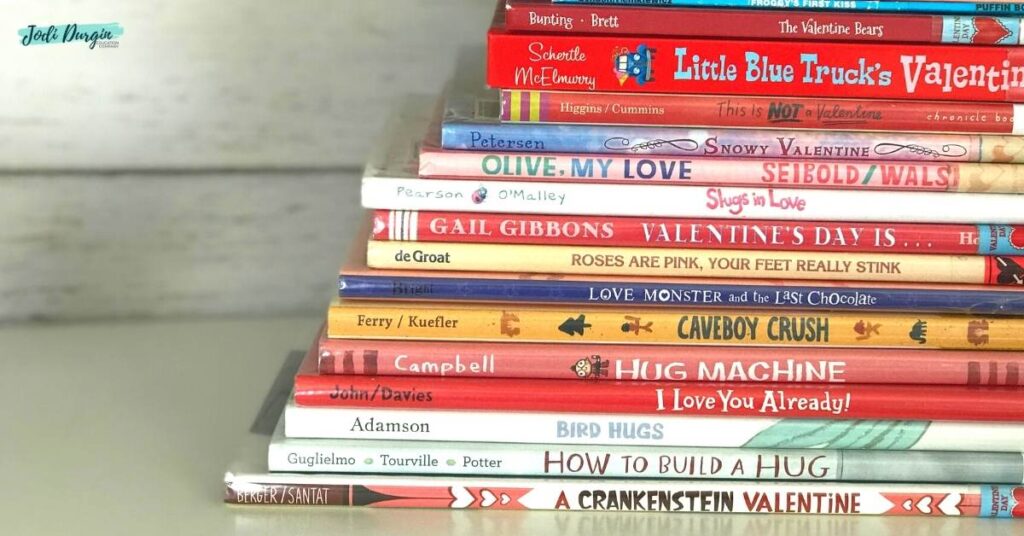 1. Roses Are Pink, Your Feet Really Stink by Diane deGroat
In Roses Are Pink, Your Feet Really Stink, it is Valentine's Day and Gilbert is excited to write nice poems for all of his classmates. When he gets near the end, Gilbert only has two cards left to make, one for Lewis and one for Margaret. He doesn't want to make nice poems for them because they had each been mean to him in the past. Gilbert writes a mean poem to both Lewis and Margaret and signs their names at the bottom.
At school, Gilbert opens his valentines and reads a nice note from each of his classmates. When Lewis and Margaret read their notes, they start fighting with one another. Eventually they realize that it was Gilbert who wrote the mean notes and Gilbert's classmates are mad at him. After spending lunch and recess alone, Gilbert decides to make new poems for Margaret and Lewis and hands them out at the party.
2. Somebody Loves You Mr. Hatch by Eileen Spinelli
Somebody Loves You, Mr. Hatch is a great story about kindness! Mr. Hatch has the same routine every day. He goes to work, eats lunch alone, gets the paper, goes to the grocery store, and heads home for the night. The people in Mr. Hatch's down think that he keeps to himself.
One day, the postman brings Mr. Hatch a package. When he opens it up, he finds a box of chocolates and a note that says "Somebody Loves You." Mr. Hatch is curious to find out who sent the mysterious package so he starts to walk through the town. He says hello to everyone he passes. Eventually, Mr. Hatch starts socializing with everyone and helping out his community. He throws parties and has the children over for brownies and lemonade.
Then, the postman returns to Mr. Hatch's house looking very upset. He confesses to Mr. Hatch the he delivered the package to the wrong house. It did not belong to Mr. Hatch. This makes Mr. Hatch very sad and he goes back to his old ways. However, this time his community notices. They work together to bring balloons, candies, and a banner to his house! Mr. Hatch realizes that many people love him after all.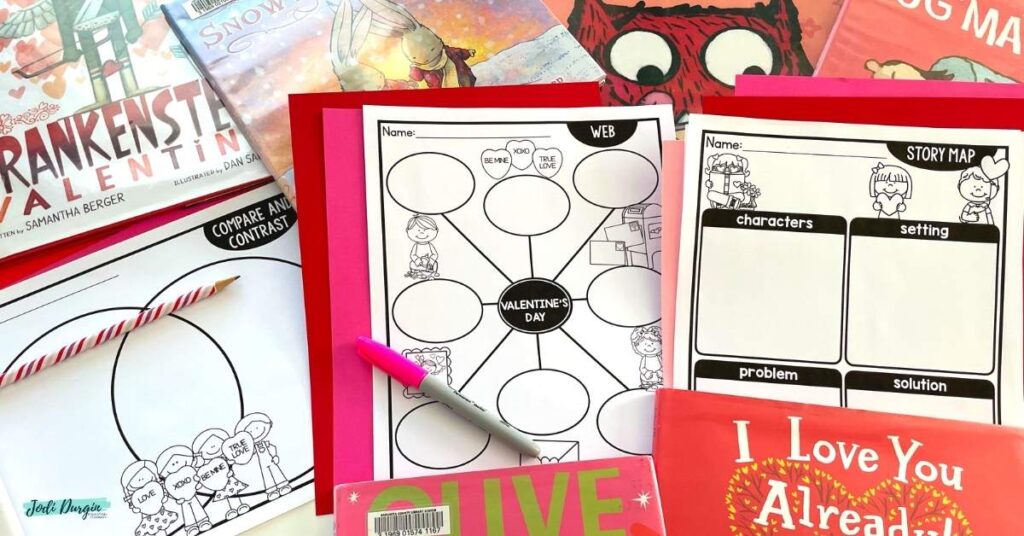 3. Hug It Out by Louis Thomas
In Hug It Out, Woody and Annie are siblings who keep arguing! Their mother has finally had it and tells them that from now on whenever they argue, they have to hug it out. Woody and Annie are not thrilled with this new punishment. Whenever they start to fight and shout, their mother reminds them to hug it out.
Eventually, the two get tired of hugging. They decide to take some space from one another. As they play with their toys separately, something happens. Woody and Annie actually start to miss each other, and hugging! After talking, they decide to call for their mother who tells them to hug it out.
4. The Valentine Bears by Eve Bunting
The Valentine Bears is about how Mrs. Bear was determined to celebrate Valentine's Day for the first time with her husband, Mr. Bear. They are usually hibernating during this time of year, but Mrs. Bear sets her alarm so she won't miss it. There is only one problem… Mrs Bear is having a difficult time waking Mr. Bear up from his nap!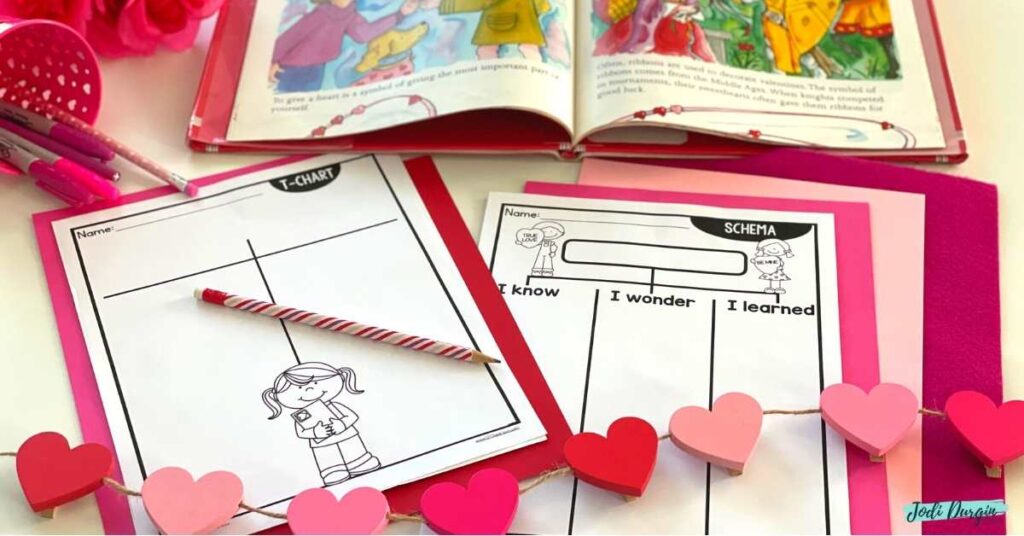 5. Love Monster and the Last Chocolate by Rachel Bright
When he gets back from vacation, the Love Monster finds a box of chocolates at his door. He is excited because he loves chocolate, and his mouth waters as he imagines what might be inside. Then, he thinks that maybe he should share the chocolates with his friends, but, since he thinks that they may take his favorite ones, he decides to take them inside for himself and not tell anyone about the gift he had received. Just as he is about to open the box, he has a change of heart and runs to find his friends to share the chocolates, but he finds that they had already shared the chocolates with him, and they had left him his favorite!
6. Love by Matt De la Pena
Love is about all of the different kinds of love, from the love of parents, love in communities, and even the taste of love in burnt morning toast. The beautiful illustrations tell half of the story, while the sparse, yet meaningful words that accompany the illustrations are written in prose. Students will enjoy this heartwarming book, which can serve as a gateway to discussions about the many places that we can find love in our everyday lives.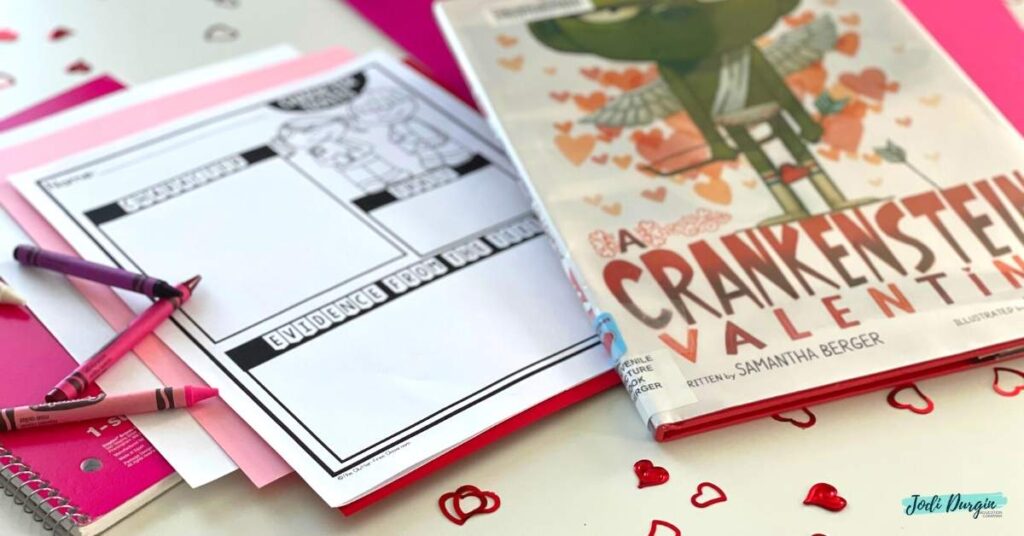 7. Click, Clack, Moo I Love You! by Doreen Cronin
In Click, Clack, Moo I Love You!, it is Valentine's Day on the farm, but there's still work to be done before the big dance. Farmer Brown cleans the pigpen and mends the fence, while Little Duck ties balloons and hangs streamers and makes Valentine's Day cards for everyone who will attend the dance. Then, it's finally time for the dance. When the chickens arrive, they give Little Duck a casserole, and each of the chickens receive a Valentine from Little Duck. The pigs give Little Duck chips and salsa, and Little Duck gives them each a Valentine. The sheep each get a Valentine as well.
From outside the farm, Little Fox hears the festivities and wants to join in on the fun. She follows the trail of decorations to reach the barn, but when she arrives, all of the animals begin running away from her. Duck, however, is not scared and greets the new guest with a Valentine and they begin to dance together, and the party continues like before!
8. This is Not a Valentine by Carter Higgins
This is Not a Valentine shows that tokens of affection don't always have to be traditional. A boy gives a girl a ring that matches her shoelaces, a red superhero cape, and a rock. She was given gifts that meant something to her. Even though these gifts were not traditional Valentines, they still had the same effect and were just as important to her.
9. The Day it Rained Hearts by Felicia Bond
One day, in The Day it Rained Hearts, it started raining hearts, and Cornelia Augusta caught some. She thought that she would use those hearts to make cards for Valentine's Day. While she was choosing which hearts to use, she noticed that each heart was a little different, so she hand-picked each one for each friend's card. After making the cards, Cornelia put them in the mailbox. Even though it never rained hearts again, Cornelia Augusta continued to find ways to make Valentines.
10. The Biggest Valentine Ever by Steven Kroll
In The Biggest Valentine Ever, the day before Valentine's Day, Mrs. Mousely asked her students to make cards for Valentine's Day. Two friends, Clayton and Desmond, decide to make a card for Mrs. Mousely as a surprise. However, they soon begin arguing about how the card looks. Clayton doesn't like the hole in the middle of the card while Desmond thinks that Clayton added too much glitter. Because they can't agree, they tear the Valentine in half and each decide to make their own instead. That night, Clayton and Desmond each try to make their own cards, but none of them come out quite right, so, the next day, they decide to try again at making one together. Working together this time instead of arguing, they manage to make a giant Valentine that Mrs. Mousely loves!
11. Love Is by Diane Adams
In rhyming verse, Love Is tells the story of a young girl who takes in and raises a lost duckling. The beautiful illustrations play a huge part in telling the story. This book teaches that love is both taking care and knowing when the time is right to let go.
12. Bagel in Love by Natasha Wing
In the story Bagel in Love, Bagel loves to dance, and he wants to enter the Cherry Jubilee Dance Contest! There's only one problem, though: He needs a dance partner. He asks Poppy, the best dancer in town, but she tells Bagel that his dance steps are half-baked. Bagel asks Pretzel, Matzo, Croissant, Doughnut, and Cake, but they all stay no. Dejected, Bagel can hear the contest starting and he thinks that maybe he'll have better luck next year. Just in time, he meets Cupcake, who agrees to be his dance partner, so they rush to the dance contest and win the grand prize!
13. Valentsteins by Ethan Long
In Valentsteins, it is a cold, dark night perfect for scaring, but Fran is working on something else. Vladimir is curious about what Fran is working on, and, after the group thinks about it for a bit, they realize that he's making a Valentine. The group is grossed out by the fact that Fran might be in love, so Fran decides to leave the house and sit outside. There, he meets his valentine, and he realizes that love is not gross at all; it is something you feel in your heart.
14. Hug Machine by Scott Campbell
The book Hug Machine is about a boy that likes to hug everybody! He is the best at hugging, and nobody can resist his unbelievable hugs. His hugs calm people down and cheer people up. There is nothing that the Hug Machine will not hug, even a spiky porcupine or a huge whale! Students will love this book about the power of a great hug!
15. Here Comes Valentine Cat by Debora Underwood
In Here Comes Valentine Cat, Cat doesn't want Valentine's Day to be all mushy, so he wants to make a valentine for a friend. Only, he can't think of anyone to make a valentine for! Cat certainly doesn't want to make a valentine for his neighbor, Dog, because Cat thinks that Dog is mean because he throws bones over the fence. However, Cat eventually concludes that he will give Dog a valentine, but not a very nice one. When Dog makes another loud howl, Cat is fed up and decides to build a rocket to send his neighbor to the moon. Just then, however, Cat receives a valentine from Dog and realizes that maybe he had made some assumptions about his neighbor that weren't true.
This list of Valentine's Day picture books is sure to capture the hearts of your elementary students! If you need activities to complement these books, then check out these Starts With a Story and other reading resources…
Grab the Free Reading Resources!