These Earth Day stories are a great way to celebrate Earth Day and to teach elementary students the importance of taking care of the environment. Students will enjoy listening to these read alouds and participating in thoughtful conversations about how we can keep the earth healthy. Learn more about some of my favorite Earth Day stories below!
This post highlights the following spring books that are great for celebrating Earth Day:
One Plastic Bag
The Lorax
Tidy
Michael Recycle
Florette
We are Water Protectors
Anywhere Farm
The Tree Lady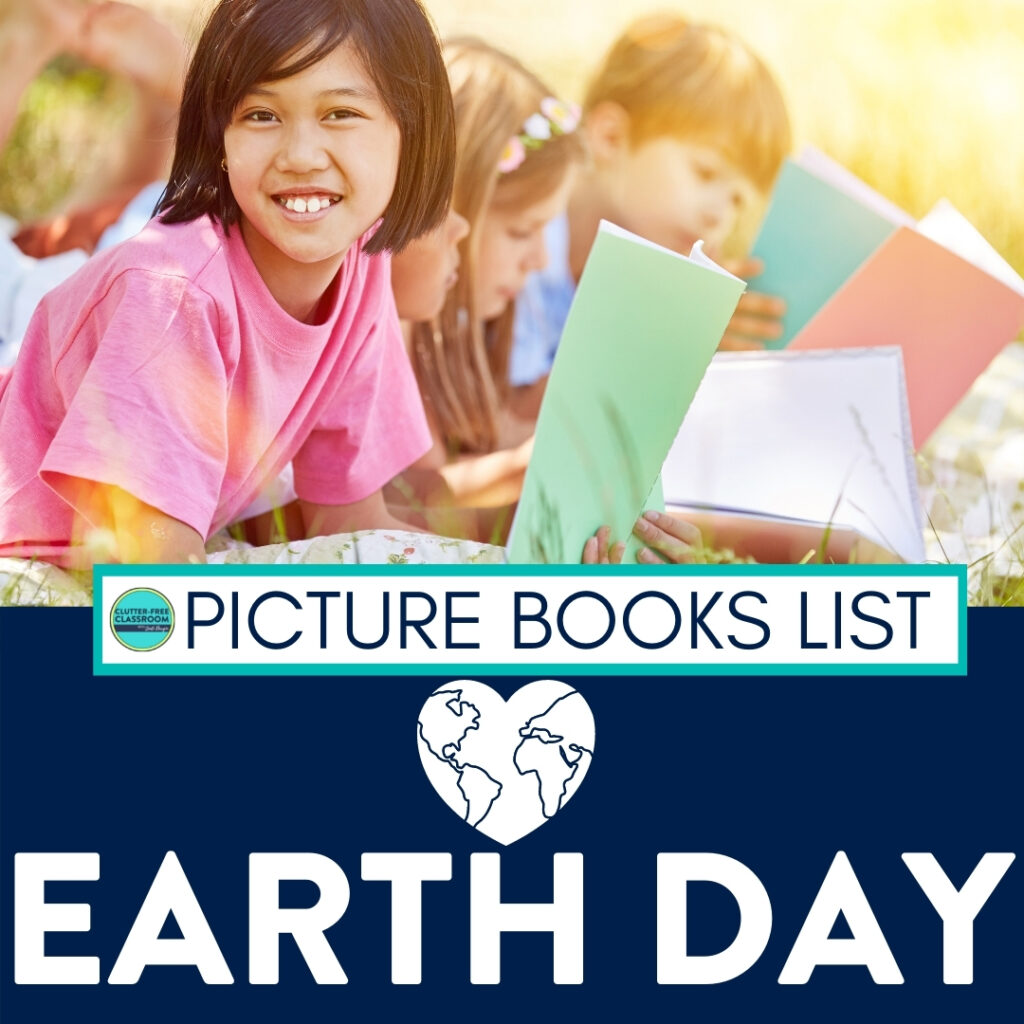 8 Earth Day Stories for Kids
Read below to learn about some of my favorite Earth Day stories to share with elementary students during the month of April! Your students will love these Earth Day picture books!
One Plastic Bag by Miranda Paul
The book, One Plastic Bag, teaches readers about Isatou Ceesay and the women of Gambia. For awhile in Gambia, people were littering. They would throw plastic bags on the ground and the pile of trash was getting bigger and bigger. Time passed and Isatou grew up. One day, she learned that the goats were eating the plastic bags and dying. She realized she needed to do something. Isatou picked up the bags and she and a group of other women washed them. As Isatou watched her sister crochet, she had an idea. They decided to make the plastic bags into string and crochet bags out of the trash. At first, everyone laughed at the women. But over time, people started to buy their creations. The trash pile started to get smaller and eventually Gambia was beautiful and trash free once more.
Check out these One Plastic Bag activities!
The Lorax by Dr Seuss
This well-known, classic story The Lorax is about the Lorax, a creature who speaks for the trees, who confronts the Once-ler, a businessman who causes environmental destruction while mass-producing new products to make more money. Even with persistence, the Once-ler ignores the Lorax's pleas to stop destroying the land around him. Eventually, the last Truffula Tree is cut down and the land becomes barren and dark. However, there is some hope, because there is one last Truffula seed left. Those that care to change things can plant the seed and hopefully nurture a new generation of trees.
Tidy by Emily Gravett
Tidy is another great story to read for Earth Day. In the forest, there was a badger named Pete who liked to keep the world around him tidy. He would snip off any flowers that didn't match, groom the fox's fur, and clean off the birds. One day, Pete got a bit too carried away while tidying and realized that he had taken all of the leaves out of the forest! That still wasn't enough, and Pete dug up all of the trees, too. Then, it rained, and there was a flood because the trees weren't there to hold the water back. Soon, there was nothing for Pete to eat, and, when he tried to go back to his den, the door was gone. Pete eventually realized that he had made a mistake, and so he worked with his friends to set things right.
Check out these Tidy activities!
Michael Recycle by Ellie Bethel
Written in rhyme, Michael Recycle is about a town called Abberdoo-Rimey that was covered in garbage and slime. The air was hazy and nobody in the town seemed to care. One day, a green-caped superhero called Michael Recycle shows up to inspire the citizens to clean up the town. He teaches them that, in order to stop trash from piling up, they need to make sure they recycle, and the town is inspired to change for the better! Using humor, this book will help teach students about the importance of recycling in order to keep our surroundings clean.
Florette by Anna Walker
When Mae and her family move to the city, she has to leave her beloved plants behind. She is sad because there is nowhere for her to garden at her new apartment, and she tries to find other ways of bringing plants into the city. Eventually, Mae finds a way to do what she loves when she begins growing potted plants in the city courtyard.
We Are Water Protectors by Carole Lindstrom
In the book We Are Water Protectors, a young girl and her village are water protectors. They understand that water is sacred and needs to be protected. When a black snake, long foretold by her people, threatens the land, the girl unifies those around her to fight for the creatures who cannot defend themselves. This will quickly become one of your favorite Earth Day stories.
Check out these We are Water Protectors activities!
Anywhere Farm by Phyllis Root
Anywhere Farm is a story about the difference that one small farm can make. For an anywhere farm, all you need is soil, sunshine, some water, and a seed. It doesn't matter where your farm is planted, because a farm, no matter how small, can be grown anywhere. Written in rhyme, this book teaches students the difference they can make with just one seed!
The Tree Lady by Joseph Hopkins
H. Joseph Hopkin's book, The Tree Lady, is a biography of Katherine Olivia Sessions. It tells the story of how Kate became known as the Mother of Balboa Park, located in San Diego.
Kate grew up in Northern California and loved being in the woods under the trees. Unlike other girls at the time, Kate liked to get her hands dirty and study science. She even went to college to study science and was the first woman to graduate from that school.
After graduating, Kate moved to San Diego and became a teacher. San Diego was very different than anywhere Kate had lived before. There were no trees and it was a very dry landscape. After a few years of teaching, Kate decided to become a gardener. She made it her mission to bring trees to San Diego. Kate began collecting trees that could grow in San Diego. She wrote letters to gardeners around the world asking for seeds. Soon, there were trees all over San Diego and people were even planting them in their yards.
When a big exposition was coming to San Diego, it was decided the park, Balboa Park, needed more trees for shade. Kate worked to plant trees all over the park. People couldn't believe the lush park that had been created. Her work planting all the trees made her known as "The Mother of Balboa Park." This biography will teach students all about Kate whose love of trees changed the city of San Diego.
Check out these The Tree Lady activities!
You and your students will love this collection of Earth Day stories! Each of these Earth children's books helps students understand the importance of taking care of the world around them and can springboard a conversation around what they can do to contribute.
If you are looking for activities to go with these Earth Day books for kids, check out the Starts With a Story and reading resources below:
Grab the Free Reading Resources!