If you are looking for Christmas-themed books that tie into a non-fiction unit well, consider using these reindeer books as read alouds during the month of December. A reindeer-themed animal research unit is a great winter project for teaching reading, writing, and science standards in a fun and engaging way and learning about caribou. These reindeer books for kids are sure to help with your lesson planning!
This list of reindeer books is also great for sharing Christmas read aloud books with your elementary students the days leading up to winter break. They are such fun Christmas stories for children and will be sure to keep them engaged during a time of year when that feels nearly impossible!
This post highlights the following read alouds: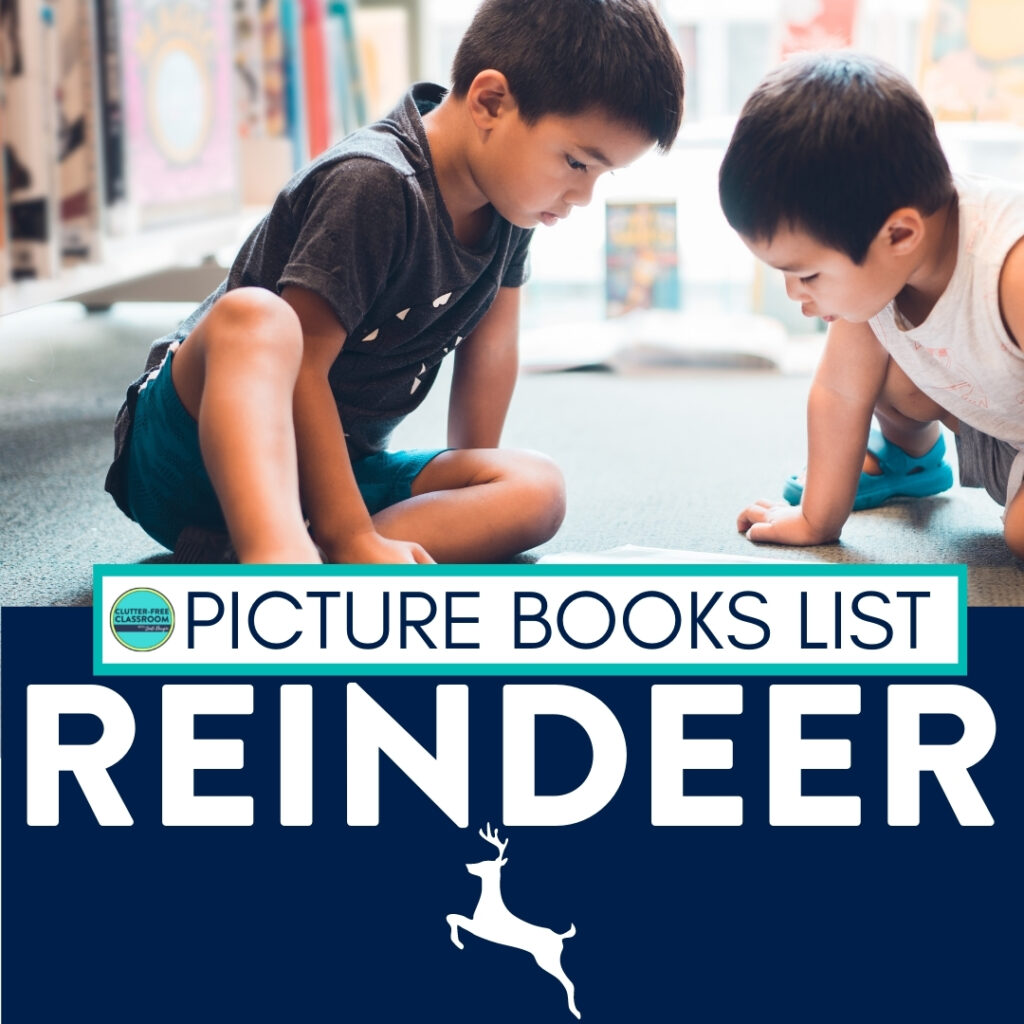 5 Reindeer Books
Here are some of my favorite reindeer books to share with elementary students! They are fantastic winter read alouds!
1. Olive, The Other Reindeer by J Otto Seibold
Olive, The Other Reindeer is a Christmas story about a dog that partakes in a Christmas tradition. After mishearing the lyrics to the song "Rudolph the Red-Nosed Reindeer", Olive, a dog, mistakenly figures that she is a reindeer so she heads to the North Pole to help Santa. When Olive arrives and tries to join the reindeer, Santa notices the little dog and decides to give her a chance. He fashions a ribbon to her body and fastens her to Comet so that she will be safe in the air. During their journey, the crew encounters some troubles, but Olive saves the day again and again. Ultimately, they find that, although she is not actually a reindeer, Olive is a great addition to the team! Learn more about the book, Olive, The Other Reindeer!
2. The Wild Christmas Reindeer by Jan Brett
In The Wild Christmas Reindeer, Young Teeka is tasked with rounding up Santa's reindeer and harnessing them to pull his sleigh. However, because they had been out of their harnesses for a year, the reindeer are quite unruly and difficult. Teeka realizes that she can command instant attention by shouting at the reindeer; they seem surprised at the little girl's loud voice. Although this works for a short time, the creatures soon become less responsive to the shouting and bullying. They soon become impossibly tangled up in their harnesses. This causes Teeka to realize that perhaps she was too harsh. After apologizing to the reindeer, she tries a gentler approach and finds it to be more effective. Learn more about the book, The Wild Christmas Reindeer!
3. Imogene's Antlers by David Small
Imogene's Antlers is about a girl that wakes up with an unexpected new feature. One morning, when Imogene wakes up, she finds that she had grown antlers! They make getting ready in the morning difficult because they are so cumbersome. Her parents bring her to the doctor's, but he can't find anything wrong. The school principal doesn't know how to help. Imogene's brother, Norman, isn't very useful either. Her mother decides that they must hide her antlers in a hat, but, when they have one made, it is much too large to be practical. When she wakes up the next morning, Imogene's antlers are gone, but something else has replaced them! Learn more about the book, Imogene's Antlers!
4. Dasher: How a Brave Little Doe Changed Christmas Forever by Matt Tavares
In Dasher: How a Brave Little Doe Changed Christmas Forever, Dasher and her family live at J.P. Finnegan's Traveling Circus and Menagerie. The reindeer are crammed into a small cage under the hot sun all day. People are always there to visit the reindeer. At night, Dasher listens to her Mama talk about a magical place under the North Star. There, the ground was covered with snow and they could roam about. Dasher wishes she could live in that magical place.
One night, when the wind blows open the reindeer's cage, Dasher takes a chance and runs into the night. She follows the North Star for as long as she can. Eventually, she runs into Santa and his horse, Silverbell. Dasher helps Santa and Silverbell deliver presents to children all over the world. At the end of the night, Dasher realizes she is at the magical place her mother told her about. While she loved living in the North Pole with Santa, she missed her family. Santa helps Dasher rescue her family and bring them home. That Christmas, the family works together to pull Santa's sleigh around the world. I liked this book so much I added it to my Starts With a Story collection! Learn more about the book, Dasher: How a Brave Little Doe Changed Christmas Forever!
5. How to Catch a Reindeer by Alice Walstead
It's Christmas Eve and Santa and his reindeer team are out delivering presents. Comet the reindeer has been a part of this team from the start and she loves Christmas.
In her time working with Santa, Comet has seen just about everything. This year, she has heard that children are setting traps to try and catch Santa, an elf or a reindeer. However, an offering of carrots won't stop Comet!
Throughout the night, Comet encounters many different traps set by children in hopes of catching a reindeer. Comet is clever and none of the traps are able to catch her! Throughout the night, Comet enjoys dancing and playing in the snow with the other reindeer. Some children and the reindeer even gather together to take a picture!
However after some fun, Comet doesn't want to keep Santa waiting. It's back to the sleigh after a fun filled night. Comet looks forward to doing it all again next year.
These reindeer books make great read alouds for the month of December! Your elementary students will love listening to these stories and participating in thoughtful conversations surrounding the plot, characters, and settings of the stories. If you found this post helpful, you may also like this list of Christmas read alouds for kids!
Grab the Free Monthly Book Lists and Activities!
Grab the free book lists and activities by clicking the image below!