A highly effective way to teach making connections to elementary students is to read aloud a picture book that lends itself to teaching this reading strategy. Reading aloud a picture book facilitates a learning experience where you can model how to use making connections to better understand the text and engage students in their learning by asking related questions. Below is a list of 10 picture books for teaching how to make connections. Check out the full list, as well as the teaching resources that go with them!
10 Making Connections Picture Books
Below are 10 picture books for teaching making connections.
1. A Piglet Named Mercy by Kate DiCamillo
Mr. and Mrs. Watson lived ordinary lives in their ordinary town. They cut the grass, wash their car, and vacuum the house. One day, Mrs. Watson onced asked if their lives were a little too predictable. That night, a piglet came rolling off a truck and landed at the Watson house. Students can make connections to their own lives as they read this story. Do they feel like their lives are ordinary? Has anything extraordinary ever happened? This fun read aloud can support connections to themselves and the world around them. Check out these A Piglet Named Mercy activities!
2. Aaron Slater, Illustrator by Andrea Beaty
When Aaron Slater was a young boy he loved drawing with chalk and listening to stories. He looked forward to the day he learned to read because he dreamed of being an author. However, when Aaron started school he realized learning to read wouldn't be as easy for him as it was for his friends. Written in a dyslexia friendly book, students can make connections about how people learn differently and some of us even experience learning challenges. These challenges may require us to work a little bit harder but make us unique. Check out these Aaron Slater, Illustrator activities!
3. Alexander, Who Used to Be Rich Last Sunday by Judith Viorst
This book tells the story of a young boy named Alexander who likes money and wants to buy a pair of walkie-talkies. One day, Alexander's grandparents come to visit and they give him and his brothers a dollar each. Everyone in his family has suggestions for what Alexander should do with his money. He eventually starts spending his money little by little, instead of saving for the walkie-talkies. Before he knows it, Alexander is out of money and left trying to come up with a way to get more. Students will make connections to this story as Alexander spends his money on gum, bets, and stuffed animals. This story is a great way to have conversations around money and the importance of saving! Check out these Alexander, Who Used to Be Rich Last Sunday activities!
4. Alma and How She Got Her Name by Juana Martinez-Neal
Alma has a very long name and is frustrated by how long it is. It doesn't fit on a piece of paper, and she has to tape an extra strip of paper to the bottom so it can fit. She learns that each part of her name represents one of her relatives. This story allows students to make connections to their name, their identities, and share thoughts on their families! Check out these Alma and How She Got Her Name activities!
5. Bedhead by Margie Palatini
One morning, Oliver woke up to find he had a terrible case of bedhead. His family heard his screams and came rushing upstairs to see if they could help him manage his hair. They could not fix it, so he wore a baseball cap. He had to take off the hat when he found out it was class picture day! The resulting class photo was one to remember! Many students can connect to this story in regards to bedhead! Moreover, students can empathize with the boy and have meaningful conversations around supporting each other in these tricky moments! Check out these Bedhead activities!
6. The Girl with the Big, Big Questions by Britney Winn Lee
The spirit of curiosity and quest for knowledge feed the mind of the little girl in the story. She continuously asks questions, which originally seemed sweet to her friends and teachers. Eventually, the people around her get frustrated with her consistent questions. The little girl learns to balance her questions to others with other resources, and finds that these questions can help to solve problems. Students can make connections to the girl, her persistent questions, and ways to use other resources to get questions answered. Check out these The Girl with the Big, Big Questions activities!
7. The Boy with the Big, Big Feelings by Brittney Winn Lee
A little boy experiences feelings so deeply, that the feelings can come out of his fists and his eyes. One day on the playground, he sees a little girl who also experiences these feelings. They bond over their mutual emotions and learn that everyone feels happy, scared, afraid, and sad! Students can make connections between this character and other familiar characters in books, as well as their own experiences with managing emotions. Check out these The Boy with the Big, Big Feelings activities!
8. Not Quite, Snow White by Ashley Franklin
Tameika loves to perform, and has loved every role she's had. When she finds out that the school play is Snow White, Tameika can't wait to audition and be a princess. However, Tameika overhears other students saying that she is too tall, too chubby, and too brown to be a princess. Tameika goes back to school to audition the next day, and remembers all the good things about herself. She blows everyone away with her audition, and becomes Snow White. This inspiring story can have students making meaningful connections to teasing and judgment, identity, and believing in who you are! Check out these Not Quite, Snow White activities!
9. Hair Love by Matthew Cherry
Zuri loves her hair! She loves the way it makes her feel. She feels like a princess when it is in braids, and a superhero when it is in puffs. There is nothing her hair can't do! One day she has to have a special hairstyle, and through lots of trial and error with her dad, they discover the perfect look. Students will love this story about a girl who loves her hair. They will start to think about the things they love about themselves, and what makes them special. Check out these Hair Love activities!
10. Hug it Out! by Louis Thomas
Woody and Annie are siblings and they keep arguing! Their mother has finally had it and tells them that from now on whenever they argue, they have to hug it out. After taking space from each other, they realize how important the other is in their lives. Students can make connections between their own siblings, friends, and the importance of taking space and communicating to solve problems. Check out these Hug It Out activities!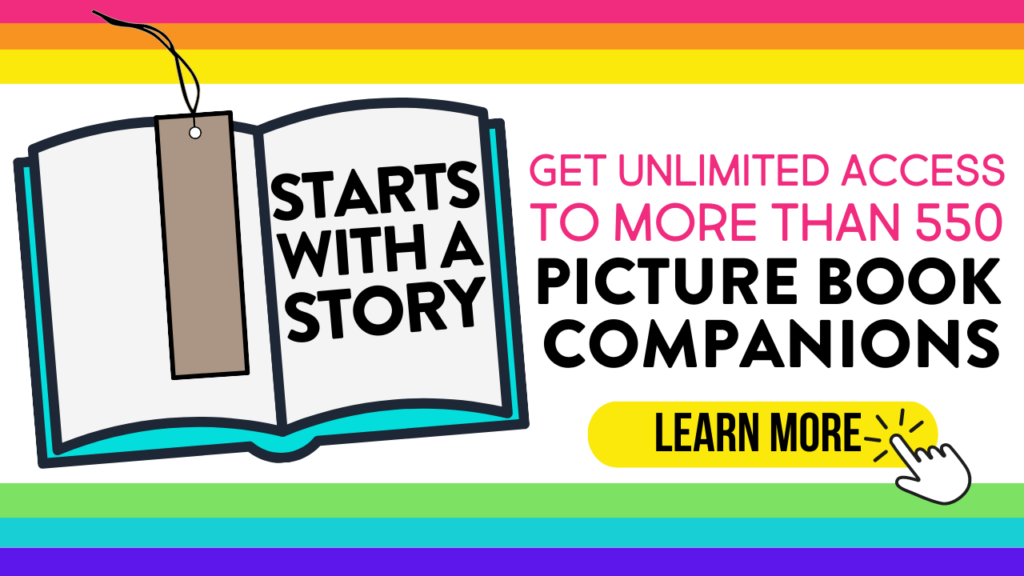 In closing, we hope you found this list of making connections picture books helpful! If you did, then you may also be interested in these posts: