Calling all elementary teachers looking for Father's Day read alouds or simply children's books that feature father figures! This list of picture books is exactly what you need! All of the stories feature father characters and are very popular among elementary students. They are great spring read alouds! Check out the full list of Father's Day read alouds below!
This post highlights the following Father's Day read alouds:
My Papi Has a Motorcycle
Jabari Jumps
Hair Love
Stella Brings the Family
Owl Moon
Salt in His Shoes
Bippity Bop Barbershop
Snow Day
Alma and How She Got Her Name
First Day Jitters
Enemy Pie
Knuffle Bunny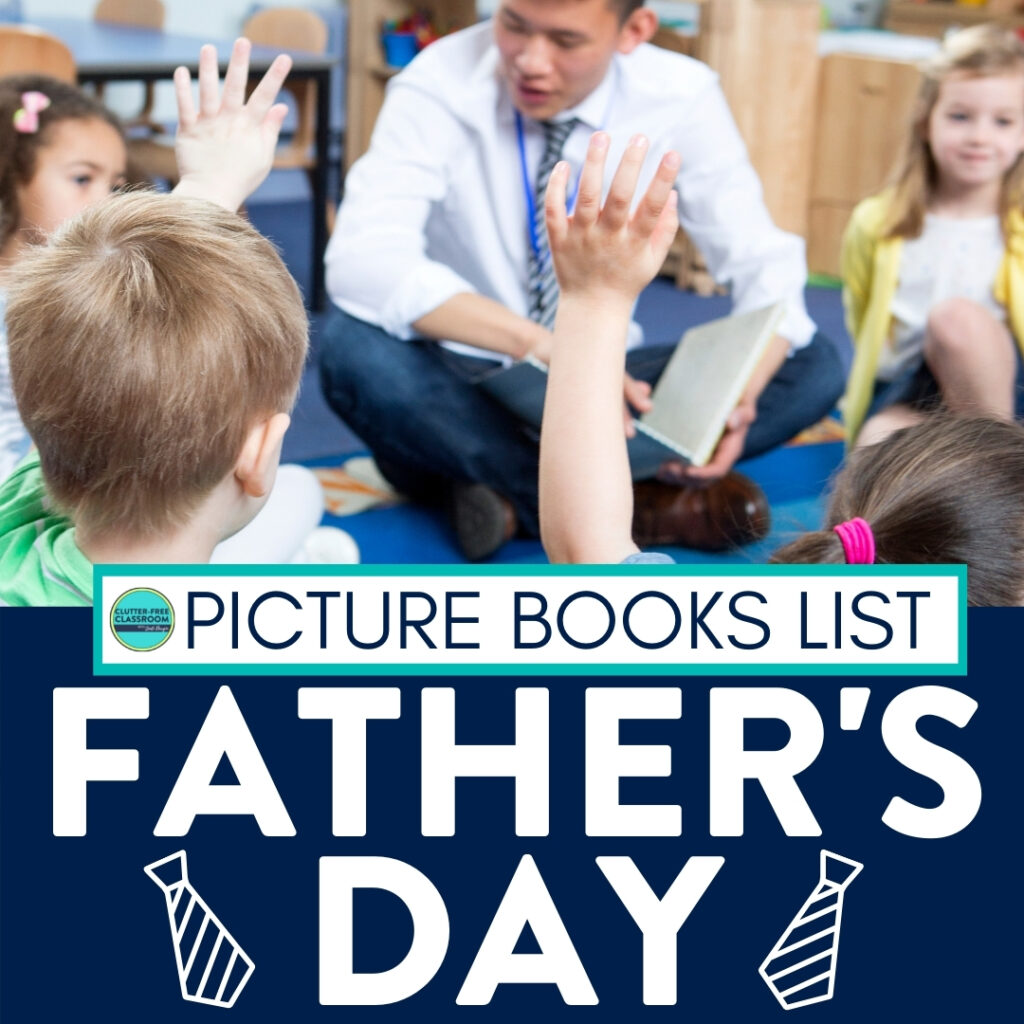 12 Father's Day Read Alouds
Below are 12 great Father's Day read alouds. Your students will love these Father's Day picture books!
My Papi Has a Motorcycle by Isabel Quintero
In My Papi Has a Motorcycle, Daisy has learned a lot from her Papi, from engines to the importance of determination, and she looks up to him. As soon as she hears his truck driving down their street, she runs to get their helmets. The two are going to take a ride through the city together on her Papi's motorcycle.

The motorcycle passes by all the different shops and churches that make up the city. Daisy thinks about how the city is changing, especially when they find out their favorite place to get shaved ice is closed. Papi takes Daisy to see the new homes he has been building and they even pass by friends and family as they drive.
As the two return home, Daisy's young brother and Mami wave them home. Daisy knows that even though her city is changing, things will always stay the same with her family in their house.
Jabari Jumps by Gaia Cornwall
In the book Jabari Jumps, Jabari is at the pool with his father and sister. He has just finished swimming lessons and passed his swim test. Today is the day he will jump off the diving board for the first time and he is really excited. However, when he gets in line to climb the ladder, Jabari starts to feel nervous. He lets other kids go before him, takes a rest, remembers to do his stretches, and even decides tomorrow is a better day for jumping.

Thankfully, his father is there to help. He explains that it is okay to be a little scared and explains it helps to take a deep breath and tell yourself you're ready. Jabari starts to climb up the tall ladder once more and steps out onto the diving board. After a deep breath, he leaps into the air and falls down into the water. Everyone is happy when he emerges from the water and Jabari is ready to jump again.
Hair Love by Matthew Cherry
In Hair Love, Zuri loves her hair! She loves the way it makes her feel. She feels likes a princess when it is in braids, and a superhero when it is in puffs. There is nothing her hair can't do!

One day, Zuri needs an extra special hairstyle. She sets off to create the perfect look. Her dad volunteers to help, and he creates many different hairstyles for her. Through trial and error and hard work, they eventually create the perfect one! Zuri is ready for her special day.

Students will love this story about a girl who loves her hair. They will start to think about the things they love about themselves, and what makes them special.
Stella Brings the Family by Jannell Cannon
In Stella Brings the Family, Stella's teacher tells the class they will be having a special Mother's Day Celebration at school. Her classmates are excited, but Stella is nervous. She doesn't have a mother like all her classmates do, she has two fathers. Stella worries about who she will bring to the party. Her classmates wonder if she doesn't have a mother, who makes her lunch, reads her stories and gives her kisses. Stella explains that her fathers do all of that and there are a lot of people that give her kisses. Jonathan suggests that Stella bring everyone to the party and the children start preparing.

On the day of the party, Stella brings her fathers, grandmother, aunt, uncle and cousin to the party. Everyone has a great time celebrating!
Owl Moon by Jane Yolen
Owl Moon by Jane Yolen tells the story of a young girl who goes owling with her father one night. The girl has been looking forward to this for a long time. As they walk through the cold, dark night, she knows that she must be quiet. The two make their ways through the woods, keeping their eyes open for owls in the night sky. Her father makes owl calls every so often as they walk along.

As they make their way deeper into the woods, Pa makes another call. Soon after, they hear a call back through the trees. The two wait patiently as the call gets closer and then an owl lands above them on a tree branch. Pa shines his flashlight at the owl and they all stare at one another until the owl flies off. Now that they had found an owl, the girl and her Pa could talk, and made their way home.
Salt in His Shoes by Deloris Jordan and Roslyn M. Jordan
The book Salt in His Shoes tells the story of Michael Jordan as a young boy. He grew up playing basketball with his brothers, however, he was the shortest boy on the court. He was often teased by one of the taller boys. After losing a game one day, Michael asked his mother what he needed to do to grow taller. His mom suggested putting salt in his shoes, being patient, and praying every day. Michael did this for several months while practicing basketball.

Months later, he wasn't any taller and was starting to feel discouraged. Michael's dad talked to him and explained that he didn't need to be tall to be a good player. He needed to be determined, work hard, and practice. This gave Michael the confidence to go back to the basketball court with his brothers. He was able to score the winning point for his team and went on to become a basketball star.
Bippity Bop Barbershop by Natasha Anastasia Tarpley
Bippity Bop Barbershop is about a boy named Miles who is about to get his first haircut. His Daddy brings him to where he always gets his haircut, Mr. Seymour's Barbershop. Miles is amazed by all the different people, noises, and hairstyles at the barbershop. He looks around to find the right haircut for him.

Miles' Daddy and the other people at the barbershop keep telling Miles to be brave. When it is Miles' turn to get his haircut, he ducks under his cape when the clippers come too close to his head. Miles's Daddy helps him be brave by telling him to think of being giant and superheros. Miles thinks of his dad instead, and is able to get a haircut he loves.

Students will love this story about a boy who is experiencing a barbershop for the first time. It's not one of the traditional Father's Day read alouds, but it highlights a special father-son relationship.
Snow Day by Lester L. Laminack
In Snow Day, a father and his two kids hear the weatherman say it's going to snow. The family gets excited about the possibility of a snow day and begin planning. They can't wait to build a snow fort, drink hot chocolate, and go sledding. Everyone heads off to bed in anticipation of the big snow storm and a day at home.

However, when they wake up they are surprised to see no snow outside and children walking down the street with their backpacks on! It didn't snow after all, and now they are going to be late for school. The family rushes to get ready and into the car. The dad mentions that he cannot be late for school and surprises readers by saying he is the teacher!

Students will love this book about a snow day and learn that teachers like them too!
Alma and How She Got Her Name by Juana Martinez-Neal
Alma and How She Got Her Name tells the story of a young girl named Alma. She has a very long name and is frustrated by how long it is. It doesn't fit on a piece of paper, and she has to tape an extra strip of paper to the bottom so it can fit.
She goes to her dad to complain how long it is, and instead he tells her the story of her name. She learns that each part of her name represents one of her relatives. Each name was chosen specifically for her to represent the great qualities each relative had. Alma learns to love her name as she hears the story of each relative.
At the end of the story, Alma's dad tells her that he chose the name Alma just for her and that it isn't a name that someone else in the family had. The name is for her to use to write her own story. Students will love hearing the story about how Alma got her name, and think about the origin of their own names.
First Day Jitters by Julie Danneberg
The story First Day Jitters tells the story of Sarah, who is very nervous for her first day of school. Her dad tries to get her out of bed and Sarah says she is not going. She is worried about starting her new school and not knowing anyone. As Sarah gets ready for school the more nervous she becomes, even her hands are clammy.

Sarah's dad drives her to school and she begins to feel sick with nerves. When they arrive at the school, Sarah's principal is there to greet her and show her where to go. The principal leads Sarah through the crowded halls to her new class. When the principal enters the room she introduces the students to their new teacher, Mrs. Sarah Jane Hartwell!

Students will love the surprise at the end of the story, when they discover that teachers also get nervous on the first day of school.
Enemy Pie by Derek Munson
The main character in Enemy Pie has an enemy, and his name is Jeremy Ross. He is his enemy because he laughed at him when he struck him out at baseball, and he invited everyone to his trampoline party besides him. The boy goes to his dad about having an enemy, and his dad says that he has the perfect way to get rid of enemies, enemy pie. His dad says that the boy just has to spend the day with Jeremy.

The boy is hesitant at first, but ends up going to Jeremy's house to ask if he can play. The boys spend the day together and discover that they have a lot in common, and enjoy spending time together. When the boy's dad has them come in for dinner and serves them enemy pie, the boy panics and tells Jeremy to not eat it. The boys are officially no longer enemies, and have developed a great friendship.
Knuffle Bunny by Mo Willems
In Knuffle Bunny, Trixie and her father have an errand to do and Trixie brings her favorite stuffed animal, Knuffle Bunny. They go to the laundromat and Trixie gets to help her father by putting clothes and money into the machine. As they walk home, Trixie realizes that Knuffle Bunny is missing. She can't talk yet so she tries to show her father how unhappy she is by crying, but he doesn't understand.

When they arrive home, Trixie's mother asks where Knuffle Bunny is and her father finally realizes why she was so upset. The family runs back to the laundromat and looks everywhere for the stuffed animal. When they find it, Trixie is so excited she says her first words, Knuffle Bunny!
If you need some lesson ideas and printable and digital activities, then check out these Starts With a Story book companions. They include SEL lesson ideas, writing prompts and paper, reading comprehension questions, and much more!
Grab the Free Reading Resources!
We hope you found this list of father's day read alouds helpful! Your students will love these Father's Day books for kids! All of them are included in my Starts With a Story collection. If you want to get more book ideas to read aloud to your elementary students, then grab this reading freebie. It includes read aloud books lists, reading logs, and reading challenges for 1st, 2nd, 3rd, 4th, and 5th grade classroom teachers. It will have you covered for the entire school year, as well as the summer months! Grab this free elementary reading packet now!