If you are an elementary teacher looking for end of the school year books for your classroom or simply some quality books to read at the end of the school year, then you found the right place! This list of end of school read alouds are a great way to celebrate the end of the year. Your students will love them! Check out the full list of end of the school year books below!
This post highlights the following children's books for the end of the school year:
Mrs. Spitzer's Garden
Thank You, Mr. Falker
Last Day Blues
Lizzie and the Last Day of School
When It's the Last Day of School
A Letter to my Teacher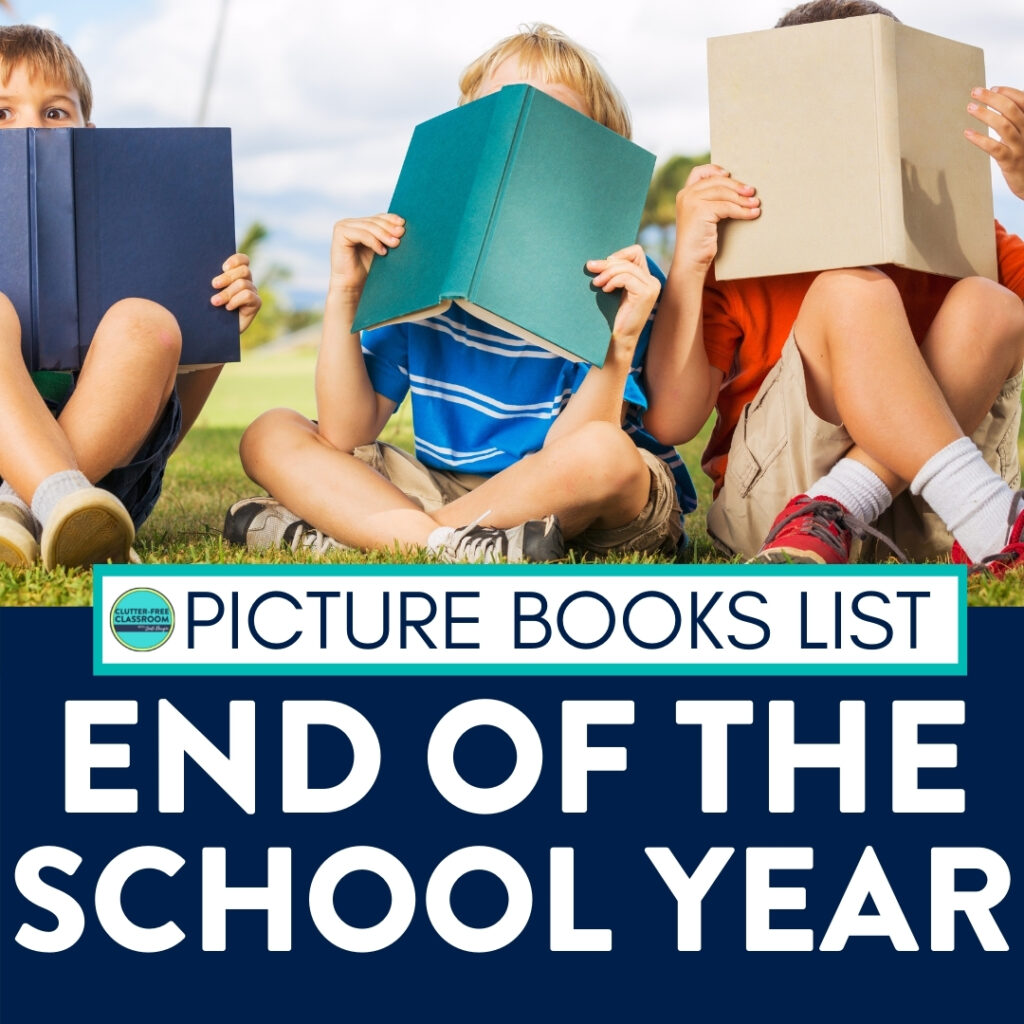 6 End of the School Year Books
Below are 6 great end of the school year books to read aloud to elementary students. Your kids will love these end-of-year read alouds!
1. Mrs. Spitzer's Garden by Edith Pattou
In Mrs. Spitzer's Garden, Mrs. Spitzer is a teacher at Tremont Elementary School. Throughout this story, the narrator is comparing Mrs. Spitzer to a gardener planting new seeds: her students. At the end of each school year, her principal gives her a new packet of seeds which she will plant. Mrs. Spitzer tends to the new seeds, making sure they get everything they need to grow.

When the plants start to emerge, each one is different. Some of them take longer to grow while others grow quickly. Each plant is unique and needs something different. As the seasons change Mrs. Spitzer watches over her garden and cares for all of the plants. When the year is over, Mrs. Spitzer's job is done. The plants go forward and continue to grow while Mrs. Spitzer prepares for the new seeds she will receive from her principal. This is one of my favorite books for the end of the school year!
2. Thank You, Mr. Falker by Patricia Polacco
In Thank You, Mr. Falker, when Trisha turned five, her grandfather explained that learning to read would give her the gift of knowledge. Trisha loved being read to and couldn't wait until she learned to read herself. However, when Trisha started school, reading did not come easy to her. Her classmates continued to move forward in reading but Trisha struggled to sound out words. Throughout her years in school, Trisha's classmates would laugh at her and call her names.

When Trisha started fifth grade, her teacher was Mr. Falker. He was always supportive of Patricia and her gift of drawing. Students continued to call Trisha awful names, and she started to believe them. Soon, Mr. Falker realized how much Trisha was struggling and that she learned differently. He started staying after school with her, determined to teach her how to read. After months of practice, Trisha was excited to be able to read a paragraph. Years later, she saw Mr. Falker again and explained that she grew up to be an author. This is one of the sweetest end of school year read alouds!
3. Last Day Blues by Julie Danneberg
In Last Day Blues, Mrs. Hartwell and her students have reached the end of the school year and summer vacation is quickly approaching. Although the students are looking forward to their summer vacation, they worry that Mrs. Hartwell will be sad and lonely all summer. The class decides to make their teacher a gift to cheer her up.

On the last day of school, the students are ready to give Mrs. Hartwell their gift. She is happy to see they made her a poem listing all their best memories from the school year. As the students make their way home for summer vacation they consider how sad all the teachers must be. Little do they know, the teachers are just excited about summer vacation and ready to celebrate! This book makes a great read aloud for the end of the school year!
4. Lizzie and the Last Day of School by Trinka Hakes Noble
In Lizzie and the Last Day of School, Lizzie has always loved school. She loved preschool and was very sad when kindergarten was over. When it came time for first grade, Lizzie was excited to be in school for a whole year! Lizzie's teacher was Miss G and this was her first class. Over the year, the class shared many memories together: reading 100 books, learning to hop, skip, and jump, planting a garden, and eating all their vegetables before dessert at lunch.

She then asked students to bring in a bag since it was almost the last day of school and they would be taking their supplies home. Lizzie really struggled with first grade being over, and she left on the last day without saying goodbye! Lizzie decides to sneak back to school to give Miss G a hug, and she finds that Miss G is also sad about the last day. Suddenly, the two find out Miss G will be teaching summer school in the park! Lizzie is happy she gets to go to school over the summer with Miss G.
5. When It's the Last Day of School by Maribeth Boelts
In When It's the Last Day of School, it's the last day of school and James is so excited he runs all the way to school. As a student that typically misbehaves, James has big plans for the last day of school. He won't talk during silent reading, he will complete all his work on time, and thank the lunch ladies in the cafeteria. Throughout the day, James thinks about his exciting plans for summer, like riding bikes, camping, looking for crabs and watching fireworks.

Throughout the school day James is a respectful and well behaved student. When the last bell rings, James gives his teacher Mrs. Bremwood a big hug goodbye. As he leaves the school for summer, James explodes with excitement! This book makes a perfect read aloud for the last day!
6. A Letter to My Teacher by Deborah Hopkinson
In A Letter to My Teacher, a woman about to start her first job is writing a letter to her second grade teacher. She was the student that showed up on the first day grouchy and soaking wet. The girl did not like school because she had to sit still and was not good at reading or writing. Second grade was the girl's favorite year in school thanks to her teacher. The teacher always gave her extra help and made learning fun for the students by planting a class garden. Even when the girl shouted out, made mistakes, and got into trouble, the teacher showed her kindness and care.

The story is told through the letter the woman is writing to her teacher, sharing all of her memories. At the end, the reader learns that the girl is about to start her first day as a teacher, inspired by her own second grade teacher. This story will quickly become one of your favorite end of the school year read alouds!
If you are looking for lesson ideas and activities, then check out these Starts With a Story book companions. They include reading comprehension questions, vocabulary activities, writing prompts, and much more!
Grab the Free Reading Resources!
We hope you found this list of end of the school year books helpful! Your students will love these end of the year read alouds! They are great spring read alouds! All of them are included in my Starts With a Story collection. If you want to get more book ideas to read aloud to your elementary students, then grab this reading freebie. It includes read aloud books lists, reading logs, and reading challenges for 1st, 2nd, 3rd, 4th, and 5th grade classroom teachers. It will have you covered for the entire school year, as well as the summer months! Grab this free elementary reading packet now!