If you are an elementary teacher looking for Easter activities, then you found the right place! This post includes 3 types of Easter activities you can use in your classroom: Read alouds, reading activities, and crafts. Learn more about these Easter activities for elementary students below!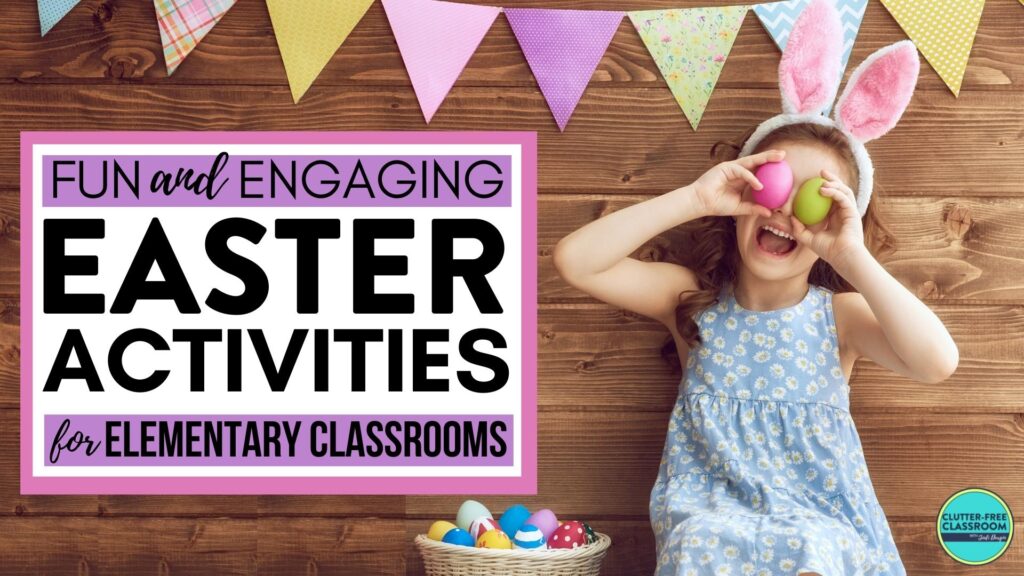 3 Easter Activities for Elementary Students
Below are three Easter activities for elementary students.
1. Easter Read Alouds
Below are my 4 favorite Easter read alouds, but be sure to check out this full list of Easter books for kids!
The Easter Bunny's Assistant
The first Easter read aloud on this list is The Easter Bunny's Assistant. This children's book is all about the Easter Bunny and his assistant, Skunk. The two characters are here to teach readers how to decorate Easter eggs. Throughout the book, the Easter Bunny narrates the different steps for decorating an egg. Skunk is just so excited that he can't help but cause a stink in the room. The Easter Bunny asks him to control himself, but Skunk can't do it and the Easter Bunny removes him from the room.
Easter Bunny continues with his instructions while Skunk knocks on the window from outside. Eventually, Easter Bunny asks readers if they think he should let Skunk back in and help him hide the eggs. When the two return together, readers can see that the Easter Bunny has decided to wear a clothespin on his nose. Students will laugh out loud while reading this short but very entertaining story.
Scoop up these activities for The Easter Bunny's Assistant!
The Easter Egg
The second Easter Easter read aloud on this list is The Easter Egg. In this book, it is almost Easter and this is the first year that Hoppi will be decorating an Easter egg. Each year, the rabbits decorate eggs and the Easter Rabbit selects the best one. Whichever rabbit decorates the best egg gets to help the Easter Rabbit hide the eggs on Easter morning.
Hoppi is trying to decide how he will decorate his egg. He visits many other rabbits and observes what they are doing with their eggs. Rabbits carve eggs out of wood, make chocolate eggs, paint their eggs, and plant flowers in them. Hoppi cannot think of a special way to decorate his egg and goes into the forest to rest. While in the forest, Hoppi witnesses a robin egg fall out of the nest. Mother Robin is distressed so Hoppi steps in and sits on the egg to keep it warm and safe.
On Easter morning the Easter Rabbit arrives and admires all of the eggs, but says that a special one is missing. He returns with Hoppi, who has won the contest for keeping the robin's egg safe. He gets to ride in the wagon with Easter Rabbit to hide the eggs.
Grab these activities for The Easter egg!
Turkey's Eggcellent Easter
The third Easter read aloud on this list is Turkey's Eggcellent Easter. In this story, there is going to be an Easter Egg Hunt in the park and Turkey and his friends want to go. They found out there would be a prize for whoever finds the special egg. Unfortunately, only children are allowed at the egg hunt. The animals decide they must come up with a disguise in order to take part in the egg hunt. Turkey's friends help to disguise him as a rabbit, but a little girl discovers him at the egg hunt. Turkey tries other disguises, like a daffodil and a bumblebee, but those don't work out either.
Finally, Turkey and his friend decide to disguise him as an egg. When Max finds Turkey disguised as an egg, he brings him to the prize table. Farmer Jake knows what Turkey is doing, and lets both Max and Turkey choose a prize. Turkey is happy to win a pizza covered with jelly beans that he can share with his friends.
Scoop up these activities for Turkey's Eggcellent Easter!
Those Pesky Rabbits
The final Easter reads loud on this list is Those Pesky Rabbits. The story is about a bear that lives in the middle of nowhere and enjoys being alone. One day, a family of rabbits moves in and they build their house right next to Bear's. This makes Bear very angry. Soon after they move in, the rabbits start visiting Bear at his house.
First, they ask for honey to bake a cake, then they ask for Bear to help them chop wood, and then they asked if he'd like to swap books. Each time Bear gets angry at the rabbits and does not help them. Finally, the rabbits ask if Bear wants to look at the stars with them. Furious, Bear tells the rabbits he just wants to be left alone. One day, Bear hears a soft knock at the door and finds a note and basket from the rabbits. After receiving the basket, Bear realizes he has been feeling lonely and decides to visit the rabbits. In the end, Bear realizes that he enjoys spending time with his new neighbors.
Download these activities for Those Pesky Rabbits!
2. Easter Reading Activities
These four Easter reading resources are part of my Starts With a Story collection. They include information about the book, social emotional learning lesson ideas, reading comprehension questions, grammar skill practice, writing prompts, printable and digital activities, and much more. Learn more about each of them below.
3. Easter Crafts
Below are some fun Easter craft ideas for elementary students.
We hope you found these Easter activities for elementary students helpful! If you did, you may also be interested in the following: