In my school, each classroom has abulletin boardin the hallway.
Mine is located dead center at the end of the main hallway. I had taken down ourWinter Writing Projectswith thesuper-cute, paper-pieced snowmen holding them. I had put up red butcher paper.
And that was it.
My mind was blank and the board was blank. I had no creative ideas.Pinteresteven let me down.
Just when I was about to call it a wash, cover it with green paper and move on toSt. Patrick's Day, an idea struck.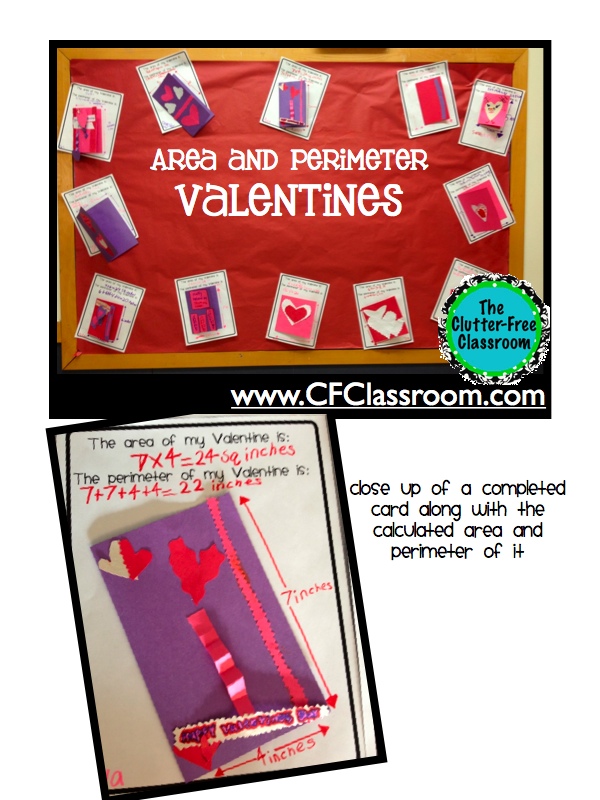 As I told my students while I scurried around the room grabbing for construction paper in the traditional colors of love along with scissors, glue sticks and markersfrom our classroom supply center, "There are many nights when I spend countless hoursplanning lessonsand activities…and then there are times when I am walking down the hallway staring at a blank board, an idea strikes and we need to drop everything to make it happen."
I cut the paper down to various sizes and each of them made a Valentine. They then measured the length and width to calculate thearea and perimeter. On the inside they wrote what they know about those concepts.
Since the enjoyed the project so much, I decided to whip together a quickmath learning centerfor this week…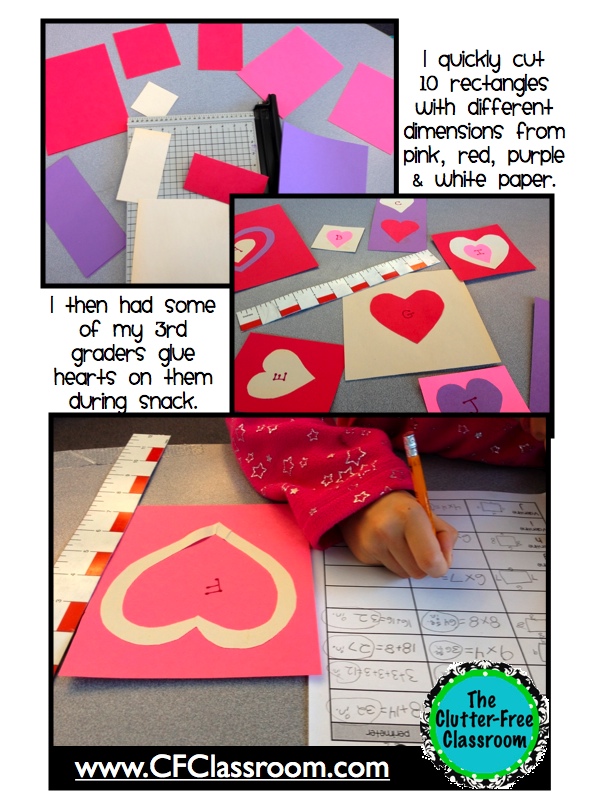 I labeled the cards A-J and they used them similar toour task cards. They selected a card, sketched a diagram, measured the card, recorded the dimensions and solved to find the area and perimeter. It was so simple and a great way to practice measurement, area and perimeter.
You may also be interested in these products and posts:
Valentine Craft and Bulletin Board Ideas
Valentine Packet: 10 Math and Literacy Activities
Writing Made Easy: Thematic Packets for February and March
Valentine-Themed Word Problem Task Cards
Mystery Mail…this would be fun to do with a Valentine Theme