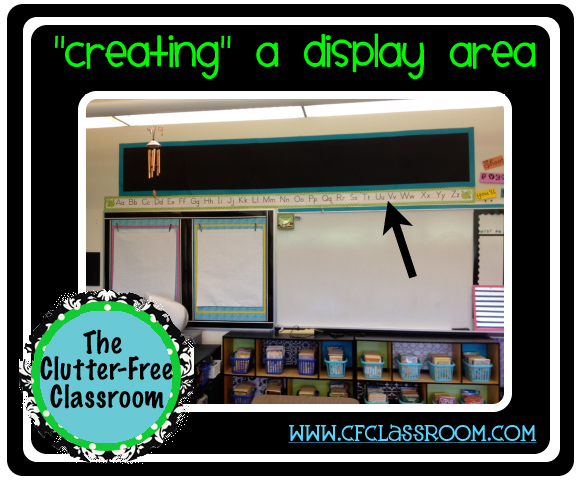 I had just about finished this wall, but I felt like something was missing.
My classroom has amazingly high ceilings which is great because it makes the room brighter and the room feels bigger than it actually is. The downside is that it feels like a lot of wasted space and often looks "barren" at the top as opposed to the rest of the room. Since it is high, I don't want to place resources that need to be accessed by the students in that space. I think those should be at their eye level.
So as a simple solution to the problems of wasted space, not enough display areas, and wanting to make the classroom feel personalized, I created a backdrop for somethings that I'll leave up all year long once the kids arrive.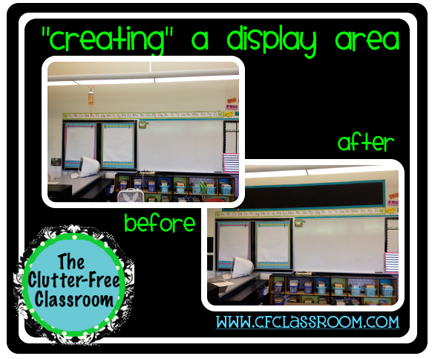 My plan is to snap a candid shot of each student within the first few weeks and print it in black and white onto 8.5 x 11 inch paper with their names on it. This will provide a resource for students to spell their classmates names (since I tend to use numbers on most things) AND will look gorgeous on the black backdrop. I had done something similar for Open House a few years ago and loved the look of the candid black and whites. Another thought is that I may have them watercolor a self-portrait (I always include that in my back-to-school plans) and hang those in that space. Time will tell.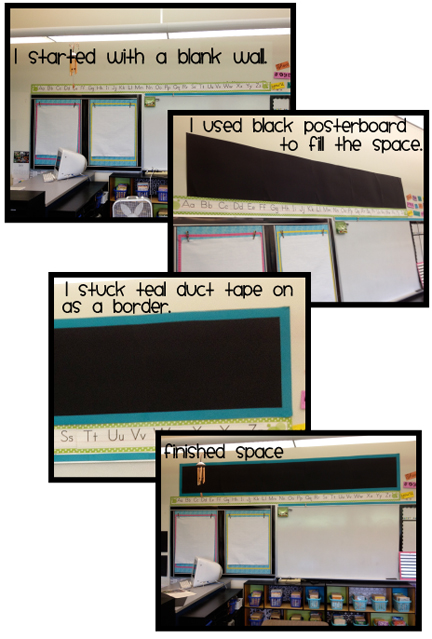 I once loved creating bulletin boards. And by loved I mean LOVED. I would plan them in my head and tweak them until the reality matched the vision. At the risk of being institutionalized, I will admit that I have used actual levels and tape measures to perfect them. Each was a work of art worthy of its own gallery premiere. People should have worn black dresses and tuxes as they sipped wine and stared in awe as they discussed the merits of my work.
And then the desire slowly fizzled and the demands grew and time became limited and priorities changed and bulletin boards became something else on the to do list. Over time, I was able to find a healthy balance using the time-saving tips below.
This blog post will…
offer 5 tips for creating and setting up wall displays in your elementary classroom
provide you the information you need to set up the wall displays and bulletin boards in your classroom
suggest practical advice to help you create a classroom environment you are proud of
Tip #1: Cover the walls using paper or fabric.
Before covering the walls in your classroom using paper or fabric, check what fire codes your school needs to adhere to.  Some towns have strict regulations about the amount of paper or fabric that can be on the wall.  Personally, I think it's a bit silly that a building filled with graph paper, construction paper, primary-ruled paper, intermediate-ruled paper, drawing paper, etc. limits the amount of wall space that can be covered, but I digress.  Once you have the information you need about the fire codes at your school, you can begin covering your walls, which is a great way to bring the room together and to hide any unsightly chips, yucky colored paint, and institution-feeling cinder block walls.  In addition, covering wall space allows you to create displays in different areas.
Tip #2: Use black borders.
Using black borders helps create a more uniform look in your classroom and also helps define spaces.  Consider using a simple, solid, black border or mixed it up a bit by using black borders with grey/white designs.
Tip #3: Stick to a simple color scheme.
Sticking to a simple color scheme creates a classroom that appears clutter-free and visually appealing.  You'll want to pick colors that you love, that compliment each other, and that will provide a nice background for your room.  Blues and greens look great together.  Yellows, reds, and oranges are another good combination.  I recommend following the 60-30-10 Rule.  When decorating your classroom, divide the color elements into 60 percent of your dominant color and 30 percent of your secondary color. Fill the additional 10 percent with an accent color such as black, white or brown.  On a side note, I suggest buying black or white baskets, bins, and other storage solutions because you can reuse them even if you change colors or themes next year.
ip #4: Cover open shelving.
It seems like every teacher I talk to all says the same thing: Kids are less and less attentive each year.  For that reason alone, it is so important to eliminate as much distraction from learning as possible.  One way to do this is by covering any open shelving you have in your classroom.  Consider using poster boards or curtains to
Tip #5: Create lasting purposeful displays.
Think of your classroom as a large tool kit for your students. In addition to creating a literacy rich environment in your classroom, you'll want to create a numeracy-rich environment as well. When you design your wall displays, consider creating interactive bulletin boards that support student learning. Examples are a math word wall, HFW word walls, math rotation board, job charts, focus walls, birthday displays, andstudent work walls. These displays can stay up all year long and be added to throughout the school year.