I receive a lot of questions from new elementary teachers about how to create a classroom calendar bulletin board wall: Is it worth it to buy a calendar pocket chart? How much should I spend? How do I make my own DIY calendar? What are things I should be thinking about when setting up my calendar area? Where do I even begin with creating a calendar wall? It can feel very overwhelming to figure out where to start when you first get your classroom. As a result, I decided to write this blog post to guide 1st, 2nd, 3rd, 4th, and 5th grade teachers step-by-step towards achieving a fully optimized classroom calendar area. This post is packed with tips, ideas, and recommendations to support you in getting the classroom of your dreams. Let's dive right into it!
This blog post will…
identify which grades should have a calendar posted in the classroom
offer step-by-step directions for how to set up a classroom calendar area
explain how to make your own calendar on a budget
suggest the pros and cons of purchasing a classroom calendar pocket chart vs. purchasing a classroom calendar poster board to help you decide which to purchase
recommend classroom calendar resources and activities to save you lots of time and help you with how to best utilize your classroom calendar
What grades should post a calendar and explicitly teach calendar skills?
All first, second, third, fourth, and fifth grade classrooms should not only have a calendar posted in their classrooms, but be using it regularly. I know some teachers may have visions of "calendar time" being strictly a primary experience, but upper elementary can benefit from it too. Lower elementary students may answer questions like, "What is the date today?" and "What will the date be tomorrow?" Upper elementary students, on the other hand, may answer questions like, "Juan's birthday is in 2 weeks and 6 days. What is the date of his birthday?" Calendar concepts often come up on standardized tests, but are not necessarily part of your school's curriculum.
How to Set Up a Classroom Calendar in 10 Easy Steps
Step 1: Make a list of components you want to include on your calendar wall. This list could include things like a calendar, the number of days in school, the date written out, weather, question of the day, etc.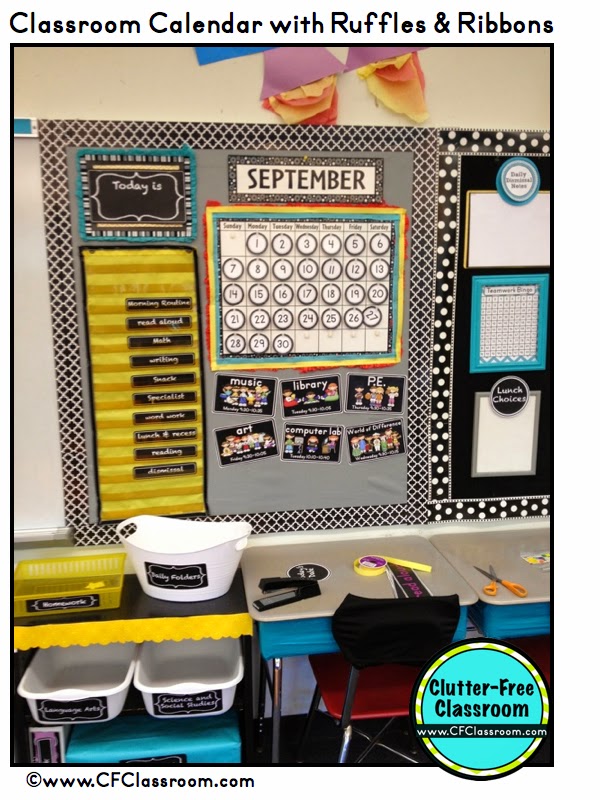 Step 2: Pick a spot in your classroom that will be your calendar area. Ideally, it should be accessible from your whole class meeting area so that you can use it as a daily teaching tool. In addition, consider how you will need it to be visible and accessible from the spots where your students will be working in the classroom and will need to access parts of it (like a model of the date written). For example, because my students access the calendar when working on their number of the day activities as well as when using the calendar task cards during our daily math workshop with guided math groups I needed to keep it in a spot that was visible from all around the room.
Step 3: Use a tape measure to measure the wall space you will designate for your calendar area.
Step 4: Sketch your dream calendar wall on a piece of paper.
Step 5: Decide if you are going to purchase a classroom calendar pocket chart or poster board. Read the pros and cons of both below to help you decide which one is best for you.
The Pros and Cons of Purchasing a Classroom Calendar Pocket Chart
For a few years, I had my calendar in one of those pocket charts that are specifically designed with 7 rows to hold calendar pieces. Here are the pros and cons I found:
PROS:
It saves you time: All you need to do is hit the "add to cart" button and check out. After it is delivered to you, it is super quick to assemble.
It can last you several years: It is often pretty sturdy and can last a long time if you take good care of them.
It is easy to hang: It is super easy to hang on cork bulletin boards using push pins and white boards using magnets.
CONS:
It's expensive: They can cost upwards of $20-$30 for a basic one.
There's no place to write the date: It does not include a place to write the date and if you are like me and require your students to date everything, it is really important to display a model.
It can get worn down over time: The pockets can tear or stretch out over time, especially when you have students changing out the cards each month.
The Pros and Cons of Purchasing a Classroom Calendar Poster Board
After a few years of having the calendar pocket chart, I ditched it and bought a poster board calendar instead. Here are the pros and cons I found:
PROS:
It is a cheap solution: You can find the poster board for as cheap as $3 or $4.
It is easy to hang: It is light, so you can use staples, tape, or small magnets to get it to stick to your wall.
It is customizable: You can add ribbon, washi tape, and colorful tissue paper to have it match your classroom theme or color scheme. You can find so many ways to tie in themes ranging from black and white to cactus. It's amazing!
CONS:
It requires more time: It depends on how much you customize it. It can take as much or as little time as you let it.
It may need to be replaced after a few years: Consider laminating it if it isn't already to help it last longer. Over time it may bend or rip.
It often does not come with everything you need: You may need to scoop up some number and month cards. You can find ones that fit your classroom theme or color scheme. I have themes ranging from navy blue to travel.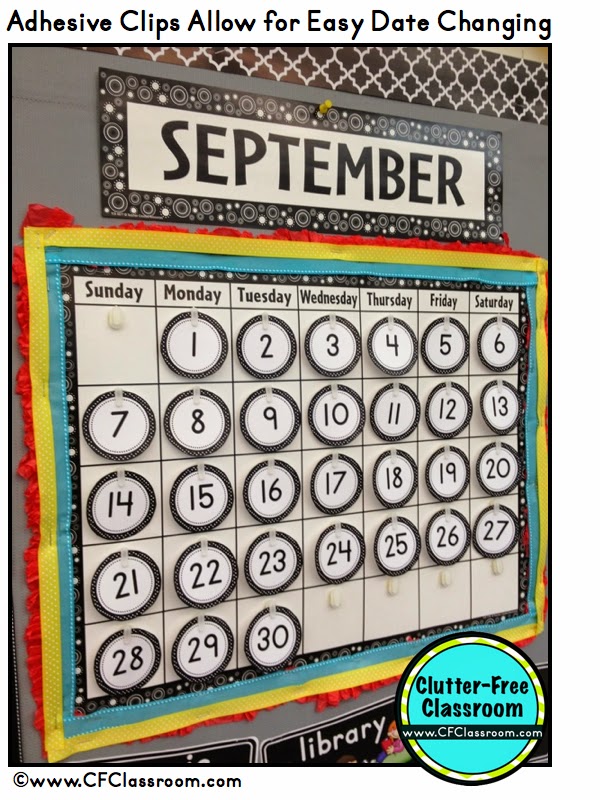 Step 6: Purchase all of the materials (calendar pocket chart or poster board, washi tape, stapler, donut magnets, tissue paper, bulletin board paper, etc.). Be sure to consider funding options: Donors Choose, school's math budget, personal budget, etc.
Step 7: Print all of the resources you purchased and gather all the materials you purchased and need. Don't forget to grab things like staplers, tape, and scissors that you need so you can complete the project uninterrupted.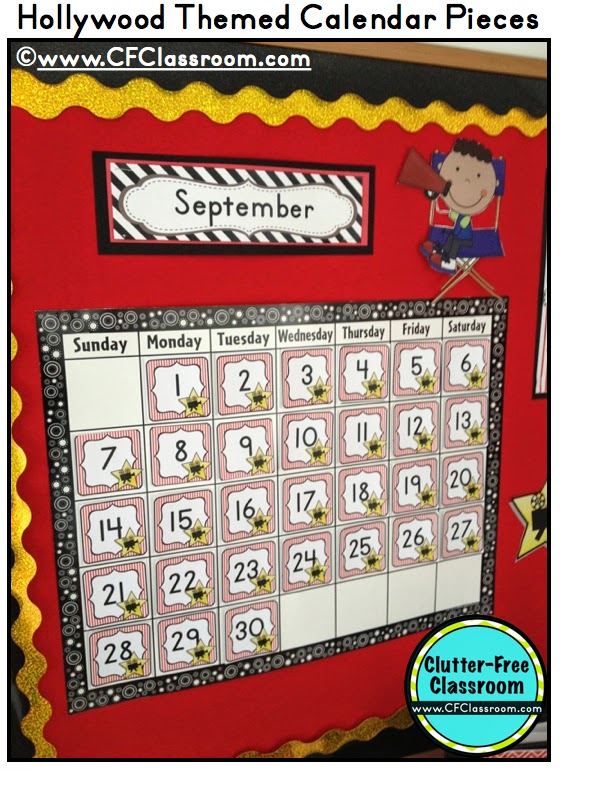 Step 8: Hang the backdrop of the calendar area (e.g. bulletin board paper, bed sheet, or shower curtain) and the border to define the space.
Step 9: Post all of the components you included in your dream calendar sketch.
If your calendar wall is magnetic, consider using donut magnets. One of my classroom walls was a retractable wall that allegedly has the ability to open up to the neighboring classroom to create one giant space, but has always been treated as a permanent. It's magnetic and for a few years I had my calendar on that wall and used number cutouts with donut magnets hot glued onto the back. This made changing them each month super easy.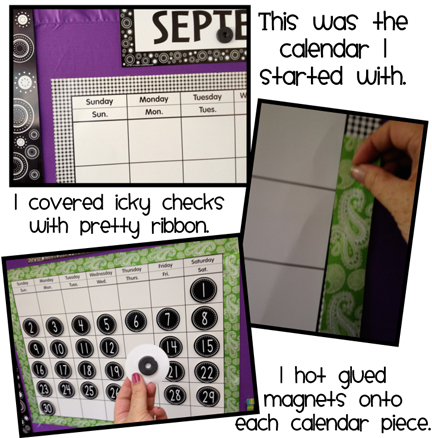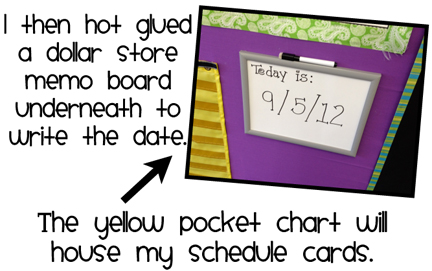 If your calendar wall is a cork board, consider using these handy little clips to hang the numbers on your board. They are perfect for displaying paper and because they are attached with a squishy adhesive of sorts the clips can be repositioned, removed, or reused. Attach one clip to each day.
Step 10: Take a step back and look at your calendar wall as a whole. Add finishing touches as needed. For example, to spruce it up I used party streamers to create ruffles around the perimeter. I actually sat with some of my students during a rainy indoor recess and they made the ruffles for me by scrunching up the streamers and stapling them at the bottom to hold the ruffle together. I then stapled them to the calendar and attached ribbon to hide the staples and give it another pop of color to match my classroom color scheme.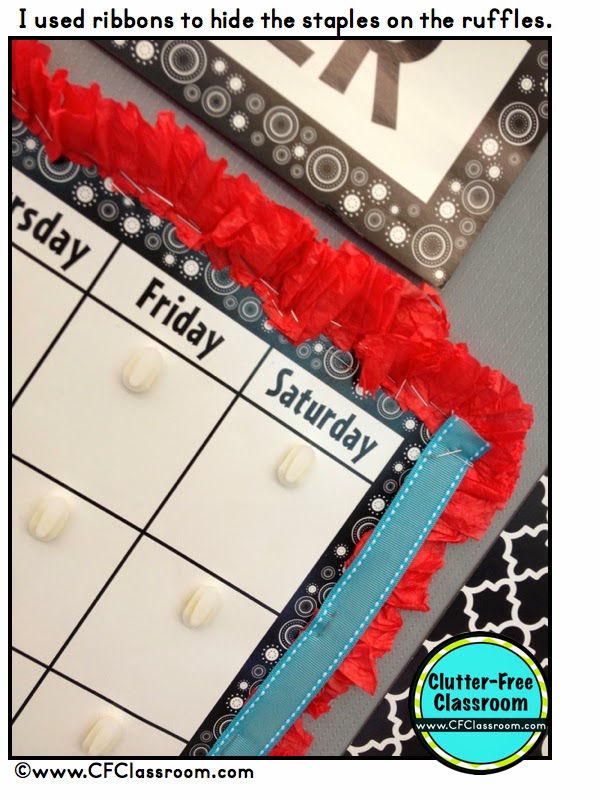 How to Use a Classroom Calendar
Establish calendar time as part of your morning routine. It's a great way to add in extra math practice on a daily basis.
When I began teaching in Florida (pause for fond memories of teaching in sundresses and sandals year round…), I was trained by the creator of Everyday Counts. I really liked the program because it incorporated time, money, patterns, geometry, and so much more into a short daily routine. If your school purchased this resource for you, I definitely recommend digging into that box to get all of the goodies included in it!
When I moved back to Massachusetts, my new school didn't use it, but I was able to use some of the same concepts in my own calendar routine. Best of all, I was able to customize the calendar area my own way. I created calendar task cards and activity pages (which are part of my Teaching Math Made Easier Membership) to help me stay organized, share my ideas with others, and leave them for a substitute teacher. The task cards can be used over and over throughout the year. You can include it as part of a morning calendar routine or as a math center. Lower elementary students can answer the prompts verbally while upper elementary students can respond in writing using complete sentences.
As part of your morning routine, consider using these 180 Attendance Questions / Journal Prompts. They are great for checking in with your students each morning. The kids love reporting in and hearing their classmates' responses. They also work really well as a daily writing activity or a homework assignment.
All of the calendar pieces shown in this blog post are part of my classroom theme and classroom color scheme resources. I have classroom themes ranging from burlap, bee, jungle, owl, ocean to classroom color schemes including yellow, teal, and much much more.
Each resource has their own version of the calendar pieces as one of the 33 classroom essentials that are included in each bundle for less than .40 cents per product!! Each bundle also includes a chart for tracking the number of days you have been in school.
Read below to learn more about a highly recommended calendar resource:
Are you looking for a way to squeeze in more math instruction during the school day? A calendar board in the classroom is a wonderful way to add in additional math practice on a daily basis.
Some may have visions of "calendar time" being strictly a primary experience, but upper elementary can benefit from it too. It doesn't need to be about, "Today is…, yesterday was… and tomorrow will be…" Calendar concepts often come up on standardized tests. They are asked questions like, "Juan's birthday is in 2 weeks and 6 days. What is the date of his birthday." This isn't something that is taught in our curriculum directly so adding in a question or two like this each morning during group time is a nice way to cover it.
There is not enough time in the school day to cover everything you want to. Make every minute count by incorporating math instruction during your morning routine using a calendar. Wall space is limited, so where can we fit a calendar that is in a location that is accessible to students? Read below to learn how.
They will practice key math concepts every single day.
A classroom calendar routine eases student anxiety because they know what to expect.
They will begin to use the calendar as a tool to help them.
By having the calendar displayed in one location, they will know where to find it.
They learn from each other when listening to responses of peers.
Calendar time is a great way to build a consistent morning routine in your classroom.
It provides a time to practice and reinforce key math concepts.
You can informally assess students during this time.
Calendar time starts each day on the right foot.
It requires little prep each day.
It is easy to make.
When creating a calendar board you first need to decide where to house it. Ideally, it should be accessible from your whole class meeting area so that you can use it as a daily teaching tool. When designing the space, start by making a list of components you want to include. Next measure the space you have to put everything. Finally, sketch it out on paper and then make it a reality.
Check out these testimonials from teachers who've used it in their classrooms…
My students complete one task card every morning and they absolutely love it! It makes them think about the days of the week, and it requires them to read the calendar in the same way they would have to read a data chart.
– Damaris S.
This resource will easily make my calendar time more interactive and support number sense routines.
– Classroom by Kim
We use the calendar questions everyday and my kids are getting so good at them! I love this packet!
– Teachers Pressed for Time
I really like the calendar task cards.  When a student is leading the class in calendar, these cards make it easy to read. I printed them on cardstock and will use them for several weeks to get the students used to using the cards before letting them have a go with them without my help.  It is also great for when I have a substitute come in.  They have questions they can ask.
– Sheri R.
I like the calendar questions.  It makes it more like a game!
– Kristen H.