The classroom library plays a very important role in elementary classrooms. There are so many different ways to organize it. It can seem daunting! Read below to learn how to set up your classroom library in a way that truly works!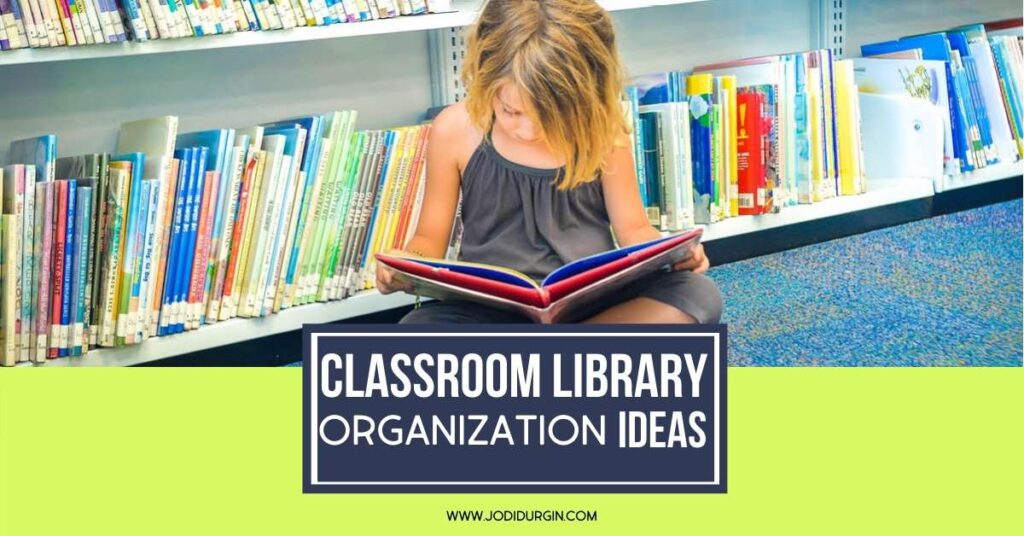 This blog post will…
offer organization and management tips for your classroom library
recommend solutions to the problems you are experiencing with your classroom library
Organization and Management Tips
Simplify: Scale back the number of books available at any one time.
Mini Libraries: Break your library up into different sections (picture books, non-fiction, chapter books, and temporary books) and store them in separate areas of the classroom. Instead of one oversized library, offer mini-libraries around the room. This makes it possible for several students to look for new books without feeling crammed, which decreases off task behaviors, lowered noise levels, and prevents behavior problems proactively.
Practice: Regularly use the games and activities in the Teaching Students About Genre Resource to have your students regularly help you sort new books that are brought into the classroom. This provides real world practice of the skills and helps them navigate the library easier throughout the year.
Real World: Stop leveling the books that are accessible to the students to pick on their own. The real world does not group books by reading levels, so it is important to create an environment that would prepare them for selecting books at the local library and bookstore. Students need ample opportunities to pick books for pleasure, based on interest, and that are both above and below their reading levels.
Leveled Texts: Keep your own personal leveled library in your guided reading area. Have students select from the appropriate baskets after your reading conferences, but only give them access to "just right books." Students should be regularly reading books at the level that will help them grow and progress as readers.
Celebrate and Showcase: Develop ways to showcase new books so that your students have a list of desired books they know they want to read and aren't wasting time sifting through your collection. I did this in a few ways. Whenever a new box of books from our class book order arrived, I would gather everyone together in our class meeting space and make a production out of unboxing the books one at a time. I also continued to regularly check books out of the town library that I would bring to school in a canvas bag. There was always great excitement when they noticed I had a full canvas bag next to my desk in the morning. I always kept these books standing up along our back shelf with the cover facing out.
Supply and Demand: Rotate books throughout the year. Books should be constantly changed out to reflect seasonal interests and units of study. Keeping things new and fresh makes your friends want to get their hands on the literature before it is gone.