These children's books for Pride Month are a great way to celebrate this special month with kids. They present important stories and provide opportunities for meaningful conversations. You and your kids will really enjoy them! Check out the full list of children's books for Pride Month below!
This post highlights the following children's books:
Worm Loves Worm
Red: A Crayon's Story
Stella Brings the Family
And Tango Makes Three
A Day in the Life of Marlon Bundo
Heather Has Two Mommies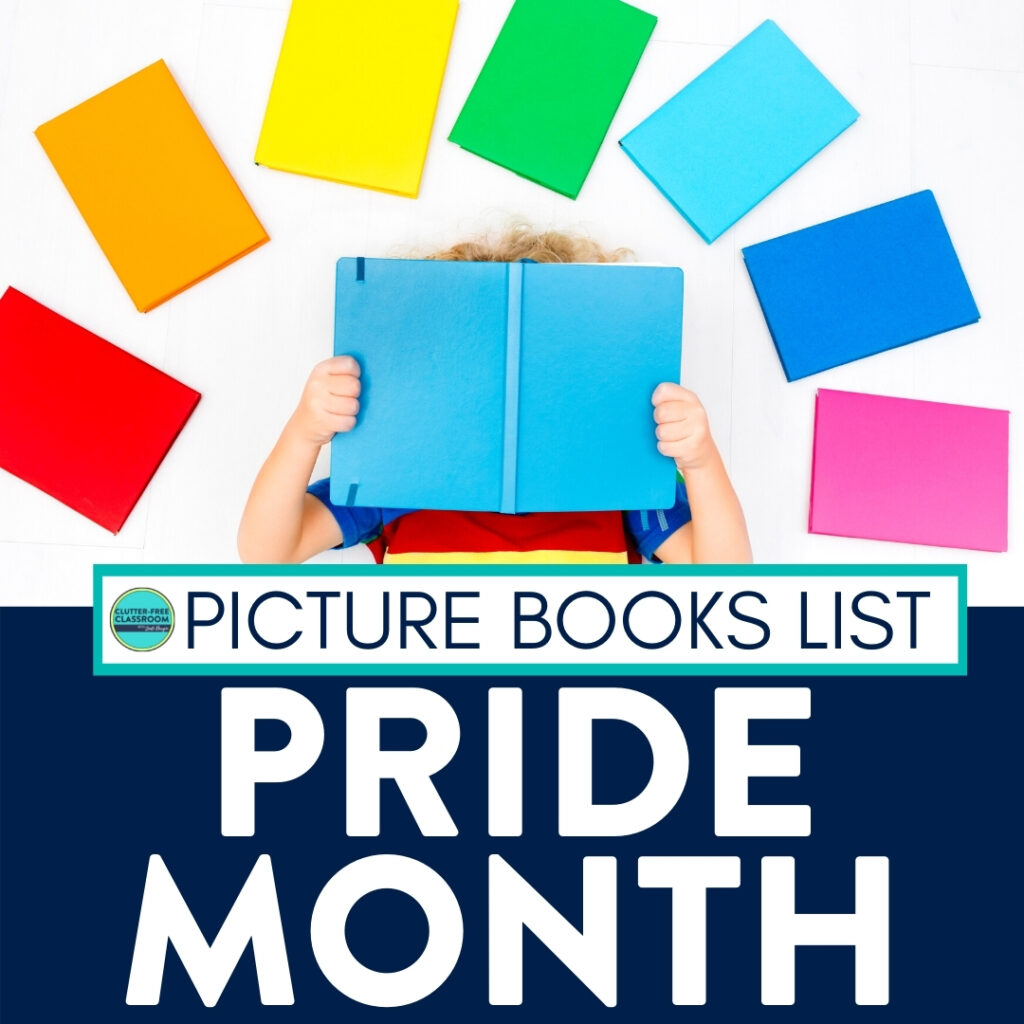 6 Children's Books for Pride Month
Below are 6 quality children's books for Pride Month. Your kids will love these Pride Month read alouds! They are great spring books for celebrating Pride Month, but can be read any time of the year!
Worm Loves Worm by J. J. Austrian
In the book Worm Loves Worm, Worm loves Worm so they decide to get married. Their friend Cricket reminds them they need someone to marry them and offers to do it. Worm and Worm are anxious to get married, but their friends remind them of all the things a wedding needs: bridesmaids, a best man, rings, music, a cake, and the bride and groom.

Worm and Worm are different than a traditional bride and groom so their friends must help them solve their problems with a traditional wedding: they wear their rings like necklaces and wiggle instead of dance. When it is time to choose the bride and groom, Worm and Worm decide they can both be the bride and the groom. Cricket explains that is not how it has always been done, but the Worms decide to change how things have always been done. The two are happy to finally get married!
Red: A Crayon's Story by Michael Hall
In Red: A Crayon's Story, Red is a crayon who has a very hard time drawing red pictures. His label says red, so even though he only draws in blue, everyone in the story tries to get him to draw red pictures. Some people think he needs more practice, and some people think he is just being lazy. No matter how hard he tries though, his red pictures always come out as blue.

One day Red meets Berry. She asks him to draw her an ocean for her boat. When he makes a beautiful ocean, he discovers that he is really blue. Everyone is amazed by the blue pictures that he draws.

Students will learn about identity and diversity as they hear a story about a crayon who was always supposed to be blue.
Stella Brings the Family by Miriam B. Schiffer
In Stella Brings the Family, Stella's teacher tells the class they will be having a special Mother's Day Celebration at school. Her classmates are excited, but Stella is nervous. She doesn't have a mother like all her classmates do, she has two fathers. Stella worries about who she will bring to the party. Her classmates wonder if she doesn't have a mother, who makes her lunch, reads her stories and gives her kisses. Stella explains that her fathers do all of that and there are a lot of people that give her kisses. Jonathan suggests that Stella bring everyone to the party and the children start preparing.

On the day of the party, Stella brings her fathers, grandmother, aunt, uncle and cousin to the party. Everyone has a great time celebrating!
And Tango Makes Three by Justin Richardson and Peter Parnell
And Tango Makes Three tells the story of Roy and Silo, two male chistrap penguins. Like all the other chinstrap penguin couples in the Central Park Zoo, Roy and Silo play together, swim together, and even build a nest together. One day, they "adopt" a rock and sit on it, hoping for a baby. When a zookeeper, Rob, notices this, he takes an egg from another penguin couple, since he knew that they would have trouble taking care of two eggs at once, and gives it to Roy and Silo. Roy and Silo care for the egg and nurture it, just like any other penguin couple, and when it hatches, the baby is named Tango. The family of penguins still live in Central Park to this day.
A Day in the Life of Marlon Bundo by Jill Twiss
In A Day in the Life of Marlon Bundo, Marlon Bundo is a bunny, and he also happens to be the BOTUS, or Bunny of the US. He lives with his grandpa, the Vice President Mike Pence.
On one very special day, Marlon starts his day like any other. He wakes up, eats breakfast, and greets his bug friends, Phil and Dennis. Suddenly, he meets another bunny named Wesley, and it is love at first sight. They hop around together all day, and, by the evening, they both announce that they don't want to hop without the other ever again. They decide to get married, with all of the animals in the garden as their witnesses.
However, a stink bug interrupts their ceremony and objects that they cannot get married, since boy bunnies don't marry boy bunnies, and, because he is in charge, he can prevent the two from getting married.
However, the other animals support the two bunnies and they decide to hold a vote to decide if the stink bug should remain in charge. They voted to remove the stink bug from power. Overjoyed, Marlon and Wesley have their wedding, and all of their friends join them in the wedding party!
Heather Has Two Mommies by Lesléa Newman
In Heather Has Two Mommies, Heather lives in a little house with a big apple tree and tall grass in the front yard. She has two pets, two legs, two eyes, two arms and two feet. She also has two mommies: Mama Jane and Mama Kate. Mama Kate is a doctor, while Mama Jane is a carpenter. Heather enjoys doing many activities with her mommies: on sunny days, they go to the park, while on rainy days, they stay inside and bake cookies. One day, her mommies tell Heather that she will start school soon. When the big day arrives, they take Heather to her new school. In class, the students draw pictures of their families. All the families are different, and the teacher tells the class that each family is special. The most important thing about a family is that all the people in it love each other.
If you are looking for activities and lesson ideas for teaching students about Pride Month, then check out these Starts With a Story book companions. They include writing prompts, reading comprehension questions, SEL lesson ideas, and much more.
Grab the Free Reading Resources!
We hope you found this list of children's books for Pride Month helpful! Many of them are part of my Starts With a Story collection. If you want to get more book ideas to read aloud to your elementary students, then grab this reading freebie. It includes read aloud books lists, reading logs, and reading challenges for 1st, 2nd, 3rd, 4th, and 5th grade classroom teachers. It will have you covered for the entire school year, as well as the summer months! Grab this free elementary reading packet now!