Birthday celebrations at school can be a fun way to celebrate students and make them feel special. There are a lot of things to consider when celebrating: Cost, district birthday and food policies, displays, gifts, and more. Check out the list of classroom birthday ideas below to get inspiration for this school year!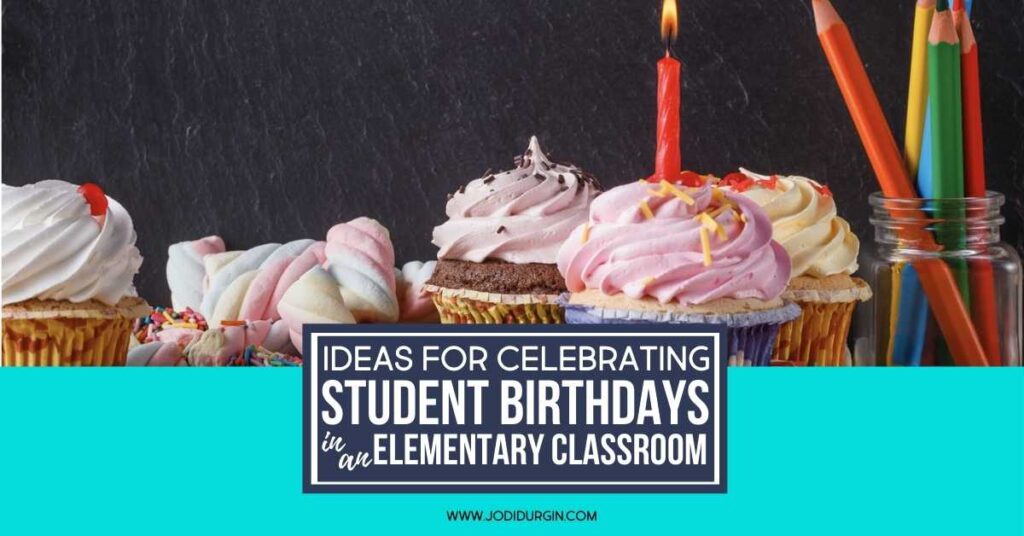 10 Classroom Birthday Ideas for Elementary Teachers
Below are 10 ideas for celebrating a students birthday in the classroom.
1. Hang a Sign
Place a sign on your classroom door reading, "We're Celebrating __'s Birthday." This will help everyone remember it's a student's birthday and will make the birthday student smile every time they enter the classroom.
2. Create an Activity Packet
Put together a packet of fun birthday-themed activities (word search, coloring page, mazes, etc). Allow the birthday child to work on the activities in the packet instead of one of the regular classroom assignments for that day.
3. Gift a Homework Pass
Give the student a no homework pass that they can use either for that night so they can celebrate with their family without having the stress of homework or any time in the school year.
4. Make a Birthday Crown
Buy a couple packages of birthday-themed bulletin board border from the teacher store. These borders make cute birthday "crowns." Kids love these!
5. Decorate the Students' Desk
Keep rolls of streamers on hand. Use it to decorate the birthday child's chair or locker.
6. Offer Preferential Seating
Let the birthday student sit at your desk for the day. An alternative is to allow the student to sit in a chair when everyone else is on the rug.
7. Create a Birthday T-Shirt
Use iron-on transfer sheets and a cheap, colorful t-shirt (usually $2-$4.00 at craft stores) to create an "It's My Birthday" shirt. Buy it in a size larger than your students would typically wear so it can be worn over their clothes. Be sure to take it home to wash it between wears.
8. Have the Class Create a Birthday Book
Invite the class to create a birthday book for the birthday student. During journal writing or writer's workshop, have the students write a letter to the birthday child. Have them write specific details so the letter doesn't just read, "You are Funny. You are Awesome."
Gather the completed entries and present it to the child from his classmates as a special keepsake. Make this even more personalized and special by snapping a photo of each student wearing a party hat or blowing a party horn. Print one copy of each student for each of their classmates and use them as special stationary for the birthday book.
A quicker and easier alternative would be to take a class picture at the start of the year with party hats and blowers. You can then print a class set and use them to make cards that everyone in class signs. If you do this be sure to give one to the principal, nurse, secretary, and specialists on their birthdays as well.
9. Give a Birthday Pencil
Provide the birthday child with a special birthday pencil to use in class that day. At the conclusion of the school day, they can take it home with them.
10. Play or Sing a Birthday Song
Add a fun birthday song to your morning sound track. A couple of examples are You Say it's Your Birthday by the Beatles and Celebration by Kool and the Gang. Play that song on birthday days.
10 Tips for Celebrating Students' Birthdays
Below are 10 tips for celebrating students' birthdays in the classroom.
1. Create a Birthday Policy
There are a lot of different factors to consider when creating a birthday policy. First, check to see if your school's handbook already has a birthday policy. Next, consider how you will handle the following: Parents sending in treats, students passing out invitations/thank you cards for parties outside of school, discussions in school about parties that not all students were invited to, and celebrating with food. Discuss the topic with your colleagues. If your school doesn't have a specific school-wide policy in place, then work with your teammates to be consistent in how your celebrate.
Discourage parents from sending in food. Allergy concerns are the obvious. Cat hair in the cupcakes is the unspoken fear. If you do allow for editable birthday treats, I suggest making sure they are store-bought, prepackaged and individually-wrapped. You may also want to draft a general permission slip to be signed by each family allowing students to share in the eats.
Remember, teaching time is precious and oh-so-limited. Keep this in mind in planning how you'll celebrate birthdays in your classroom. It may be best to keep it simple.
Keep all children in mind. Not all students celebrate birthdays. If you have a student who doesn't celebrate you may want to discuss the situation with administration before proceeding with plans to celebrate other birthdays in the classroom. It should be a team decision.
2. Communicate Your Birthday Policy to Parents
Include your birthday policy in your parent handbook or address it at open house.
3. Keep Track of Birthdays
Keep student birthdays noted in a central location so you do not forget them. I have a birthday template in my Teacher Organization Binder that shows all of the birthdays at a glance. I also record them on my monthly calendars. We have a display in the classroom. And I get notifications through Powerschool. I think I'm covered 😉 Any one of the above would be fine.
4. Celebrate Summer Birthdays
Celebrate the half-birthday of students with summer birthdays. You don't want students to miss out on the celebrations just because they were born during the summer months.
5. Create a Birthday Display
Kids love their birthdays and love to see their names and pictures on a birthday display. Here's what I made for this school year: I was originally going to just hand write the students' names and birthdate onto the cards for month in which they were born. However, I have since decided that I will take a group photo of the students who share a birth month with each of them holding a card with a number showing the date of their birthday. This is the birthday display board I use in my classroom!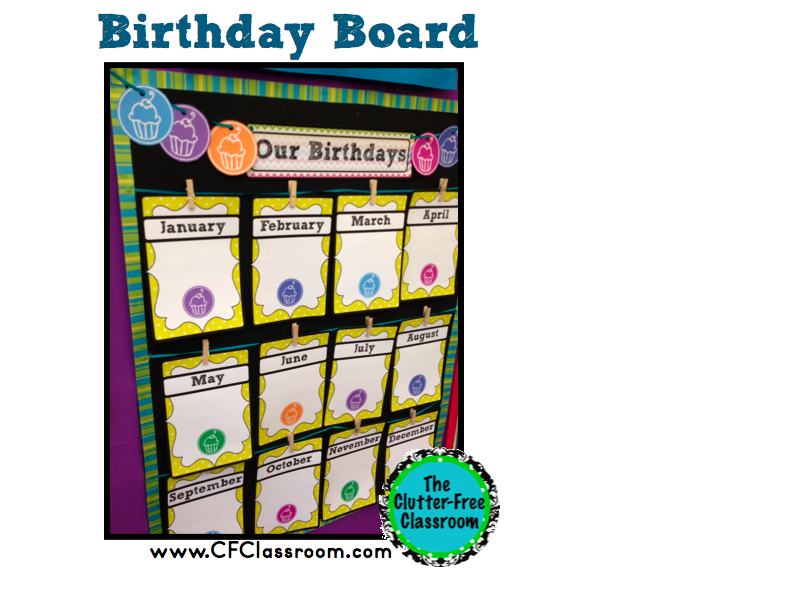 6. Integrate Birthday Celebrations with Learning
Birthdays are exciting to kids. And exciting equals motivating. Integrating birthdays into academics can make for fun learning experiences. Create bar graphs and line plots using birthday months. My birthday resource includes these activities! Have students write personal narratives about their birthday experiences or opinion writing pieces about their favorite cake flavor.
7. Base Your Birthday Celebrations on Your Students
Get to know the dynamics of your class before committing to a birthday tradition in your room. While the "Birthday Conga" may have been a fun celebration one year, the class make-up the following year could make it a disastrous idea. Remember, it's hard to reel them back in after a conga line. 😉 Some classes do best with a simple Happy Birthday and a smile. Know your crowd.
8. Collect Birthday-Themed Picture Books
Obtain a collection of birthday-themed picture books. Place them into a birthday gift bag complete with tissue paper. Only take it out when a child is celebrating a birthday and let him read from it during Reader's Workshop or silent reading time.
9. Incorporate Movement into Celebrations
Students, especially the birthday student, have extra energy on days when there is a birthday celebration. Movement is a great way to release the overflowing excitement. Consider having the birthday child lead a conga line while the class sings "Happy Birthday" (add 'cha-cha-cha' to the end of each line).
10. Utilize Scholastic Book Club Bonus Points
Use your Scholastic Book Club bonus points to collect a variety of books. Allow the birthday child to select a book to take home.
In closing, we hope you found these classroom birthday ideas helpful! If you did, then you may also be interested in these posts: