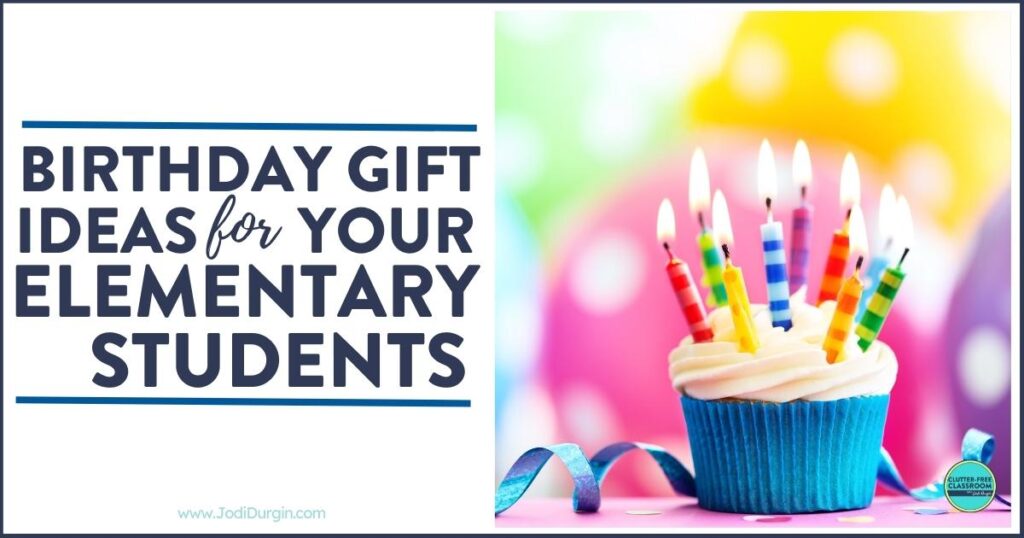 It doesn't matter if you teacher first grade or fifth grade, when a kid's birthday rolls around it's a big deal to them. In many places, the days of bringing in cupcakes to share with the class are over with, but it is nice to acknowledge their special day in a small way. This post highlights 3 simple tips for celebrating students' birthdays in the classroom, 10 ideas for a birthday gift for students, and a teacher-favorite resource for celebrating students' birthdays. Check it all out below!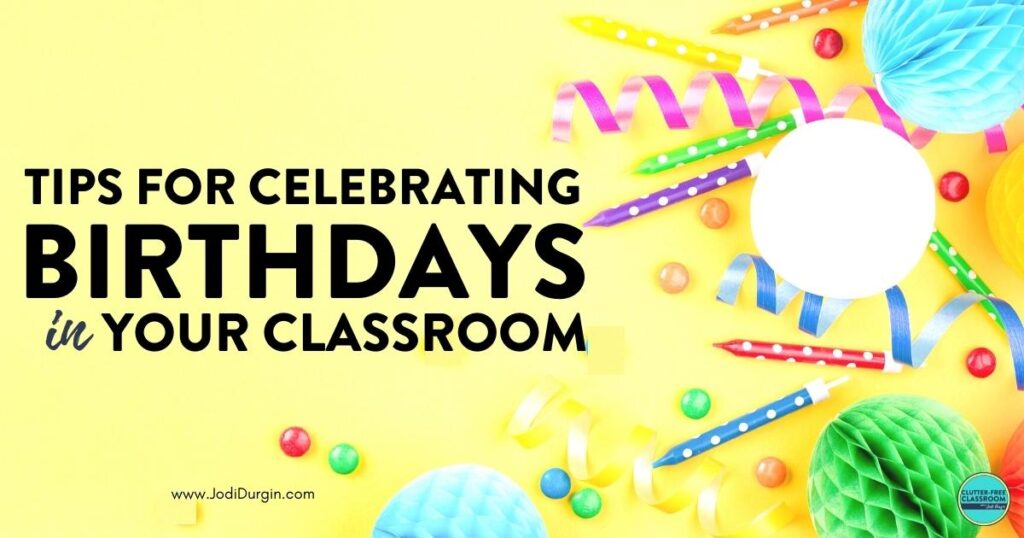 3 Tips for Celebrating Birthdays in the Classroom
Below are 3 tips for celebrating birthdays in the classroom.
1. Plan and Prep All of the Materials at the Start of the Year
If you decide to give a gift to your students on their birthday, you'll want to get ahead with this. I recommend purchasing, printing, copying, and cutting all of the materials you need for the school year before school starts. This will take so much pressure off of you during the school year! I also recommend you sign the cards and place each student's materials into a paper lunch sack that is still flat. Next, decorate the outside of the bags with markers or stickers. Finally, label each with a student's name and place them in chronological order. I store all of these in a birthday gift bag. When a student's birthday arrives, simply pull out the bag, open it up (so it's no longer flat) and either staple the top or tie it with a ribbon. You'll be good to go!
2. Keep It Low Cost
Celebrating birthdays in the classroom is a great way to build a learning community where students feel valued. You do not need to go overboard to make students feel special however. Incorporate free (or at least cheap) ways to recognize students on their special day.
3. Think about Sustainability
When deciding how you are going to celebrate your students' birthdays in your classroom, you are going to want to keep it simple enough that you will be able to replicate it for all 15-30 of your students. Your future self will thank you for deciding to forgo an elaborate celebration!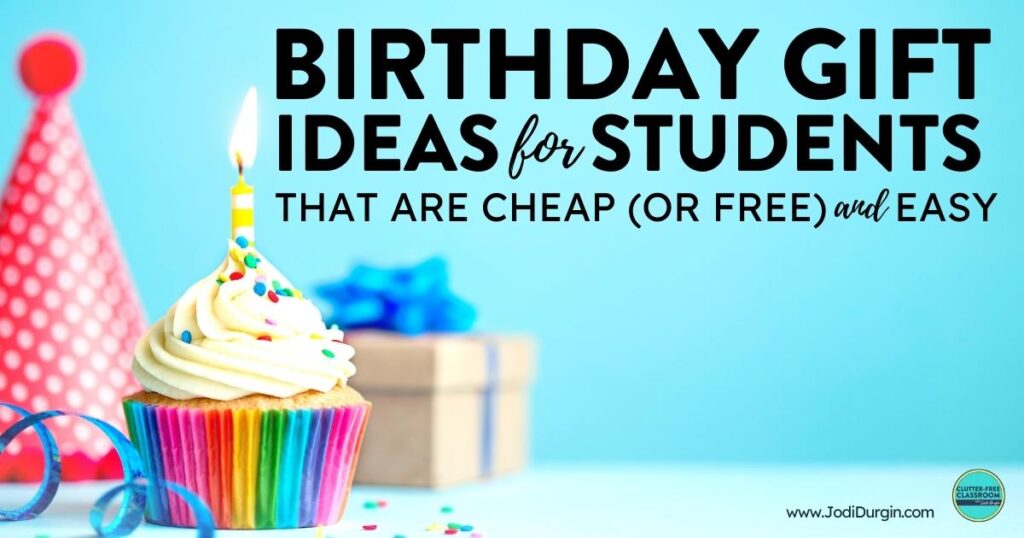 10 Birthday Gift Ideas for Students
What you don't want to be doing is scrambling around just as the bell is about to ring because you forget that one of your little cherubs happened to have been born on that day. So my suggestion is to prepare during the summer for a year's worth of birthdays. In addition to a smile and a "Happy Birthday," you can add in some simple, low-cost ways to celebrate the student. If you plan to present each child with a small "gift," you can streamline the process by preparing each student's trinket at the same time. Below are some ideas to give you some inspiration!
1. Special Song
Singing happy birthday is one of the most common ways to celebrate someone's birthday. There are tons of songs out there that you can find online that add a special twist to the traditional song. You can also create your own.
2. Helper of the Day
Another birthday gift idea is to have the birthday student be the helper of the day. This is a free option that will be a big hit among your students.
3. Birthday Pencil
Pencils are a fun, cheap way to celebrate students' birthdays. You can find them at Walmart, Target, your local teacher store, or Amazon.
4. Crown
There is just something about wearing a crown on your head that makes you feel extra special. The best part is that when students and teachers see the student walking down the hall, they will know it's their birthday and will wish the student a happy birthday.
5. Stickers
Stickers are another fun and cheap way to celebrate students' birthdays. You can find them at Walmart, Target, your local teacher store, or Amazon.
6. Homework Pass
Not only will students love this gift option, but it's also a great way to ensure students have time to celebrate their birthday with their families. It will help make the night stress-free for families.
7. Card
You can either buy a card or make a hand-made one out of construction paper. If you opt for this option, then consider having all of your students sign their name.
8. Bookmark
A bookmark is an inexpensive gift that encourages the child to read. Whenever they use the bookmark, they will think of you!
9. Line Leader
Having the birthday student be the line leader of the day is a free and super easy way to make the birthday student feel special. They will be so proud standing at the front of the line!
10. Class Book
A birthday book is an inexpensive way to have your whole class celebrate the birthday kid, while also practicing their writing skills. Parents will love this keepsake!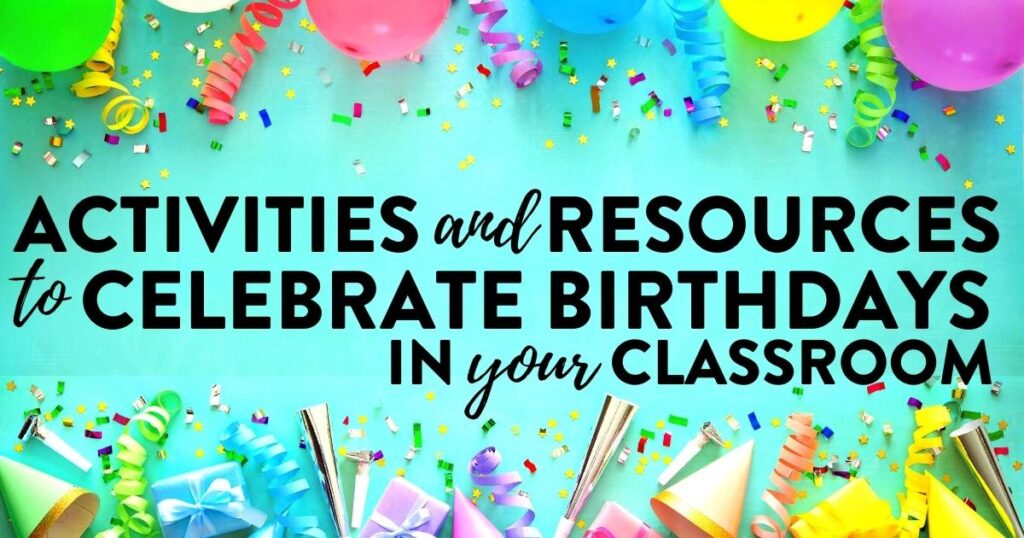 Celebrating Birthdays in the Classroom Resource
Learn all about this resource for celebrating students' birthdays in the classroom below!
What Is It
This student birthday celebration bundle includes everything you need to celebrate birthdays in the classroom. The download includes printable resources that will make it easy to acknowledge the students' special day and integrate learning activities without distraction from learning. It is also available as part of the classroom management bundle.
What's Included
This resource for celebrating students' birthdays includes the following:
editable birthday certificates
editable birthday student book covers
differentiated writing and drawing pages for the student gift booklet
editable classroom birthdays charts
birthday tally charts
birthday bar graphs
Why Teachers Love It
Below are just some of the reasons teachers love this resource!
The printables in this bundle will make your students feel very special when it is their birthday.
Students will practice math and writing skills without even realizing it.
They will have something special to take home to share with their family.
It can be differentiated using the editable options and is an open-ended task so all students will feel successful.
It includes editable options for customizing the resources.
Students will enjoy creating class books for each other so they will be engaged in their learning.
It will save you time and money as these resources have all been made for you for less than the cost of the materials to make them.
It is a low-cost way to acknowledge each student's special day.
There is a variety of colors to choose from.
How to Implement It
Print one writing page for each student and one cover page. At the beginning of the year, model how to write a birthday book entry. Post it in the classroom for students to reference. As each student fills out a writing page, the birthday boy or girl will color the cover page. When students are finished, staple the pages together and have the class present it to the student at the end of the day. Invite the birthday kid to read it to the class and bring it home to share with his or her family.
In closing, we hope you found these ideas for a birthday gift for students helpful! If you did, then you may also be interested in these posts: