In an ironic twist, this post is about books about cold and snow and I am currently enjoying sunny and warm temps in the low 80s in Florida. Oh well! Like gingerbread activities, snowmen activities are great for the month of December because it offers non-denominational seasonal fun. A snowman-theme is also great for January!
There are so many fabulous crafts and writing ideas that springboard from snowmen. Check out a list of snowmen activities you can use in your elementary classroom this year below!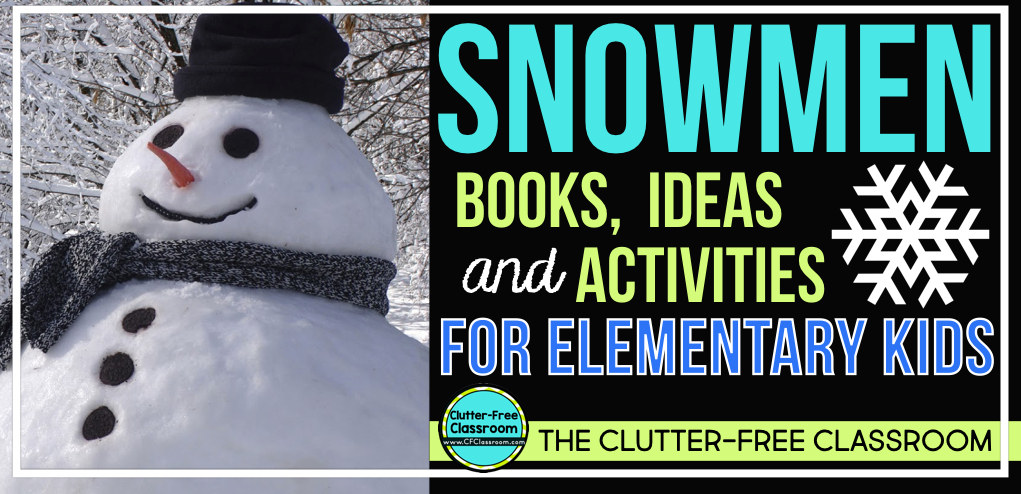 Snowmen Activities for Elementary Students
Check out these snowman-themed activities below!
3 Snowmen Writing Activities
These are three of my favorite snowmen-themed writing activities for kids!
1. Sneezy the Snowman by Maureen Wright
In this story, Sneezy the Snowman was cold! In fact, he was sneezing and freezing! Sneezy decided that he would drink some hot cocoa to warm up. But as soon as he drank the cocoa, he turned into a puddle on the ground. Thankfully, his friends were there to help. They rebuilt Sneezy and he was brand new. A friend even offered to share his winter cap with Sneezy.
Even with the winter cap on, Sneezy was cold! This time he decided that he would get into a hot tub to warm up, but that caused him to melt, too! Sneezy's friends were there and ready to rebuild him again. This time, they decided to let Sneezy wear a warm winter scarf. Again and again Sneezy tried to warm up when he was cold, and each time he melted. His friends continued to share clothing until he was wearing a hat, scarf, and coat. With all the new clothing on, Sneezy was suddenly too hot. His friends suggested he eat some ice cream and that did the trick. He was finally feeling great, not too hot and not too cold! Check out these Sneezy the Snowman activities!
2. How to Catch a Snowman by Adam Wallace
This story takes place in the winter. When an enchanted snow star shines down at midnight something magical happens. A snowman comes to life!
The children in the town try and trap the snowman but will anyone be able to catch him? Throughout the book the children set many clever traps hoping to catch the snowman. They make a net of scarves, use a trampoline and even try and trap the snowman in an igloo. However, each time the snowman is able to escape.
All day, the children are chasing the snowman but are not successful in catching him. When the sun starts to set, the children are called home for dinner. The snowman has won the contest, no one was able to catch him but he appreciates the children's effort. To congratulate them for their hard work, he leaves a surprise for them at the library. The snowman created a big snow display of children with a snowman, the snowman's gift to the children who tried to catch him. Check out these How to Catch a Snowman activities!
3. The Missing Mitten Mystery by Steven Kellogg
In this story, Annie and her trusted dog, Oscar, had a fun-filled day playing in the snow. At some point throughout the day, Annie's red mitten goes missing! They retrace their steps, looking through snow piles, gardens, and sledding hills. Annie starts to think creatively- what if a mouse took it for a home? What if an eagle took it to her nest? Just when she retires home before the rain, she sits down for dinner. There, in the melting snowman, is her red mitten! Check out these The Missing Mitten Mystery activities!
4. Snowmen at Night by Caralyn Buehner
In this book, a young boy makes a snowman and realizes it looks different the next day. He starts to imagine all the things that snowmen do at night. Snowmen come alive at night and make their way to the park. They drink hot cocoa, go ice skating and play baseball. The boy imagines the snowmen having snowball fights and sledding down a hill. Once the sun starts to rise and the snowmen are tired, they make their way back to their home. This cute rhyming story explains why children's snowmen might look different overtime. Check out these Snowmen at Night activities!
5. The Biggest Snowman Ever by Steven Kroll
The mayor of Mouseville is holding a contest to see who can build the biggest snowman! The mice are excited and get to work right away. Penelope wants to build a princess snowman, James wants to build a martian snowman, and Clayton and Desmond both want to build the biggest snowman ever.
Both Clayton and Desmond get to work on their own snowmen. They build the base, the belly and the head. Each boy gets advice to use a wheelbarrow to carry snow so they can work faster. After a few days, the boys go to look at all the other snowmen and realize they're all the same size! That's when they get an idea.
Clayton and Desmond decide they should work together to build the biggest snowmen. The two mice put their snowmen together and create a big snowman! On the day of the contest, the judges decide that Clayton and Desmond have won, they've built the biggest snowman and won the prize!
Students will love this story about determined mice who learn that teamwork can you help accomplish big things! Check out these The Biggest Snowman Ever activities!
3 Snowmen Crafts for 2022
Check out the three snowman crafts below! They would look great on a bulletin board to complement a writing project about snowmen.