If you are looking for Asian American and Pacific Islander Heritage Month books, then you found the right place! This post features quality read alouds for celebrating this month in your elementary classroom. Asian American and Pacific Islander Heritage Month is May, making the list below some of my favorite spring read alouds. Check out the full list of Asian American and Pacific Islander Heritage Month books below!
This post highlights the following children's books:
Eyes that Kiss in the Corners
The Name Jar
My Name is Yoon
The Proudest Blue
Under My Hijab
Big Red Lollipop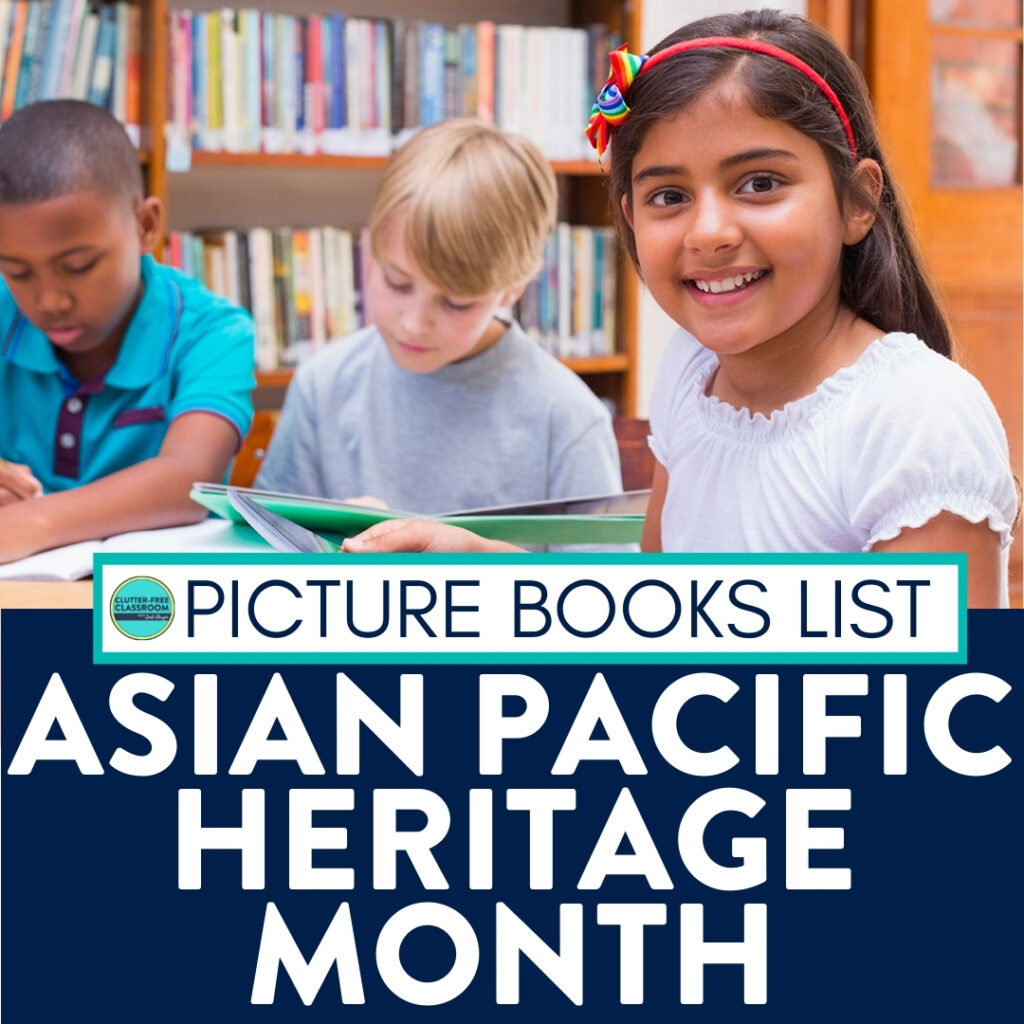 6 Asian American and Pacific Islander Heritage Month Books
Below are great Asian American and Pacific Islander Heritage Month books for kids. Your students will love these books for AAPI month!
1. Eyes that Kiss in the Corners by Joanna Ho
The narrator of Eyes that Kiss in the Corners has eyes that kiss at the corners. They are the color of warm tea and crinkle into crescent moons. Her eyes are different than eyes that are big and blue like a lagoon with long eyelashes. Instead, her eyes are just like her mother's and sparkle like the stars. Her Amah has eyes just like that too. They tell stories and can see into the narrator's heart. The narrator's little sister, Mei-Mei, has eyes just like her. Her sister's eyes look up to her and make her feel like she can fly. She is proud of her eyes. They are just like her family's eyes and they are beautiful.
This inspiring book will remind students that their own qualities make them special.
2. The Name Jar by Yangsook Choi
In The Name Jar, Unhei has just moved from Korea to America. On the bus ride to her first day of school, the students laugh at her name. When she gets to her new classroom and it is time for her to say her name, she claims that she doesn't have one. She says she is still deciding on her name and will let the class know by the end of the week.

The students in her class create a name jar and fill it with suggestions for Unhei's new name. However, none of the names feel quite right for Unhei. At the end of the story, Unhei has to make the decision about whether or not to share her real name. Students will learn about diversity and individuality throughout this great read. It will become one of your students' favorite Asian American and Pacific Islander Heritage Month books!
3. My Name is Yoon by Helen Recorvits
In My Name is Yoon, Yoon is a young girl who has just moved from Korea to America with her parents. Soon she will be starting school so she must learn to print her name in English. He father sits her down to show her what her name looks like printed in English. Yoon does not like the way it looks compared to how it looks in Korean. When Yoon starts school, her teacher wants her to print her name. Yoon prints CAT instead, and wishes she could be like a cat. The next day, Yoon prints BIRD and wishes she could fly home. One day, a classmate shares a cupcake with Yoon and she wishes she were a cupcake, then her classmates would be excited to see her. Over time, Yoon starts to adjust to life in America. She thinks her teacher likes her and sings to her father in English. Finally, Yoon is excited to print her name in English and show her teacher!
4. The Proudest Blue by Ibtihaj Muhammad
In The Proudest Blue, Faizah is very excited for the first day of school because her sister, Asiya, is wearing a hijab to school for the first time. The hijab is a beautiful shade of blue and Faizah is so excited for her sister. However, when a girl in her class questions what is on her sister's head, Faizah begins to worry about her sister. A boy in Asiya's class makes mean comments to her throughout the school day. Faizah can't understand why he acts that way, she thinks the hijab is beautiful and a sign of strength. Faizah learns that Asiya is not upset by the boy in her class, and she continues to wear her hijab with pride.

This is an inspiring story that exposes children to cultural differences. Students will love the descriptive writing and figurative language used to describe the hijab's beauty. This will quickly become one of your favorite children's books for Asian Pacific Heritage Month!
5. Under My Hijab by Hena Khan
Under My Hijab is told from the perspective of a young girl. Readers are introduced to many of the important women in the girl's life: her grandmother, mother, aunt, sister, cousin and troop leader. Each of these women wear a hijab and style it their own unique way when they are out and about. When they are at home, we learn what their hair is like under the hijab and what they like to do.

At the end of the story, the girl shares how all of the women in the story inspire her to wear a hijab just like them, or her own unique way. This book will teach students about individuality and give students an understanding of what it is like to wear a hijab.
6. Big Red Lollipop by Rukhsana Khan
Big Red Lollipop is told from the point of view of Rubina. Rubina receives her first invitation to a birthday party, and is overjoyed to go home and tell her family about it. However, she is met with disappointment when Ami tells her that in order for her to go to the birthday party, she has to bring her little sister, Sana. Rubina brings Sana to the birthday party and has a miserable time. They both get goodie bags from the party that have a big red lollipop in them. Sana eats hers right away, and Rubina hides hers away for the next day. When Rubina wakes up the next morning, she is furious when she discovers that Sana has eaten her lollipop!
Eventually, Sana gets invited to a birthday party. She becomes devastated when Ami tells her she has to bring their littler sister Maryam. Instead of letting Sana be miserable at the party, Rubina tells Ami to not make Sana bring Maryam. Sana gets to have fun at the birthday party, and brings home a big green lollipop for Rubina. This will quickly become one of your favorite Asian American and Pacific Islander Heritage Month books!
If you are looking for picture book lessons and activities to help you teach about AAPI month, then check out these Starts With a Story resources below. They include reading comprehension questions, writing prompts, grammar activities, SEL lesson ideas, and much more!
Grab the Free Reading Resources!
We hope you found this list of Asian American and Pacific Islander Heritage Month books helpful! All of the stories on this list are included in my Starts With a Story collection. If you want to get more book ideas to read aloud to your elementary students, then grab this reading freebie. It includes read aloud books lists, reading logs, and reading challenges for 1st, 2nd, 3rd, 4th, and 5th grade classroom teachers. It will have you covered for the entire school year, as well as the summer months! Grab this free elementary reading packet now!