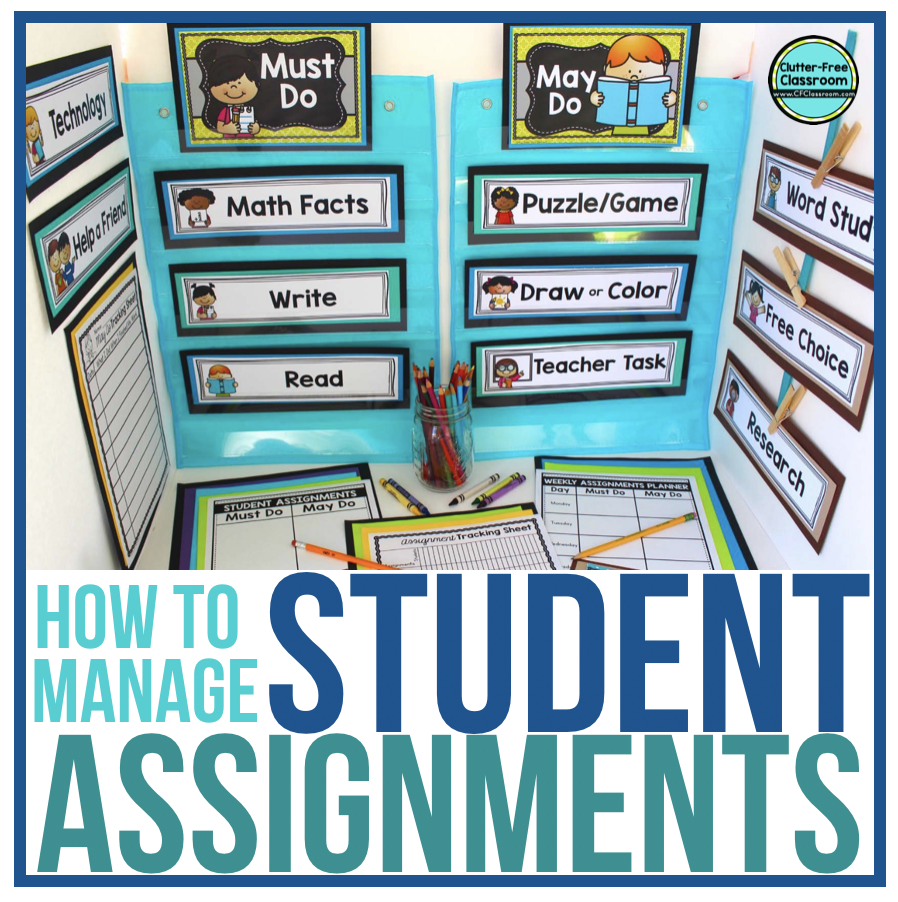 Do you want to put an end to the students saying "I'm done. What do I do next? Would you like a systematic method for planning and tracking student assignments? This assignment board resource solves both those problems! An assignment board is a visual tool to list assignments and track the progress of big projects.
It is very challenging to manage long-term projects. Students work at different paces and sometimes they are absent or pulled out for paces. It is so hard!
Students will learn time management skills.

They will know what is expected of them and can become more independent.

They will have access to a visual tool that they can reference as needed.

The resource can be edited to meet the needs of your learners.

It offers students a variety of activities to choose from.
The materials are editable so you can adjust it to fit your needs.

This resource will make it easy for you to stay on top of student assignments.

It will teach your students valuable time management skills.
It can be printed in color or ink-saving black and white.

It includes a variety of options for use with a white board or pocket charts.

It looks great displayed in a classroom.


Design and create the assignment board. Find a spot in the classroom where it is accessible to students. Post "must do" assignments and "may do" assignments. Explicitly teach students how it works.  

Check out these testimonials from teachers who've used it in their classrooms…
I am NOT a naturally organized person. I have to work really hard to master the paper monster in my classroom. This pack is an ABSOLUTE LIFESAVER. This helped me organize my planning, and keep track of student progress. Thank you so much!!
– Jessica K.
Love these organizers! The pictures of your classroom were very helpful, too. Figuring out a way to handle unfinished work is always a challenge. Great ideas! Thank you!
– Kim
I love this idea!! My children have really bought into this idea! I wish I had found it at the beginning of the year! I began using the language with them on all of their work and it has helped! I have also used the idea for myself in my plans. The kids love knowing I am using it too!
– Sunni S.
Teaching multiple classes has been challenging to keep track of them. This is going to help a lot!
– Amanda E.
You have me hooked on all of your products. I am now a follower of you. Thanks!
– Little Red Parker
You can read more great feedback from teachers just like you here!
2-column Must Do / May Do Planning Sheet (EDITABLE)

Weekly Assignment Planner (EDITABLE)

Weekly Assignment Planner with Subjects (EDITABLE)

Assignment Tracking Sheet for Students

Assignment Tracking Sheet for the Teacher (EDITABLE)

12 Choice Cards (EDITABLE)

12 Blank Choice Cards

8 Colors – Must Do May Do Header Title Cards with Clipart in Polka Dots

8 Colors – Must Do May Do Header Title Cards without Clipart in Polka Dots

8 Colors – Must Do May Do Header Title Cards with Clipart in Quatrefoil

8 Colors – Must Do May Do Header Title Cards without Clipart in Quatrefoil