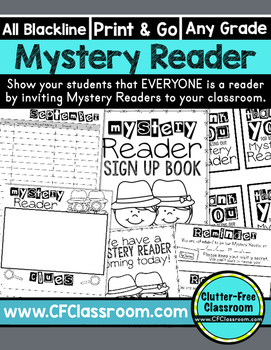 When I taught Kindergarten I welcomed Mystery Readers into my classroom. My little ones were so excited to see who the secret guest would be. We had moms, dads, siblings, grandparents and other special friends. I remember getting a note from one of the moms that read, "I listened to my husband practice reading Green Eggs and Ham at least 20 times last night. He makes presentations for a living. The thought of reading to 5 year olds petrifies him." So cute.
I finished my year in K and returned to second grade. Assuming they were too old for that type of thing, I stopped doing mystery reader. I'm not sure why I decided to resume it in 3rd grade a few years back, but I did.
And I'm glad.
The kids adore having mystery readers join us and have a blast with the clues.
It thrills me to see them so excited about anything literacy-related.
I also love that it provides an opportunity to parents to be involved that takes very little time from their busy schedules.
I also find that since they tend to be "independent readers" by the time they enter third, their parents don't sit and read to them as much at home. They like having them read to them in class.
Here's what I do in my room:
I print out a Mystery Reader Sign-Up Book for the year. It includes all of the months we are in school. I fill it in with the dates we are available for a reader. I typically do a daily read aloud and encourage readers to come at that time. However, I'm always happy to accommodate the reader's schedule. I find that first thing in the morning (i.e. before they need to be at work) is best.
I make the sign-up book available at Open House and also fill it in on my own throughout the year.
I ask the reader to provide 5 clues about him/herself. I share only one clue at a time. I start with a vague clue and then get more specific as the arrival time nears.
I have a binder with the cover shown above in the front pocket. I record the clues on the sheet below. I try to take a photo of the reader with their student and the book they shared. I attach that to the space on the page and add the page to the binder. In the event that I don't have my camera, I let the student illustrate a picture. This book remains in our library. It's a favorite to read and inspires the students to read the book that was shared.
I send a reminder before they come and a thank you afterwards. I try to include the photo that I took during their visit. In addition to having "special friends" sign-up, I also recruit administrators, former teachers, specialists, etc. Our custodian is always a favorite!