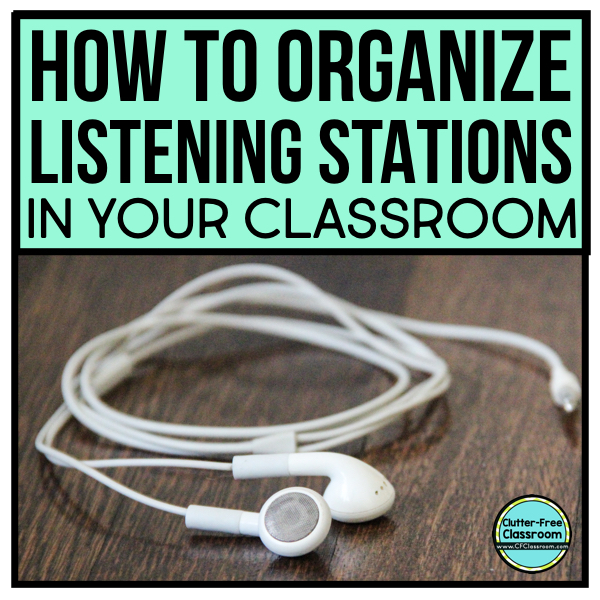 Are you looking for ideas on how to set up a listening center in your classroom? Maybe you are looking to improve the listening center you are already using. You found the right place!


Some teachers think that listening centers are just for kindergarten, first, and second graders; however, the older kids love listening centers too! They can be used in so many different ways when you are working with upper elementary students. Read below to learn more!


This blog post will…
define what a listening center is and its purpose
offer three factors to consider and ideas for furnishings and supplies
recommend ways to build up a listening center collection, hold students accountable, use an alternative to a traditional listening center, and offer other ideas
What is a listening center?
A listening center can take many forms, but they all involve students listening to a story being read to them while they follow along with the book in front of them. You can use iPads, iPods, MP3 players, desktop computers, laptops, cd players, and even cassette players.


What is the purpose of a listening center?
The purpose of a listening center is to build reading fluency and a love of books and reading.


When planning your listening center, you should consider three key factors:
Technology: What technology are you going to use for your listening center?
Location: Does the technology you are using require that it be near an outlet? If you need wifi, is there a certain part of your room that gets it better than other parts? Are you able to see students in the listening center from where your small group table is?
Organization: How will you organize the materials? How will you store them?


What furnishings and supplies do I need to set up my listening center?
Technology

: Ideas include iPads, iPods, MP3 players, desktop computers, laptops, CD players, cassette players, batteries, and chargers.

Texts

: Ideas include books, qr codes, downloaded stories, CDs, and cassette tapes.

Posted Expectations

: Ideas include anchor chart and piece of paper.

Storage Solution

: Ideas include baskets, bins, Ziploc bags, and shelves.
How can I build up my listening center collection?
Share with other teachers.
Grab QR codes on Teachers Pay Teachers for your iPad. Some are even free!
Borrow them from the library.
Get them free from Scholastic.
Ask parent volunteers to make them for you. This is a great job for parents who work and can't volunteer in the classroom. They simply need to record themselves reading the book with a turn signal at the end of the page. With computer technology they could do this in digital form or you can have them kick it old school with a tape recorder and a bell.
How can I hold my students accountable when they are at the listening center?
Incorporate a simple follow up activity for students to complete and turn in when they are done using the listening center.


What are alternatives to traditional listening centers?
iPads using QR codes
iPods or MP3 players
www.Tumblebooks.com
RAZ Kids
What other tips and ideas should I consider when setting up a listening center?
Place stickers on the buttons they need to use. I used a green dot for play, a red dot for stop and a yellow dot with an arrow drawn on it for rewind.
Store the books and tapes/CDs in gallon sized ziplocs and then put those bags into a tub. Use plastic drawers or baskets to keep them in.
Ask students to bring in earbuds or headphones as part of their supplies, so they use their own in class and in the computer lab.
Ask for donations! Ask for old discman's and batteries.
It's best for each child to have their own copy of the book.