Sometimes things are just ironic.
I've been working with my first grade son on word study patterns that compliment his weekly focus in class.
For example, last week they did long i using "magic e" so I created some games for him to expose him to all of the ways to make the long i sound.
He's loving it and I'm loving that he's sorting and reading the patterns.
I also love that the games work for my 3rd graders as well.
I'm planning to add them to my store after I've had a chance to play them at home and at school a bunch and make sure they are perfect.
The irony comes from the fact that I have randomly been receiving a notable number of emails asking me about word study and what I do/use.
In the spirit of efficiency (which I realize could be translated into laziness so I apologize), I am reposting two of my posts about word study in my classroom.
MY WORD STUDY GAMES: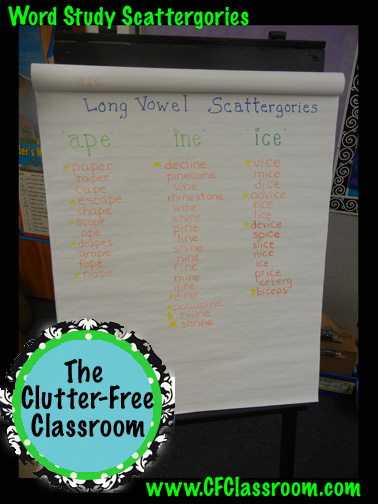 A little bit of "categories"…alittlebit of "scattergories."
We did both today.
It was really pure coincidence, but I like when things flow like that.
We're studying data and graphing in math. Ultimately the kiddos will need to sort data into categories, pose a question, and create a visual to represent their findings.
I know, right?
It's a lot for their little 8 year old brains to grasp. Ultimately it clicks, but I always find the "forming categories" to be the most challenging part. We had a breakthrough moment today when I related the concept to sections of the grocery store (produce, canned goods, meats, freezer). Wish I thought of that one sooner.
This afternoon I debutedScattergoriesas our Word Study Activity.
So. Much. Fun!
Scattergories Playing Sheet from my Word Study Kit
I'm really focusing on Word Study as opposed to just "spelling" this year and have been designing some games and activities to go with it. I wanted to come up with some materials that could be used week after week by simply changing out the word patterns. My hope was that they would become familiar with the directions which would make the activities more efficient and beneficial to them.
Scattergorieswas a huge hit…with them and me. We worked with theCVCepattern (better known as "Magic E"). The students were give a pattern (i.e. "-ate" or "-ice) and had several minutes to brainstorm as many words as they could think of that included the pattern.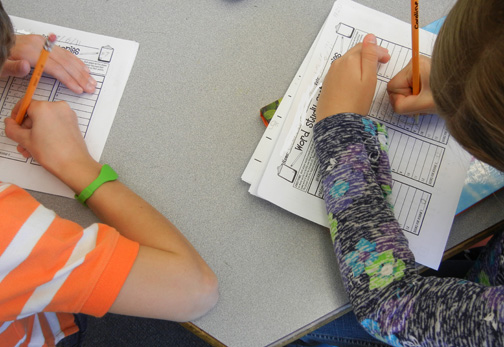 The goal was to include words that nobody else had listed.
After the time period ended, I manned the chart paper and began taking words from volunteers.
A child would say a word.
I would write it on the chart and ask, "Does anyone else have that word on their list?".
If other students had also written the word down on the chart paper they would givethe silent "me too" signalin response.
If the word is on more than one students' paper then they would draw a line through it. If a child was the only one to think of the word he would circle it and I added a star on the chart next to the word.
I was impressed with the words they came up with and we had a great time building our lists.
Here's a peek at some of the other games and activities in myWord Study Centers kit. On Friday I am going to break out the Follow the Yellow Brick Word Study Road game. If only I had ruby red slippers for it's unveiling.
click here to see more details and purchase this product
AND MY SPELLING CENTERS:
We have a list of spelling words that accompany our reading curriculum (Treasures). I use that as a guide, but differentiate my lists to meet the needs of my learners. This meant I needed to create activities that were open-ended in the sense that the students could be doing the same activity, but with their own personal word lists.
I use these with spelling lists, word study lists, vocabulary, and content area words.
I also use them as homework pages. And they are great to leave when you have a sub. Oh, and if you are a Daily 5er then these rock for Word Work.
I finally organized them all into one packet. The packet includes:
TEN CENTER SIGNS – These are optional to use, but are great for letting the kids know what to do. Each sign prints as a 8.5 x 11 ince page and can be displayed in acrylic frames or just placed at the center.

MATCHING ACTIVITY PAGES-There are activity pages to go with each of the center signs, but can be used on their own as well as each has directions stated on them.

ADDITIONAL ACTIVITY PAGES-There are also 6 blacklined reproducible pages with additional activities.

HANDS-ON IDEA LIST-Includes a list of 10 hands-on activities that you can implement in your classroom or supply to the parents to use as homework.
The following photos show images of each page in the packet. Please note that these are sample pictures so each image has 4 pages included on it. The actual packet is 30 pages long and each will print as an 8.5 x 11 page.
Be sure to follow my blog and store and Facebook Page for notification of the Freebies. Click here to access a collection of Teacher Tips or tour my Classroom Makeover here.