Having taught fractions to third graders for many years, I know how challenging the concept can be. I had used a couple different math curriculums over the years, but they all lacked in several important (and in my opinion necessary) areas. Read on to see if you are missing these too and how I solved the problem.
Most programs my districts provided consisted of a quick introduction and then a couple weeks worth of fractions worksheets. Here's what was missing:
vocabulary
hands-on exploration
seeing fractions presented in different forms
spiral review of the concepts
Knowing what was missing from the boxed curriculum the school provided, seeing where hundreds of third graders had demonstrated misconceptions over the years, and having researched best practices for math instruction at an advanced level, enabled me to create resources for my own students that truly made a dramatic difference in their test scores.
But much more important than test scores, my students…
fully understood fractions
felt confident in their abilities
were ready to move on to higher-level skills in future grade levels
could apply the concepts to real-world situations
Here is what I (and now over 2,200 other classroom teachers and homeschool families) have used with great success:
This resource can be instantly downloaded and used as a stand alone COMPLETE TWO WEEK FRACTION UNIT or as a complement to strengthen any math curriuclum. It includes TWENTY ACTIVITIES to choose from so all of your students have amply opportunity to have their specific learning needs met in a manner that clicks for them.
In addition to the activities, the resource contains a teaching plan with explanations of each of the fraction projects, fraction games, and fraction activities that are included.
Below you will find:
photos that show just "a fraction" of what is included

…yeah, I crack myself up. 🙂

reviews of this resource from some of the teachers who've found this resource has helped them and their students

a link to a FREE FRACTION ACTIVITY inspired by the book Picture Pie by Ed Emberly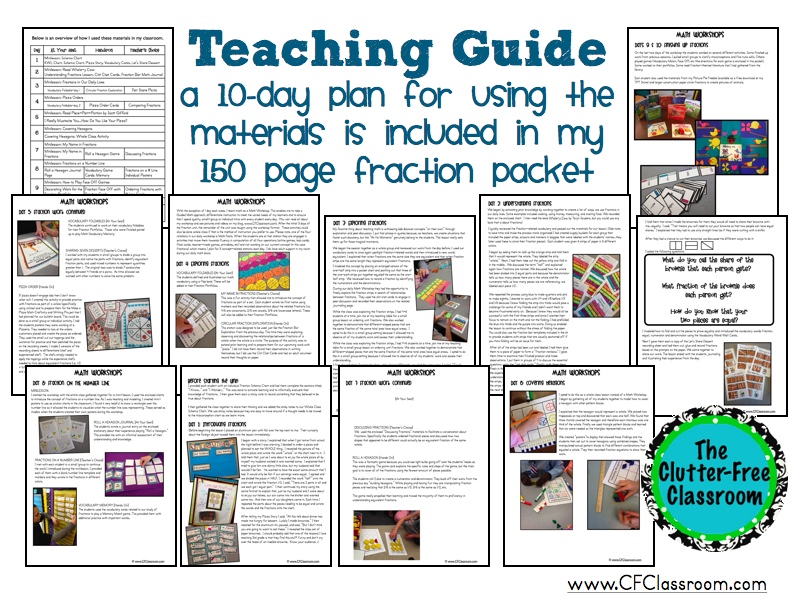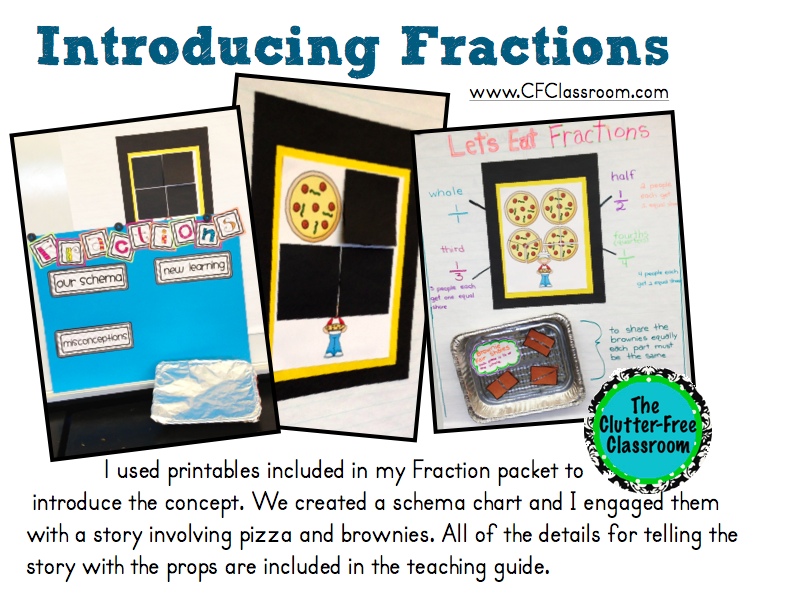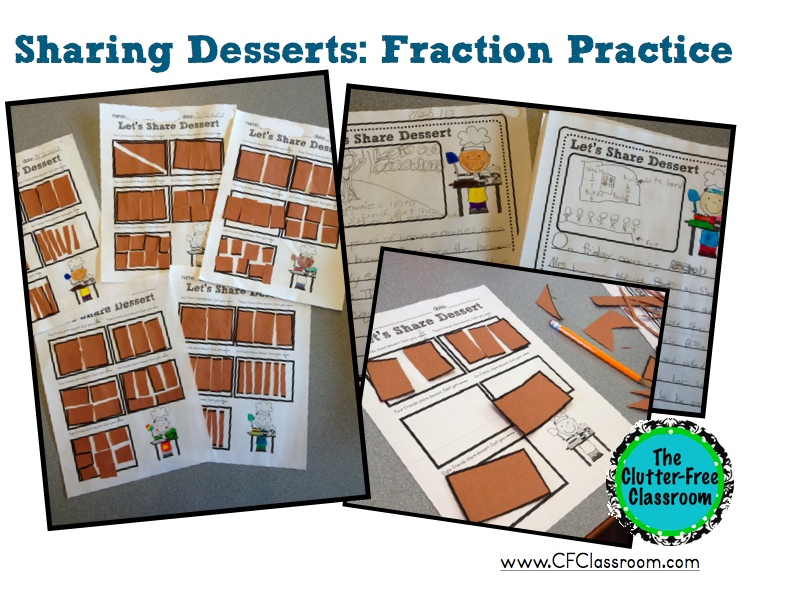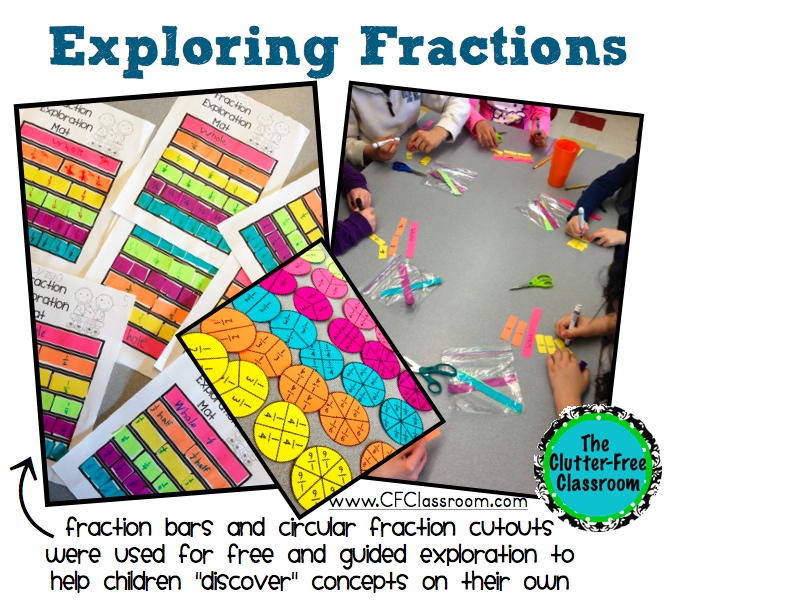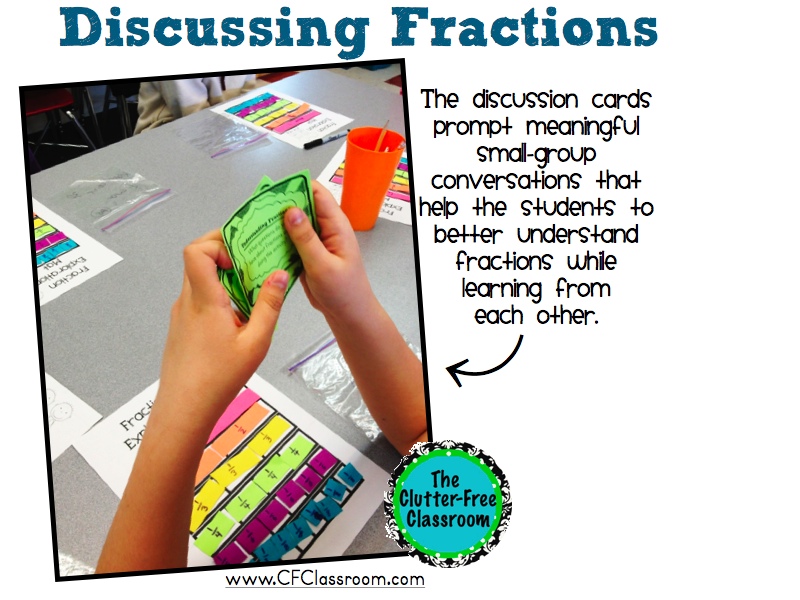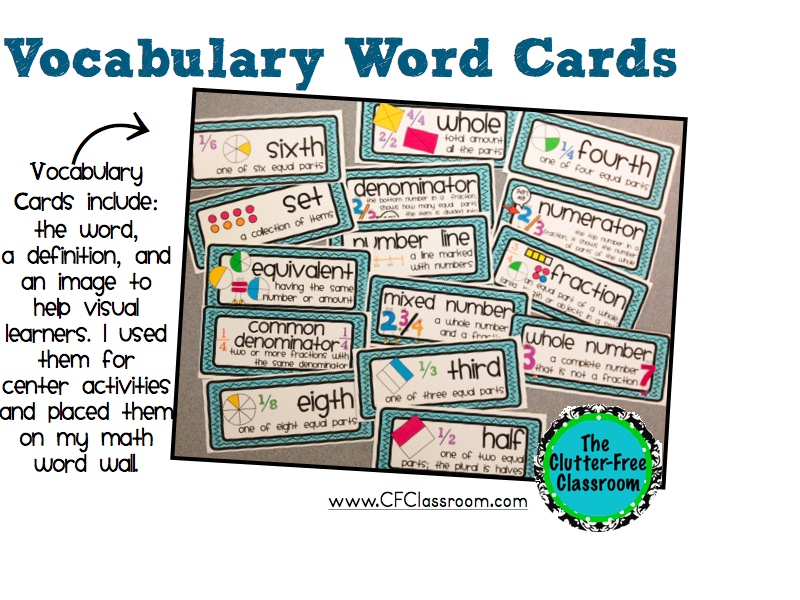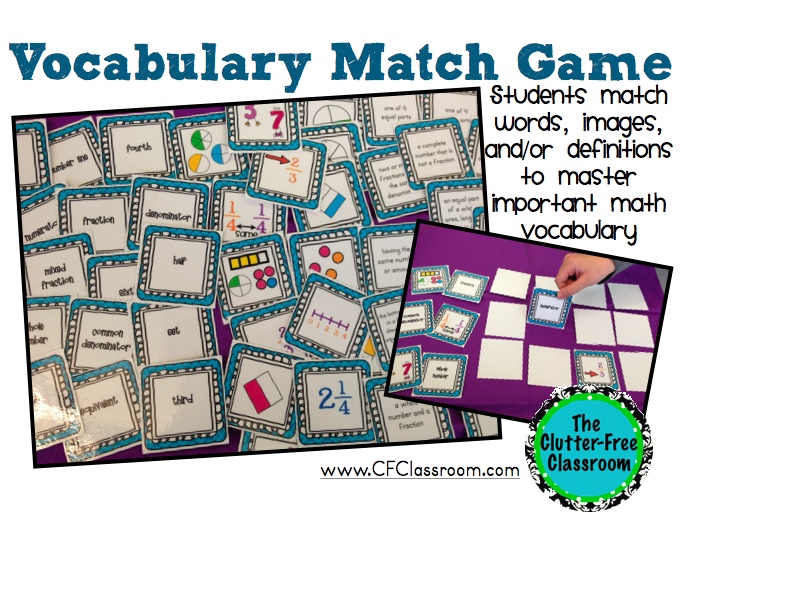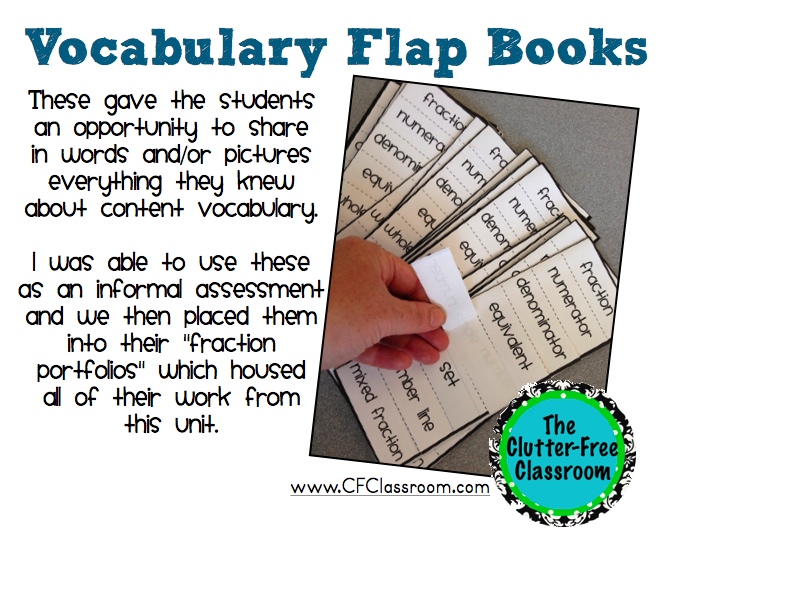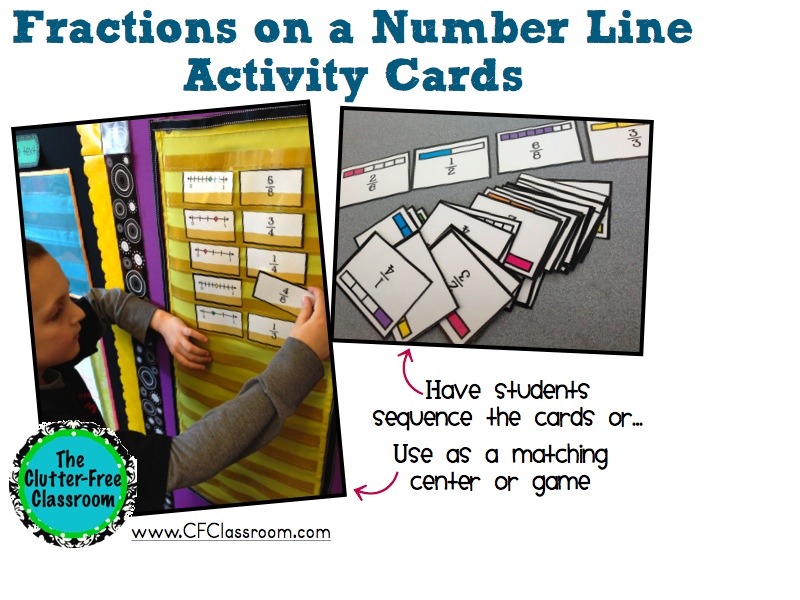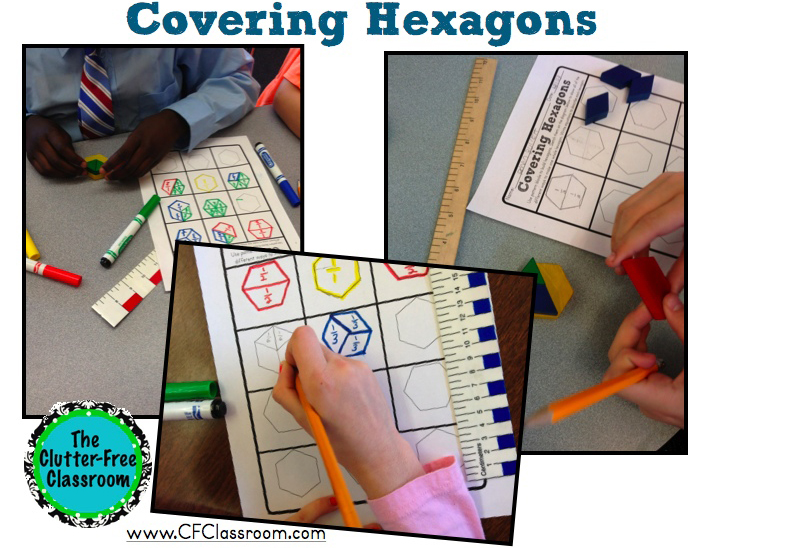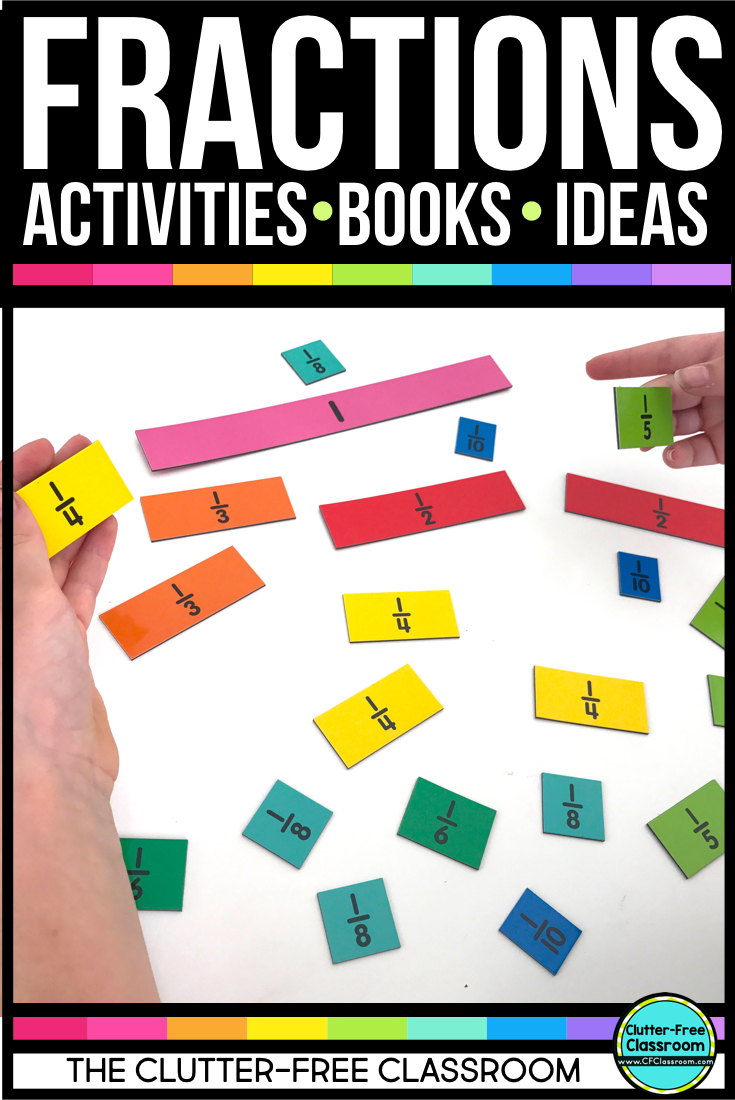 This packet contains over 150 pages of materials to use when teaching students about fractions. It includes hands-on materials, visual aides for the classrooms, games, activities, writing projects, center activities, task cards bulletin board materials and more! I created them to use with my 3rd grade students and second grade son to make math creative and fun. It includes a detailed explanation with photos of how I used these activities in my classroom.
Fractions are a very challenging concept for third grade students.
It is differentiated so all of your students will feel successful.
Students will develop a conceptual understanding of fractions through the hands-on learning experiences.
Students will be highly engaged in their learning through the games and activities in this resource.
It makes a challenging concept accessible to students.
The abundance of resources offers students many opportunities to practice working with fractions.
It provides students with hands-on experiences that make fractions accessible.
I have included differentiated versions so you can easily make modifications for your students.
There are 150+ pages of resources so it lessens the burden of planning.
This print and go resource will save you lots of time.
You will not need to supplement due to the abundance of resources in this product.
It offers hands-on learning experiences so students will be fully engaged in their learning.
The packet can be used as a complete unit or to supplement your current curriculum.
Check out these testimonials from teachers who've used it in their classrooms…
This is seriously the most amazing and perfect resource! I have bought a lot of good materials on TPT, but this definitely tops it off! This product has motivated me to step out of my comfort zone with fractions and steer away from the textbook for a bit. My students are going to be so excited about all of the fun centers. This resource will definitely help my students understand the concept of fractions. There are so many great ideas!! Thank you for provided a day-by-day look into how these lessons are delivered and how the materials are prepared. The 'chit-chat' cards are a great way to evaluate student learning as well. LOVE, LOVE, LOVE!!!!
– Sweet Tooth Teaching
This bundle provides so many activities for exploring fractions! Fractions tend to be something that kids think they understand when they really don't quite get it so the more exploration the better. This bundle provides that without being cutesy (which is a turn off for my older kids) but "non-academic" appearing to catch their attention and engage them.
– Alisa R.
Another great product! I have purchased many products from the Clutter-Free Classroom and have yet to be disappointed! Thanks!
– Skills and Thrills in Third
My favorite third grade fractions resource!! These activities are engaging, hands-on, and make beautiful bulletin boards. I've used this unit twice and already look forward to teaching fractions again!
– Stephanie B.
I absolutely love this! My students have been struggling so much with fractions that I was at the point of pulling my hair out. That's when I found this. It's definitely worth the money. They loved it.
– Amanda J.
You can read more great feedback from teachers just like you here!
Overview and Photos of the Materials in Use
KWL / Schema Charts
Vocabulary Cards
Pizza Story
Let's Share Dessert
Understanding Fractions Lessons
Fractions in Our Daily Lives
Fraction Bars
Fair Share Picnic
Comparing Fractions Lessons
Pizza Fractions
Covering Hexagons
My Name in Fractions
Roll a Hexagon
Discussing Fraction
Fractions on a Number Line
Fractions on a Number Line Game Cards
Vocabulary Game Cards
Fraction Face Off
Portfolio Cover
Misc Materials
Task Cards
The other problem I faced using the boxed math curriculum was that my students would forget what they had learned over time. This was because they would be introduced to a topic, practice it for a few days, be assessed and then move on. This meant we would then need to take time from class for "test prep" later in the year and I never felt great about their level of retention.
I solved that problem by creating my own system for ongoing spiral review.
This was KEY to
helping students who had demostrated proficiency retain their knowledge
letting students who had not quite grasped concepts when they were introduced to have repeated opportunities for practice until mastery
allowing me easy, ongoing assessment of student abilities which I then used to form focus groups for small group instruction during math workshop
making it easy to provide consistent homework routines for families
Fractions are a big part of each of the monthly spiral reviews.
Many teachers find fractions to be a challenging concept to teach and students who excel with computation skills sometimes struggle when it comes to fractions and geometry.
I am confident that by teaching your students the vocabulary and providing them with hands-on, creative activities to practice the concepts you will see huge gains in their understanding of fractions and find them to be a really enjoyable topic to teach.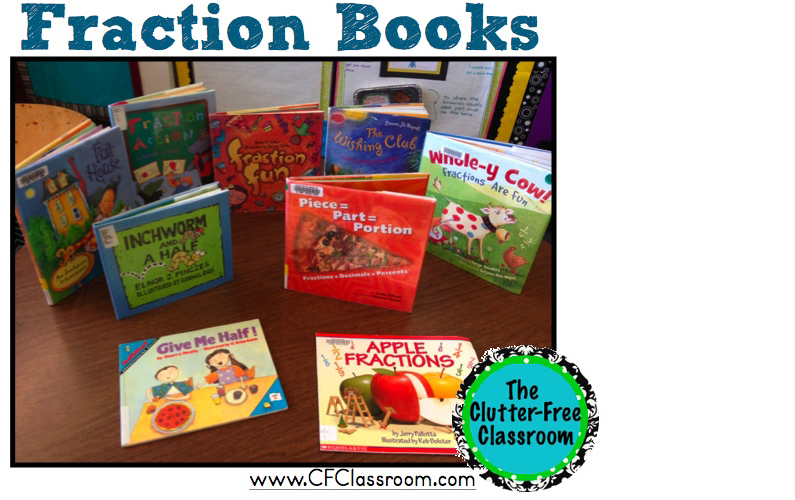 On Thursday I blogged aboutsome of the activities that I had done in my classroom to teach my third graders about fractions and shared some materials frommy Fraction Packet. You can readthat post here.
This year I have really been trying to incorporate more math literature into my lessons. Above are the books thatI had borrowedfrom the public library that focused on fractions. I plan to order a couple to own.
Whole-y Cow: Fractions Are Fun
was simple and engaging. I read it to my second grade son before I brought it to school and he quickly understood the concept of fractions in a set.
Full House: An Invitation to Fractions
was a book that my students enjoyed listening to and I modeled the fractions on the board as I read it aloud.
The other books were worth checking out and worked well as a center during my math workshop rotations.
Click on any of the books below to read full descriptions and see additional images via Amazon.