I feel like the winter holidays always sneak up on me! It is as if Halloween, Thanksgiving and Christmas are on our radar starting at the end of summer and then all of a sudden you wake up and it's Martin Luther King Day. This part of the school year goes by so fast! If this happens to you too, don't worry because I have you covered with these Martin Luther King Jr. reading activities. Not only do they help students learn about Martin Luther King Jr., but also support them in practicing literacy skills. Learn more about this resource below!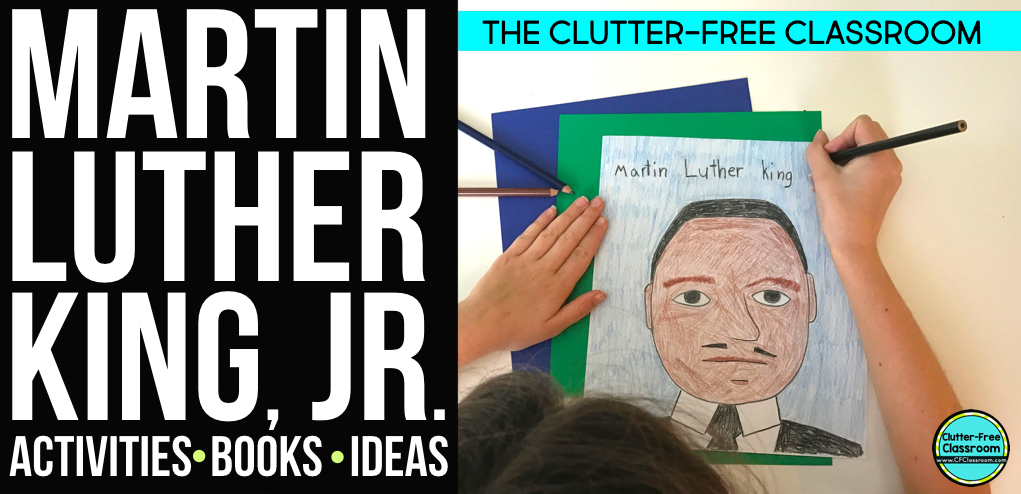 What is Included in this Martin Luther King Jr. Reading Activities Resource?
This MLK reading resource includes the following components:
teacher's guide that walks you step-by-step through how to implement this resource in your classroom
3 differentiated reading passages so you can differentiate based on your students' needs
reading comprehension activities that offer students practice with summarizing, identifying main idea and details, vocabulary/word choice, author's purpose, and more
discussion prompt cards that promote higher-level thinking and thoughtful class discussions
differentiated writing paper with a prompt based on the topic
What Grades is it Appropriate For?
This MLK reading resource includes differentiated materials so it can be used with 3rd, 4th, and 5th grade students. There are different templates to choose from. This allows you to differentiate with ease.
Why do Teachers Love this MLK Reading Resource?
Elementary teachers love this MLK resource because it…
includes differentiated activities so you can choose what works best for your students and differentiate as needed, making all of your students feel confident and successful
requires very little prep
offers students a break from formal curriculum programs that follow a structured format
facilitates a fun learning experience for students in the month of January
looks great as a January bulletin board display
offers students the opportunity to practice the important reading strategy of close reading
trains students to become active participants in their reading through annotation
creates strong readers who are able to attack complex grade level texts
offers opportunities for students to read and annotate passages, engage in text-based discussions, study author's vocabulary choices, analyze text structure, comprehend main ideas and key details, and develop their craft as a writer based on what they've read
promotes student engagement through studying a high-interest topic
is designed to enable all students to work on similar, but modified versions without it being obvious to their peers
sparks wonderful and meaningful conversations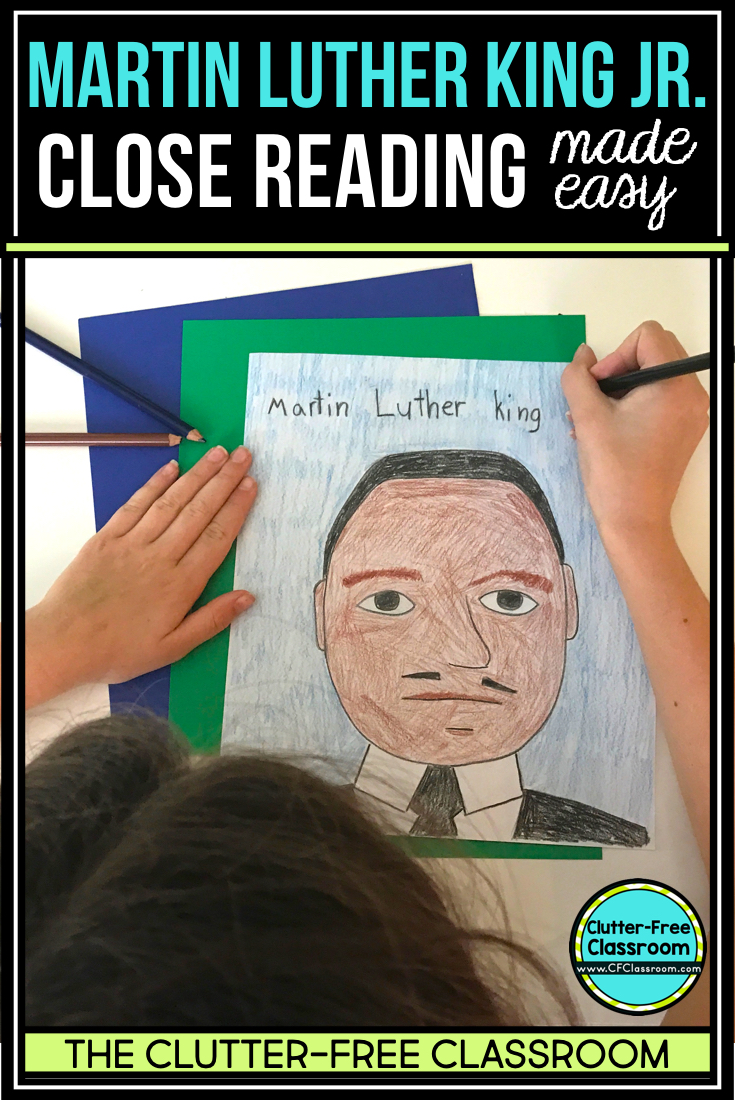 How to Use it in your Classroom
This Martin Luther King Jr. resource is a perfect stand alone activity for MLK Day in January. It can also be used to complement an MLK, Black History Month, or biography unit. If you choose to use it with a biography unit, check out these biography activities, biography projects, and genre unit.
If you are using this close reading resource to celebrate MLK Day, then consider checking out this list of Martin Luther King Jr. books for kids. It includes a ton of quality read alouds that are both informative and engaging. Consider also sharing videos about him, reading aloud his I Have a Dream speech, and inviting students to create a piece of artwork for a bulletin board display.
Other Martin Luther King Jr. Activities
Below are other Martin Luther King Jr. activities you can use with your students.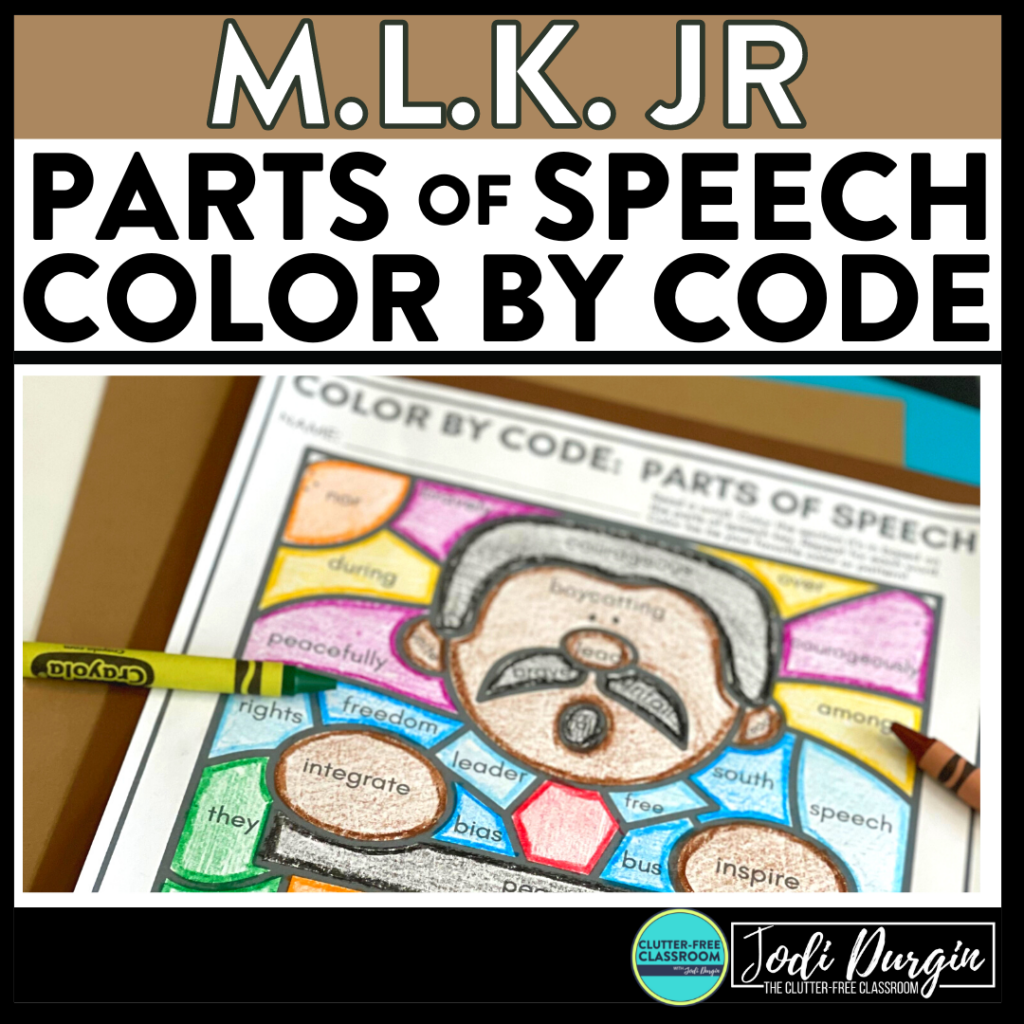 MLK Activity Packet
This Martin Luther King Jr. Activity Packet is filled with fun and engaging activities students love like a directed drawing writing activity, word search, and crossword puzzle! These activities can be used as center activities, homework, fast finisher tasks, filler activities, or indoor recess activities. Learn more about this print-and-go resource in our Clutter-Free Classroom Teacher Store!