Did you know that ALL public school teachers MUST teach a lesson about the Constitution on Constitution Day every September? It's true. If you teach at a school that receives government funding, you are required to teach your students about the Constitution on that day each year. This post will explain how you can use fun Constitution Day activities to fulfill your legal obligation as a teacher while staying true to your values of developmentally appropriate instruction.
Before you dive into any of these activities with your students, it's important for you to have an understanding of the Constitution. It's okay if you don't know a lot about the history of it, but you will need a basic understanding so you can teach it and address student questions that may arise. This Constitution Day packet has you covered as it includes information about the holiday, as well as tons of printable activities to use with your elementary students. Learn more about this packet, as well as other Constitution Day activities below!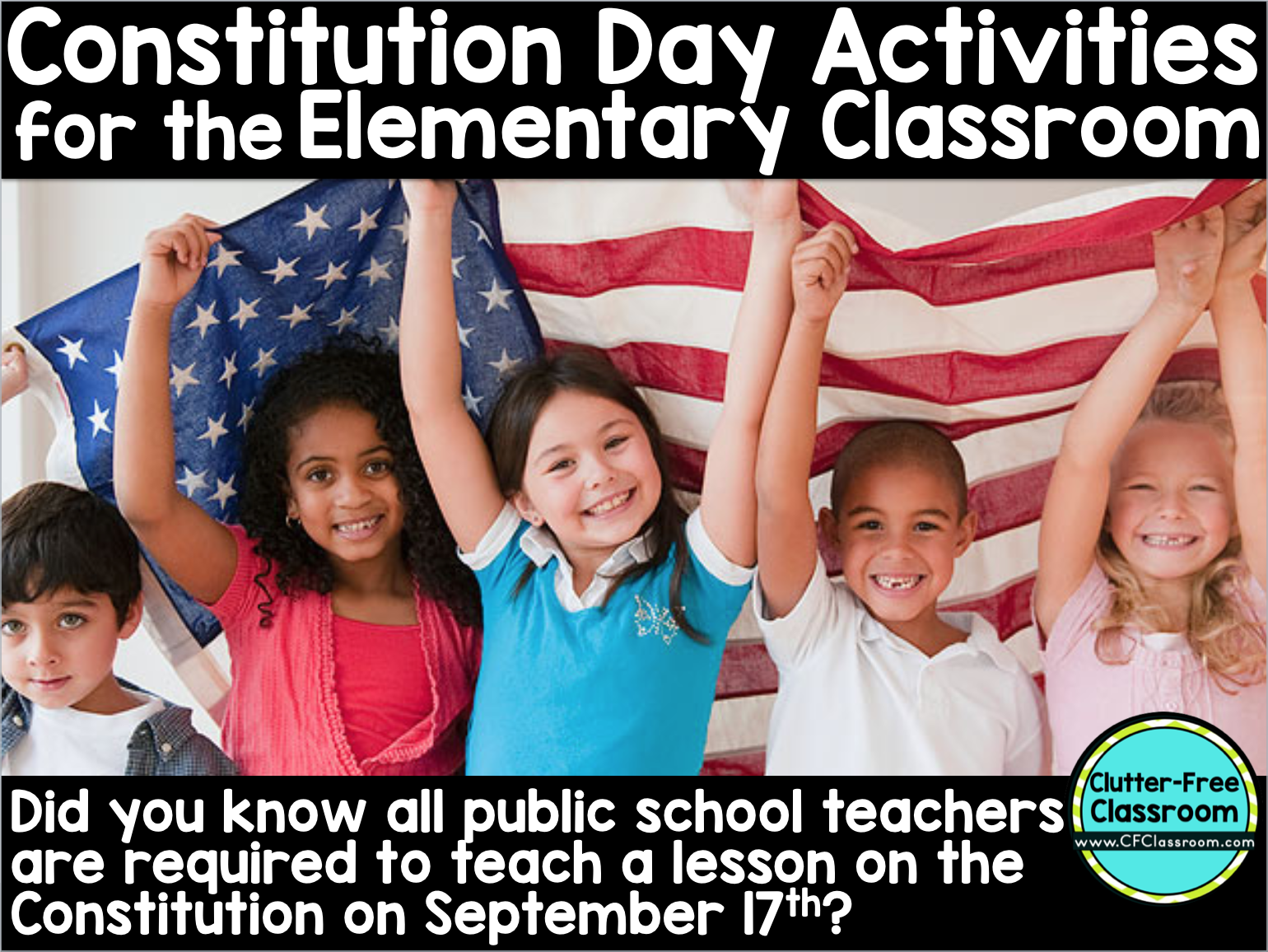 How to Teach Constitution Day to Elementary Students
Here's the thing… I don't typically get into debates over politics and about how the people making the laws and policies aren't teachers, but from an educator point of view, Constitution Day certainly is not ideal. Do I think the Constitution is important? Of course. Should children learn about the Constitution? Sure. Do I see why they picked September 17th as the day that we must teach a random lesson? Yes. It's the day the Constitution was signed.
While I do understand the thought behind it, as teachers we know that it is not best practice to randomly teach an isolated lesson. This is especially true about a topic that requires a great deal of schema and scaffolding. Much less attempt to teach it only a couple weeks into the school year. Below are suggestions for teaching Constitution Day to elementary students in meaningful ways that work well for the beginning of the school year.
1. Read a Book about the Constitution
Select a book written specifically for children about the Constitution from my book list below. Because of the complexity of the topic, most are a bit challenging to understand. For that reason, this would be a great way to model how to annotate a text to improve comprehension. I found great success with using these interactive bookmarks in my classroom throughout the year both during the school day and as nightly homework in place of a reading log. My recommendation would be to pair the use of the interactive bookmark with the book.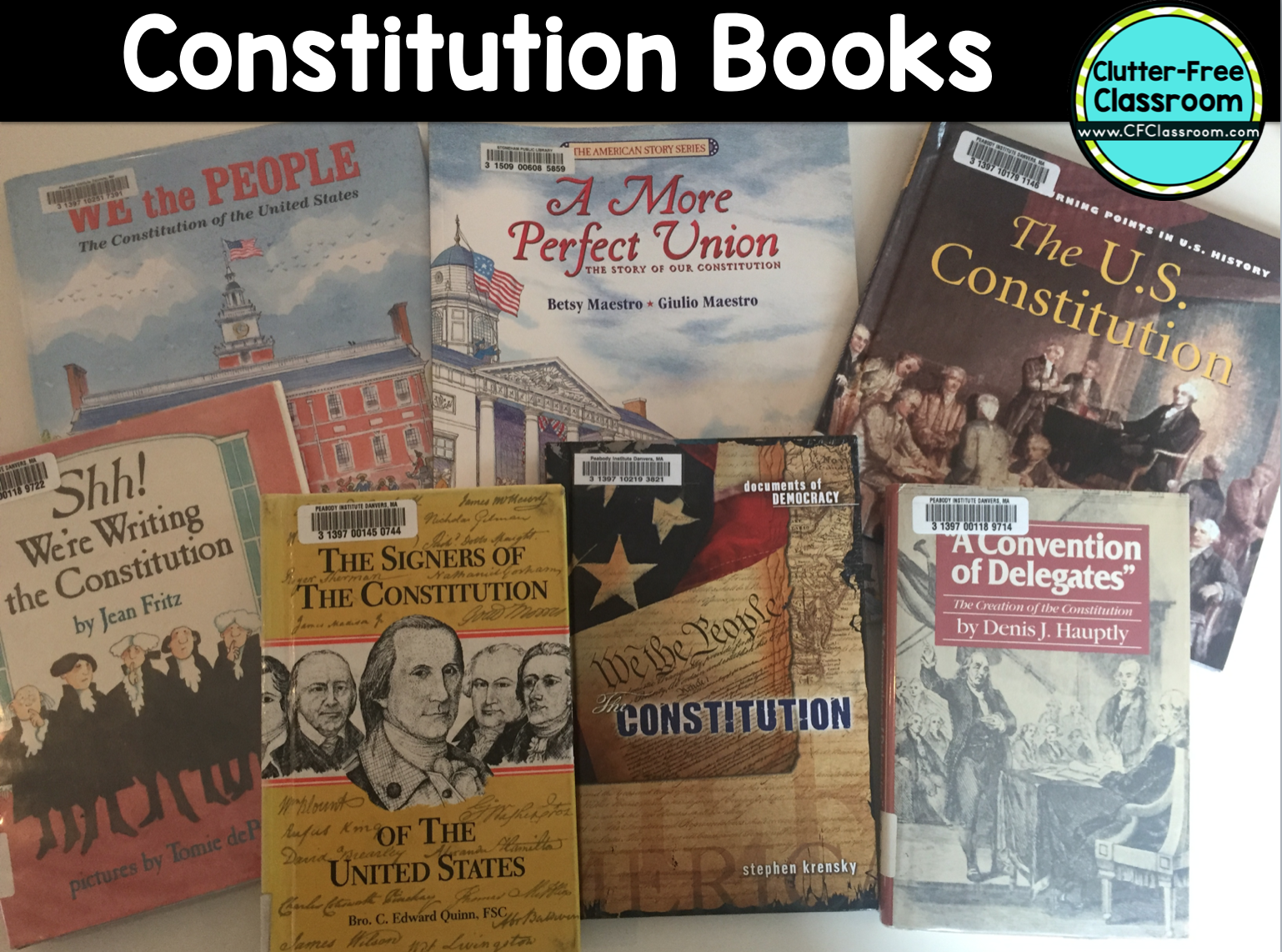 Create a Learning Library
Do you have an area in your classroom for seasonal or thematic books? I have always found this to be an easy, yet extremely effective way to get kids enthused about books. By frequently rotating a display of new books facing out you will find your students are quick to show interest in exploring them. At the bottom of this page, you will find a collection of titles you may want to purchase or borrow from your local library specific to Constitution Day. Having these books on hand will add clarity to the subject and serve as an enrichment to those who choose to read them.
Books about the Constitution
Click each of the covers for more details. Clicking on any of these covers will take you to the book on Amazon via my affiliate link where you can learn more about each book.
2. Write a Classroom Constitution
Because the U.S. Constitution is a complex topic typically taught in a higher level civics class, you certainly won't be getting into too much detail in September at the elementary level. Instead, provide the students with a summary of what it is, why it was created and the purpose it serves. Enable them to relate to it by focusing on the aspect of community and the importance of "rules" to ensure the safety and well-being of all.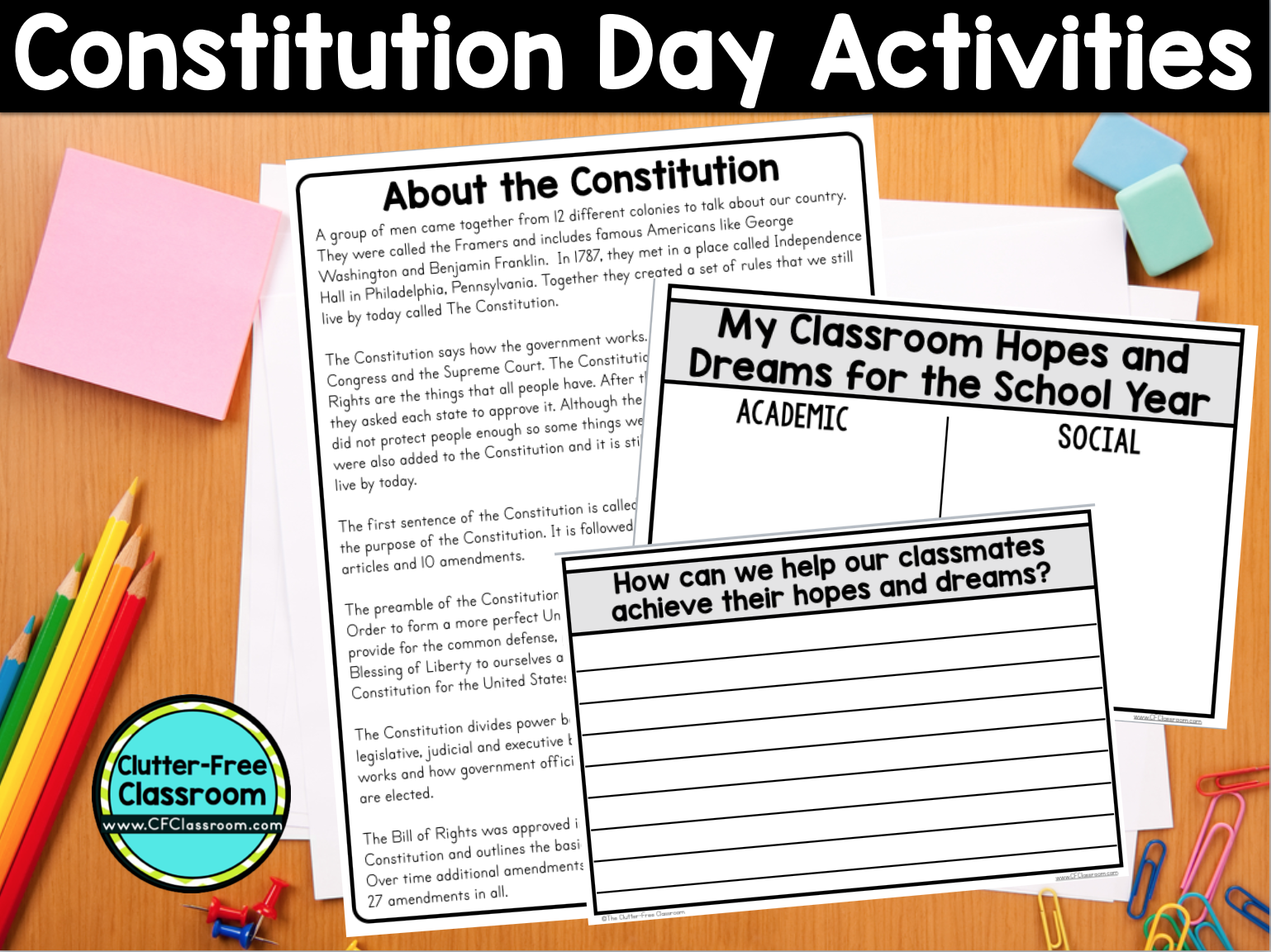 3. Examine and Interpret the Preamble
The first sentence of the Constitution is called the preamble. The preamble explains the purpose of the Constitution. As a whole, it is very challenging for elementary students to understand. Breaking it down into smaller parts not only makes a good lesson on the Constitution, but is an extremely effective way to demonstrate to students how to attack a text that is not familiar to them. Older learners can work on their own or with partners/teams to make flap booklets explaining their interpretations. Younger learners can create illustrations for each section. Both make a great display. Be sure to snap a photo of your completed bulletin board or chart for your teacher evidence binder as documentation that you are aware of your professional responsibilities and taught the required lesson. I recommend pairing this lesson with a reading of We the Kids by David Catrow.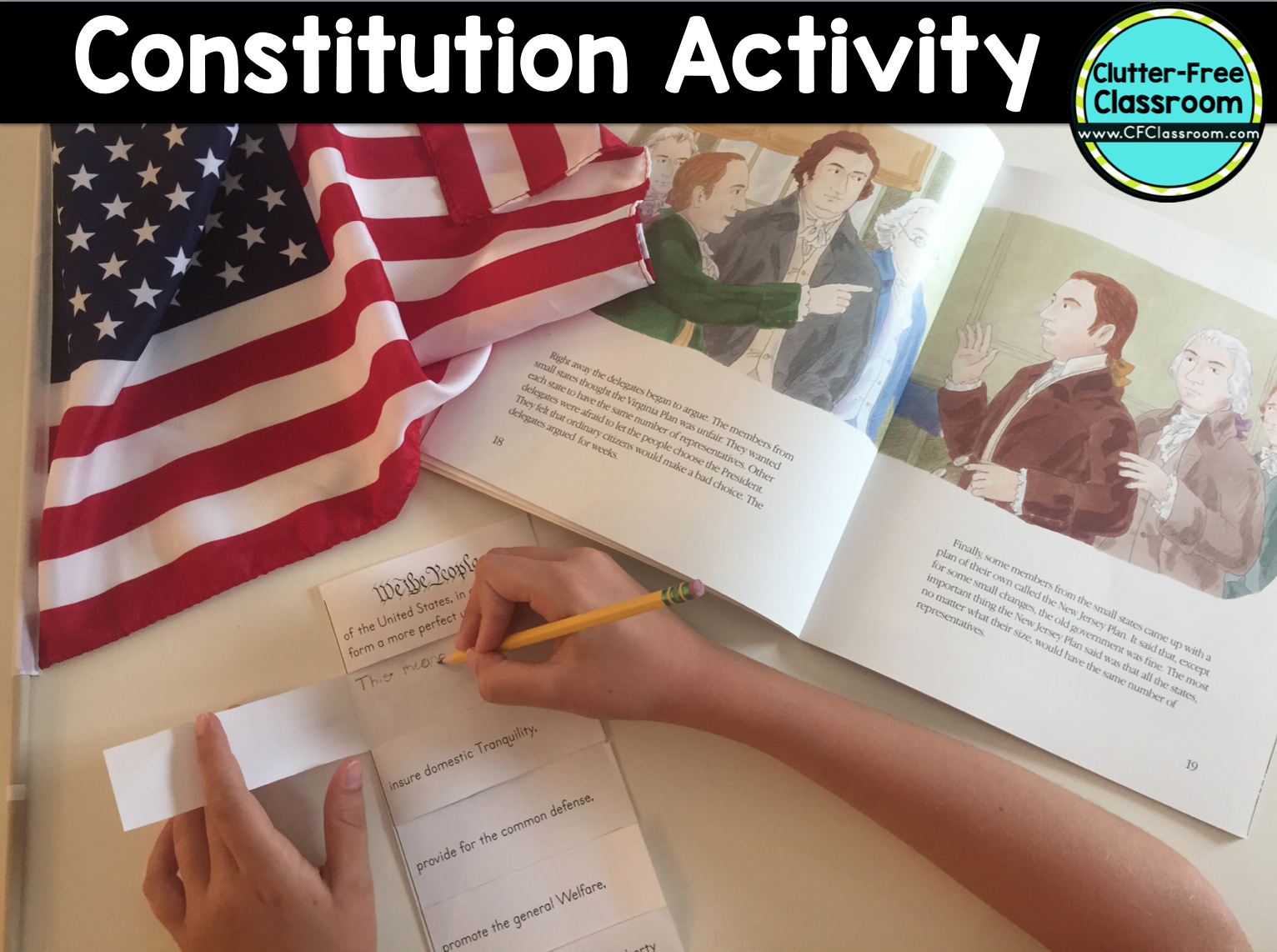 4. Create Graphic Organizers Together
Your students will be using graphic organizers throughout the entire school year. They'll use it to sort their thoughts, make sense of information, and plan their writing. You can model how to use an organizer by reading a book about the Constitution and showing them how to fill in the chart. You could also teach it as a shared writing experience. You can do this by having the students come up and add to the organizer as you read.
5. Encourage Student Discussion
Have students discuss and support their own opinions. When the Constitution was written, it was the culmination of meetings between men with differing opinions on a variety of topics. They needed to listen to one another, share their ideas and make compromises for the good of the whole group. This obviously relates to the skills they will use in the classroom.
Use this opportunity to discuss how to have a discussion that is a friendly debate and put it into practice either in small groups or as a whole class. Use prompts that relate to the Constitution but only require a general understanding of it as the students will not yet have the schema to support more complex topics.
You could also have them support their opinions in a written form by posing a question that encourages thinking. Persuasive writing is a required skill in most grade levels. This is a good opportunity to get started and multi-task the need to include the Constitution.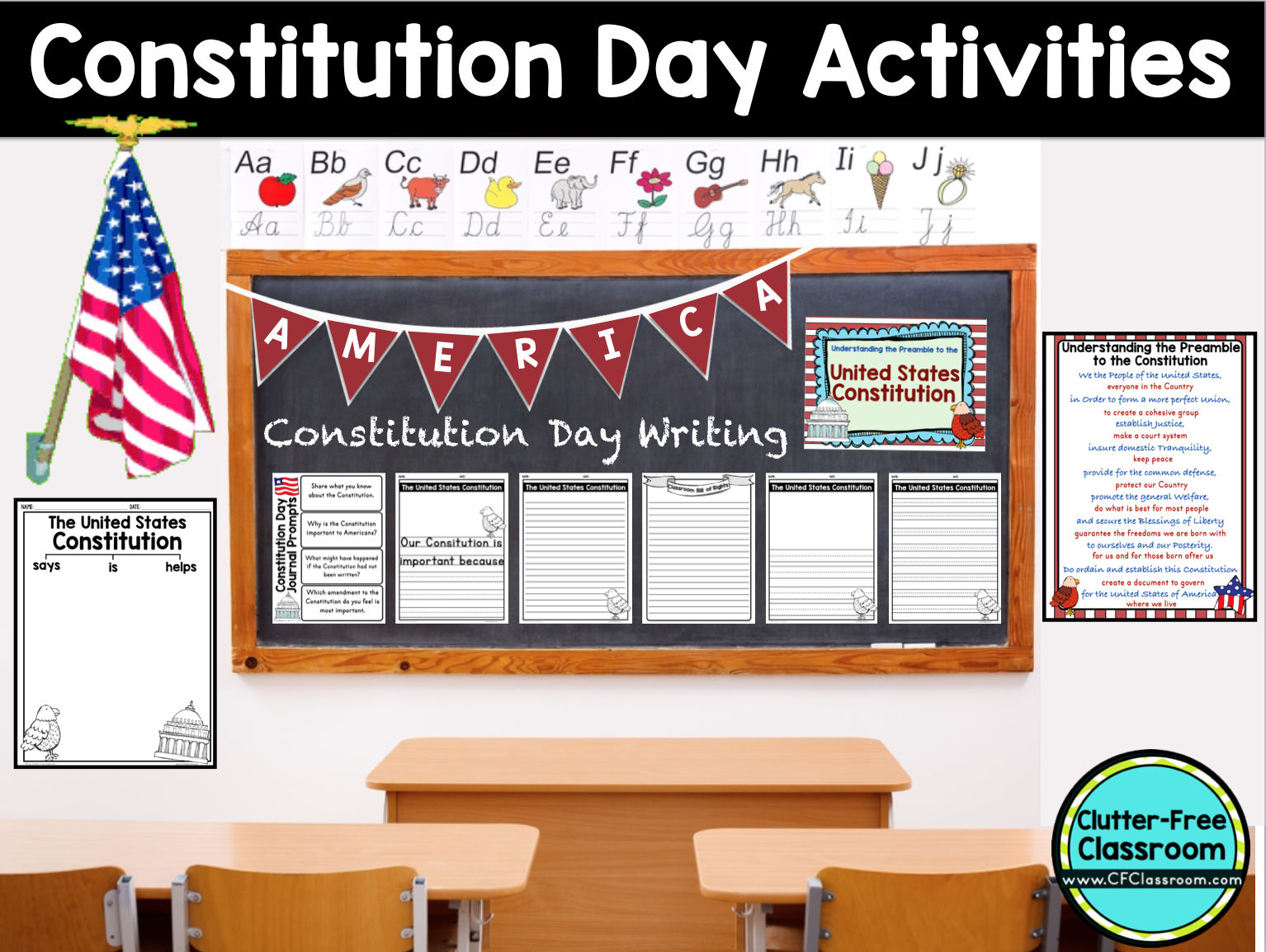 6. Show Videos to Build Schema
Videos are a great way to introduce, deepen and review a topic. They really help to clarify the curriculum for your visual and auditory learners. There are a few good options for teaching about the Constitution.
Liberty's Kids is a really good series with 40+ episodes that helps children understand the origins of the United States. It's a cartoon that features young characters during major events in the Revolutionary War period. The episodes are all available online for free. Since I was responsible for teaching that era as a social studies unit, as well as a biography unit on historical figures during the Revolutionary War, I showed my class many episodes. This one does a nice job of teaching children about the Constitution.
7. Do a Bill of Rights Jigsaw
Complete a jigsaw activity using the Bill of Rights. The Bill of Rights includes the first 10 Amendments to the Constitution. It outlines the basic rights and freedoms of the citizens of America. Much like the Preamble, the actual wording is complex for young learners. But, if the terminology is explained clearly to them each of the amendments makes a great topic for further discussion. A jigsaw activity is a cooperative learning technique where students work in groups to teach each other something. Divide the students into ten groups and assign each group one of the amendments. Have them discuss it and record their thinking for clarity. Bring the class together and let each group share their section with the class.
8. Printable Constitution Day Activities
In the past, I scrambled to find something to fulfill my obligation as Constitution Day ALWAYS snuck up on me. Here you are busy teaching things like ALL the classroom procedures and routines to make the year run smoothly when suddenly you must switch gears and cover a civics topic out of the blue.
Knowing this was the case for so many public school teachers, I decided to plan ahead and created something purposeful and differentiated for a spectrum of grade levels. I am happy to say I not only fulfilled the obligation to teach about the Constitution, but to actually do so in an engaging, meaningful way by including Constitution Day Activities that are appropriate for elementary school students.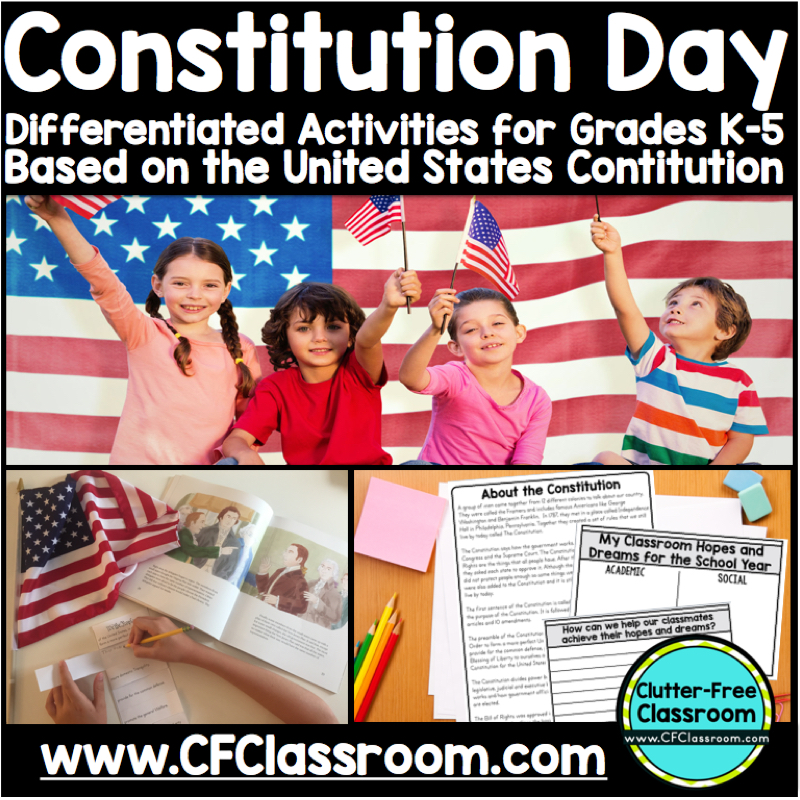 In closing, I welcome you to use any of these ideas in your classroom. I know how busy September in an elementary school is for teachers. If you need to save time, I encourage you to download my Constitution Day resource packet. It includes a variety of Constitution Day activities for elementary students. Any of the activities are great for fulfilling that Constitution Day requirement in a meaningful way. The resource as a whole is perfect for teaching about the Constitution in greater depth as well. Because I was moved to 4 different grade levels over the course of 4 years, I know firsthand how hard it is to start over. As a result, I always strive to design my resources to be differentiated. I include options for all grade levels so you can still use the packet if you find yourself in a new grade level in the future.