There are tons of strategies for analyzing texts. This post will focus on teaching students to annotate important parts of the text, which is called text annotation. Teaching text annotation is a great way to support your 3rd, 4th, and 5th grade students because it's an effective reading comprehension strategy that will help them now and in the future. As a teacher, you probably find yourself taking notes (or making annotations) when you are working on professional development readings or remember doing so when you were in undergrad or graduate school. It's a great strategy to help readers better understand the text.
This blog post will answer the following questions about teaching text annotation at the elementary level:
What is annotating?
How does annotating while reading relate to close reading?
Why is the importance of teaching text annotation to students?
What is the purpose of annotating?
How do I model annotating in reading for students?
Can you give some examples of practice activities for annotating?
What is general annotation?
What is specific annotation?
Can you share some ideas for teaching annotation?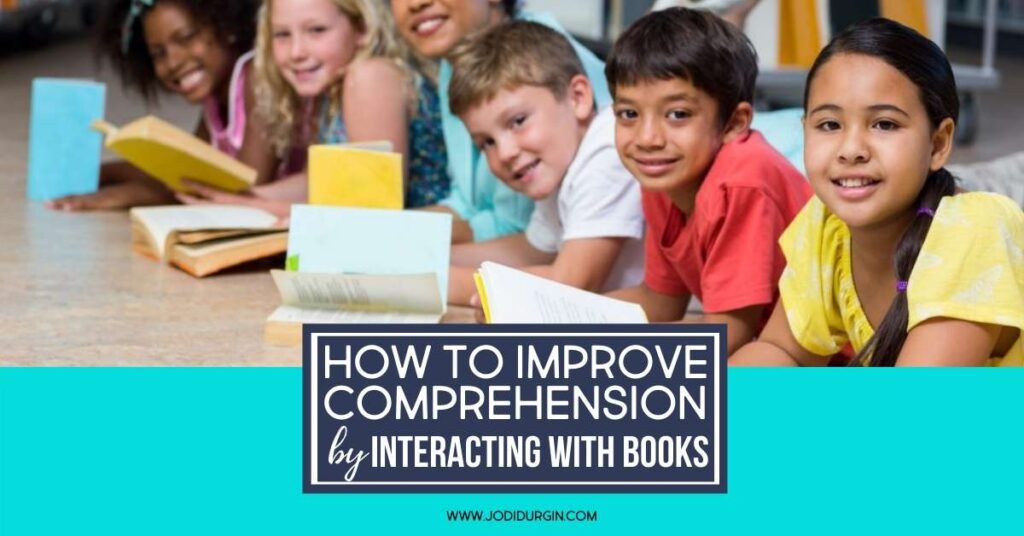 What Does "Annotating a Text" Mean?
Annotating text sounds complicated, doesn't it? Honestly, it's just a fancy word for noting your thoughts about a text. These could be pictures, comments, or general thinking, or wonderings as you read. In elementary grade levels, we introduce annotating text to teach and model for students how to break apart text and think deeply about what they are reading. For complex texts, students could read through it several times, adjusting their thinking each time. By annotating texts and thinking critically, students will comprehend texts far more deeply than before.
How Does Annotating a Text Relate to Close Reading?
Annotating a text and close reading are related and can be easily confused. When students note their thinking or observations while reading, it's called annotating. When students read for a specific purpose, such as finding the main idea, it's called close reading. Students can annotate the text while close reading for a purpose too! Both are great ways to get students thinking about their reading!
Why is it Beneficial for Elementary Students to Understand Annotating?
Teaching text annotation is important because annotating texts helps readers to:
Slow down. Elementary students tend to rush. This teaches them how to read for deeper understanding.
Focus on what they are reading
Think critically about a text
Understand all the details in the text
Process details that are complex and harder to understand
Track their thoughts. This way, they can easily find the answers to questions by looking at their notations.
Prepare for discussions and writing about the text.
What is the Purpose of Annotating?
Thinking about texts and annotating predictions, connections, thoughts, and wonderings while reading helps the reader understand the text. Readers interpret the purpose of the author's writing and can pose questions as they read. That's why teaching text annotation is so important!
How do I Model Annotating to Students?
Modeling is one of the best ways teachers can show students HOW to break apart texts to search for deeper meanings. By reading a book, article, passage, or poem aloud while showing students the text, the teacher can tell students their thinking out loud as they read.
Here are some easy steps to help you get started with teaching text annotation:
Pick a text that is on or slightly above students' reading level
Begin by making predictions about what the text will be about. Use text features to help you. Think aloud with students here. "I noticed the title says "Dolphin Habitats" and there is a photograph of a dolphin in the ocean. I think we'll be LEARNING about dolphins today. What do you think?" Offer an opportunity for students to respond with their predictions and reasons for them.
Have students help you continue to explore the text as you read paragraph by paragraph. You should be looking for and modeling unknown words and context clues, main ideas, inferences, anything confusing or surprising, or anything else that you have wonderings or thoughts about. Students need to hear what you think!
Be sure to think aloud with every text you read together. This helps students understand that we don't just look at the words on the page; we try to really understand everything about it. Then, when it is time for students to annotate for themselves, it's just a matter of writing their thinking down because they are so used to thinking about texts!
Activities for Practicing Annotating
After teaching text annotation by modeling how to properly annotate, allow students to practice for themselves. They could practice with their guided reading or literature circle books, or you could provide a short reading passage, especially when just starting. It's less overwhelming to start small! 
Here's a list of ideas that students can annotate (which are perfect for posting in the classroom for students to reference):
Words they don't know and context clues
Predictions
Connections to self, another text, or the world
Main ideas
Important facts or details
Character changes
Surprising parts
Confusing parts
Numbers of paragraphs or stanzas
Inferences and evidence
Author's purpose and evidence
Anything else students have to say about the text
Remember to keep it simple as students are starting to learn annotating text strategies! Less is more when it comes to annotation for kids at the elementary level!
What is General Annotating?
General annotating is mainly used when students read a text for the first time or when there is not enough time to read a text several times. This is probably the most common type of annotating because it is so broad and can be applied to any text for any reason. When generally annotating, students are taking notes about a variety of things. They could notice anything from a connection they had to the author's purpose for writing the text.
What is Specific Annotating?
Specific annotating is, well, specific! This is also called close reading. Students are reading a text for a particular purpose, like finding the meaning of unknown words or the main ideas of each section. Whatever skill you are learning in class at the time can be practiced through this type of annotating and is easily implemented for any comprehension skill!
4 Ideas for Teaching Annotations
Here are 4 ideas for teaching text annotation to kids:
Use sticky notes! They are great for keeping alongside books and other texts as students read. Students can even move them to a journal to write more in-depth notes later! 
Use highlighters! Students can color-code different categories and add notes alongside the text if possible (or use sticky notes). 
Gist statements! Students briefly summarize each paragraph in the text's margins if it is consumable or on sticky notes if not. This helps them to remember what happened as they reflect on the text later. 
Use symbols! There's lots of different ways to annotate a text. You could create a code for your class like this one: 

Star = important
Underline = main idea
Exclamation point = something surprising
Question mark = something confusing
Circles = new words
Checkmarks = parts they understand
Resources for Teaching Text Annotation
Here are some resources for teaching text annotation so your students will confidently and independently annotating a passage or text in no time:
More Information about Teaching Text Annotation
Are you looking for a way to turn your students into deep thinking readers and collect documentation of their thoughts without the mess of Post-it Sticky notes everywhere?
It is beneficial for students to track their thinking as they read. Taking the time to generate questions, note confusions, make connections, and document their thoughts helps them to become active, reflective readers. This requires students to be metacognitive and think about the text. It also brings awareness about what they do when they read successfully so they have a collection of tools to draw on in the future.
Often teachers have students use sticky notes to record their thoughts and place them into the book on the related page. While this method can be useful, I often found the students were distracted by the notes and frequently demonstrated confusion when asked to talk about the notes they had taken.
Since the notes students take when reading can be so useful to a teacher's instruction it is important that they be organized in an organized and effective manner. Interactive bookmarks are the perfect solution.
An interactive bookmark provides students with a neat & organized way to track their thinking as they engage with a text. It reminds students of the various manners of engagement and makes conferencing with the teacher productive and efficient. The bookmark helps to streamline student thinking so they are recording important thoughts and not just getting caught up in the "fun of the sticky note." Best of all, when the book is finished the interactive bookmark can be used as a piece of data to document progress and learning.
My teaching partner and I have been using these with our 3rd graders since the beginning of school last year with great success. The added accountability really helped our students stay on task during independent reading in the classroom and we found these bookmarks to be so much more beneficial than a nightly reading log. Each Monday we sent home an interactive bookmark as the students were required to write at least 2 entries each night as part of their homework in conjunction with the nightly reading. We both got really positive feedback from the families.