As the person running the classroom, you will need an organized space to do your work and easy access to the tools you need for tasks like grading papers, planning lessons, communicating with parents, etc. Not only is it important that you model good organization to your students, but it is imperative that you keep your area organized and functional so that you may be an effective and efficient educator. Historically, classrooms included two standard features: Desks for the students and a large teacher desk. Now, many teachers opt to not have a desk at all, while some enjoy having a dedicated place for themselves. Read below to learn more!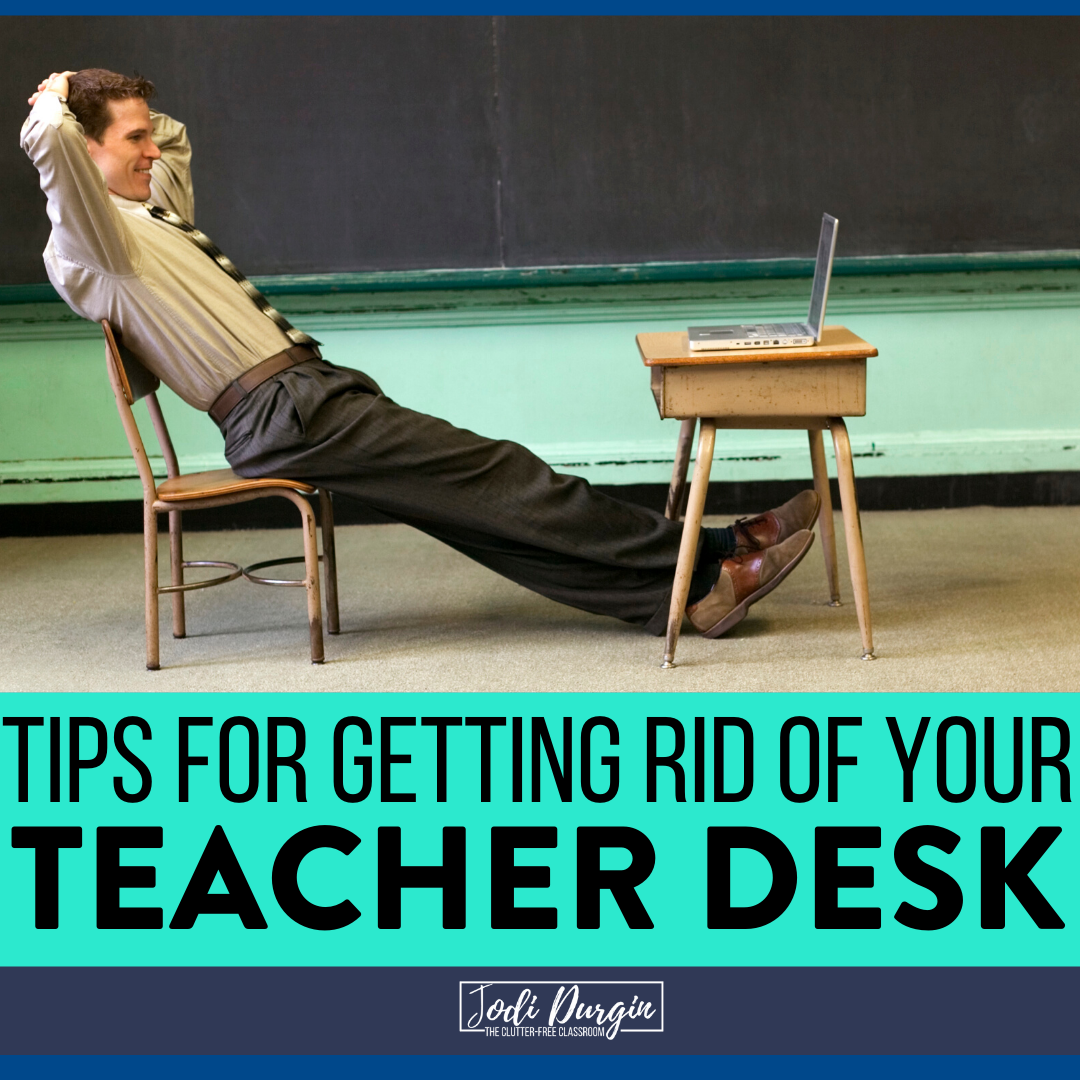 This blog post will…
suggest 5 reasons why you should get rid of your teacher desk

recommend what to use instead of a teacher desk

explain what to do if you aren't allowed to get rid of it or don't want to
5 Reasons Why You Should Consider NOT Having a Teacher Desk:
You will most likely only sit down during the school day when you are working with students.
The actual desk, your chair, and the space needed behind the desk to move the chair in and out takes up a lot of square footage. Having more space to spread out your students means more opportunities for lessons and activities and potentially less distraction and behavior issues.
It puts you at risk for clutter and wasted time. Teachers often find themselves and their students dropping

papers onto their desks throughout the day. Desk drawers make an easy hiding place when you need to tuck things away quickly. You may find yourself in a continuous cycle of cleaning off your desk top and searching for things that have been stuffed into drawers.

Times have changed. While lecturing from a desk to a row of students was once the norm, teachers are now

expected to be up and moving all day long. Technology has advanced. A desk was necessary for housing

bulking desktop computers and monitors, but now teachers often work on laptops and tablets.

A desk does not provide ample surface area for teacher tasks. A table is more conducive to projects, lesson

planning, making charts, etc. If you often find yourself moving away from your desk to do your work after

the students have been dismissed, then you may not need to keep the desk in the classroom.
What would I do if I didn't have a desk?
When I stopped using my desk, I began using the small group instruction area as my workspace. I set it up so there were shelves behind the table housing all of the texts. It was much more conducive to my needs. I had space to work. I was able to welcome colleagues in to plan lessons collaboratively at the table with me. I used it to conference with parents.
Best of all, I often had children working around it, so if I did take a few minutes to grade assessments while my students worked on independent work or did their daily reading and an administrator walked in, I never felt like I was "caught sitting at my desk."
What if I can't remove the teacher desk?
Some schools will not take away the desk for you and will require you to keep it in the room. I was told the desk needed to be available to any future teacher who may be in my classroom if I left and that there was nowhere in the school to store it. Fair enough. I solved the problem by pushing the desk all the way into corner so it took up as little space as possible. I used the drawers to store extra supplies, housed science supplies underneath it, and utilized the surface as a place to store all of the writing center materials my students needed to access.
But, what if I LOVE my teacher desk?
Well, then by all means keep it! The most important thing is that you are able to do what works best for you.