Some schools require teachers to submit their sub plans the first week of school to the main office. You may be wondering, "How am I supposed to create sub plans that are appropriate for the whole year?" The kids change so much over the course of the year. What you would leave for activities for substitute teachers in September would look very different than what you would leave in February. There are many answers to this question, but this blog post will focus on one specific one: Read alouds.
Read alouds are a great sub plans activity to leave for substitute teachers because they are whole-group lessons that all students can participate in. Plus, children love to be read to. Whether it's by their parents, teacher, sibling, or another adult, it is a time when they can just enjoy quality literature that they may not be able to access on their own. Better yet, they provide incredibly meaningful conversations and learning opportunities for your kids. Many of the books below are part of my Starts With a Story collection. which means I have created book companions to go with them that are great activities for sub plans.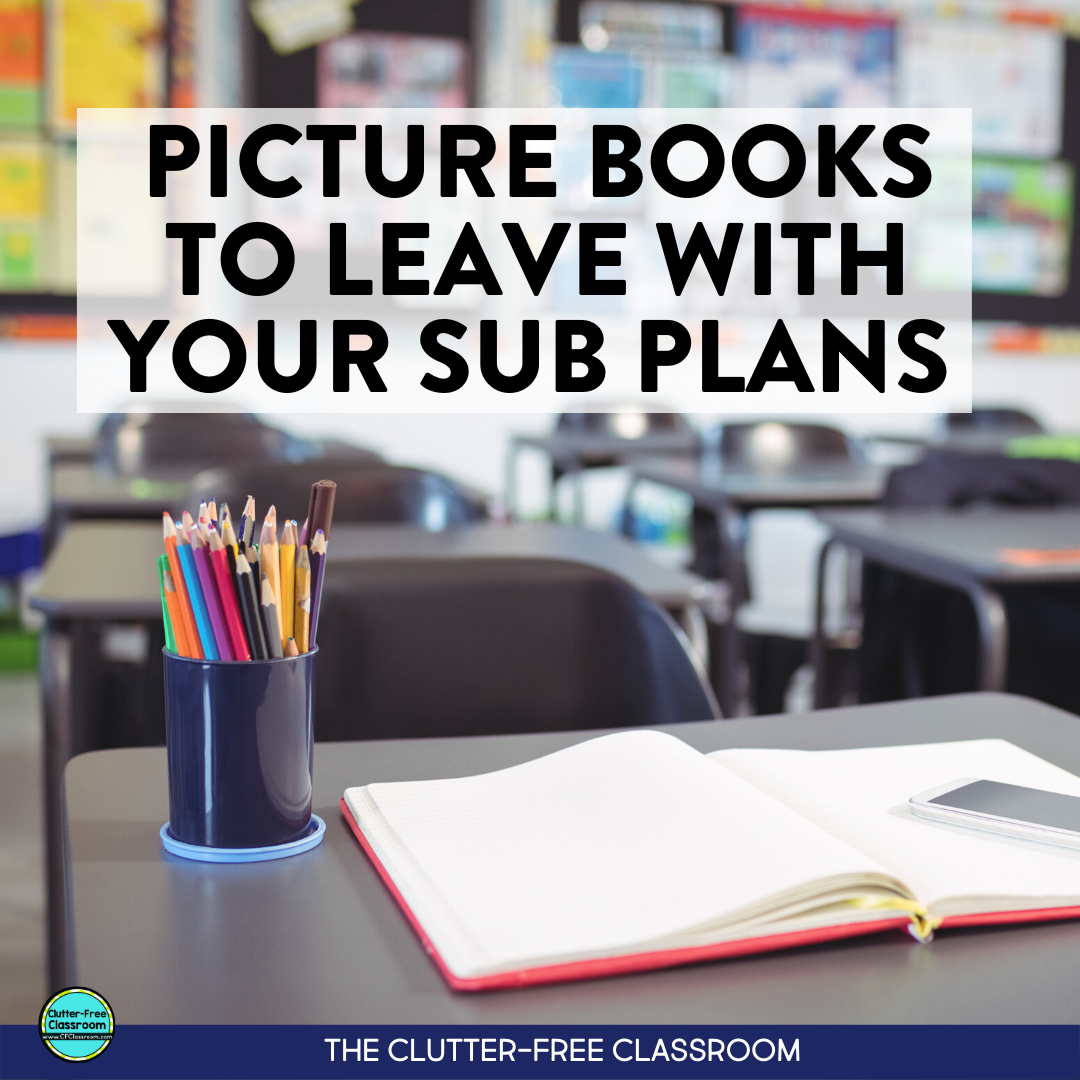 5 Reasons Read Alouds are Great for Sub Plans
Here are 5 reasons why read alouds are great for sub plans:
Students love to be read to so they'll be engaged and learning during the experience.
Even if you don't have a hard copy of the book, your students can still access the literature through technology. For example, you can find a link of the book being read aloud on Youtube and include it in your sub plans.
All students can access the activity and participate in it.
It is a sub plan activity that is easy for substitute teachers to understand and implement.
They lend themselves to great class discussions where they can learn from a different adult and gain a new perspective.
Top 3 Books for Sub Plans
Here are my top 5 favorite read aloud books for sub plans:
1. Miss Nelson is Missing
Miss Nelson is Missing by Harry Allard is a story about an unruly classroom of students and a teacher who finds a creative way to teach them a lesson. The students in Room 207 were the worst-behaved students in the whole school.  They were constantly acting up and poor Miss Nelson was unable to teach. Then one day, Miss Nelson goes missing and Miss Viola Swamp comes into the classroom. She wears an ugly black dress, never smiles, and loads the students up with homework.  It isn't long before the students miss Miss Nelson and start to look for her. When she returns a few days later, the students are thrilled to see her. They no longer misbehave and act like angels in the classroom.  In the end, it is revealed that Miss Nelson was in the classroom all along and she had dressed up as Miss Viola Swamp to teach her students a lesson about being respectful.
2. The Substitute Teacher from the Black Lagoon
The Substitute Teacher from the Black Lagoon by Mike Thaler is a story about how Hubie's teacher, Mrs. Green, is out sick so the class is going to have a substitute teacher. The substitute, named Mr. Frank N. Stein., is nine feet tall, crashes through walls, and hurls students into outer space. The kids in the class were expecting to party all day, but that is definitely not what the substitute had in mind.
3. Jamaica and the Substitute Teacher
Jamaica and the Substitute Teacher by Juanita Havill is a story about a girl named Jamaica and her experience with a substitute teacher, Mrs. Duval. Jamaica thinks that her substitute is very nice and has a fantastic day with her until it's time to take a spelling test. Jamaica is not prepared for it and makes a poor choice. She is worried about what Mrs. Duval will think of her.
Other Books about Substitute Teachers that are Great for Sub Plans
This list of read aloud books are all about substitute teachers and can be used any time of year for sub plans. You can find them on Amazon or at used book stores or yard sales for a great deal. Collecting these over time will help you build a comprehensive collection for your emergency sub plans.
Captain Awesome vs the Sinister Substitute Teacher
Captain Awesome vs the Sinister Substitute Teacher by Stan Kirby is a story about Eugene, Charlie, and Sally, who are part of the Superhero Squad. They arrived at school and found that their teacher, Ms. Beasley, was not there. Instead, there was a substitute teacher. Eugene, also known as Captain Awesome, thinks that the "evil substitute" must have captured her and hidden her somewhere. The three kids work together to rescue Ms. Beasley.
Dear Substitute
Dear Substitute by Audrey Vernick is a story about Miss Pelly, a substitute teacher who covers Mrs. Giordano's class. She doesn't do things exactly like Mrs. Giordano. The kids learn that it's okay if the substitute teacher does things a little bit differently.
Here Comes Teacher Cat
Here Comes Teacher Cat by Deborah Underwood is about a cat who does not want to be a substitute teacher to a class full of kittens. He agrees to do it and follows all of the lesson plans. By the end of the day, both Cat and the kittens learned some important lessons.
Iris and Walter and the Substitute Teacher
Iris and Walter and the Substitute Teacher by Elissa Haden Guest is about how Iris and Walter's teacher is not at school because she is sick. Iris's grandpa is the substitute teacher. At first, Iris is so excited to have Grandpa as her teacher. She quickly discovered that sharing Grandpa with the rest of her class isn't very fun. At the end of the book, Iris learns that sharing someone you love is hard, but that her special bond with Grandpa can never be broken.
Katie Woo and the Fancy Substitute
Katie Woo and the Fancy Substitute by Fran Manushkin is about a girl named Katie Woo who loves to go to school to see her teacher, Miss Winkle. One day, Miss Winkle does not come to school because she is sick. Miss Bliss covers the class as a substitute teacher. Katie is eager to impress the substitute teacher, but, no matter what she does, she can't seem to do that.
Miss Daisy is Still Crazy
Miss Daisy is Still Crazy by Dan Gutman is about how Mr. Cooper's third grade students find that he is out sick for the day when they arrive at school and see their substitute teacher, Miss Daisy.  Miss Daisy is crazy.  The kids wonder if third grade will ever be the same.
My Teacher's Not Here
My Teacher's Not Here by Lana Button is a book that tells the story of a kindergartener named Kitty who is very nervous when she sees that her teacher, Miss Seabrooke, is not at school because she is home sick. In her place, there is a substitute teacher named Mr. Omar.  Kitty is worried that no one will be able to help her with the things Miss Seabrooke usually does.
Substitute Creature
Substitute Creature by Chris Gall is a story about how Ms. Jenkins' class full of troublemakers arrived to school and saw that a substitute teacher in their classroom. The substitute teacher has tentacles, yellow spots, and one eye.  He encourages the students to follow the rules by telling them stories about his former students, but that does not stop them from their naughty ways.  At the end of the story, he shares his personal experience which finally changes the students' behavior.
Substitute Teacher Plans
Substitute Teacher Plans by Doug Johnson is a story about how Miss Huff accidentally mixed up her plans for the substitute teacher with her day-off activities list. The substitute followed all of the plans that Miss Huff left,  which led to a pretty wild day with the class.
Tales of a Substitute Teacher
Tales of a Substitute Teacher by Sheri Powrozek is a book about a second grade student named Scarlet who went to school after a long weekend and found that her teacher, Mrs. Dorris, was out sick and there was a substitute teacher in her class. The substitute teacher's name is Mrs. Finchy and she is very grouchy. Scarlet feels very disappointed at first, but then discovered that she is able to learn in new ways.
The Berenstain Bears and the Substitute Teacher
The Berenstain Bears and the Substitute Teacher by Stan and Jan Berenstain is a story about how Brother Bear, Too-Tall Grizzly, and Cousin Freddie find out they are going to have a substitute teacher. They plan lots of tricks and jokes to play on the substitute teacher. When they get to school, it turns out the substitute teacher is a lot nicer and more fun than they expected.
Everyday Books That are Great for Sub Plans
This list of read aloud books can be used any time of year, which make them great for emergency sub plans because you never know when you will need them. Books about holidays and topics related to your curriculum are great for when you know when you are going to be out, but this list is specifically for your emergency sub plans. Although, you can use them for your regular sub plans as well!
A Bad Case of Stripes
A Bad Case of Stripes by David Shannon is a book about a girl named Camilla who worries a lot about what people think of her. This is why she won't eat her favorite food, lima beans. Camilla is horrified when, while picking out her first day of school outfit, she develops stripes all over her body. Many different doctors and specialists come to Camilla's house to try to cure her. Her stripes get worse and worse with every remedy they try. One day, an old woman comes to Camilla's house and offers her some lima beans as a cure. Camilla won't admit that she likes them, until the woman goes to leave. Camilla stops her and eats the beans, and her stripes go away! Students will love this story about the importance of staying true to yourself.
Ada Twist Scientist
Ada Twist Scientist by Andrea Beaty is a book about a little girl who is very curious. She wonders about the world around her and tries to find answers to her questions, specifically, what the cause of a bad smell might be. As she conducts experiments to answer her questions, her parents get very frustrated with her. Eventually the whole family gets involved with Ada's curiosity and they work together to find answers to Ada's questions. This story is sure to inspire young readers to ask questions about the world around them and find answers to their own questions. Students will enjoy the fun illustrations, rhyme and humor throughout this book.
After the Fall
After the Fall by Dan Santat is a story about Humpty Dumpty, who is terrified of heights after he falls off the wall and the king's men have to put him back together. He feels sad because his favorite spot was to sit high on the wall and be close to the birds, but now he is too afraid. He won't climb ladders anymore and, even though he misses the birds, he knows that accidents can happen and will not go up on the wall. One day, he sees a paper airplane fly above him and decides that he is going to build a paper plane to fly. He tries and tries and tries and finally is able to make one. When he flies it, it lands on the wall. Humpty Dumpty decides that he is tired of being afraid and is going to climb the wall, even when he becomes terrified. He is filled with joy when he gets to the top. Humpty Dumpty is no longer afraid, and hatches into the bird that he was always meant to be.
Alice and Greta
Alice and Greta by Steven J. Simmons is a story about two witches who have known each other since they were in school. Alice has always chosen to use her magic to help people and spread joy. She helps a family that is stuck on a sandbar and turns a frog into a prince. Greta has always used her magic to create problems for others. She makes children's soccer balls disappear and causes a wave to destroy a sandcastle. One day, Greta is looking for trouble. She finds a playground with children and covers them in marshmallow goo! When Alice hears the children's cries, she tries to help. However, Greta is quick to stop her and traps her in the goo too. Alice must think back to the most important lesson she learned in school to help save the day.
All are Welcome
All are Welcome by Alexandra Penfold is a sweet story that celebrates diversity and inclusion. Using a rhyming pattern, students will hear about a community of people where everyone feels welcome. The children in the classroom feel safe to be themselves and celebrate their differences as they learn. The story takes us through a school day in this community and we get to see how they make everyone feel at home. Students will enjoy listening to this rhyming book and discussing community. This is a great story to launch discussions about your own community and inclusion.
Chrysanthemum
Chrysanthemum by Kevin Henkes is a story about Chrysanthemum, who loves her name until she goes to school. The students in her class make fun of her for having such a long name and for being named after a flower. At the end of the story, Mrs. Twinkle, the music teacher, defends Chrysanthemum by telling the students she too is named after a flower. The students then start to envy Chrysanthemum's long name and meaning of her name. Students will enjoy this story about being true to yourself and loving who you are.
Dragons Love Tacos
Dragons Love Tacos by Adam Rubin is a story where a narrator teaches the reader about dragons' favorite food, tacos. They also explain that if you're going to feed dragons tacos, make sure there are no spicy toppings. Dragons do not like spicy salsa. The little boy in the story loves dragons and decides to have a taco party for them. However, he doesn't realize the mild salsa he bought actually has pieces of jalapeno peppers in it! Students will love reading about what happens when the dragons eat the spicy salsa and how they make amends afterwards.
Enemy Pie
Enemy Pie by Derek Munson is a book about how the main character in this story has an enemy, and his name is Jeremy Ross. He is his enemy because he laughed at him when he struck him out at baseball, and he invited everyone to his trampoline party besides him. The boy goes to his dad about having an enemy, and his dad says that he has the perfect way to get rid of enemies, enemy pie. His dad says that the boy just has to spend the day with Jeremy. The boy is hesitant at first, but ends up going to Jeremy's house to ask if he can play. The boys spend the day together and discover that they have a lot in common, and enjoy spending time together.  When the boy's dad has them come in for dinner and serves them enemy pie, the boy panics and tells Jeremy to not eat it. The boys are officially no longer enemies, and have developed a great friendship.
Giraffes Can't Dance
Giraffes Can't Dance by Giles Andrade is a book about Gerald, who is a giraffe who wants to dance, but does not think that he is good at it. When it is time for the Jungle Dance, Gerald becomes sad because he thinks he is a bad dancer. When Gerald tries to dance, the other animals make fun of him and he leaves the dance floor feeling sad and alone. Gerald walks into a clearing where he meets a cricket. The cricket teaches him that he needs to listen to the song that is right for him. Gerald listens carefully for music coming from the moon. He is ecstatic when he realizes he is finally dancing! Gerald returns to the Jungle Dance and all the animals are shocked by how well he can dance! Gerald tells them that everyone can dance when they find music that they love.
Grumpy Monkey
Grumpy Monkey by Suzanne Lang is a book about Jim Panzee, who wakes up one morning feeling grumpy. He is very confused and doesn't know why he feels this way. The other animals in the jungle try to cheer him up, but Jim keeps insisting that he is not grumpy. Eventually, the other animals push Jim too far trying to make him happy, and he explodes and runs off. It isn't until he finally admits that he is feeling grumpy, that he begins to feel better. Students will love hearing this funny book about identifying emotions and realizing that it is okay to be grumpy.
Hair Love
Hair Love by Matthew Cherry is a story about a girl named Zuri who loves her hair! She loves the way it makes her feel. She feels likes a princess when it is in braids, and a superhero when it is in puffs. There is nothing her hair can't do! One day, Zuri needs an extra special hair style. She sets off to create the perfect look. Her dad volunteers to help, and he creates many different hairstyles for her. Through trial and error and hard work, they eventually create the perfect one! Zuri is ready for her special day. Students will love this story about a girl who loves her hair. They will start to think about the things they love about themselves, and what makes them special.
Iggy Peck, Architect
Iggy Peck, Architect by Andrea Beaty is a book about Iggy Peck and the different structures he builds. He has been building since he was two, and his parents have always supported his dream and creations. When Iggy Peck goes to school, he becomes disappointed because his teacher says that talking about architecture and building structures is not allowed at school. However, he doesn't let this squash his passion. When the class goes on a field trip, Iggy Peck and his class have to work together to build a bridge when they find themselves stuck on an island. Students will love hearing this story about Iggy Peck and the wonderful structures he creates.
Lilly's Purple Plastic Purse
Lilly's Purple Plastic Purse by Kevin Henkes tells the story of young mouse named Lilly. Lilly adores her teacher Mr. Slinger and wants to be a teacher just like him when she grows up. One day, Lilly gets new sunglasses and a purple purse with coins in it. She brings them to school and is so excited to share them with her class. However, Mr. Slinger tells her she must wait to share them. Lilly has a very hard time waiting and continues to interrupt the class. As a result, Mr. Slinger takes her things until the end of the day. Lilly is very angry and writes a mean note to Mr. Slinger and leaves it in his bag. On her way home, Lilly finds a kind note from Mr. Slinger and some treats. Lilly feels very guilty and decides to give a note to Mr. Slinger the next day. That day at school Lilly gets to share her purse and glasses. She is reminded of how much she loves school and Mr. Slinger.
Linus the Little Yellow Pencil
Linus the Little Yellow Pencil by Scott Magoon is a book about Linus, a pencil who loves to draw. He decides to enter into an art contest, and had his eye on the grand prize. Ernie, Linus's eraser, does not think that any of the drawings Linus is creating are good enough to win them the prize. Ernie continuously criticizes Linus's drawings and causes Linus to want to quit being an artist. Linus has an encounter with Smudge, and Smudge convinces him to keep drawing. Linus and Ernie go on to draw beautiful pictures together. Students will learn about growth mindset and positive-self talk as they hear the story of how a pencil learned to believe in himself.
Neck and Neck
Neck and Neck by Elise Parsley is a story about Leopold the giraffe, who is a popular attraction at the zoo. Children squeal over how tall his neck is and Leopold loves the admiration. One day, Leopold finds he has some competition at the zoo, a giraffe balloon! A little boy is holding the balloon, and thinks it is better than the real thing. Leopold is jealous and tries to compete. He can grin, zoom and bounce just like the giraffe but the balloon is still competition. Leopold tries to solve his problem by popping it, only to find the boy returns with even more balloons! The boy accidentally lets go of the balloons and they drift up into Leopold's favorite tree. He must decide whether or not to save them. When he does, Leopold finally gets the boy's admiration and all is well again at the zoo.
Nerdy Birdy
Nerdy Birdy by Aaron Reynolds tells the story of Nerdy Birdy, who has small wings and big glasses. Nerdy Birdy enjoys reading, video games, and reading about video games. He admires the other birds like eagles, cardinals and robins but they are not kind to him. Nerdy Birdy feels lonely. One day, another bird approaches Nerdy Birdy and says he should hang out with them. Nerdy Birdy is introduced to a whole group of birds that share similar interests to him and they become friends. When Vulture moves to town and is teased by the eagles, cardinals and robins, Nerdy Birdy tries to include him in the group. Nerdy Birdy is surprised when the other nerdy birds do not want to be friends with Vulture. Nerdy Birdy is able to empathize with Vulture and the two become good friends despite their differences. Students will love this sweet story about Nerdy Birdy's journey to friendship.
Owl Babies
Owl Babies by Martin Waddell is a story about how, one night, three baby owls, Percy, Sarah, and Bill wake up to find their mother is not there. Feeling nervous at first, the baby owls decide that she must be out hunting. However, the longer they wait the more scared they feel. The three owl babies wait outside their home on a branch looking for their mother. It is dark in the woods and the owls sit together trying to be brave. Finally, Owl Mother swoops down and comes home to her babies. They are relieved to have her home. Students will love this sweet story about the three baby owls.
Ricky the Rock that Couldn't Roll
Ricky the Rock that Couldn't Roll by Jay Miletsky is a book that takes place on a green, grassy hill where rocks come to play. All of the rocks there have fun rolling down the hill. However there is one rock that does not roll. His name is Ricky and he can't roll because he is flat on one side. All of the other rocks have fun rolling down hills, but Ricky isn't able to join in the fun. He is not like the others and has to sit on the sidelines. His friends work together to find a way to help Ricky roll so that he can join in the fun. They try many different solutions without success. Finally, one of the rocks comes up with a way to make Ricky round so he can roll like the rest of them. He is finally able to join in on all the fun rolling down the hill like his friends. Students will love this story about friendship and perseverance.
Rosie Revere, Engineer
Rosie Revere, Engineer by Andrea Beaty is the story of a young girl named Rosie that dreams of becoming an engineer when she grows up. She spends her time creating all kinds of inventions, but eventually hides them from her family and friends because she is embarrassed that they will be failures. One day, her Aunt Rose comes to visit and teaches Rosie that failure is part of success. She inspires Rosie to keep working on her inventions and not to give up when they are not successful at first. This is an inspiring story for students about growth mindset and perseverance. Students will enjoy hearing about Rosie's inventions and listening to the upbeat rhyme in this book.
Spaghetti in a Hot Dog Bun
Spaghetti in a Hot Dog Bun by Maria Dismondy is a story about a main character named Lucy, who is the kind of girl whose favorite food is spaghetti in a hot dog bun. Lucy's grandpa Papa Gino teaches her that even though people are different, everyone has a heart with feelings. Lucy has to put her grandpa's lesson to the test when Ralph, a boy at school, starts to tease her. Ralph teases Lucy because he thinks her favorite food is gross and that her hair is poofy. Lucy stands up for herself and does her best to show Ralph kindness. However, Lucy still feels sad and alone because of the teasing. One day, Ralph is stuck at the top of the monkey bars and afraid. People start to make fun of him. Lucy chooses kindness and helps Ralph down from the monkey bars. They become friends because Lucy chose to be true to herself and be kind.
Stand Tall, Molly Lou Melon
Stand Tall, Molly Lou Melon by Patty Lovell is a sweet story about a young girl named Molly Lou Melon, who is the shortest girl in her class, is clumsy, and has teeth that stick out. Her grandma always taught her that she should be proud of who she is and stand tall. One day, Molly finds out that she needs to move. She is leaving her grandma and friends and starting a new school. At her new school, Ronald Durkin starts to tease Molly about  being short and having big teeth. Molly continues to be proud of herself and impress the other students with her unique qualities. Eventually, Ronald is able to see Molly for who she is. Molly realizes that her grandma was right; if she loves herself others will love her, too. Stand Tall, Molly Lou Melon is a wonderful story of self confidence and being true to yourself.
Stellaluna
Stellaluna by Janell Cannon is a heartwarming story about a young bat. One night when flying with her mother, an owl attacks and Stellaluna falls from her mother's grasp. When she can't find Mother Bat, Stellaluna joins a family of baby birds. Stellaluna tries her best to fit in with the bird family, even though she doesn't like eating bugs and misses sleeping upside down. One afternoon, as the young birds and Stellaluna practice flying, Stellaluna gets separated as the sun begins to set. As she sits on a tree to rest, a curious bat approaches her. He can't seem to understand why she isn't acting like a bat. As more bats gather around and Stellaluna tells her story, one bat is amazed! It is Stellaluna's mother! The two are happy to reunite and Stellaluna learns all about being a bat. Students will love this sweet story of the young bat's journey to find out who she really is.
Stone Soup
Stone Soup by Marcia Brown is a folktale that tells the story of three soldiers on their way home from war. Tired and hungry, the soldiers decide to stop in a village in search of food and a place to sleep. The villagers see the soldiers coming and begin to hide all their food because they too are hungry. After stopping at many houses in search for food, the soldiers announce to the villagers that they will make Stone Soup. The curious villagers gather around the soldiers to see what they are going to do. As they start making the soup, the soldiers begin asking for different ingredients: first salt and pepper, then carrots, and eventually beef. Each time, villagers run back home to get the ingredients they'd hidden. Soon enough, the soldiers made a large, delicious soup. Together, the villagers and soldiers put together a feast and spend the night eating and dancing. Grateful for what the soldiers taught them, the villagers let them stay the night in the best beds in the village. Stone Soup is a great story to teach sharing and kindness.
Strictly No Elephants
Strictly No Elephants by Lisa Mantchev is a book about a boy with a tiny pet elephant. He is very excited for Pet Club Day, and is shocked when he sees a sign on the club door that says strictly no elephants. The boy runs into a girl who was also turned away from the club because of her pet skunk. The boy and girl decide to form their own club, and state that all are welcome.  Students will examine the importance of inclusion and the characteristics of a good friend as they hear the story Strictly No Elephants.
The Adventures of Beekle
The Adventures of Beekle by Dan Santat is about how Beekle has a problem. Children in the real world have imagined all the other imaginary friends besides him. He is the only one left on Imaginary Friend Island. Instead of waiting for a child to imagine him, Beekle decides to go out to the real world and find his friend himself. Beekle travels to the real world, and is the first imaginary friend to do so. He finds his way into a park with children playing with other imaginary friends. Beekle climbs to the top of a tree and waits for a friend to find him. He is sad when everyone goes home, and then he hears someone say hello. His real world friend has finally found him!
The Bad Seed
The Bad Seed by Jory John is a story about a sunflower seed who considers himself to be bad. He does not use his manners and he describes all the ways that he is bad. The people in his community call him the Bad Seed and do not want to be around him. The Bad Seed was not always a bad seed. One day he was picked to be a sunflower seed snack, was almost eaten by a giant, and then was spit out and stuck to a wad of gum.  This caused him to be bad. At the end of the story, the Bad Seed decides he doesn't want to be bad anymore and is ready to be good. He changes his mindset and self-talk and becomes a good seed. He works really hard on using his manners. He admits that it is hard but continues to try his best.
The Dot
The Dot by Peter Reynolds is a book about Vashti, a young girl who thinks she cannot draw. As Vashti sits in art class, her paper is empty and she is clearly frustrated. Her teacher encourages her to make a start by making a mark and signing her name. The following week when Vashti walks into art class she sees that her dot drawing is behind the teacher's desk in a fancy gold frame. When she looks at her art, Vashti thinks she can make an even better dot than that. She starts making all big dots, little dots, and all different colored dots. When it is time for the school art show, everyone is interested in Vashti's dot drawings. A young boy admiring her pictures mentions that he wishes he could draw like that. Vashti encourages him to draw a line and sign his name. This heartwarming story is a great way to introduce growth mindset to students!
The Girl Who Never Made Mistakes
The Girl Who Never Made Mistakes by Mark Pett and Gary Rubenstein is a story about Beatrice Bottomwell, who has never made a mistake! She does everything carefully and perfectly, especially each year at the talent show. However, this year, as Beatrice performs her act with her hamster, Humbert, she makes her first mistake. She threw her salt shaker in the air only to realize it had pepper inside! The pepper made Humbert sneeze which caused a big mess of Beatrice's act. Everyone was shocked but Beatrice could not stop laughing! As a result the audience did too. Beatrice learns that it is okay to make mistakes and in fact, making mistakes can be fun! This is a great story of growth mindset that is sure to engage young readers.
The Good Egg
The Good Egg by Jory John is a book about a main character who is kind and helpful and always makes positive choices. Unfortunately, the other eleven eggs he shares a carton with are always misbehaving. The Good Egg works hard to keep the peace, take charge and tries to fix their bad behavior. It exhausts him, makes his head feel scrambled and ultimately causes his shell to crack from all the pressure. When he finally has had enough he leaves the group and takes the time necessary to focus on himself. This is a wonderful book that reminds us all how important it is to take care of ourselves and our own needs in order to find happiness.
The Gruffalo
The Gruffalo by Julia Donaldson is a story about a small mouse who goes for a walk through the forest. During his walk, the mouse runs into several larger animals that want to make a meal of him. The clever mouse tricks each animal by saying he is off to have lunch with a gruffalo, a made up creature that scares each animal off. To the mouse's surprise, he encounters the gruffalo on his walk. With quick thinking, the mouse takes the gruffalo on his walk and introduces him to the other animals. In the end, the mouse scares the gruffalo off and is able to enjoy a snack. Students will love this quick thinking mouse and his ability to trick the larger animals. The story has great rhythm, and students will enjoy listening to the rhyming words throughout.
The Invisible Boy
The Invisible Boy by Trudy Ludwig is a story about a boy named Brian who feels invisible because the other boys and girls do not include him. He doesn't get invited to birthday parties that everyone else is invited to, and they don't include him during games at recess. They even ignore Brian at lunch time. One day a new student, Justin, becomes a part of Brian's class. Some of the students make fun of Justin's lunch, but Brian does not. He draws Justin a picture to make him feel better and writes that he thinks Justin's lunch sounded delicious. Justin thanks Brian for the drawing and compliments his artwork. When it is time to pick partners for a group activity, Brian wants to work with Justin, but so does another boy. Justin includes Brian, and says they can all work together. Brian also sits with them at lunch, and, because of Justin's kindness, he does not feel invisible anymore.
The Legend of Rock Paper Scissors
The Legend of Rock Paper Scissors by Drew Daywalt is a hilarious and action-packed story that children are sure to love. This book tells the story of how the game Rock, Paper, Scissors came to be. Each warrior (Rock, Paper, Scissors) was frustrated because they could not find someone able to beat them in battle. Each set off on a journey outside their home to find an equal match. In the end, the three warriors become friends because they each met a match and loved battling one another. The descriptions and language in this story will have children laughing as they hear the story of a favorite playground game.
The Most Magnificent Thing
The Most Magnificent Thing by Ashley Spires is a story of a young girl and her dog who like to do everything together. One day, they decide to build the most magnificent thing. They get started building, and when they finish they discover it is not magnificent. The girl and dog start making many changes to their creation, trying to make it exactly what she imagined. As they work, some people start admiring her work. The girl is frustrated that they can't see the magnificent thing she imagined. Her frustration grows and she becomes very angry, smashing her creation. While on a walk to cool down, the girl discovers the different parts of her creation and realizes there are parts of each she likes. She gets back to work and eventually creates exactly what she imagined. This is a heart-warming story of perseverance and growth mindset. Children will enjoy watching the young girl create with her dog sidekick!
The Panda Problem
The Panda Problem by Deborah Underwood is a story that follows a narrator and a main character through a story. The narrator is trying to tell the story about a panda who has a problem, but the panda insists that he doesn't have a problem. Instead of the panda having a problem, he decides to create more and more problems for the narrator. Eventually, the panda has to admit that he has a problem when he finds himself hungry and all the way in Antarctica! Students will laugh out loud while they hear the panda and narrator interact with each other in the story.
The Paper Bag Princess
The Paper Bag Princess by Robert Munsch is a story about a princess named Elizabeth. She lives in a castle, wears expensive princess clothes, and is going to marry Prince Ronald. That is, until a dragon comes and smashes the castle, burns her clothes, and carries Prince Ronald to a cave. Having only a paper bag to wear, Elizabeth chases after the dragon to save her prince. When she gets to the cave, Elizabeth tricks the dragon into using all of his fire, and becoming so exhausted that he falls asleep. When Elizabeth enters the cave and saves Prince Ronald, his reaction is not what she expected. Instead of saying thank you, he tells her that she looks like a mess. Elizabeth tells him that he even though he is a prince he is behaving like a toad, and decides that she doesn't need him anyways.
What Do You Do With a Problem
What Do You Do With a Problem by Kobi Yamada is a story that follows a young boy who discovers he has a problem. He tries to run and hide from his problem, but he realizes his problem just won't go away. The boy starts to worry about what the problem is going to do to him. Eventually, he realizes that his worrying is making the problem worse than it is. He sets out to solve his problem, and when he solves it he discovers that problems hold beautiful opportunities. Students will learn about the importance of facing problems, and the great opportunities that can come out of them.
Here are some additional resources to help you create sub plans…