If you are an elementary teacher, you need substitute plans. It doesn't matter if your district calls the position a substitute teacher, sub, supply teacher, relief teacher, casual teacher, guest teacher, cover teacher, emergency teacher, or occasional teacher. You have someone who comes in and covers your class while you are out of the building. In most cases, you are responsible for supplying everything the person needs to come in and teach your class for the day: sub plans. This series of blog posts has all the information you need to make this process easy so you can stay home sick and never have to worry again.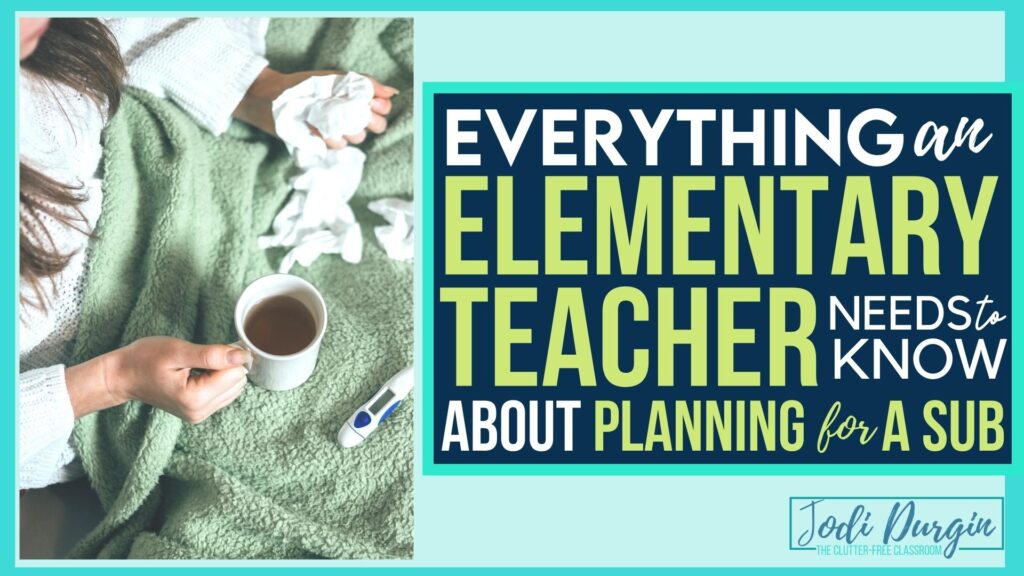 Free Guide for Planning for a Sub
Grab this free guide for planning for a substitute teacher, so you can grab quick and easy tips and ideas that will help you plan for when you are out of the school building.
Sub Plans Blog Post Series
Check out these popular sub plans posts!
How to Create a Healthy Classroom Environment & Prevent Sick Days
This post offers tips and ideas for how to create a healthy classroom environment, which will help you and your students stay healthy all school year long.

Tips for Planning for a Substitute Teacher
Grab these helpful tips for planning for a substitute teacher, so you can ensure the school day goes smoothly when you are not there.

How to Write Substitute Teacher Plans
This post shares three steps for how to write substitute teacher plans so you can systematically and efficiently plan your sub lessons.

How to Make and Organize your Sub Tub, Substitute Binder, or Folder
Learn how to make and organize your sub tub, substitute binder, or substitute folder so that everything is all in one place and it's easy for your sub to use.

Emergency Sub Plans for 1st, 2nd, 3rd, 4th & 5th Grade
Grab these printable and digital emergency substitute teacher plans for your grade level or grab the whole bundle.

The Best Read Aloud Books to Leave for Sub Plans
Check out this list of read aloud books to leave for substitute teacher plans.

Substitute Teachers Activities Without Photocopies or Technology
This post offers substitute teachers activities ideas that do not require photocopies or technology to help you when you are in a pinch!

Tips for How to be a Highly Requested Substitute Teacher
Grab these tips and ideas for how to be a good sub.

Tips for your Teacher Maternity Leave and Teaching While Pregnant
This post offers tips for your teacher maternity leave and for when you are teaching while pregnant.

Additional Resources
Here are some additional substitute teacher and sub plans resources to help you…