I made these free Super Bowl classroom activities the last time the Patriots were Super Bowl bound. That didn't end well for us New Englanders. But, there is another big game coming up next weekend and I have a fun writing project and craft for you. And you don't even need to be a Patriots fan to enjoy it. It's ready to go when you print it so it will make an easy addition to your Thursday or Friday plans this week. Learn more about these Super Bowl classroom activities below!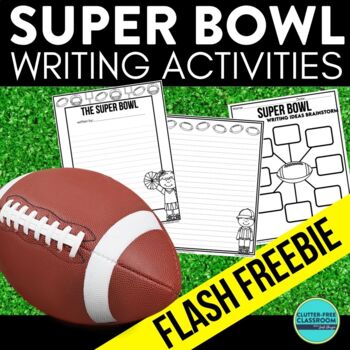 How to Use these Super Bowl Classroom Activities
The packet includes several printable pages so you have the flexibility to choose which ones work best for you and your class. Included in the packet are webs, draft papers and final product pages as well as printables to use as bulletin board titles or class book covers.
This resource can be used to create a fun football-themed bulletin board. You can see the bulletin board I made to show off my students' writing samples below.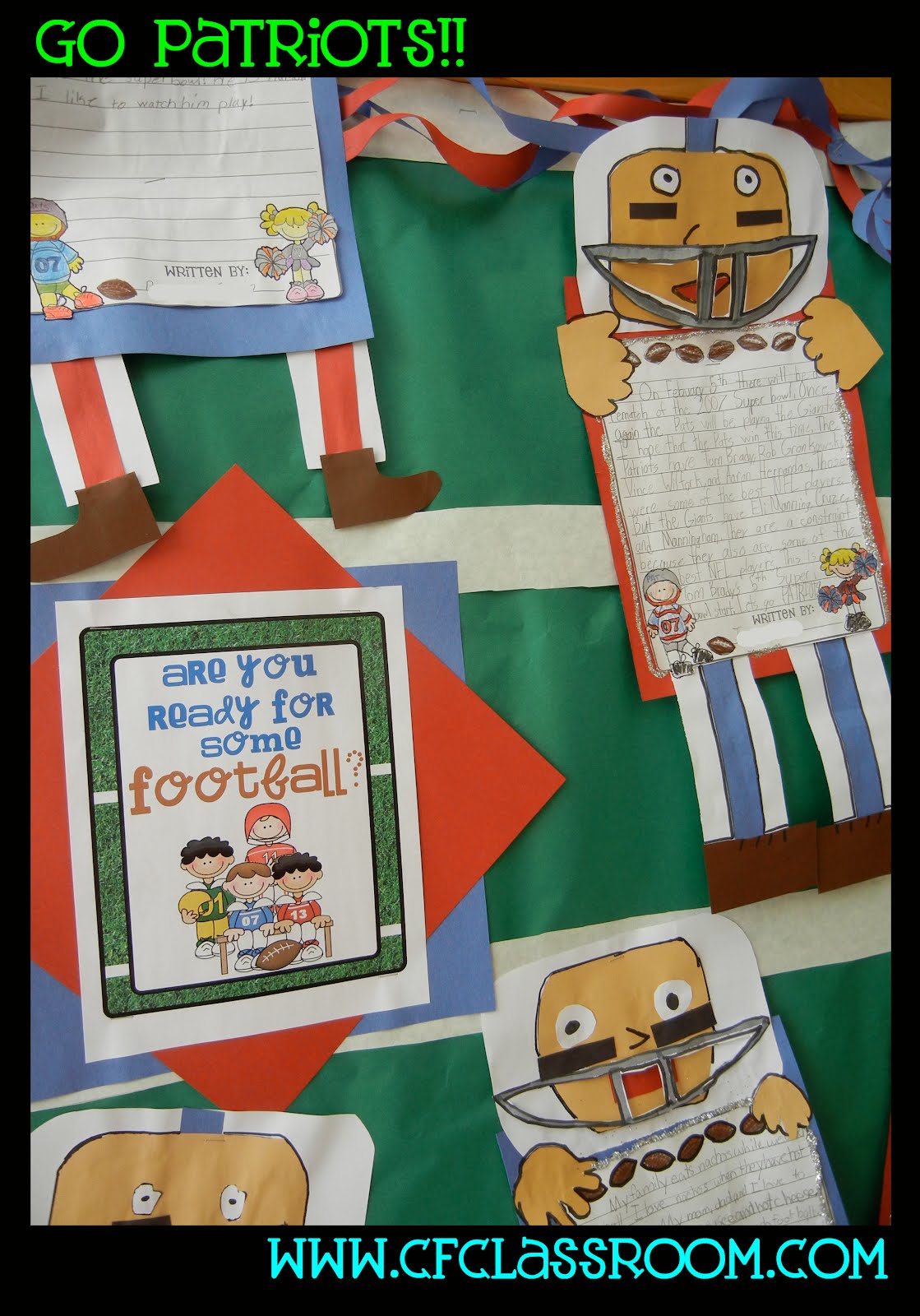 Super Bowl Writing
I typically use a brainstorming page from my writing packets to have the students come up with topics and ideas. However, despite the bubbling enthusiasm for all things football that the majority of my kiddos are showing this week, I knew that some of my little learners are not so interested in the gridiron.
Anticipating that this would translate into writer's block, I opted to brainstorm together. We did so by adding topics on Post-It notes to my big football. My 3rd grade football fans frantically waved their hands in the air begging me to call on them so they could add such phrases as Tom Brady, Rematch with the Giants, and AFC Champions to the potential topics list. Another popular choice was Rob Gronkowski. Lucky for me 1/3 of my class was sporting Gronkowski jerseys so I was able to spell it without consulting Google.
And then there were my non-football fans. We talked about things that are associated with football that they could select as a topic. I had kids write about cheerleading, Gatorade and nachos. By the time we were done, each little sweetie had a topic they were excited about.
After we went through the web-draft-edit routine, they completed their final copy and then it was time for our craftivity.
Super Bowl Craft
These caused me to lose sleep. On Monday, we completed the heads and bodies. I thought they looked like astronauts. This bothered me tremendously! I literally woke at 4:30 and the first thought that popped into my mind was "facemask." Sure enough, when we added the 3D face masks it all came together.
When I saw the cute little football players coming together, I was so excited that I impulsively blurted out, "Oooh get me the silver glitter. These need some glitter."
In case y'all didn't know…. I LOATHE glitter.
It is not a secret.
I had to laugh when one of my little boys leaned over to another and said, "Mrs. D TOTALLY just got caught up in the moment. She never would have used glitter if she had thought about it." So funny because it's true.
Super Bowl Bulletin Board
I put green paper and white stripes on the back of the board. To create the bulletin board border, I simply cut 12×18 construction paper into a spiral. It actually went all the way around my board. I love how it looks!
How to Access the Super Bowl Activities
All of the writing pages for this Super Bowl classroom activity that I used for this project are included in my Football-Themed Writing Packet Freebie, which I share exclusively with my email list each February. Join my email list to get tons of freebies sent to your inbox each week by scrolling to the bottom of this page and signing up!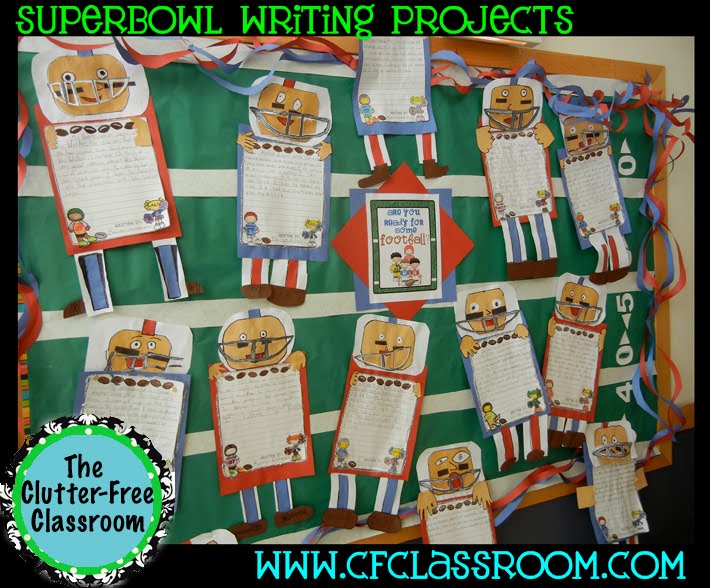 Other Football Activities
Check out these other football activities below!
Football Would You Rather Activities
These Football Would You Rather Activities are great for football season and to celebrate the super bowl. They provide a fun way to get your students talking during your morning meeting, motivate your students to practice their writing skills, and prevent the chorus of groans when you say it's writing time. Learn more about this resource in our Clutter-Free Classroom Teacher Store!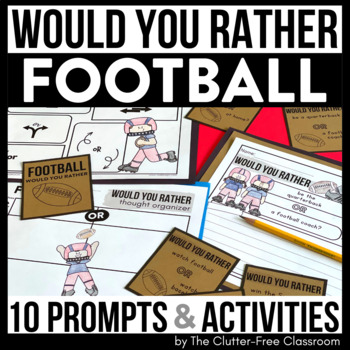 In closing, we hope you found this post about football activities in your classroom interesting! If you did, then you may also be interested in these posts: