Understanding a character's words and actions will help to support a student's overall comprehension of a text. Being able to visualize and summarize character traits are prerequisites to higher levels of comprehension, such as synthesizing information, making inferences, and forming opinions. This Charlotte's Web packet will help to strengthen those skills as well as improve the students' ability to reference a text to support their thinking. Learn more about these Charlotte's Web activities below!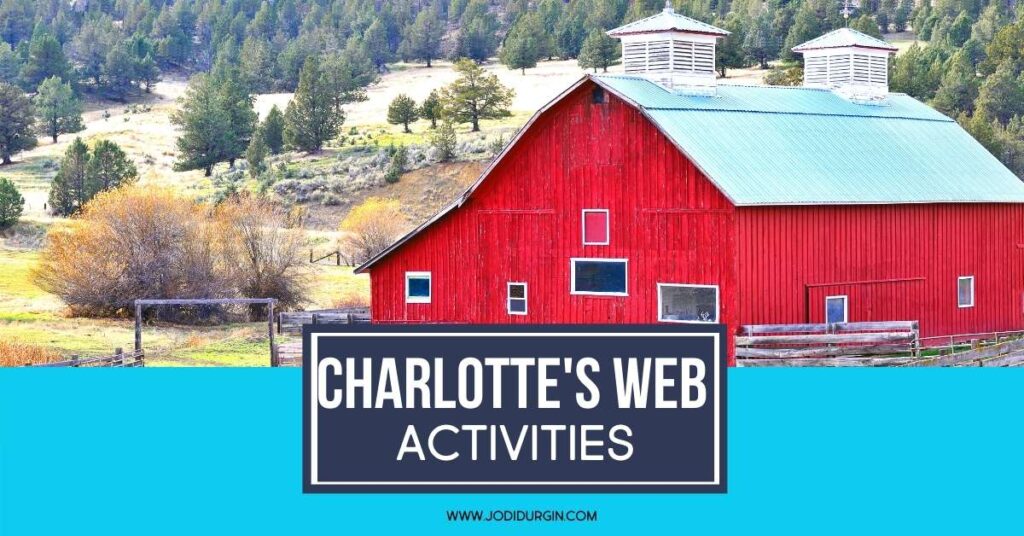 Charlotte's Web Character Trait Activity Pages
What is Charlotte's Web about?
Charlotte's Web is a classic story that takes place on a farm. The two main characters are a pig named Wilbur and a spider named Charlotte. They are the best of friends. In the story, Charlotte saves Wilbur's life by writing about him in her web. This text is a chapter book.
Who Is the author of Charlotte's Web?
The author of Charlotte's Web is E.B. White. He is also famous for writing Stuart Little and The Trumpet of the Swan.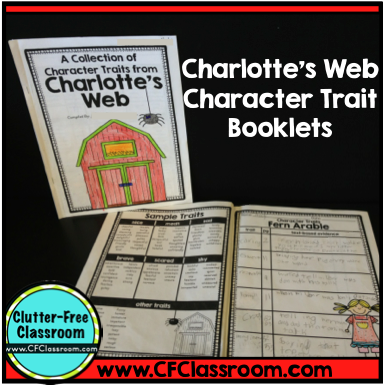 What is included in this Charlotte's Web activities packet?
This Charlotte's Web packet includes 2 versions of an 8 page character trait activity booklet focused on the characters in E.B. White's popular novel, Chartlotte's Web. It also includes a bonus 3 page writing activity that has students identify their own character traits.
How to Implement these Charlotte's Web Activities
In my classroom, I made a booklet for each student by copying the cover, character trait list and individual character pages back to back and stapling them together on the left-hand side. I projected the character page from this PDF onto my smartboard and we discussed how to use the list, I love knowing that my students' vocabulary is expanding as we complete these activities. We also discussed synonyms, how good writers really think about their word choices, and how these words would be great options to include in their own writing.
During read aloud, I modeled how to identify character traits based on what a character says or does and periodically recorded a trait, the page number and the evidence from the text onto our class chart. This served as a reminder on how to complete the organizer.
I often paused during reading and had the students discuss what a character was doing or saying and how that could be summarized by a trait. This provided students with additional ideas and support in completing their own booklets.
I use the template that includes page number when citing evidence because I have a class set of books and each student has a copy of their own to reread and reference. I have also included an optional version that does not require the students to record a page number. This version is perfect if you are completing the reading as a read aloud. Learn more about these Charlotte's Web activities!
Related Resources
If you are reading Charlotte's Web (and I really hope you are because it is such a beautiful book), you may also be interested in these two resources: The Diary of a Pig activities and Non-fiction Spider Packet.
1. Spider Activities
Doing a study on spiders at the same time as reading Charlotte's Web is a great way to create an integrated unit. In the book Charlotte's Web, one of the main characters is a spider. It's fitting to do a deep dive into spiders as a result. Lean more about this spider unit!
2. Activities for the "Diary of a…" Book Series
Have you read the Diary of a… books by Doreen Cronin?  They are so much fun. There are diaries for a worm, a fly, and a spider. Each is more awesome than the last. They are written in the form of a diary, are witty and have fun illustrations and quick one-liners. I love them. Kids always love them. One of them mentions that a worm's head looks just like its butt. What kid isn't going to love that?
A few years back, I happened to be reading Charlotte's Web to my class as my chapter book read aloud and broke these fun titles out during writing block as a model of organization and voice from six traits.
Have you ever had one of those light bulb moments? You know, the kind where you scrap your plans and go with something way better that just came to you? That's when the The Diary of a Pig resource was born.
How to Implement the "Diary of a…" Activities in Your Classroom
We used Cronin's books as a model to compose our own version based on events in Charlotte's Web.
We discussed 1st person vs 3rd person, writing style, and chatted about the important parts that would be essential to include. Not only is it fun and creative, but also a great way to check a child's level of comprehension on a text.
After reading a chapter (or chapters in some cases), I asked the class to compose a diary entry. While the book doesn't specify dates, we used context clues to form a timeline and thus "date" our entries (Wilbur being a spring pig, Fern being in school, the crickets signaling summer, etc). They were asked to include some words that they considered to be "key vocabulary." The cover was designed to look like Cronin's. We observed how each of her covers had a white background and each had a pencil as part of the illustration. They needed to do the same. After all of the books were completed, we made them available in the class library for a bit. They took a lot of pride in this activity. You could easily do this with other books as well.
Learn more about these Diary of a Pig and Spider reading activities!
I hope you found these Charlotte's Web activities for elementary students helpful!