Before you start your decluttering journey, you may come across some obstacles that prevent you from taking action. Even after you begin, you will inevitably come across some additional obstacles. In order to prevent yourself from getting stuck and giving up, it's a good idea to plan ahead and think about how you will overcome these challenges when you do. Reflect on the possible obstacles below and brainstorm a strategy of what you will do in response.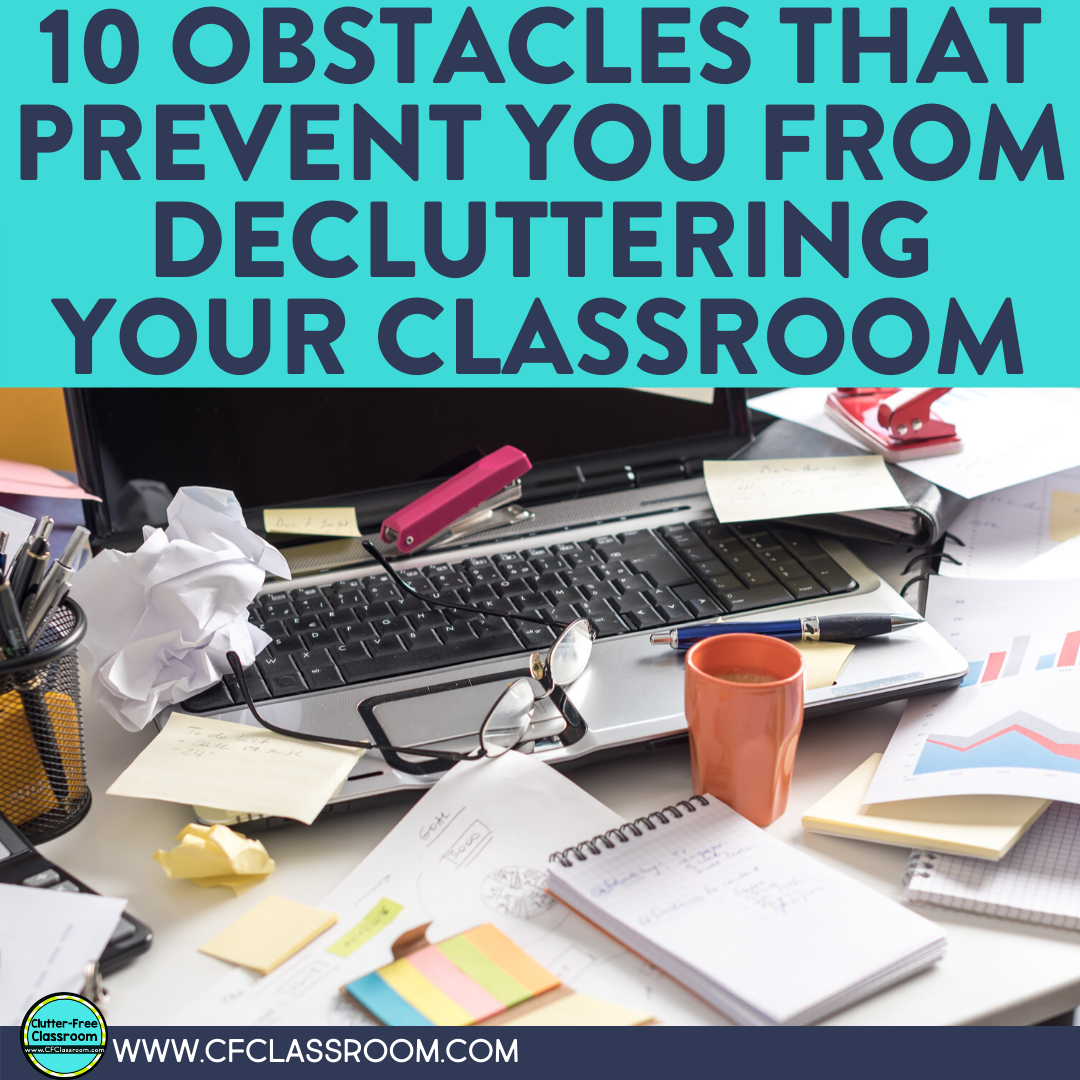 This blog post will…
suggest ten obstacles to decluttering.
prepare you for the challenges you will inevitably come across when you are decluttering your classroom.
recommend ways to overcome these challenges.
10 Obstacles to Decluttering Your Classroom
I am too busy and don't have enough time: One strategy to overcome this is to block time in your calendar. They can even be very small chunks. For example, you may say that you will work on decluttering your classroom 15 minutes per day right after school or 30 minutes per day every Tuesday and Thursday. Look at your schedule and figure out what works best for you.
I am exhausted and burnt out: If you find that you are exhausted at the end of the school day or end of the school week and don't have the energy to work on decluttering your classroom, perhaps consider working on it before school or at the beginning of the school week. Find a time and day where you feel energized and motivated to make a positive difference in your classroom.
I don't have extra money or just don't want to spend money: There is a common misconception that decluttering and organizing your classroom has to be very expensive. You see all of those Instagram and Pinterest posts showing gorgeous organization systems with colorful bins and drawers. This is not a requirement for decluttering and organizing your classroom. There are so many free or cheap solutions. See my post FREE AND CHEAP CLASSROOM STORAGE. In addition, decluttering can actually make you money. What's better than that? See my post 10 REASONS TO DECLUTTER to learn how.
I have a hard time letting things go: You may feel reluctant to let things go because you paid a lot of money for them, they have sentimental value, you worry you may need it someday, or you feel wasteful getting rid of something that is in good shape. But guess what? Clutter is not serving you. It is not making your life easier. Therefore, we thank it for everything it has given us and send it on its merry way.
I am overwhelmed and not sure where to start: It's important to sit down and create a plan before beginning. This initial time investment will prevent you from wasting even more time later on in the process. If you feel overwhelmed just thinking about a plan, then check out my CLASSROOM DECLUTTERING WORKSHOP that will walk you step by step through everything you need to do to get a clutter-free classroom.
I am not sure what to let go of: Ask yourself these questions: Can I find this resource online? Do I absolutely love it? Have I used this item in the past year? Does it fit my vision? Am I required to keep it? Could someone else benefit from this item more than me? Is it taking up useful space? If I didn't feel guilty, would I still keep it? These questions will help you determine if you should keep it or not.
I don't know what to do with the stuff I am decluttering: Evaluate each item and determine if it should be thrown away, recycled, donated, passed on to someone else, sold, or stored. It may be helpful to keep a trash can, recycling bin, and other labeled bins close by while you are going through the items.
I have to store old textbooks and curriculum I don't use in my classroom: Outdated curriculum and materials, unwanted furniture, and resources handed down from former teachers may be filling up your classroom. I recommend double checking with your school administrator to make sure you need to keep it. If so, store it in a place in your classroom that is not easily accessible.
The clutter in my classroom does not bother me: Even if you do not feel that the clutter is negatively impacting you, it's important to recognize that it is negatively impacting many of your students. For example, some students may find lots of clutter distracting and have a difficult time focusing as a result.
Even if I declutter my classroom, it's going to creep its way back: When you finish decluttering your classroom, it's important to establish and follow routines, employ the help of others, create an organization journal, and use one of my favorite strategies of all time: FIND IT AND FIX IT.
Calling all ELEMENTARY TEACHERS who want their classrooms to look and feel neater…
We've created a FREE 5-STEP PROCESS that will have your room looking much more organized and have you feeling less overwhelmed in UNDER AN HOUR!
Sign Up for the free challenge and make 2020 the year you feel less stressed, enjoy teaching in your clutter-free classroom and stop taking school work home on your nights and weekends.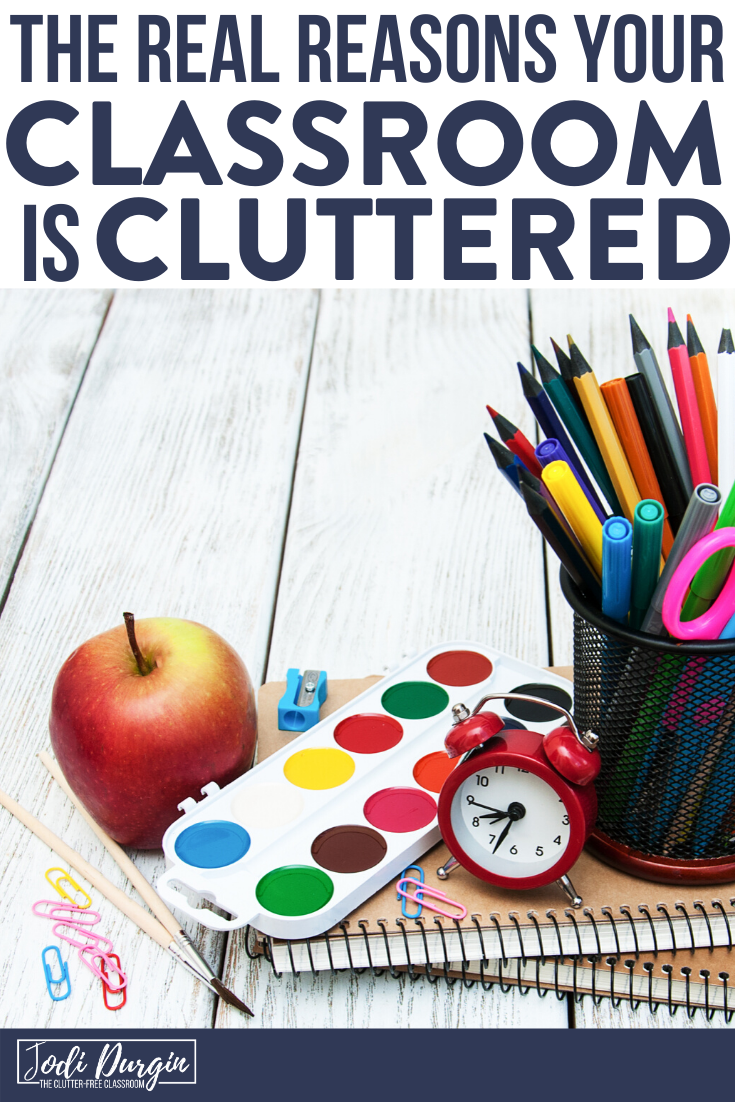 READ ALL THE BLOG POSTS IN THE SUB PLANS SERIES: