As a teacher, you know that not having the right containers makes it hard to properly store and access materials. For example, when things are stored in containers that are not transparent or labeled, it causes disorganization and may result in wasted time (looking for things) and money (rebuying things you can't find). Read below to learn about different types of storage solutions that fit your budget.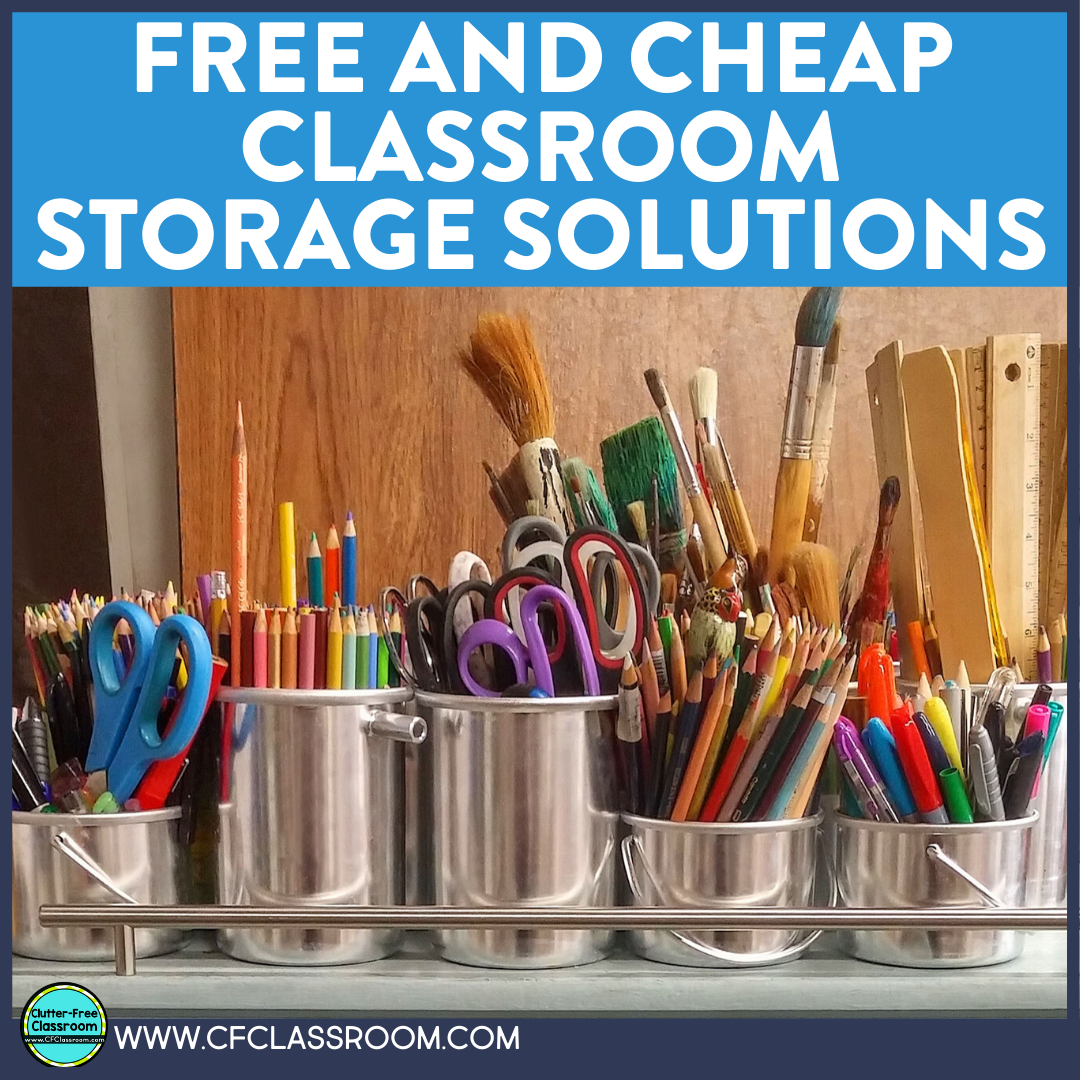 This blog post will…
share ideas for free, cheap, and investment classroom storage solutions .
recommend where to buy specific classroom storage solutions.
suggest how to incorporate specific storage solutions in your classroom.
offer 3 quick tips for upcycling.
support you in deciding what type of storage solutions are best for you.
Free and Upcycled Storage Solutions
Target Boxes: I do love Target at any time of year, but the back to school section has a special place in my heart. While I glare at it with bitter eyes in early July because it is way too soon to be thinking about going back, my excitement increases as the summer progresses. In addition to those perfectly pointy Crayolas and gorgeous speckled composition books, there lies hidden treasures. Boxes! Not just any boxes… Sturdy, colorful boxes that are designed to house notebooks and other related supplies. They are also perfect for organizing your classroom (especially the shelves). And they are FREE! I simply condense the straggling folders and notebooks into one box and ask really sweetly for the (now) empty ones. Put a label over the writing and you have some awesome new storage tools.
Copy paper box: They are easy to obtain, sturdy, and congruent (which makes them easy to stack). The downside is that in their natural state they are ugly and can add visual clutter to your classroom. A simple solution is to cover them in contact paper or fabric to make them not only uniform, but also allow them to match your classroom decor.
Shoe box: Cover it in scrapbook or wrapping paper and use it to hold things like science experiment materials and math center games.
Baby wipes container: Baby wipes come in a variety of different containers made of hard plastics. They can often be stacked and are good options for housing a variety of small manipulatives or art supplies.
Pringles can: Pringles cans are tall and also come with a lid which is great for games or holding things inside.
Crystal Lite container: These containers are perfect for holding smaller items. They are sturdy and have a lid. The label peels off extremely easily and you are then left with a clear container.
Stonyfield yogurt container: Cover it in duct tape and Washi tape and use it to store smaller items in your classroom.
Progresso bread crumbs container: These sturdy containers are great for holding things like rulers and popsicle sticks.
3 Quick Tips for Upcycling
Ask your students' families, colleagues, friends, and family for donations.
Use the following to upcycle everyday items: Spray paint, Modge Podge, decorative paper (e.g. wrapping paper and scrapbook paper), duct tape, Washi tape, and labels.
Use a consistent color scheme (no more than 3-4 colors) to create a cohesive look in your classroom.
Cheap Storage Solutions for Teachers
Ziploc bags: These are outstanding for containerizing within a container. I love them because they come in so many sizes and you can add labels or write directly on the bag.
Small trash cans: They are perfect for storing pattern blocks, multilink cubes, and other math manipulatives that kids grab by the handful to use. They fit perfectly on storage shelves and the open top works well in this situation.
IKEA magazine holders: These work great for organizing photocopies. They are cheap (especially if you are able to snag the super frugal cardboard ones (like the ones sold at IKEA). They are open on top which makes it easy to add and remove papers. Also, they have a wee bit of expansion ability so you can stuff them if you have a week that is copy-heavy. The downside to this low budget option is that they will wear down over time if used as is. You can reinforce them with packing tape, but honestly the cost is so low it makes more sense to me to just replace them as needed. I would estimate their lifespan to be a couple years.
The Dollar Store containers: These containers are great! Be cautious about mixing and matching too many sizes and colors. Using containers that are the same size, shape and color will present a much more organized appearance.
The Dollar Spot at Target containers: They offer so many different containers. It's easy to find something that will be perfect for the space you are working with.
Investment Storage Solutions