Disguising a turkey is such a fun and creative project that gets kids excited about November writing. It's one of my favorite November activities for kids! It is something I have personally used in my own classroom at least (gulp) sixteen times. I have also used it in a homeschool setting. In this post, I am sharing tons of turkey disguise project ideas for elementary teachers and spotlighting a very popular writing lesson and craft activity called Turkey in Disguise Project. Get all of the information and resources you need to implement a turkey in disguise project in your elementary classroom below!
This post answers the following questions about the turkey in disguise project:
What is the turkey in disguise project?
What is included in the turkey in disguise project?
How do I implement the turkey in disguise project in my classroom?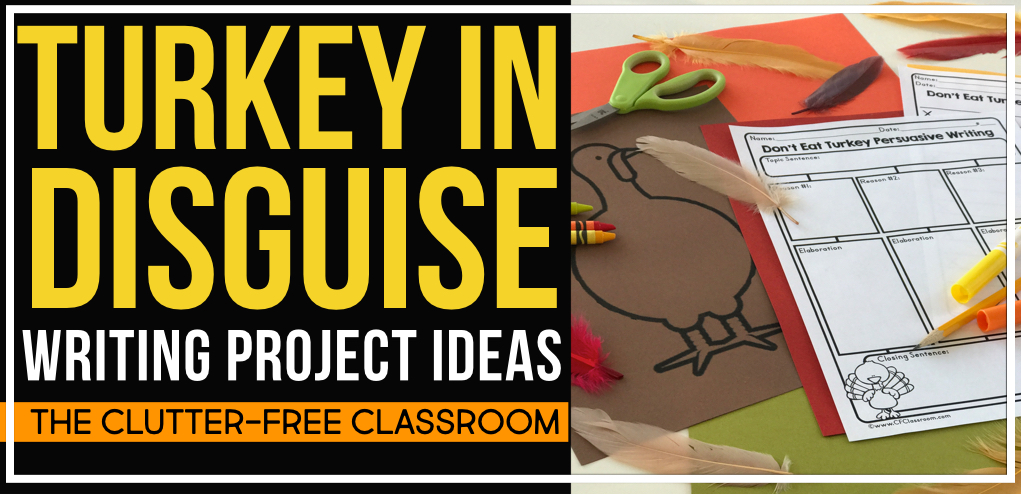 What is the Turkey in Disguise Project?
The turkey in disguise project is a writing activity with an accompanying craft. It is a great way to engage your 1st, 2nd, 3rd, or 4th grade students in writing during the month of November. Turkey in disguise is one of my favorite November writing activities because it's highly motivating for even the most reluctant writers and pairs well with the children's book, Turkey Trouble by Wendi Silvano, but can serve as a stand-alone project as well.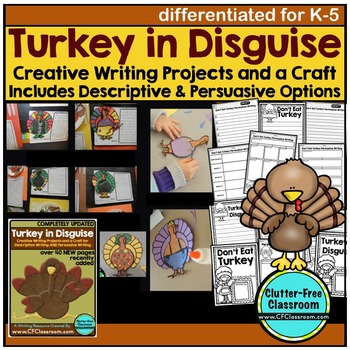 What is Included in the Turkey Disguise Project?
The following resources are included in the turkey disguise project:
2 family letter options (one of which has students creating the writing activity at home and the other one simply explains the project that students are working on at school), which helps you strengthen your relationship with students' families
2 versions of a turkey template for students to decorate which increases student engagement and motivates students to complete their writing tasks
brainstorming activities that help students generate ideas for their writing
graphic organizers that support students in organizing and sequencing their ideas
draft paper templates with adequate space for you and your students to make edits
publishing paper templates that look great displayed on bulletin boards, in writing portfolios, or in a class book
2 class book cover options so you can create a keepsake that your students can look at throughout the school year
How to Implement the Turkey Disguise Project in 7 Easy Steps
Below are 7 steps for how to implement the turkey disguise project in your classroom.
1. Choose the Writing Type.
Determine what kind of writing project you would like your students to do: descriptive, persuasive, opinion, or creative writing. Your students can describe the turkey's disguise using descriptive writing. They can persuade readers not to eat the turkey using persuasive writing. They can explain why turkey should be the main course on Thanksgiving using opinion writing. Finally, they can make up a story about a turkey disguising themselves to hide on Thanksgiving using creative writing.
2. Select an Interactive Read Aloud.
I like to kick off the project by reading some stories that complement the project. The books help to activate the writing and craft. Below are some of my favorite turkey children's books:
All of the titles are about turkeys trying to escape the fate of Thanksgiving dinner. Some specifically focus on disguising a turkey.

3. Prep the Turkey Disguise Project Materials.
The next step is to prep the graphic organizers and writing papers. If you are using my Turkey in Disguise resource, you'll just need to download the packet and look through the printable pages to decide which are best suited for your students. It includes lots of differentiated graphic organizers, planning pages, draft paper, class book covers, writing stationary, a turkey template for the craft, and more.
4. Figure Out the Logistics.
Some teachers like to do the Turkey in Disguise craft in class, and others like to use it as a family project. I've done it both ways. If you opt for the latter, I recommend sending home the letter to the family with enough time for the project to be completed. My Turkey in Disguise packet includes a letter to families to make things easier for you. If you opt to do the project in class, consider spreading the writing out over the course of about a week.
5. Do the Writing Portion of the Project.
Start by brainstorming a word list as a class. Your students can use this list as a writing resource. Next, have them use graphic organizers to plan out their thoughts before writing the draft. Consider editing the drafts together and then having them write a final copy.
6. Do the Craft Portion of the Project.
My Turkey in Disguise packet includes templates for students to decorate. They make it really simple!
7. Display the Final Projects.
These look adorable on a bulletin board so be sure to plan enough time so you can display them. Then you just need to wait for the compliments to roll in from all who walk past the board.
10 Turkey Craft Ideas
Are you looking for some other Thanksgiving craft ideas to do with your kids (either at home or in school)? We have a noon dismissal on the day before Thanksgiving break and I always like to break out some scissors and glue and do something fun with the kids that they can take home to their families. Because who doesn't love a kid-made turkey? It beats Butterball any day!