PAPER. OVERLOAD. Do you feel overwhelmed by the amount of paper in your classroom? The less paper you have to deal with, the easier your job is. There are some papers, however, that we must have. Read below to get tons of classroom paper organization ideas for elementary teachers!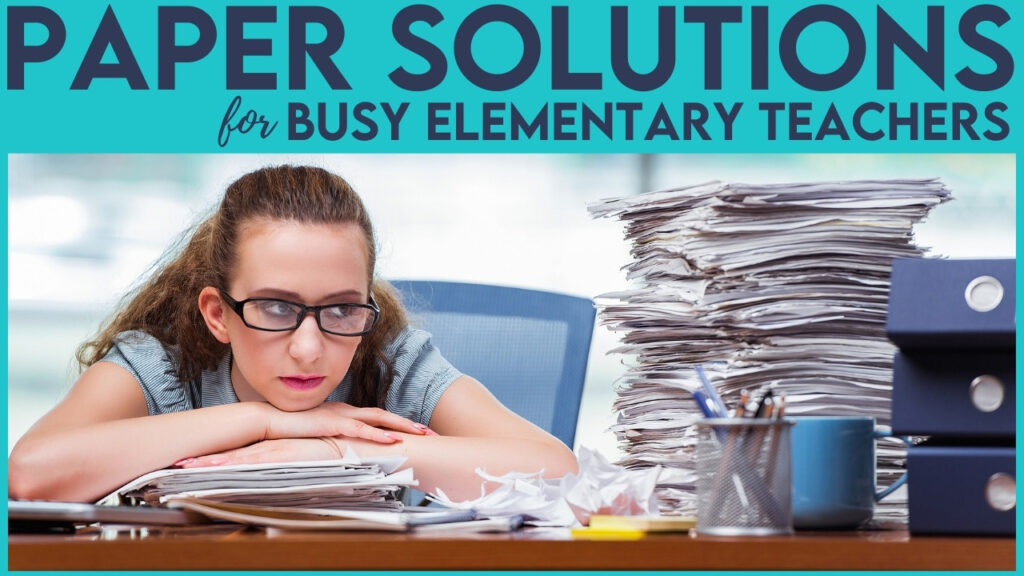 How to Use Less Paper in Your Classroom
Before we get into classroom paper organization ideas, let's first ask ourselves: How can we reduce paper? We know reducing it will simplify our lives, save us time and money, serve students' parents more effectively, and that it is better for the environment.
We also know that the education system is moving that way with the waves of technology that are entering the classroom and the strict school budgets. School districts are even restricting the amount of paper teachers can use by tracking the number of copies they make. Some districts even go as far as to require teachers to get copies pre-approved and/or sent through a copy center.
Below are some simple ways to use less paper, so you will have a lot less to organize.
1. Communicate with Parents via Email
Set up an email group and use that in place of newsletters and general notes to the families. I don't recommend sending a parent any negative news, confidential information, or any message where your tone could be misinterpreted through an email. Email, however, is a great way to send "happy updates" along with reminders.
2. Utilize Technology Tools to Send Parents Reminders
There are also some great sites that will allow you to send text reminders to your families without giving away your personal cell phone number. This is a highly effective method of communicating things that would normally need a paper reminder. My favorite is Remind101.
3. Assign Online Homework Assignments
Creating online homework assignments will eliminate the need to manage paper back and forth and also saves you tons of grading time. Sites like xtramath, IXL, studyisland, and spellingcity allow you to track student progress for accountability. If you are not familiar with a "flipped classroom" approach you may want to look into it as another method of saving class time and paper.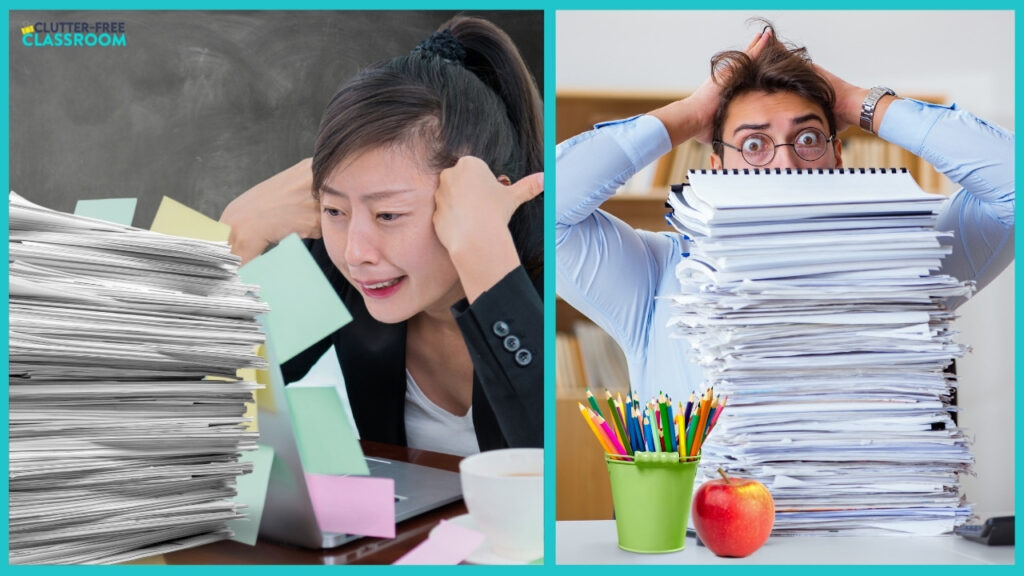 4. Use Online Platforms to Assign Work
Set up Google Docs, Google Classroom, Dropbox or another "cloud-based system." You may want to offer a workshop for parents explaining how to use this. This will allow you do distribute and collect assignments electronically. It's also a great option for storing extra copies of worksheets and homework in the event a student is absent or loses an assignment.
5. Substitute Task Cards for Worksheets
Task cards are a great substitute for worksheets when students are working in centers. They are a lot easier to store and reuse year after year as well.
6. Repurpose Page Protectors
Make only a few copies of a worksheet and have the students use dry erase markers and page protectors to complete an assignment. There are really nice plastic ones out there, but simple page protectors that usually go into a binder work just fine.
7. Use Small Individual Dry Erase Boards
Have students use dry erase boards during whole group instruction in the classroom. It's a great way to keep them engaged and show their thinking during learning time.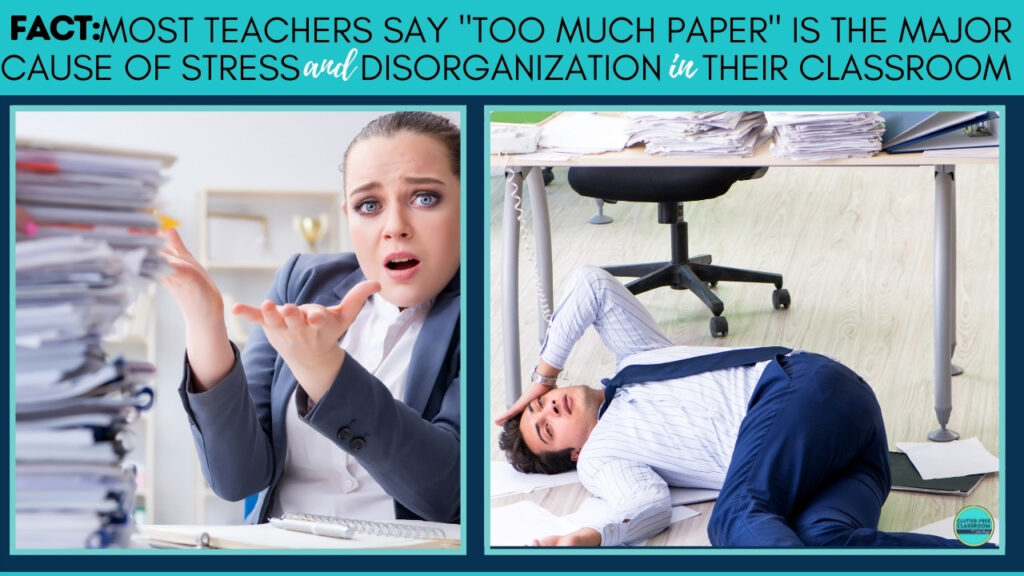 8. Embrace Project Based Learning
Engage your students in hands-on project based learning experiences. Having students document their thinking and work on paper is not the only way to show evidence of student learning. Take photos and videos of student work. Oftentimes, this provides even better evidence. Be sure to check your school's policy on taking pictures and videos in the classroom.
9. Utilize Electronic Devices
Use a computer or iPad for all of your teacher resources, lesson plans, anecdotal notes, etc. One great strategy is to bring an iPad or other tablet to all of your meetings so your notes are all in one place and stored in your device. This makes it so you can reference all your notes with ease.
10. Store Resources Electronically
Don't keep hard copies of anything that you can access online. Instead, keep everything in organized folders on your desktop computer so you can find what you need with ease.
How to Organize Specific Types of Papers
Below are tips and resources for organizing specific types of paper commonly found in classrooms. These classroom paper organization ideas are a game changer!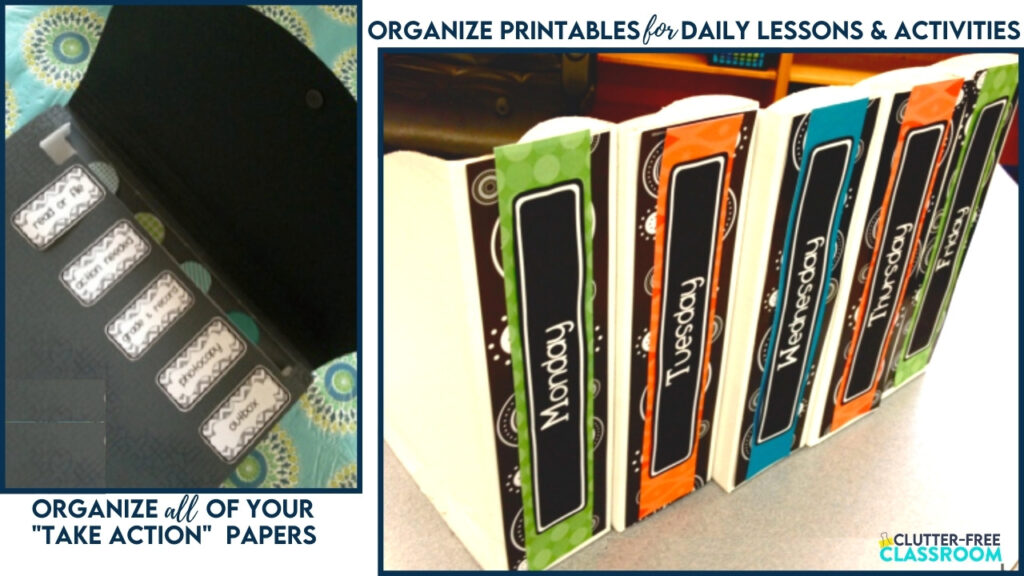 Photocopies and Worksheets
The first classroom paper organization ideas are for photocopies and worksheets.
Do you have stacks and stacks of photocopies on your desk? It can be overwhelming! Luckily, this is a problem that can be fixed. You just need a solid plan, a little bit of time, and some cheap materials.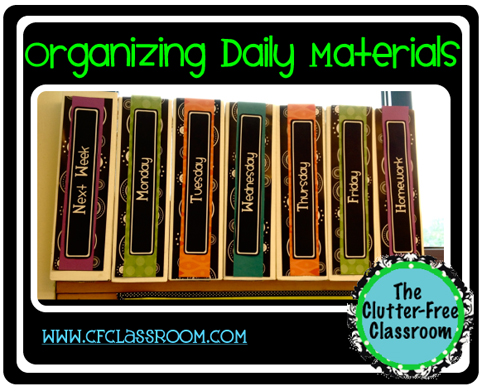 Pick a Location
First, establish a location for the copies and materials you'll need for the day. I recommend setting them up for the next day each afternoon before you leave school. This will make your morning run much smoother and everything will be accessible for a sub in the event of an unexpected absence. Some ideas include laying them out in sequential order on a shelf at the front of the room, placing them by subject in stacking trays, using plastic drawers to sort by subject, and housing them in a vertical pockets.
Create a System
The second step is to develop a system for holding your copies for the upcoming week. I am currently using cardboard boxes from IKEA that I decorated for each day of the week. I like these because they are open at the top which makes it easy to add papers and they are wide enough to hold everything I need.
When the copies are made, I simply slide them into the appropriate box for the day I plan to use them. I love this method for a few reasons: a) Everything is at my fingertips; b) the vertical design makes it easy to flip through and find what I need; c) in the event that I am out unexpectedly or need to leave the room, someone can step in and take over; d) if we have a snow day or don't have time to get through everything that had been planned, it is very easy to shift the materials over to the next day.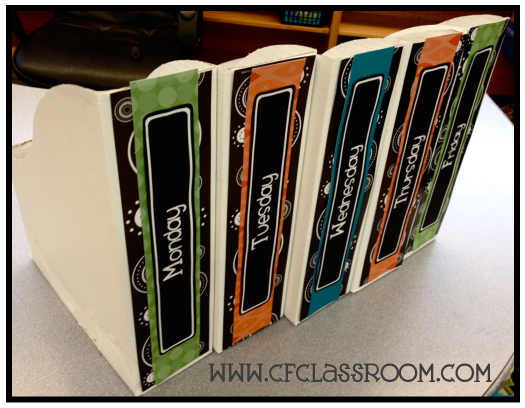 I have additional boxes labeled for homework, next week and the week after next. This allows me to get ahead in my copying by up to 3 weeks. I used to use plastic drawers for this purpose, but I just prefer the boxes.
In the past, I also used hanging file folders. I had labeled 31 folders with numbers 1-31 with each representing a day of the month. I would then file my copied papers into the folder for the day I planned to use them. I didn't hate this system, but I found the folders weren't big enough and if we had an unexpected snow day it thwarted my system.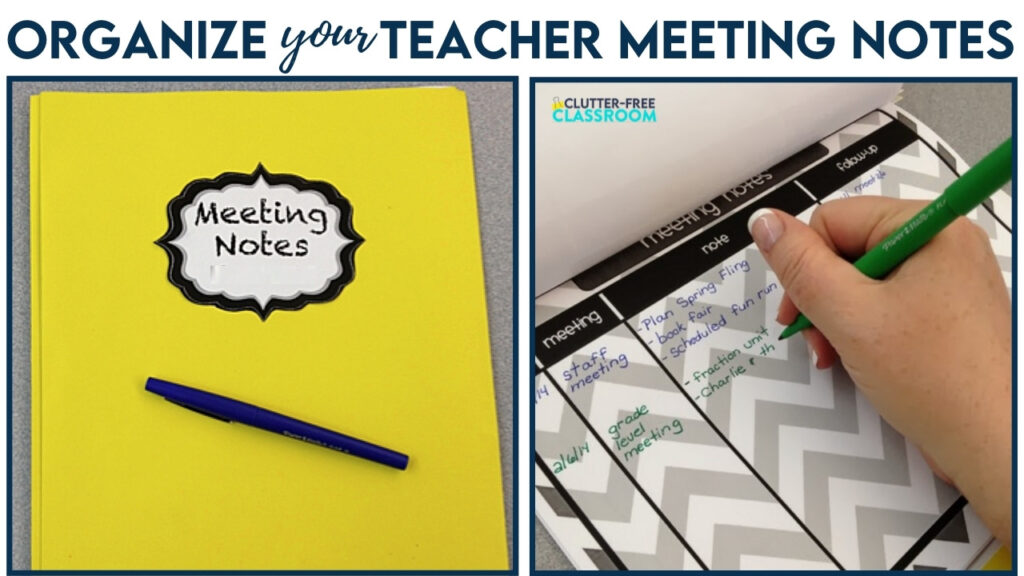 Teacher Meeting Notes
The second set of classroom paper organization ideas are for teacher meeting notes.
As you know, teachers teach. Teachers inspire. In addition, teachers go to meetings. Lots and lots and lots of meetings. These meetings all have different purposes. Sometimes you listen. Sometimes you contribute. Sometimes you leave with a list of things to do. Sometimes important information is shared. Sometimes some not so important information is shared, but you may still need to follow-up or reference those tidbits of info at a later time. Because of this, it is important that you create a system for documenting the meetings and their outcomes. Like all methods of organization, it really comes down to what works best for you and your style. Read to learn a few ways to do this below.
Multi-Subject Notebook
You may wish to use a multi-subject notebook and designate each section to a different type of meeting.
Journal
Some teachers get a journal and write everything sequentially into that one little book and flip back by date to find what they need.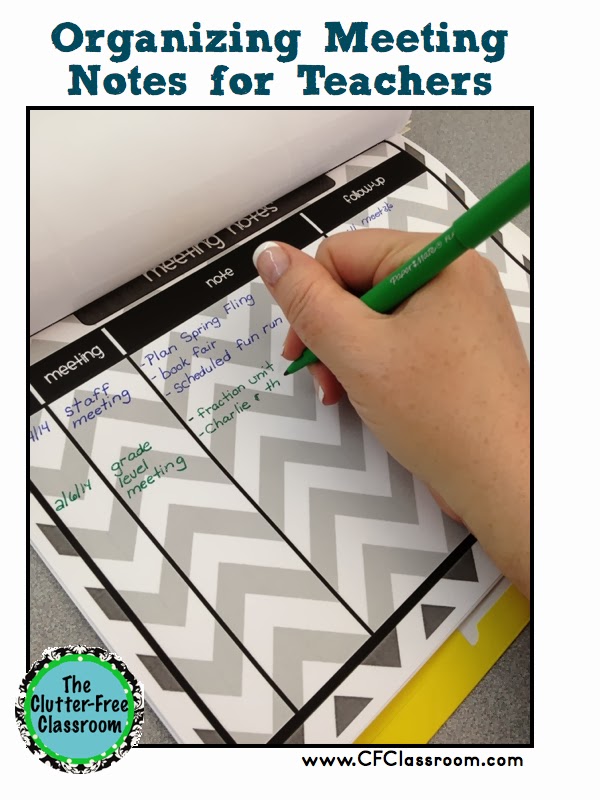 Paper Agenda
Another option is to take your notes on the back of the paper agenda that is passed out, hole punch it, and keep them all in a binder.
Binder
If you have an all-in-one teacher organizing binder then you may want to just be sure you've included a section for meetings. You may also prefer to develop a separate system for keeping your meeting notes organized. In the past, I used a binder. I liked the organization of the separate sections and the ability to add 3-hole punched papers to it.
You could start by listing all of the different meetings you attend. Some suggestions include: staff/faculty meetings, student study team meetings, grade-level planning meeting sessions, special committees, data meetings, etc. or you could just keep them all in one section (and perhaps use a different color pen for different types of meetings). You'll also want to include a section for "other." For each section create a tab and include paper for meeting notes. You might also want to include an empty page protector that you can slide agendas and other handouts into. Include simple calendar pages for easy reference on dates. I typically jot things down that are related to future meetings and follow-ups and then add them to my master calendar afterwards.
Folder
At times, I felt the binder seemed a bit too bulky for its purpose. I found that using a pocket folder met my needs in the same way a binder did, but took up far less room in my bag.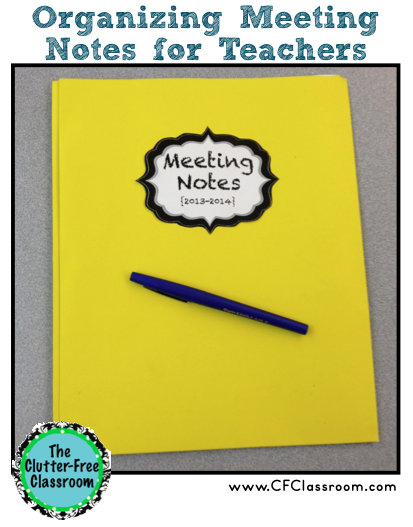 I've created printable templates for each of the types of meetings that I need to attend each year. I made several back to back copies of each and slid those copies into plastic page protectors (with each type of meeting having one designated page protector). This means I have one page protector labeled "faculty meeting" with 5 two-sided copies inside, I have one page protector labeled "grade-level meeting" with 8 two-sided copies inside, etc. I place these in my teacher binder.
During any given meeting, I take out the corresponding template, write in the date and any important info (location, special presenters, etc) and use that page to take notes. If there is a "call to action" that must be addressed after the meeting I make note of it in the follow-up column. I keep the most recent page on top and store the others underneath in order. The reason for doing it this way is that it keeps all related meeting notes together without adding extra pages to flip through in my teacher binder.
Post It Notes
The third set of classroom paper organization ideas are for sticky notes.
Raise your hand if you heart Post-Its! I love-love them! I love the colors. I love the way they stick and unstick. I use them for oodles of purposes. However, I found that I was often jotting down "to-dos" and then never doing those things because they were stuck in random places. When I created my new teacher binder for the upcoming school year, I decided to finally put an end to the post-its surrounding my computer monitor fiasco which made me feel not-so-Clutter-Free.
I created a resource that includes 8 different templates for teachers. This Post-It Organizer Packet will help you organize and manage all of those little post-it notes that accumulate. The printables can be used as-is or you can laminate them. Simply hang them on the wall, insert them into page protectors in a teacher binder, or insert them into a frame placed on your desk. They look fantastic when copied and printed on colorful cardstock. Learn all about my system for organizing Post It notes in this video: How to Organize your Post-It Notes.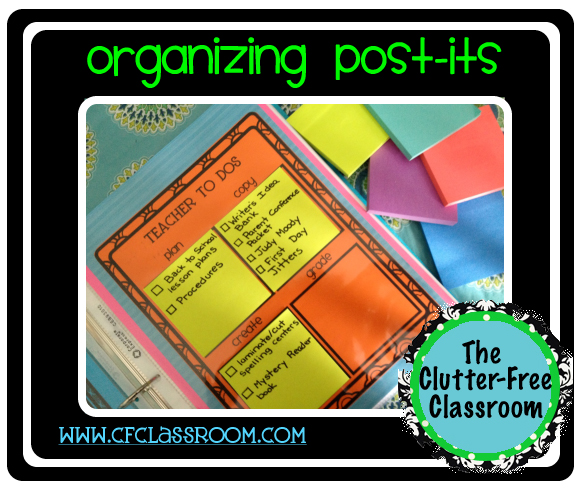 If you are curious about the list of items on my sticky notes, you can learn more about them here: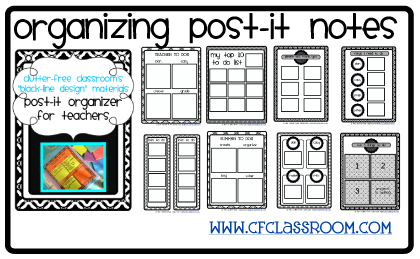 Papers from Your Teacher Mailbox
The next set of classroom paper organization ideas are for all those pesky papers that come from your teacher mailbox.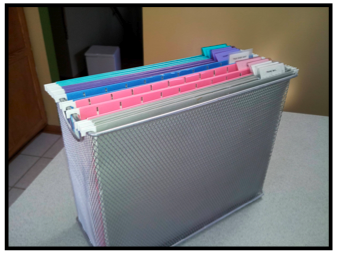 Is your teacher mailbox constantly overflowing with magazines, notes, and forms? These are the most challenging pieces of paper. They are the ones that come at you and require you do something. However, they can also be the most important papers and, therefore, it is necessary that you establish a procedure for handling them. I struggled with this influx of papers until I researched classroom paper organization ideas and created a simple system for how to organize them. Learn all about that system below!
Recycle
Stop as many papers from coming into the classroom as possible. If you have a recycling bin near your teacher mailbox I suggest sorting your mail before leaving the area. Recycle anything you don't need so it doesn't end up in your classroom needed sorting later.
Establish an Inbox Organization System
Get yourself an inbox to temporarily hold all of these papers that come at you. A basket, bin, folder or box is a perfect until you can give them the proper attention. You want to avoid walking into your room and dropping them on your desk. I love using accordion folders. I love this system because it makes my action papers portable. I can take the folder to the copier to go through while the machine is printing or easily slip it into my bag.
Pick a Time
Establish set times to address these papers. Begin by designating a time to sort through the papers in your inbox and divide them into the following categories: read, file, respond. Then structure a specific time during the day to address the individual categories. I find that sorting at lunch time and addressing them just after dismissal works well.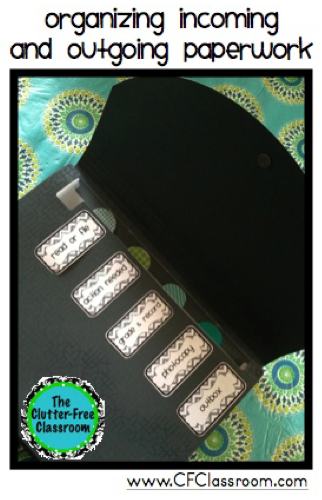 Utilize an Outbox Organization System
Create an "outbox" for the forms you've filled out and papers you need to pass along to someone else. A file tote that fits in your school bag may be a good option for you. This will allow you to drop off completed papers on your way out of school in the afternoon or when you come in the next morning.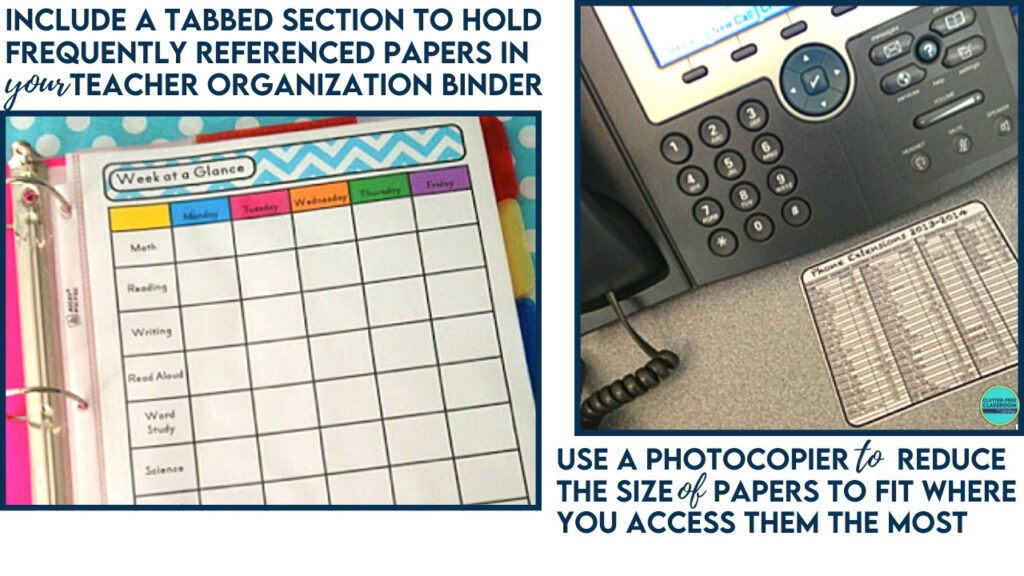 Papers You Reference Often
The last set of classroom paper organization ideas are for papers you reference often.
Most papers can be viewed and then the information can be added to your calendar or filed away. However, there are some papers that we find ourselves referencing often. Some examples would include master school schedules, phone extensions, the monthly school calendar or lunch menu, etc. Read below to get ideas about how to organize papers you reference often.
Create a Wall Display
Some teachers create a small bulletin board for their own use next to their workspace. This would be a good place to display papers that you need to reference but your students do not.
Creating a wall display that both you and your student benefit from is a great way to showcase papers you all need. I hang the school calendar and monthly lunch menu on a display in my classroom that also includes our calendar. It is next to the clipboard where the students order lunch so it makes sense for my to keep it all together.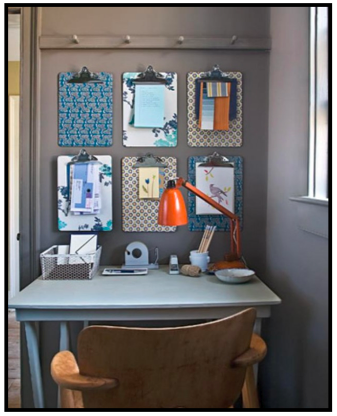 Place Papers Where You Need Them
I use a photocopier to reduce the size of the phone extension list and keep the smaller copy taped to the desktop under the phone.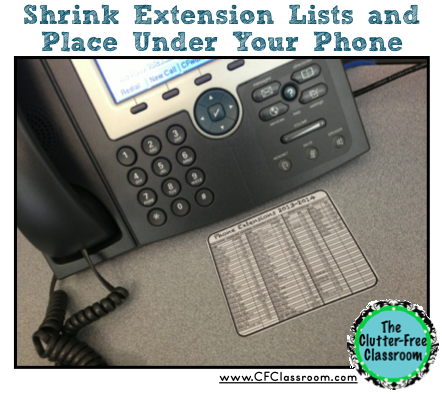 Utilize a Teacher Binder
If you have a teacher binder, you can add a tabbed section for frequently accessed pages. I keep a digital copy of the master schedule for the school on my computer in a file with my lesson plans and a hard copy in my teacher binder.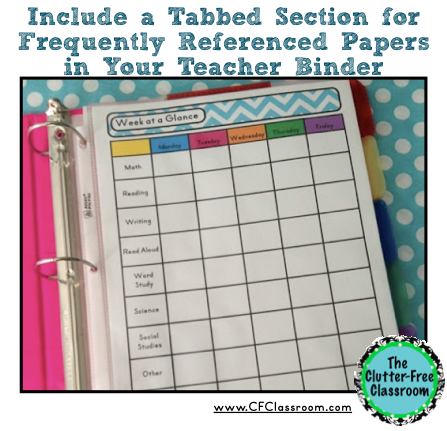 In closing, I hope you found these classroom paper organization ideas helpful! If you did, then you may also be interested in these posts:
Classroom paper organization is such a massive topic, which is why I dedicated an entire module to it in my Classroom Organization Course. Another resource I created that has a section all about paper organization is my Classroom Organization Guide.