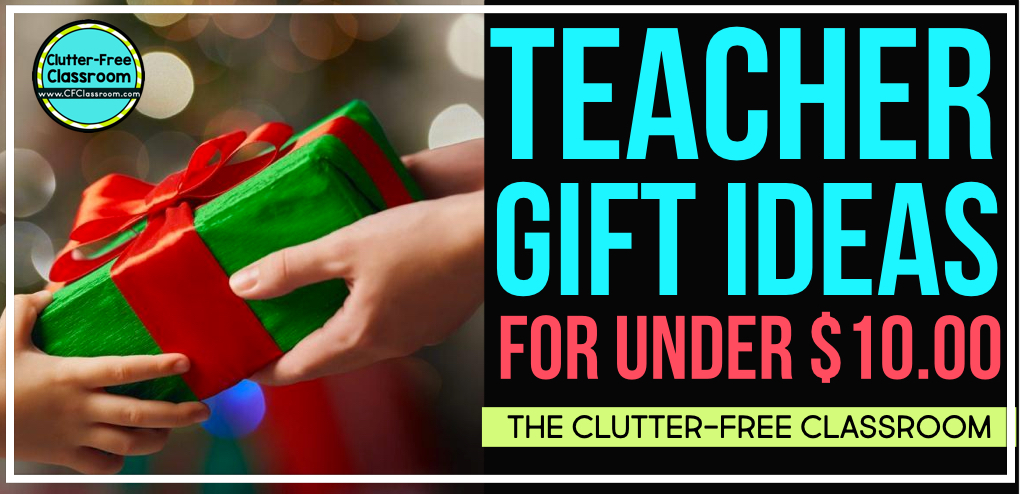 Before I get started on that… Have you downloaded my Free Sanity Savers for Teachers in December Guide yet? It includes tips and ideas to use throughout the month as well as lots of handy printables. There is a section that was written with advice for handling exchanging gifts with your coworkers. Be sure to check it out!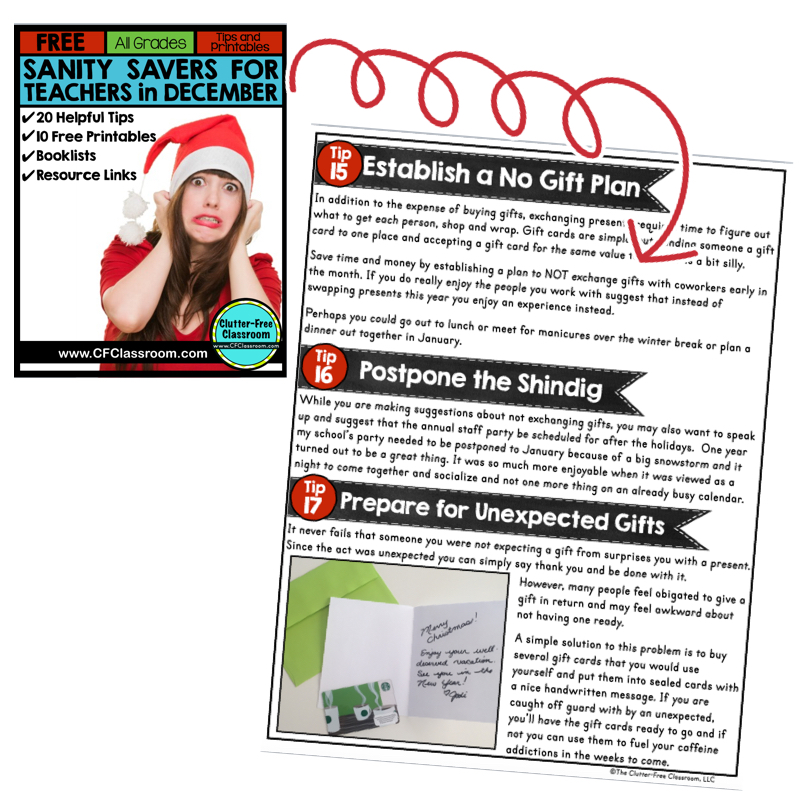 5 Inexpensive Gifts for Teacher Coworkers
While I am an advocate for simplifying the holidays and eliminating the obligatory exchange of gift cards, I do realize it isn't always possible to skip the exchange. For that reason, I have put together a list of 5 gift ideas for teachers. The prices range from $2.00 – $7.00. They are available online. Best of all, if you have Amazon Prime you can order them in less than a minute. They'll be delivered to your door for free in 2 days or less! How is that for stress-free?
I have used and LOVED each and every one of these in my own classroom. Move over Oprah… these are MY favorite things! Well, favorite things under $10.00 anyhow.
1. Staple Remover

If you have been using one of those claw staple removers you are doing it all wrong. This Easy Staple Remover allows you to slide under the staple and pop it right out without damaging the paper or bulletin board trim that is underneath. It is just over $2.00. It is perfect if you would like to give a small, simple gift to a fellow teacher. It's also great if you are looking for a low-cost, but purposeful item to attach to a gift card. This makes it a wee bit more personal!
2. Magnetic Dry Erase Markers

Another item on this list of inexpensive gifts for teacher friends is a set of magnetic dry eraser markers in fun colors. Blue and black ink on the dry erase board lacks personality. Bring joy to those creative teachers in your life by spicing things up with the fun colors that come with the Board Dudes Dry Erase Markers. Pink and purple? Yes, please. Green and orange? Heck, yeah! And as if the fun colors weren't enough to make me happy… they come with magnetic caps with built-in erasers. I always had a set at the top of my magnetic white board just out of reach of my students. While we encourage our students to share with each other, there are things that we want to keep to ourselves.
3. Sharpies
Fact: All teachers LOVE Sharpies and there is nothing more promising than an unopened package of Sharpie Fine Point Permanent Markers. They are the stuff dreams are made of.
4. Dry Erase Pockets

Save your teacher friend from long lines and paper jams at the photocopier by gifting her a set of Reusable Dry Erase Pockets
. All she'll need to do is slip a printed copy of a worksheet inside and students can use dry erase markers to complete them… just don't let them use the Board Dudes markers listed above because those are special.
5. Corner Rounder Punch

A Corner Punch Rounder
 falls under the category of "don't know what you're missing." Nobody 'needs' a corner punch rounder, but it really gives a special extra touch to papers if you are displaying them on a bulletin board. You simply slide the corner of the paper into it and squeeze to transform 90 degree angled corners into rounded ones. They are also available in swirls and all kinds of fanciness.
In closing, we hope you found these ideas for inexpensive gifts for teacher coworkers helpful. If you haven't already, be sure to download my Free Sanity Savers for Teachers in December Guide! Also, if you need gift ideas for your students to give to their families, then head on over to this post: Christmas Gifts for Parents from Students.