Regardless of the grade you teach, I have created a FREE product for you.
Well, really it's for your students.
Perhaps it's not even for all your students. It might be just for one specific student who you didn't even realize needed it.
I encourage you to read on, download thefreebie, give it a try and pass this along to other teachers.
After reading Glennon Doyle Melton's blog post about a conversation she had with her son's 5th grade teacher I immediately knew I needed to share it with my Facebook followers and implement a weekly check-in with my own students.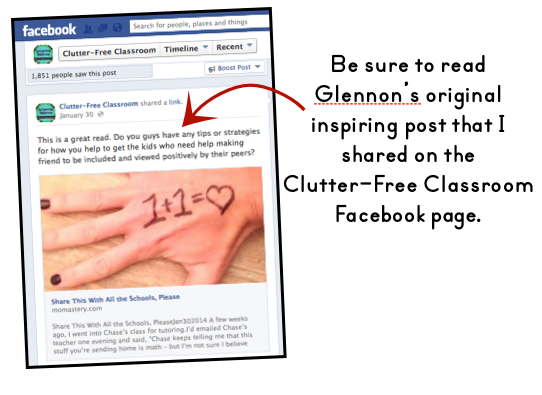 In summary, her son's teacher asks her students to list 3 students they would like to sit next to the following week as well as a classmate they feel was a good citizen over the course of the current week. Glennon writes, his "teacher is looking for lonely children. She's looking for children who are struggling to connect with other children. She's identifying the little ones who are falling through the cracks of the class's social life. She is discovering whose gifts are going unnoticed by their peers."
I typically ask my students to list 3-5 friends they are hoping to be classmates with during the next school year as I prepare to place them into classes for 4th grade. My purpose for doing so is to make sure that each child went on with at least one peer he/she enjoys being with. This activity has always been an eye-opener to me and I always feel sad when a child's name doesn't appear on any of the lists. But at that point it is a bit late to act upon the information effectively. I'm not sure why it never occurred to me to use this strategy for helping kids form friendships throughout the year.
I loved the idea of checking in weekly with my class and implementing strategies to help guide students to form friendships and appreciate all of their classmates for what each has to offer. There is no better way to stop bullying than by stopping it before it starts by creating a caring
community.
The thought of changing seats each week gives me hives. So I knew I would need to tweak the idea a bit.
The very next day I asked my students to list three classmates they were interested in working with the next week. I do a lot of collaborative activities and projects and am always mixing and matching kids for that so this was a perfect fit.
As predicted, the slips of paper offered great insight into our little classroom community as a whole and into each of their sweet little minds as individuals. My head was swimming with what to do with the the information.
As teachers, our jobs have become so focused on collecting and acting upon data. What kind of data could be more important than this?
While the blog article inspired me and those slips of information provided me with info, they also left me wondering, "now what?"
That's when I knew I needed a plan.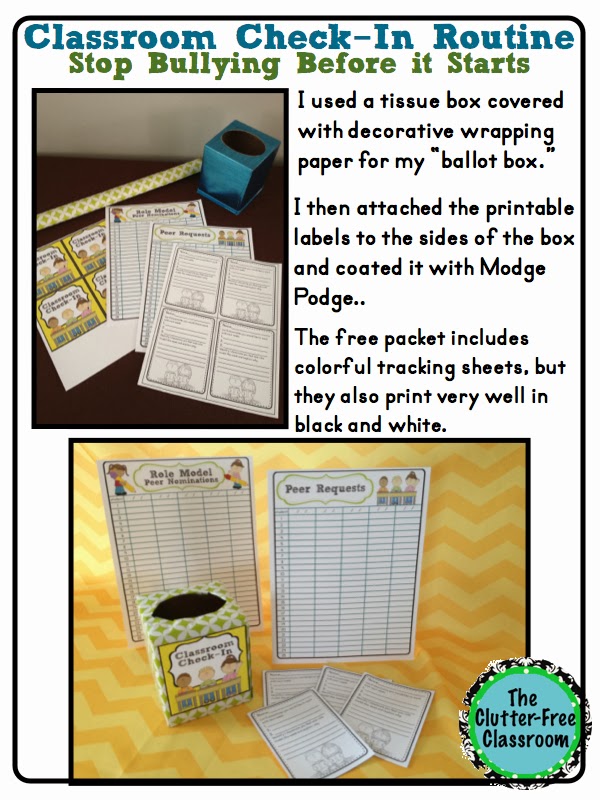 The first thing I noted was that those random slips of paper were going to drive my Type-A personality nuts so I started by designing a cute little form that the kids could use each week. The slip gives them spaces to list the three classmates and another space to nominate someone who has been a positive role model. Not wanting them to simply write down a BFF's name, I also included space for them to record why they nominated that person.
Next, I felt that if I was going to be looking for patterns it was going to be important that the data be visually organized for me. So I created two tracking sheets: one for the students whose names appeared on the slips as people their classmates wanted to be paired with and the other to note who was nominated by their peers for being a role model that week. I plan to use tally marks. The tracking sheet will allow me to see a month's worth of data at a glance.
The following page is includes in the free packet and will provide you with some ideas for how to use the data you collect to help kids make connections.