If you are an elementary teacher looking for tips and ideas for teaching genres to elementary students, you found the right place! As teachers, we want our students to read and experience a wide variety of literary genres and to fall in love with reading. Oftentimes, however, it is hard to get our kids to stray from their usual book choices. This post helps with this and explains the benefits of reading different genres. It even shares tips, ideas and resources for teaching genres to elementary students. Read below to learn more about teaching genre as an elementary teacher!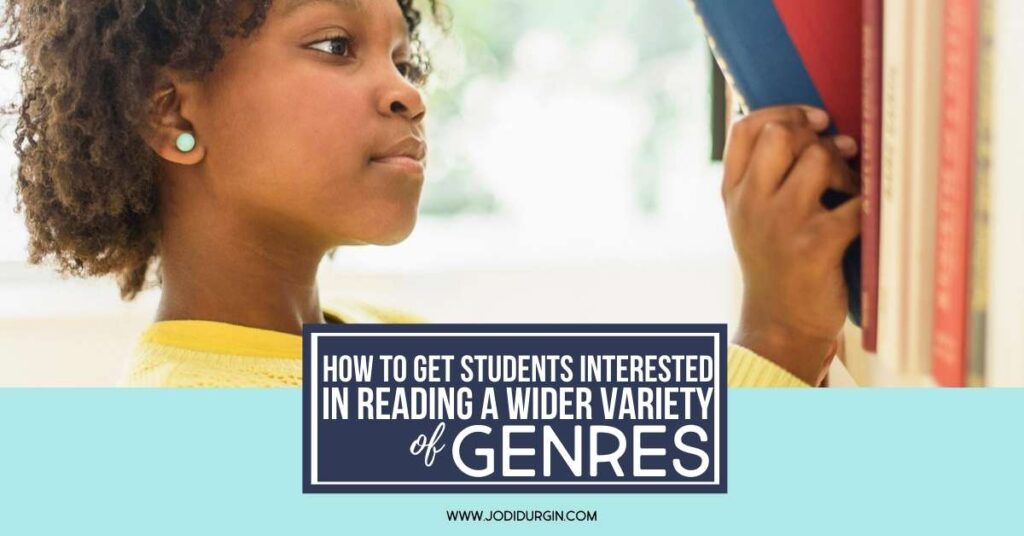 5 Benefits of Teaching Many Genres
Below are 5 benefits of teaching many different genres to your elementary students.
1. Motivates Reluctant Readers
A student who struggles with reading a novel may fall in love with poetry, or biographies, mysteries (or even horror!) and be able to improve their attitude about reading by being exposed to many other varieties of literature.
2. Exposes Students to New Vocabulary
Each genre of literature carries with it an opportunity to learn a wider variety of vocabulary, which the student will need as they read more, and also as they progress in their academic career.
3. Builds Confidence
As a student learns how to interpret and understand one literary genre, their confidence will build as they broaden their horizons to learn from other genres.
4. Strengthens Reading Skills
The development of so many reading skills relies on teachers modeling those skills, such as fluency, by using many genres of literature.
If a student is not able to grasp one reading skill, such as making inferences, within one genre, perhaps they can grasp the concept by using another form of literature. An example is using a picture book instead of a poem when learning how to make an inference.
5. Makes Reading More Fun
So often we are focused on what the child must read, and how much time we must spend reading, that we forget that one of the best aspects of books and reading is that it should be fun and relaxing and pleasant to read! Finding a genre of literature that a student will love to read, by exploring many genres, is the key to making reading fun and to developing a love of reading that will last a lifetime!
How to Teach Genre to Elementary Students
Filling your classroom bookshelves with a collection of titles and series from a broad spectrum of genres is important. However, that alone may not be enough. You need to also provide your students with lessons, activities, and resources to inspire and motivate them to explore all different types of genres. Below are some ideas for teaching genres to elementary students.
1. Explain the Difference Between Fiction and Non-Fiction Books
Start by teaching your young readers the difference between fiction and non-fiction. Avoid telling them that fiction is make believe and non-fiction is real. Instead define fiction as "a story with characters and events that have been made up in the author's mind". Explain that non-fiction books are informative. Use actual non-fiction books and explore the text features.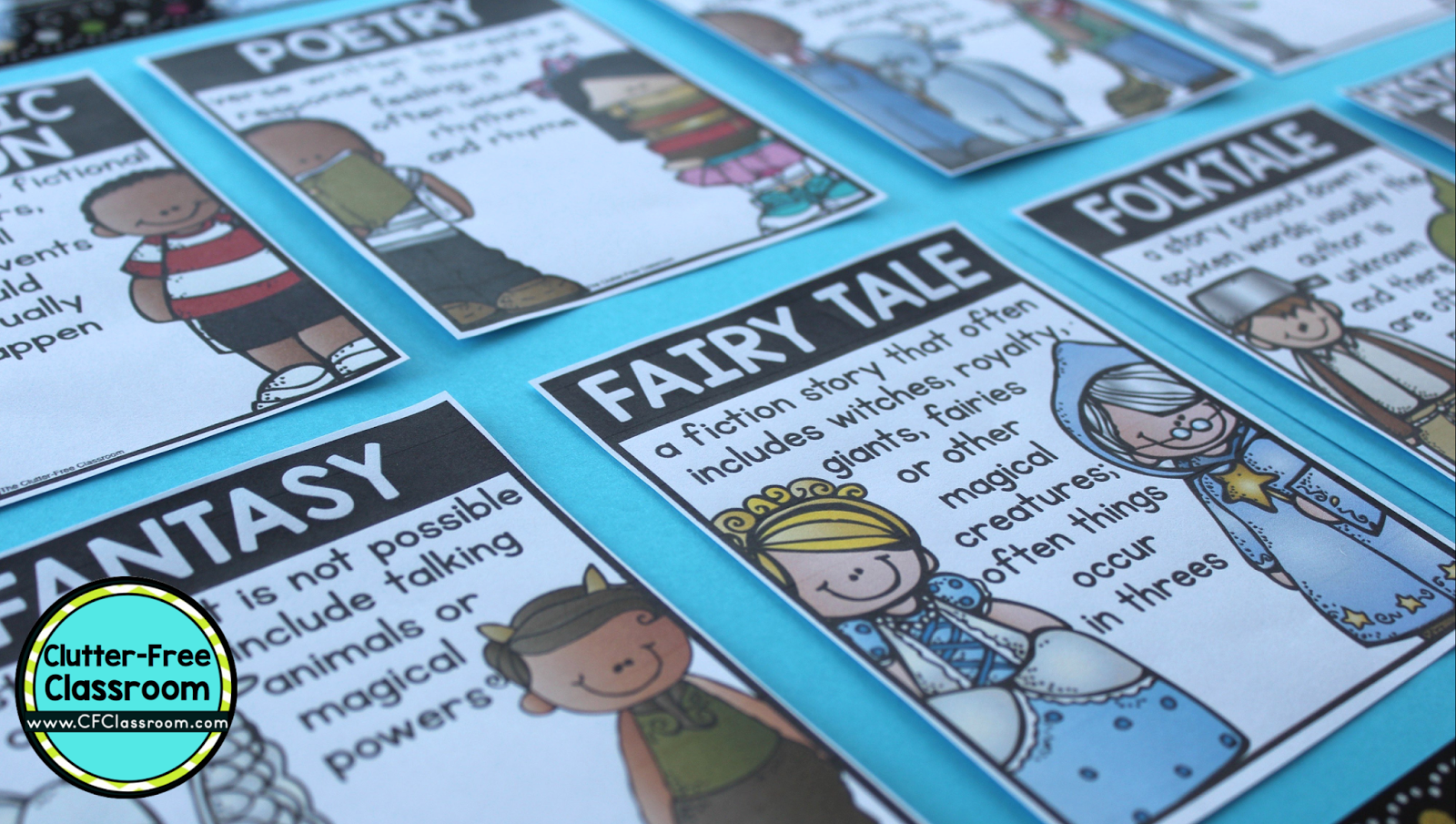 2. Teach the Definitions of Book Genres
From there you can start to focus on the characteristics that define each genre. One simple activity that makes a great center is to place a collection of books on a table and have the students sort them by genre. Only select a few different genres at a time until the students become more skilled at identifying them. Continue this practice with other centers that include sorting activities and matching games as ongoing review.
3. Display Genre Posters
Offer additional support by displaying reference posters in the classroom and by giving each student a bookmark to remind them as well. You can display them on a bulletin board or in your classroom library. Check out these genre posters!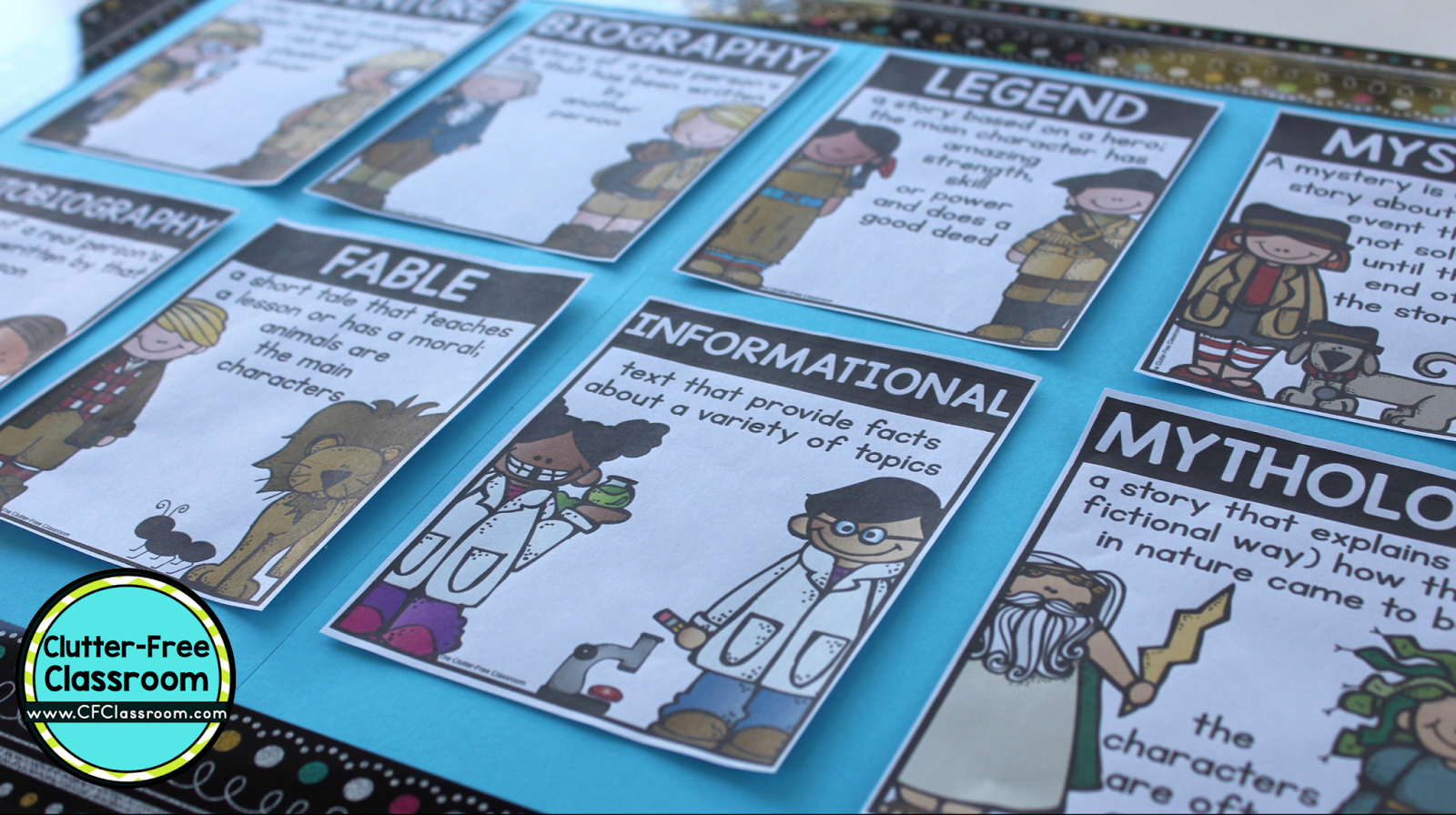 4. Encourage Your Students to Read Different Genres
Motivate students to read from the different genres with incentive charts. Two of my favorites that I've found to be extremely effective are tally charts and Bingo boards. I display and use a whole class version for read aloud books we've enjoyed together and provide each student with their own copy as well.
5. Provide Students Opportunities to Write About Genres
You can help students to reflect on their experiences with different genres by recording their thoughts on paper. When finished, you can display these for other students to read as recommendations. For a great looking bulletin board you may want to consider hanging them with a photo of the child holding the book they wrote about. The written reflections can also be assembled into individual student books by collating several different genres. Another option would be to have each student write a reflection on a different book from the same genre to create a class book that the children can read to find new titles. Additionally, the reflections make a great assessment tool of student understanding.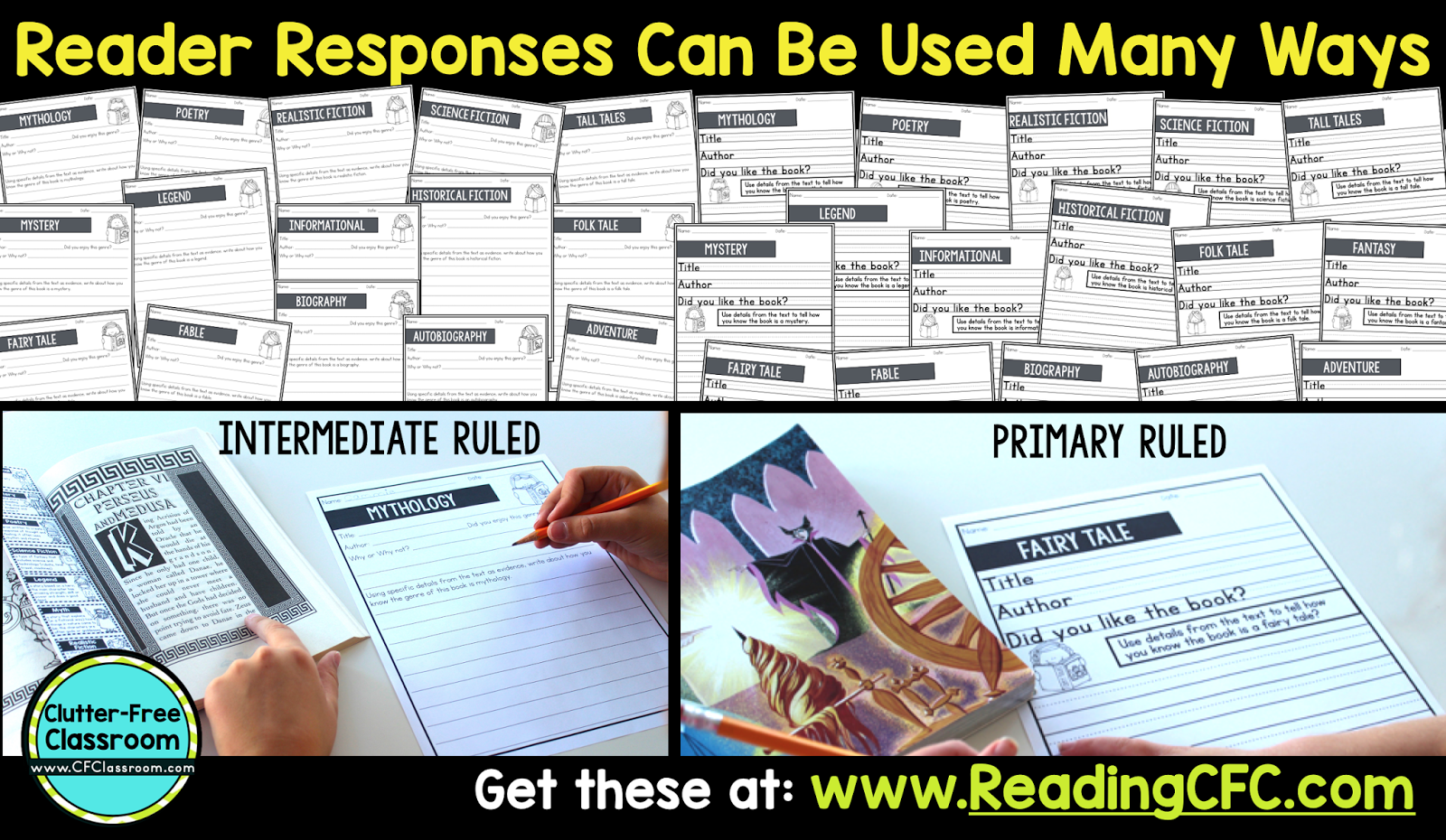 6. Use Genre Games and Activities
Introducing your students to different genres and encouraging them to read a variety of books will strengthen their reading, vocabulary and writing skills. This genre resource includes genre posters, printables, games, bookmarks, and more! It will make your job easier!
What is this Genre Resource?
These genre posters, activities, lessons, games, and reading printables are a great way to encourage your 2nd, 3rd, 4th, and 5th grade students to read more books from a variety of reading genres. This is so important because introducing your elementary students to different genres and encouraging them to read a variety of books will strengthen their reading, vocabulary, and writing skills. It can also inspire and motivate your reluctant readers to explore books and discover their love of reading. It's a great resource for teaching genres to elementary students. Learn more about this genre resource!
Why Elementary Teachers Love It
Elementary teachers love this genre resource because of the following reasons:
This genre resource includes tons of differentiated materials so you can differentiate to meet your students' needs so all students can access the content.
Implementing this resource will strengthen your students' reading and writing skills in fun and engaging ways.
It will your students expose to many different genres, so they'll find one that pulls them into the world of reading (even your most reluctant readers).
It will make your job easier because there is little to no prep. Some resources may require quick and simple cutting, while most are print and go. Many of the pages are even reusable and can be used over and over with different books.
This resource will engage your learners by offering a variety of formats for students to learn through (posters, games, activities, written responses, etc.).
What Does It Include?
This genre resource includes the following resources:
Genre Posters
Sixteen 8.5 x 11 inch charts featuring a the name of the genre, a description and images to provide a visual cue.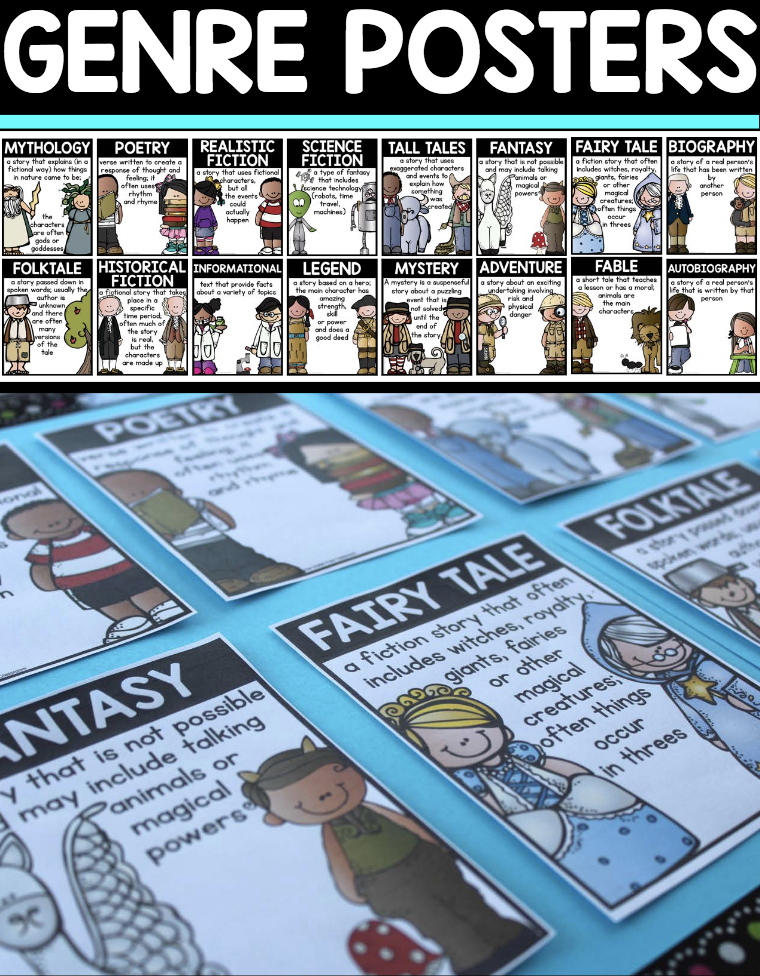 Tally Charts
Three tally chart options (blank, color and ink-saving black and white). After reading a book, record the book's genre using tallies in the appropriate box. These can be used individually by students or displayed in the classroom and used to track your read aloud books.
Genre Bingo
Students cross off a box after reading a book from that genre. The goal is to get 5 boxes in a row, column or diagonally across. This was designed to help encourage your readers to branch out in their selections. This printable comes in three varieties (blank, color and ink-saving black and white).
Reader Response Sheets
There are 2 differentiated response sheets for each of the sixteen genres featured in this resource. Each asks the students to identify the genre of a book they have read and support their thinking with details from the text.
Go Fish or Memory Match
The first set of cards can be used in several ways. Some teachers like to print the 2 whole pages and include them as a reference in the students' notebooks or folders. Print two copies and cut apart to play a matching game or print 4 copies of each and use the cards to play "Go Fish." There are also sets of cards included that include just the name of the genre on one and the description of the genre on the other for a more advanced version of those two games.
Self-Correcting Match Cards
Print all the pages and cut the cards out on the dotted line. Use scissors to cut the name of the genre apart from the description of the genre. By cutting in distinct patterns instead of straight, the students will know if their answer is correct if the 2 pieces fit together.
Genre Bookmarks
Printable 2-sided bookmarks. Each page contains two bookmarks. Cut the page down the middle and fold each piece in half. Laminate for durability if desired. These make a great reference tool.
Genre Match
Use the cards to play Memory/Concentration by matching the genre card to the correct definition card. This also makes an excellent pocket chart activity center.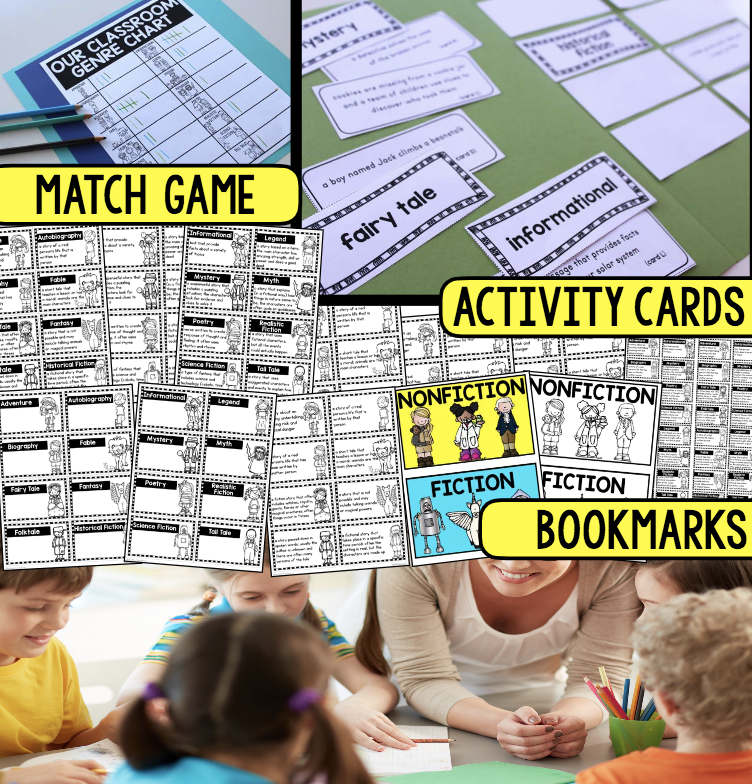 Name that Genre
Use the colored genre cards as categories. Have the students sort the description cards into the correct category. To make the activity self-correcting you could write the card numbers on the back of the category cards.
The Genre Sort
Print all pieces and cut on the dotted lines. The names of the genres are used as headers. Have the students place the story description cards with it's correct genre. As an alternative, many teachers like to use actual books and have the students sort them based on their descriptions.
Genre Challenge
This sheet encourages students to read books from a variety of genres.
Fiction vs Non-Fiction
These may be used in 2 different ways. The first is to print a copy for each student and fold the page in half so one side reads fiction and the other reads non-fiction. The teacher then either describes a book or reads parts from a book and the students hold up the card to show if it is fiction or nonfiction. The other option is to use them as headers and have the students sort actual books into the two categories.
In closing, we hope you found this information about teaching genres to elementary students helpful! If you did, then you may also be interested in these posts: