If you are an elementary teacher looking for self regulation videos for kids, then you found the right place! Videos are a great way to teach social emotional learning skills at the elementary level. They provide both an engaging and informative experience for students to learn about social emotional learning skills. Check out three great self regulation videos for elementary students below!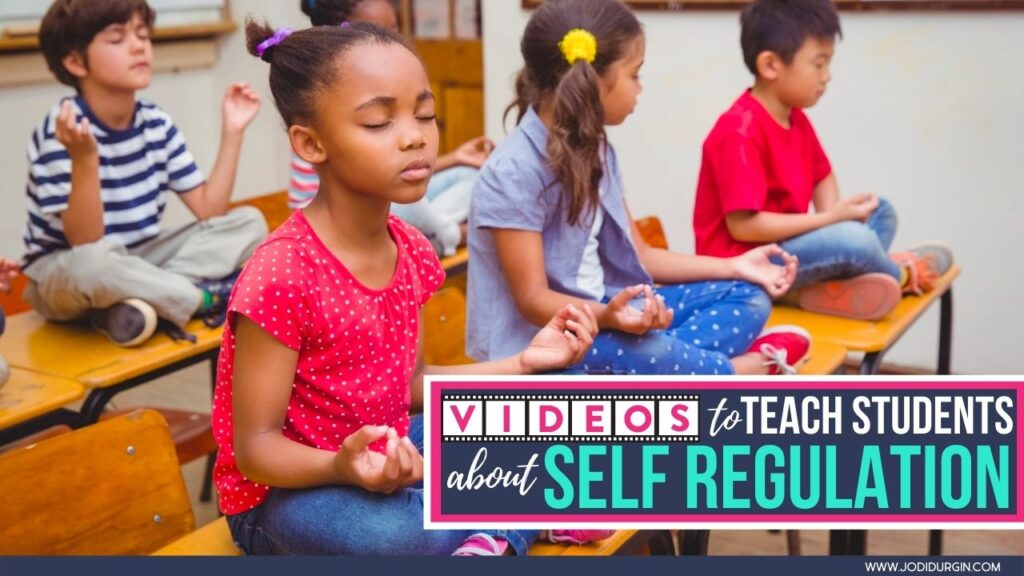 3 Self Regulation Videos for Elementary Students
Below are 3 quality videos for teaching your elementary students about self regulation.
1. Cookie Monster Self Regulation Video
This is a video about self-regulation that Cookie Monster teaches kids. First, pause at 1:21 and ask students what self-regulation helps them do. Next, pause at 3:10 and ask students if they think Cookie Monster will be able to resist eating the cookies. Lastly, pause at 4:40 and ask what strategies Cookie Monster tried in order to resist the cookies. This video is 5 minutes and 6 seconds long.
2. Calming Strategies Video
This video teaches self-regulation strategies for calming down. Read the strategies out loud to the students. Have students practice the strategies after watching the video. This video is 3 minutes and 20 seconds long.
3. Zones of Regulation Video
This video names and explains the different zones of regulation. It is an introduction. After watching the video, ask students the names of the different zones and how students feel when they are in each zone of regulation. This video is 5 minutes and 26 seconds long.
In closing, we hope you found these 3 self regulation videos for elementary students helpful! They are a great way to engage your students while learning about this important social emotional learning skill. If you enjoyed this post, then you may also be interested in these other posts about social emotional learning.