How do we help our students develop strong social emotional skills with such limited time in the school day? This is a question that often comes up when we talk about social emotional learning (SEL). SEL is such a big topic and we are very limited on instructional time as it is. As a result, it's imperative we involve our students' families by offering resources for them to practice SEL at home.
When we work together as a team with students' families, our students benefit tremendously. Below are 5 ideas to help students practice SEL at home with their families' support.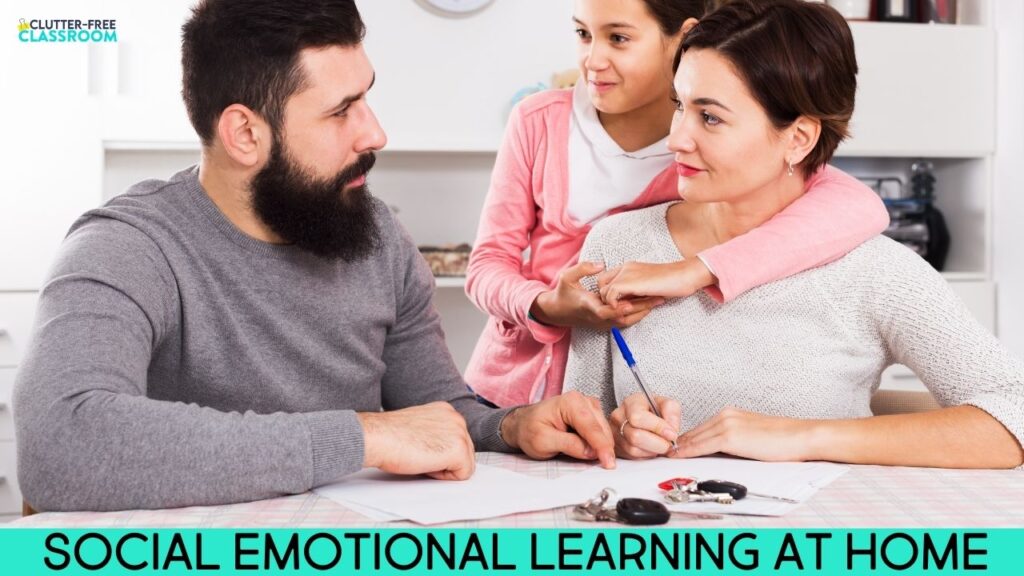 5 Activities and Resources for SEL at Home
Below are 5 activities and resources for supporting your students' parents and guardians in helping their children in practicing SEL at home.
1. Parent Letters
Parent connection letters are a great way to get parents involved in what their children are learning at school.
It can be useful to send home a letter to parents after teaching a new SEL concept. Include information on what the concept is, what it looks like when their child does it, and an activity that their child can do at home to practice the SEL concept.
An option is to have parents sign the letter saying that they have read it and that their child has done the at-home practice activity.
2. SEL Choice Boards
SEL choice boards look like a bingo board with SEL activities in each box. It is a great tool to help students practice SEL at home!
Provide a board with different activities that children can do at home independently or with their parents. This gives parents flexibility with what they are able to have their child do at home.
One idea you could do is create a monthly board with review activities of the previous month's SEL concepts. If you send it home monthly, parents will know to expect it.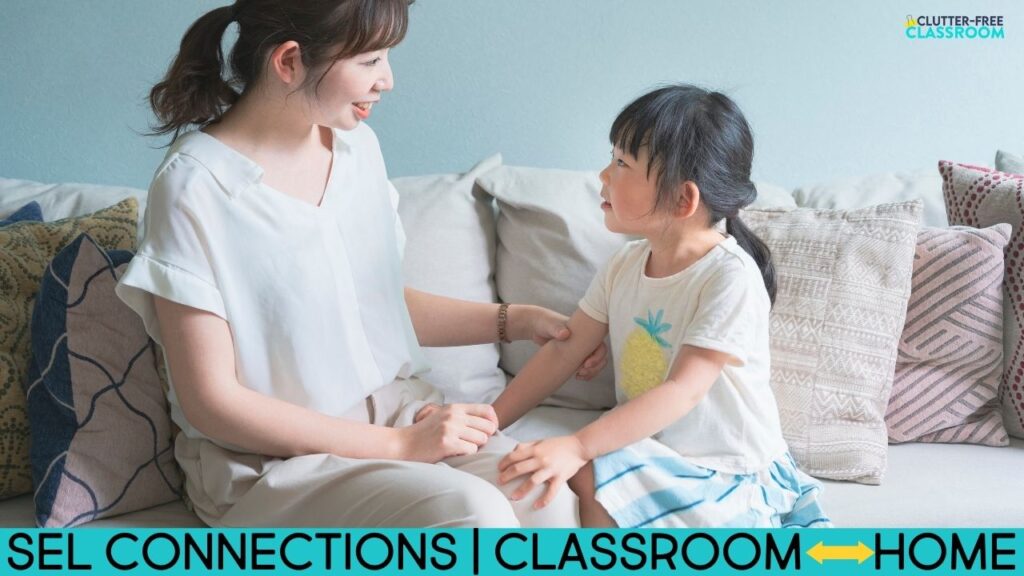 3. CASEL Website
The CASEL website is an excellent resource to provide parents who are looking for more information, or to link to your classroom website for parents to use at their leisure.
CASEL is the leader in SEL. They developed the 5 SEL competencies that each person needs. This link is for their parent site. It provides articles and book chapters, guides and tools, reports, webpages, and videos. This is the one of my favorite resources for sharing information with parents about how they can support SEL at home.
4. SEL Scavenger Hunt
A scavenger hunt is a great way to provide an SEL activity to be completed at home that students can do independently or with an adult.
It also gets your students moving. Students can find things inside and outside of their house (depending on the weather) that are related to SEL.
These items could be something that makes them smile, something that they love, something they are grateful for, something someone they love gave them, etc.
5. Empathy Conversations
The last SEL at home suggestion on the list is to encourage your students' families to engage in conversations about empathy, one of the most important SEL topics.
Parents will need information about the importance of empathy and what it looks like for a child that is the same age as theirs. This can be done in a simple handout or email. In whatever form of communication you choose, provide suggestions for language parents can use when talking with their children that models empathy. In addition, identify examples of opportunities that lend themselves to discussions about empathy. An example is when they are watching a tv show or movie, parents can occasionally pause it to ask how the character is feeling and why and how they would feel if they were in that situation. Parents could also do this when reading a book with their child or when talking to their child about each other's day.
We hope you found these 5 activities and resources helpful for supporting students in practicing SEL at home. You may also find this post about SEL in the classroom helpful too, as well as the social emotional reading activities below!