A highly effective way to teach the author's purpose to elementary students is to read aloud a picture book that lends itself to teaching this reading strategy. Reading aloud a picture book facilitates a learning experience where you can model how to use the author's purpose to better understand the text and engage students in their learning by asking related questions. Below is a list of 10 picture books to teach author's purpose. Check out the full list, as well as the teaching resources that go with them!
10 Picture Books to Teach Author's Purpose
Below are 10 picture books for teaching author's purpose to elementary students.
1. Just Ask! by Sonia Sotomayor
Just like each item in a garden is different, so are the children that tend to it. In this story, Sotomayor writes about students with a variety of differences, such as those with Autism and Down's Syndrome to those who are blind and deaf. The purpose of this story is to teach students to ask questions to each other when they are curious. Encourage students to explain how and why they know the author's purpose after reading! Check out these Just Ask! activities!
2. Last Stop on Market Street by Matt de la Pena
The second on this list of picture books to teach author's purpose is Last Stop on Market Street. As CJ rides the bus with his Nana, he begins to ask her lots of questions about why they ride the bus, rather than drive a car. Nana explains that they need to appreciate what they have and enjoy what they are surrounded by. The author's purpose here is to not only entertain readers, but to remind them to honor what they have, no matter how little it is. Check out these Last Stop on Market Street activities!
3. A Chair for My Mother by Vera B. Williams
Rosa and her mother experienced a fire in their apartment. The community helped to support them, but they kept a jar for money to be saved. Their goal was to buy comfortable chairs and couches once it was full. By the end, the jar filled to the top and they were able to make their hope a reality. The author's purpose in this story is all about teaching kindness, resilience, and hard work. Check out these A Chair for My Mother activities!
4. Rosie Revere, Engineer by Andrea Beaty
This story is about a young girl named Rosie, who dreamed of becoming an engineer when she grew up. Rosie spends her time creating, but eventually hides them from loved ones because she is embarrassed that they will be failures. One day, her Aunt Rose comes to visit and teaches her that failure is part of success. From this, the author's purpose is to entertain readers with a clear problem and rhyming in the story, but to also teach students about the importance of resilience. Check out these Rosie Revere, Engineer activities!
5. Adrian Simcox Does Not Have A Horse by Marcy Campbell
The fifth on this list of picture books to teach author's purpose is Adrian Simcox Does Not Have a Horse. Told from the perspective of a peer, we see Chloe get upset each time Adrian talks about having a horse since she knows he is lying. Her mom brings her to Adrian's house, where she realizes how small and battered it is. The author teaches that understanding is a key ingredient to friendship in this beautiful story. Check out these Adrian Simcox Does Not Have a Horse activities!
6. Beautifully Me by Nabella Noor
As young Zubi was getting ready for school, she heard her sister say that she needed to go on a diet for the school dance. This pattern continued throughout the day, making Zubi wonder if she had to diet to be beautiful. This author's purpose allows children to reflect on the importance of health, beauty, and advocating. Check out these Beautifully Me activities!
7. Can I Be Your Dog? By Troy Cummings
Arfy the dog is looking for a family to live with. He writes letters to families, butchers, the fire department, and even the scary house at the end of the road. Each time, he gets a letter back saying he cannot be their dog. By the end of the book, the mail carrier Mitzy happily takes Arfy home. Teaching the author's purpose from this story is helpful, as students can analyze why the author would write about the importance of belonging and adoptions. Check out these Can I Be Your Dog? activities!
8. Bob, Not Bob by Audrey Vernick & Liz Garton Scanlon
Little Louie is sick with a terrible cold! His ears are blocked, his nose is stuffed, and he is hot and sweaty. Louie does not want to color, watch tv or shoot baskets. All he wants is his mother. Whenever he calls for his mom, his dog Bob comes running. That's because Louie sounds different when his nose is stuffy. This hilarious story supports the author's purpose of teaching students to stay home when they have a cold. Check out these Bob, Not Bob activities!
9. The Girl Who Thought in Pictures by Julia Finley Mosca
The second to last on this list of picture books to teach author's purpose is The Girl Who Thought in Pictures. This story follows the life of Temple Grandin as she navigates life with Autism. By the end of the story, we learn that she earned three degrees and spreads the message that the world needs diverse brains. The author's purpose here was to educate readers about Temple, along with the world of diversity. The author wants children to learn that we need all kinds of brains, and that acceptance is important to an inclusive world. Check out these The Girl Who Thought in Pictures activities!
10. The Art Lesson by Tomie DePaola
When it is time for art class, the teacher only allows the students to use one piece of paper and the school's box of crayons. Tommy feels frustrated, as he brought his own. His classroom teacher and art teacher come up with a compromise so that he can work well in the art room, but also be able to use his own crayons. This story's purpose is all about following dreams, compromising, and advocating. Check out these The Art Lesson activities!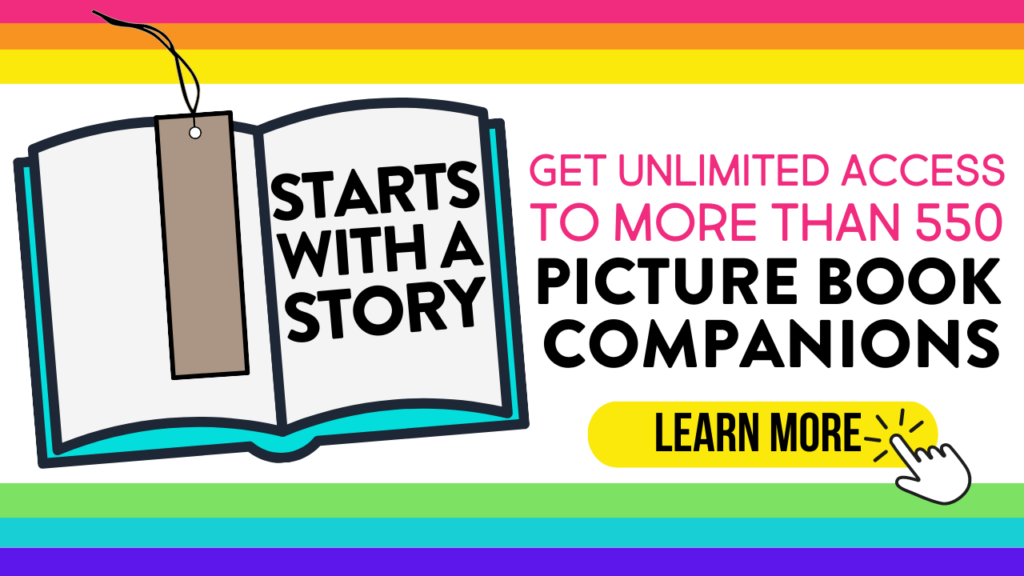 In closing, we hope you found this list of picture books to teach author's purpose helpful! If you did, then you may also be interested in these posts: