Do you waste time searching through your teacher bag to find what you need?  Do you cringe every time you look inside of your bag? If so, let's change that by getting your teacher bag organized! By sampling, decluttering, and tidying your bag, you will feel so much better and feel a weight lifted from your shoulders. Read below to get inspired to clean and organize your teacher bag with simple teacher bag organization ideas!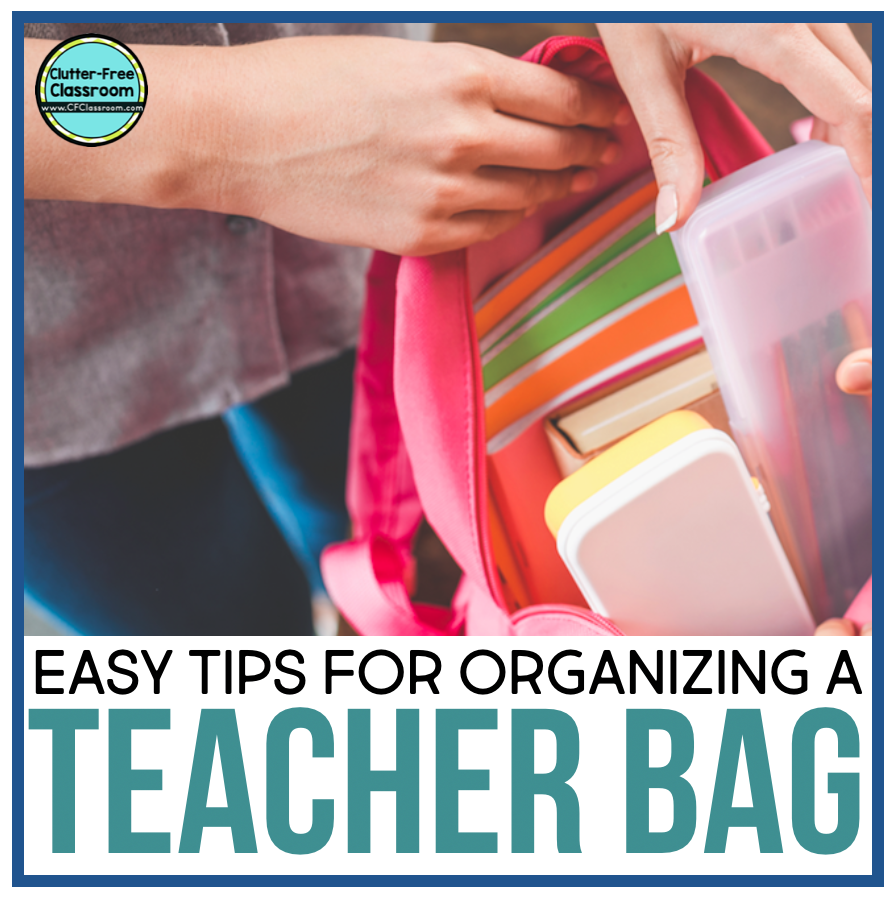 What are the Different Kinds of Teacher Bags?
There are a bunch of different kinds of teacher bags. Check out some examples below!
tote with an over-the-shoulder strap
canvas bag
backpack
rolling crate
briefcase
wheeled tote
carry-on luggage
satchel
10 Things to Look for When Purchasing a Teacher Bag
Consider the following when purchasing a teacher bag:
comfort
size
weight
pockets
straps
waterproof
durability
style
water bottle compartment
USB charging port
Why it's Important to Have an Organized Teacher Bag
It's important to have an organized teacher bag because of many different reasons.
First, it will save you time. When you have a disorganized teacher bag, you are constantly shuffling things around looking for something. Ultimately, you empty the whole bag, locate what you need, and then stuff everything back in it.
A second reason why it's important to have an organized teacher bag is because it causes you stress when things are everywhere. I want you to stop and think about what your teacher looks like right now. Think about how that makes you feel. Now imagine looking inside of your bag and it's completely organized. You can see everything at a glance. Can you feel the difference? Just thinking about it makes me breathe out a huge sigh of relief!
3 Teacher Bag Organization Tools
Below are 3 teacher bag organization tools that will help you get organized.
1. Expanding Files
I love expanding files! You can get them in fun colors at the Target Dollar Spot. They are fabulous for housing papers that need correcting. I also have one in my bag that I use for plans and papers that need copying. That way I can easily stop by the copy room on my way in or out of the building.
2. Portable Art Center
This portable art center for kids would be great for organizing your teacher bag. It would make correcting so much more fun!
3. Ziploc Bags
I love ziploc bags. I use them for everything. They are handy to have in your bag to house like items so that you can pull them out and find what you need easily. If your bag is a portable office (i.e. you access it while waiting for your daughter to get out of dance class or while you are in the waiting room at the dentist) you may want to use a ziploc to house things like tape, stickers, small stapler, etc. If you've bought an expensive bag then you may want to keep your pens and markers in a ziploc bag so that they don't accidentally explode and ruin your lovely bag.
I hope this information was helpful! If you are looking for more ideas for elementary teachers, then check out these posts: