Don't you love the feeling of an organized space? I love knowing that each and every thing has a purpose and a specific place. It is the best feeling as a teacher! An organized classroom is not only beneficial for teachers though. Your students benefit from this organization as well! It promotes a relaxed environment where they can focus and learn. Does your classroom currently support your students at the highest level?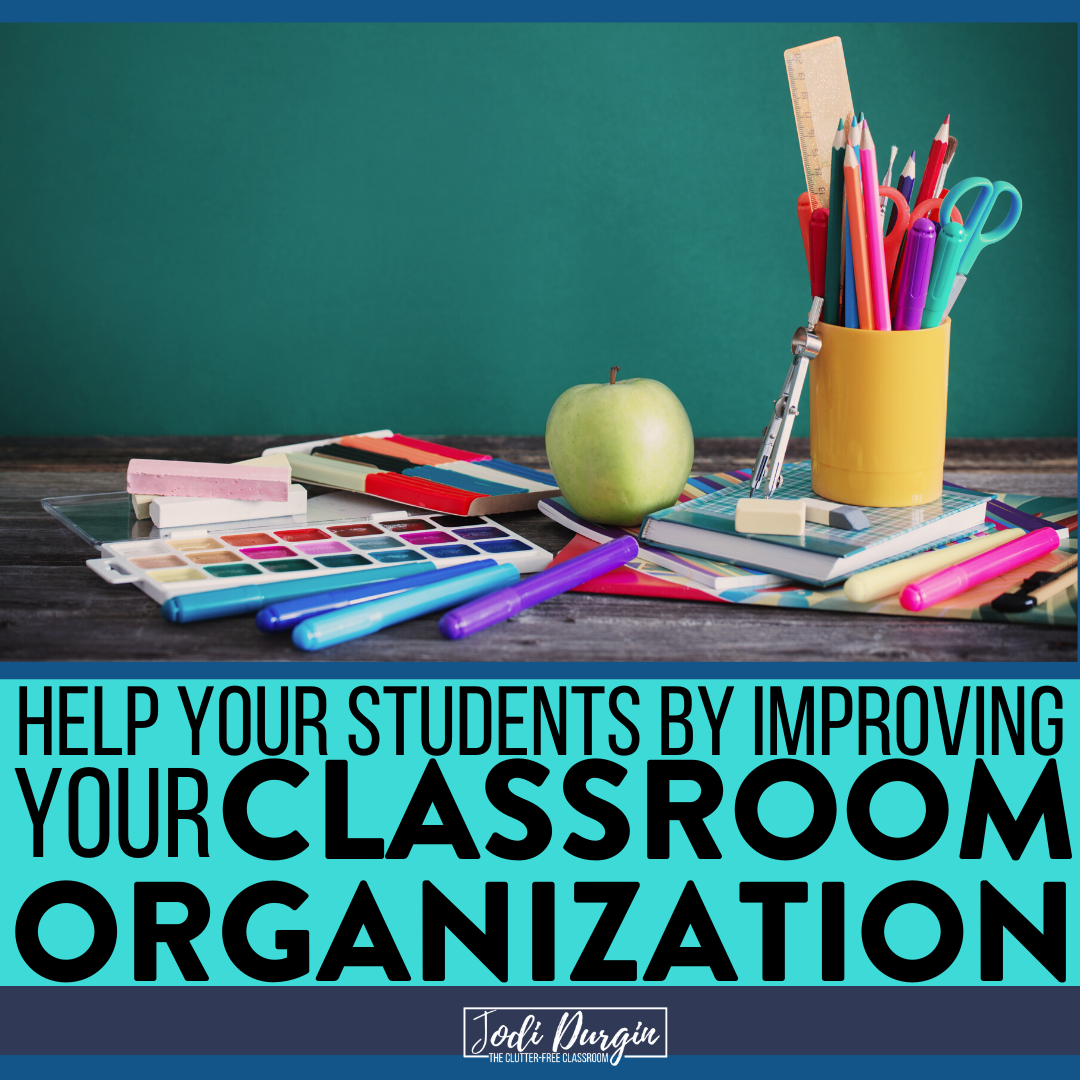 This blog post will…
answer the question: Why is an organized classroom important?
explain the impact an organized classroom has on students with learning differences.
offer two ways to get the organized classroom of your dreams.
7 Benefits of Being an Organized Teacher
Saves you time: Are you often late for school because you are running around your home packing up your school bag, looking for the papers you've scattered over the weekend or trying to locate your car keys? Do you end up staying at school later than you would like because tasks require looking for supplies and materials? This doesn't have to be the way. Getting organized is the key to getting back valuable lost time.
Saves you money: How many times have you bought a book or a teaching tool and then soon discovered you had the same item hidden in a closet or on a shelf? How many things have needed to be replaced because improper storage left them crushed, bent, folded or faded? An organized classroom will spare you those expenses.
Improves your professional relationships: Clutter can affect your interpersonal relationships with the important people you work with daily. Parents and colleagues rely on you to be on time and to quickly fulfill your professional responsibilities without running late, missing deadlines, or failing to fulfill your promises. Being on top of everything will free up your time so you can enjoy lunch in the teacher's lounge, visit with other teachers, and be part of any Friday festivities that may be planned for after school.
Improves your health: Teaching is stressful enough, but a disorganized classroom adds additional stress to your busy life. Stress wreaks havoc on your body and your mind. Additionally, clutter enables dust and allergens to collect which can trigger allergies, cause headaches, sniffles, and sore throats. Getting your classroom decluttered and organized will also free up extra time for you to go for walks, hit the gym, or enjoy relaxing hobbies.
Makes you happier: Disorganization can negatively affect your mood. It's hard to enjoy teaching when you feel like you are always stressed and overwhelmed by a chaotic schedule and a clutter-filled environment. Being on top of all that you have to do, and transforming your classroom into an organized learning space, will have you feeling energized, productive, and proud to have parents, colleagues, and administrators visit.
Saves your personal space: Do you have bins and tubs containing classroom materials stored in your home? Are you driving around with school books and supplies in your car? Your home and your vehicle are your personal space and shouldn't be taken over by the mounds of classroom materials that belong at the school.
Makes you a more effective teacher: Is lesson planning a chore because your books and resources aren't easily accessible? Do your students get off task waiting for you to find something you forgot to have handy for your lesson? Finding your planning or lesson materials quickly will allow you more time to be creative in your lessons and provide you with those crucial extra minutes that can be spent helping your struggling learners.
The Impact of an Organized Classroom on Students with Learning Differences
There are 13 categories of special education according to IDEA: Autism, Blindness, Deafness, Emotional Disturbance, Hearing Impairment, Intellectual Disability, Multiple Disabilities, Orthopedic Impairment, Other Health Impaired, Specific Learning Disability, Speech or Language Impairment, Traumatic Brain Injury, and Visual Impairment. Students with one or more of these diagnoses face unique challenges in general education settings that require the support of modifications and accommodations outlined in their IEP.
These are not the only students who face challenges in the general education setting. There are other students who do not qualify for an IEP, but qualify for a 504 plan. These students are supported through accommodations outlined in their 504 plan.
All students, ones with and without learning differences, benefit from an inclusive, kind, and welcoming learning environment that can be characterized by structure, consistent routines, and organization.
In particular, students with anxiety and ADHD benefit from this type of classroom tremendously. In this environment, they know what is expected of them and what is happening next within the school day.
An organized classroom benefits all students in your classroom; however, your students with learning differences benefit in a greater capacity. It provides them an environment that empowers them to reach their highest potential in the general education classroom.
How to Have an Organized Classroom
Your first step in getting the organized classroom of your dreams is to declutter. That's right – throw out the trash, recycle the unnecessary papers, and purge the things you don't need anymore. Easier said than done, right?
If you want to take all of the guess work out of the decluttering process, check out this FREE workshop that will have your room looking much more organized and have you feeling less overwhelmed in UNDER AN HOUR! Sign Up for the challengeand make 2020 the year you feel less stressed, enjoy teaching in your clutter-free classroom and stop taking school work home on your nights and weekends. Sign uphere!
If you want to go beyond a 1 hour clean out, then check out The Clutter-Free Classroom Guide to Classroom Organization. It makes the whole process of organizing your classroom super easy to get the classroom you deserve with a systematic procedure that guides you step-by-step through the organization process. You can access this process here. It has proven tips, systems, and ideas to make your job so much easier!