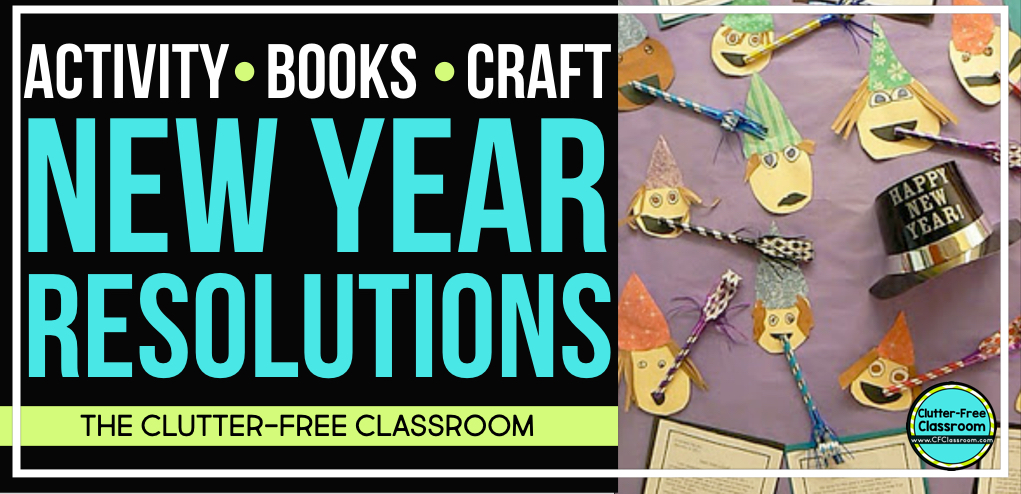 New Years activities are a great way for kids to reflect on the past year and set goals for the year ahead. Many teachers at the elementary level focus on developing a growth mindset and goal setting ties in perfectly with that. This post shares a New Years writing and craft activity that I did as a bulletin board in my own classroom.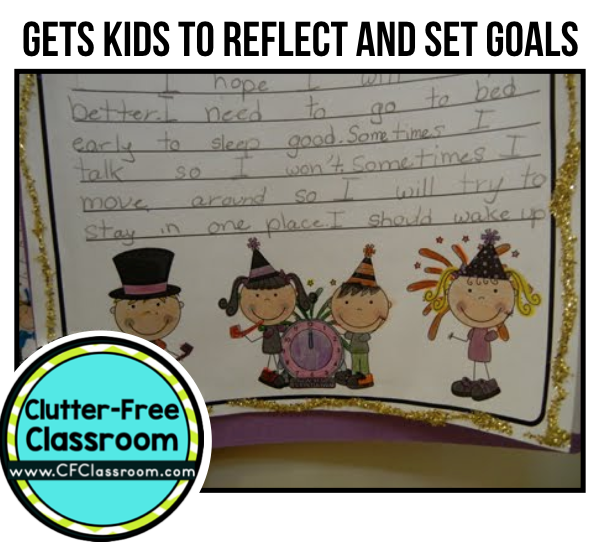 This is a great activity for the month of January as it focuses on resolutions or as I referred to them with my class…goals. I've also used it at the start of a new school year and that was fun too.
After editing with the teacher, the students wrote their final copies. I always try to culminate our writing projects with a simple art project. These pages include adorable colored clipart, but I opted to print them in black and white, photocopied them and let the kiddos color them in. We then mounted them on construction paper and glittered the edges (because I'm fancy like that).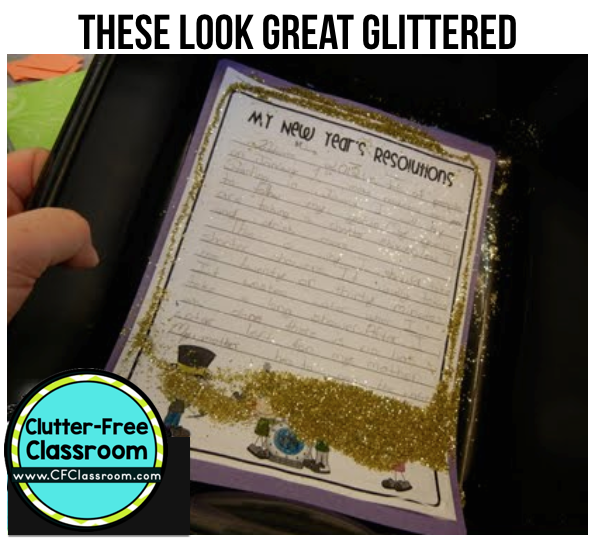 One year I hung them on my classroom door because I had some adorable owl writing to put up on my bulletin board in the hall. I displayed them as shown below on my door.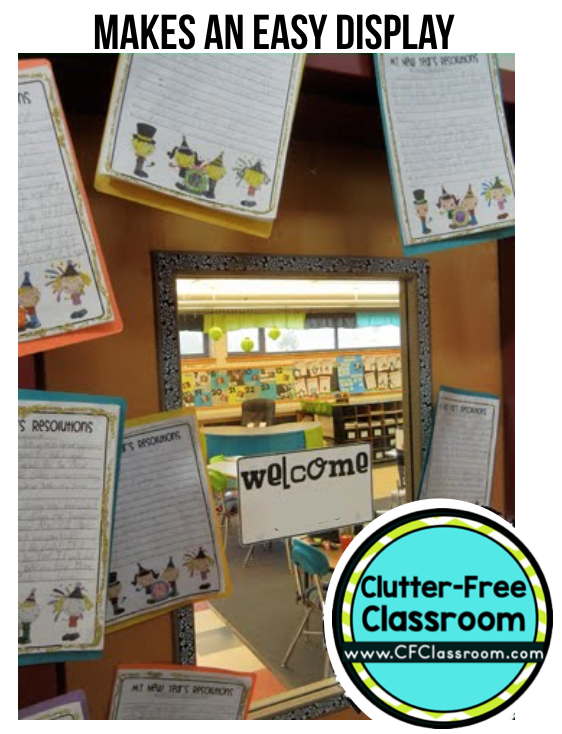 However, most years I've displayed them as shown on the board below using blowers and party hats. I've also taken photos of the students wearing party hats and using the blowers to display with their writing which is super cute too.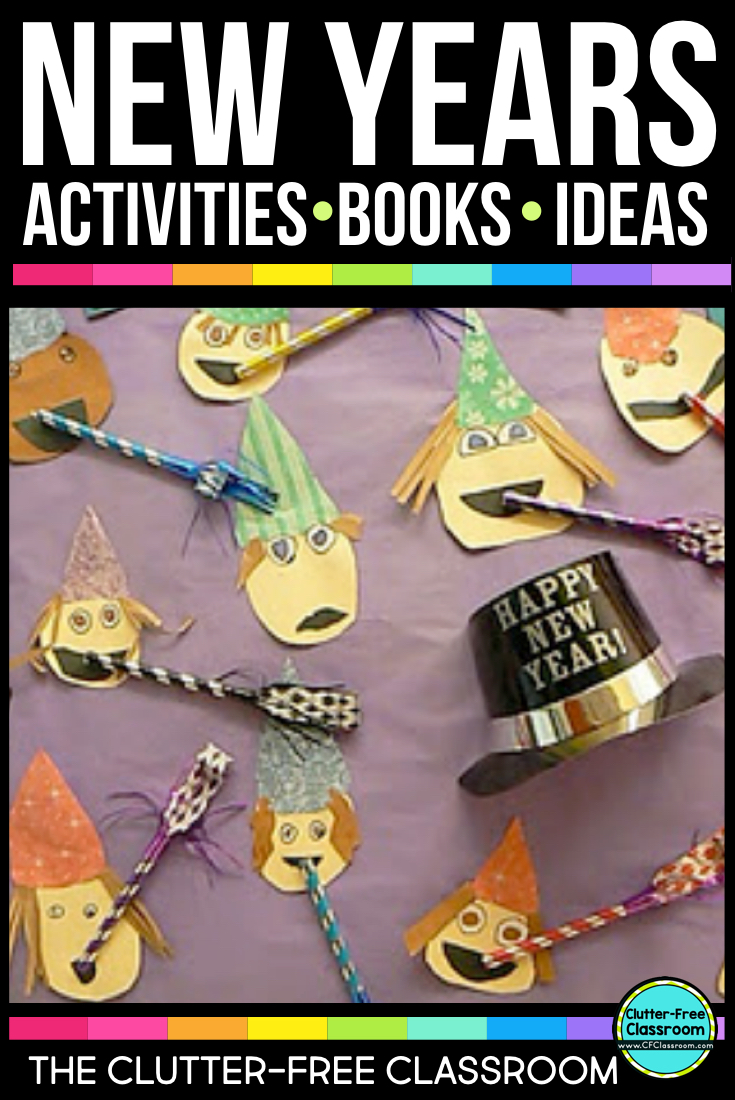 This no prep New Years Writing Activity will make it quick and easy for you to provide your students with a chance to reflect on the last year and either make resolutions or set goals for the new year. The finished work makes a great bulletin board when displayed with a craft of your choice.
Are you looking for a way to kick off the new year in your classroom? If so, you must check out these New Year activities!
This resource will promote student engagement because of the relevant topic.
It is differentiated so all of your students will feel successful.
It facilitates a fun learning experience for students in the month of January.
If your school district uses formal curriculum programs with fidelity, it gives students a break from the similar structured resources.
It is a fun and relaxed way to transition back from vacation.
I have included differentiated versions so you can easily make modifications for your students.
Students are motivated by seasonal activities so they will be happy and excited to write.
Parents LOVE personal activities like this so they will save it forever and remember you fondly.
It is truly a print and go resource so it will save you time.
They look great on display and are timely so you can put up a bulletin board in minutes.
Your students will be engaged in the learning experiences.
You have the flexibility to implement all of the resources or choose the ones that fit in your schedule.
Check out these testimonials from teachers who've used it in their classrooms…
I LOVE doing this unit in January! It really helps my 2nd graders with pre-writing and the graphics are so cute!
– Aaron W.
SO much fun! This was a great way to jump back into school in January! We made a resolution AS A CLASS first and then each of the students made their own. We have kept them hanging up in the classroom so that we can refer back to them to help us see how we are doing!
– Exploring Elementary
Thanks for the fabulous organizers, templates, and all-around great writing activity!
– Third Grade Cupcakes
I always pull this one out for the new year!
– Colleen V.
Loved this! The students really enjoyed it as well!
– Bonnie O.
You can read more great feedback from teachers just like you here!
Primary Brainstorming Page to Collect Ideas
Intermediate Brainstorming Page to Collect Ideas
Three-Detail Web to Organize Writing
Single-Detail Web to Organize Simple Paragraph Writing
Primary-Ruled Draft Paper
Intermediate-Ruled Draft Paper
Primary-Ruled Final Product Paper
Intermediate-Ruled Final Product Paper
Simple Sentence Activity Page with Space to Illustrate for our Youngest Learners
WHAT YOU WILL GET:
✔ a primary brainstorming page to collect ideas
✔ an intermediate brainstorming page to collect ideas
✔ a 3 detail web to organize writing
✔ a single detail web to organize simple paragraph writing
✔ primary-ruled draft paper
✔ intermediate-ruled draft paper
✔ primary-ruled final product paper
✔ intermediate-ruled final product paper
✔ a simple sentence activity page with space to illustrate for our -youngest learners