When talking with other elementary teachers, I have heard a lot of rumors and misconceptions about Math Workshop and Guided Math. These myths have prevented many educators from taking the leap from traditional math teaching to powerful, differentiated math instruction that can change the trajectory of their students' future success with math. This blog post will identify the most common misconceptions about Math Workshop and Guided Math elementary teachers have and will provide the truth about this best practice math framework.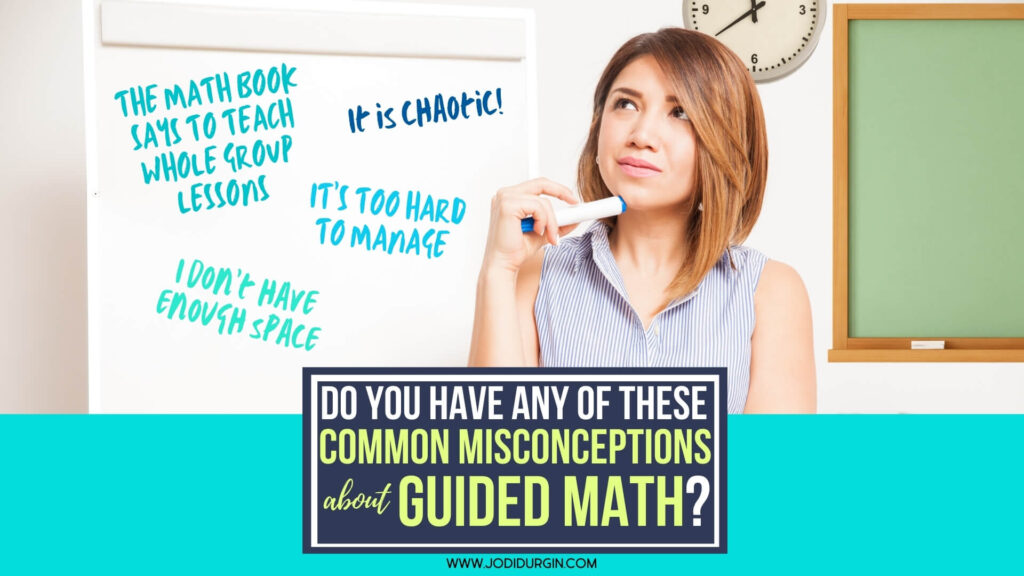 10 Common Misconceptions about Math Workshop and Guided Math
Below is a list of 10 common misconceptions about Math Workshop and Guided Math.
1. Too Much Prep Time
The most popular misconception about Math Workshop with Guided Math is that it requires too much prep time. Teachers worry about the amount of time it takes to plan and prep the mini lesson, three independent centers, four guided math groups, and closing. They think there isn't enough time in the day to plan all of this so they would have to stay late after school or bring home lesson planning materials every day. Luckily, it doesn't require as much time as they think!
There are lots of tricks to simplify your planning and prep. For example, your Math Facts center doesn't have to change all week. Students can practice their math facts using Xtra Math everyday for a whole week, which basically runs itself! Another trick is to create a review packet based on the concepts and skills from the previous unit. This could serve as the At Your Seat center for the whole week. A third trick is to use a Math Workshop lesson plan template and Guided Math Workshop template to streamline your planning process, which will save you lots of time! These are just a few tricks, but I include all of my time-saving secrets in my Guided Math Workshop course (coming soon)!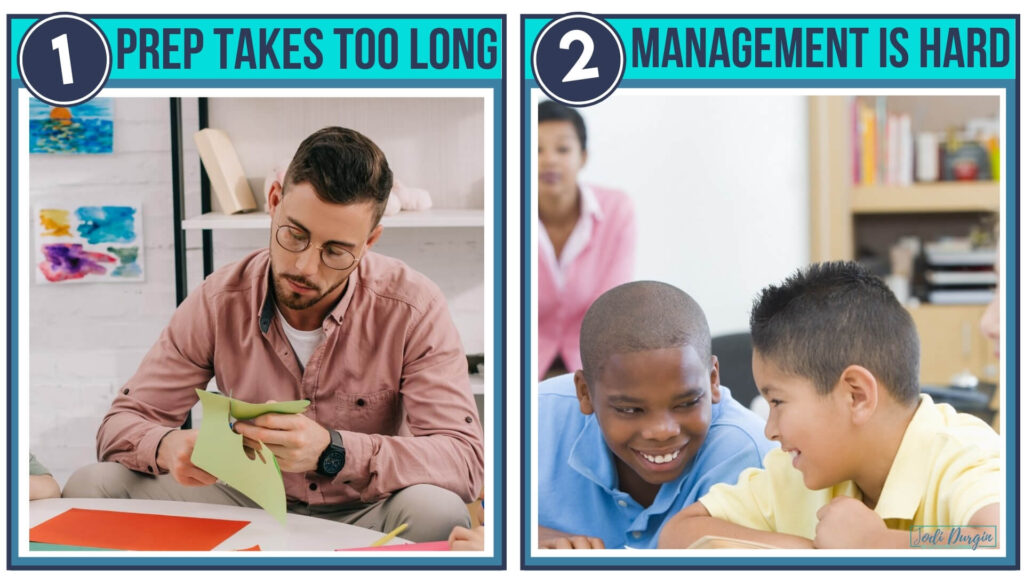 2. Too Difficult to Manage
The second most popular misconception about Math Workshop with Guided Math is that it is too hard to manage. Teachers worry about keeping students engaged during whole group instruction, making sure all students are working during center time when they are working with their small Guided Math group, holding students accountable and responding to student behaviors when away from the teacher station, wasting valuable learning time with classroom transitions, managing all of the materials associated with the math centers, and collecting formative assessment data. Thankfully, I have good news! When you prioritize taking the time at the beginning of the school year to explicitly teach procedures, routines, and expectations and reinforcing them throughout the school year, many of these problems dissipate. In my Guided Math Workshop course (coming soon!), I go into great detail about how to do all of this!
3. Too Hard to Implement
The third most popular misconception is that Math Workshop with Guided Math is too hard to implement. Teachers don't know where to begin, feel overwhelmed about getting started, don't know the systematic process for how to launch Guided Math Workshop, and lack the knowledge and confidence to take the leap. It feels a lot safer to just stick with the old ways of doing things, but here's the thing: Your students deserve better. We know best practice teaching is not whole-group teaching. Students need data-driven, differentiated instruction in order for them to reach their highest potential. My Guided Math Workshop course (coming soon!) includes a proven systematic process for launching Guided Math Workshop in your classroom that walks you step-by-step so you can confidently implement it!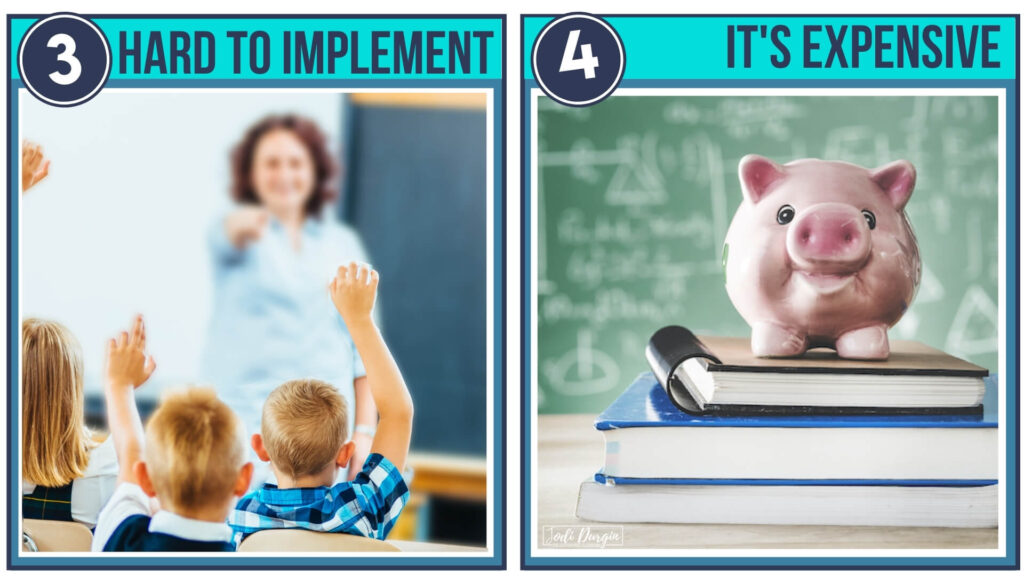 4. Too Expensive to Implement
Another misconception about Math Workshop with Guided Math is that it is too expensive to implement. Teachers who do not have a math curriculum worry about the cost of all of the resources they would need to find and purchase in order to fill the different components of the framework: Mini lesson, four centers, and closing. They also worry about all of the math manipulatives they will need.
Teachers who have a curriculum program can easily insert the program's resources into the framework, but they worry about all of the extra materials they need to set up the workshop in their classroom like a math rotation board and labels.
Good news for the teachers in both scenarios is that it's not nearly as expensive as they think! My Guided Math Workshop course (coming soon) includes everything you need to set up Guided Math Workshop in your classroom. If you don't have access to manipulatives, then please download these free printable math manipulatives! They work great for math tool kits for class and homework! If you need student activities, the best way to do this is buy them in bulk. Check out my Elementary Math Resource Collection for a cost-effective way to get TONS of math resources!
5. Too Many Resources are Needed
Some teachers think that Math Workshop requires too many resources. They might not have a curriculum program. If you are in this situation, learn how to teach math without a curriculum! It can be hard (and expensive) to find meaningful, differentiated center activities and time-consuming to create them. Luckily, there are a ton of free, quality resources out there to help you! For example, take advantage of free math apps and computer games! In addition, you can purchase math resources in bulk to reduce the cost. Check out my Elementary Math Resource Collection for access to all of my digital and printable math resources!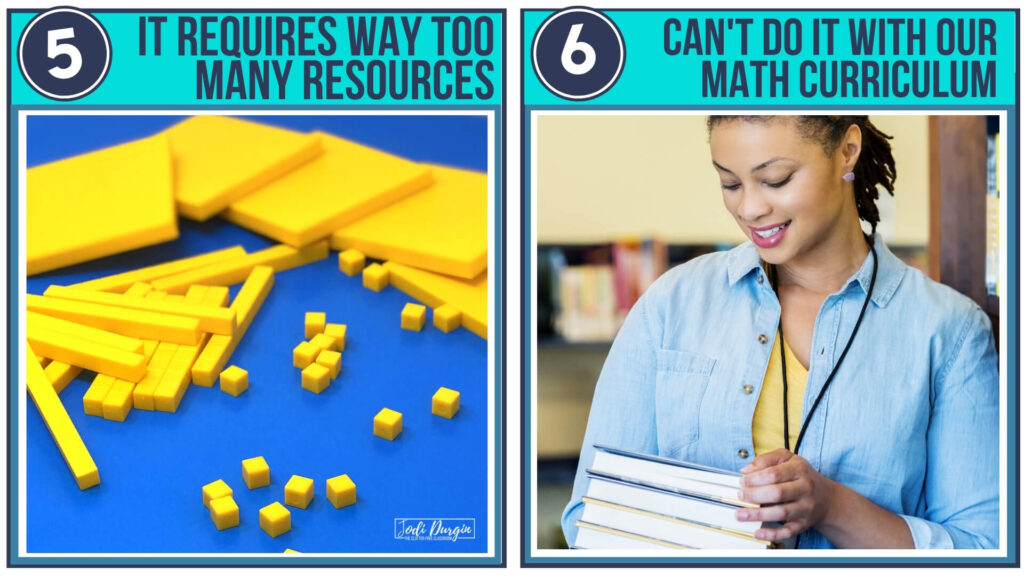 6. Impossible if you Have a District-Mandated Curriculum
Teachers have told me that they cannot implement Math Workshop with Guided Math because they have a district-mandated curriculum program. Some school districts require that teachers use their school's math curriculum program, no matter how outdated it is. The good news is that you can use Guided Math Workshop with any math curriculum!
7. Impossible with a Small Classroom
Some teachers have the misconception that you need a large classroom in order to do Math Workshop with Guided Math. This is simply not true! Although it's wonderful having a big spacious room for students to spread out in, you do not need to have four tables in addition to your students' seating. You can get creative by grouping student desks or having students work at their individual desk or table spots unless they are working with you for a Guided Math group lesson.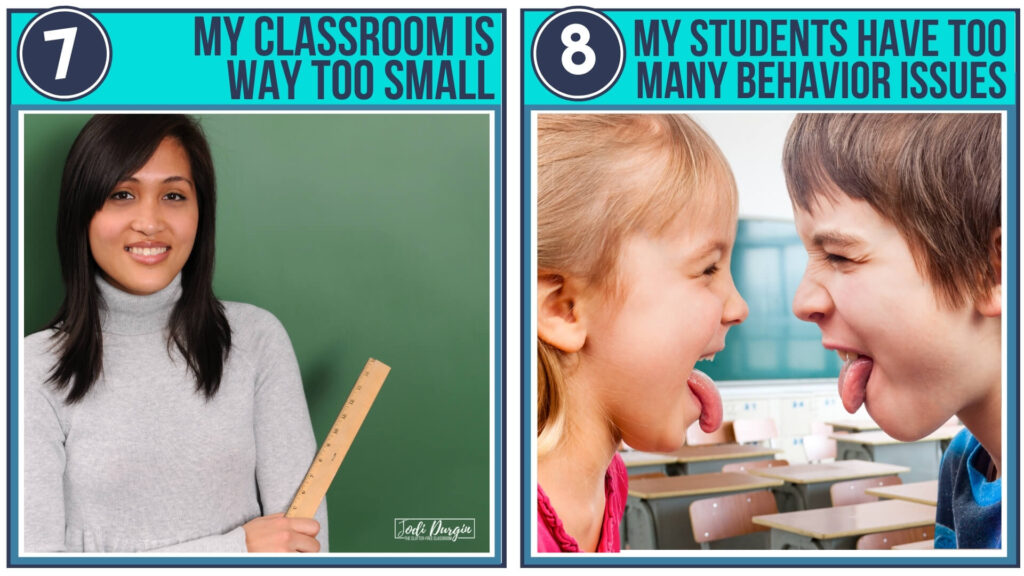 8. Impossible without a Class of Model Students
Another misconception about Math Workshop with Guided Math is that you can only do it if you have a class of model students who are on or above grade level, demonstrate appropriate behaviors consistently, have strong organizational skills, and are strong independent learners. Teachers say that their students are too low, lack independent learning skills, or are often off-ask, so they couldn't possibly implement it.
Math Workshop with Guided Math is actually a solution to these perceived challenges. Specifically, Guided Math helps you differentiate instruction and support students of all levels, including those who are below grade level. The short 10-15 minute lesson components help students stay engaged and on-task because they aren't bored. Lastly, students become more independent when given the opportunity to practice it. With training and a gradual release at the beginning of the school year, your students will flourish in this math lesson framework!
9. Impossible to Fit into the Jam-Packed School Day
The ninth on the list of misconceptions about Math Workshop is that it can't fit into their already busy school day. Some teachers think it is impossible to fit Math Workshop with Guided Math into their schedule. There are so many requirements, yet so little time. What they don't realize, however, is that this framework will actually help you make the most of your math block. It is quick-paced and helps you maximize your instruction time.
They also think they don't have large enough blocks of time. Luckily, the framework is very flexible and can look differently based on your schedule and needs. I broke down a few different ways it can look in this math block structure post.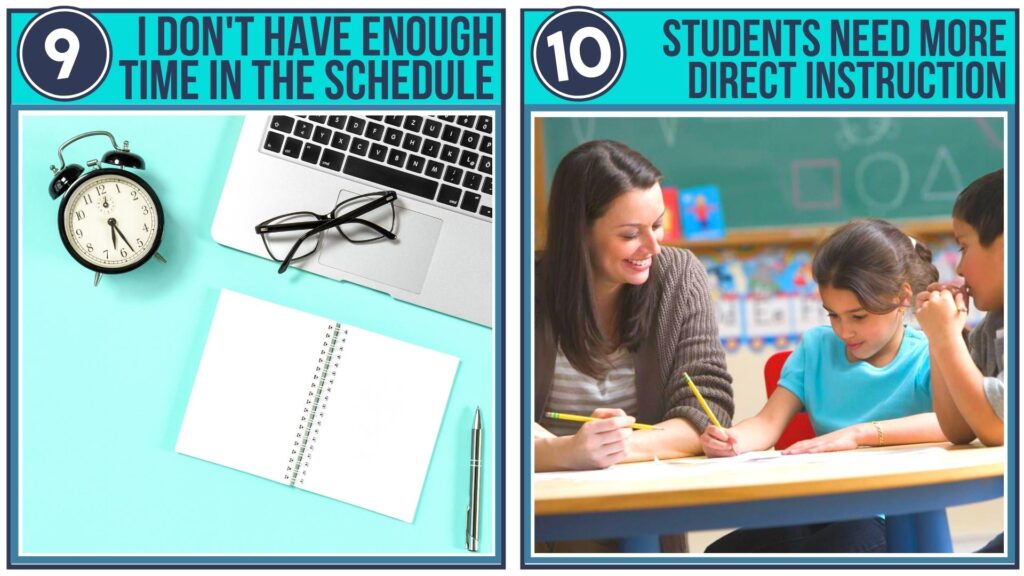 10. Not Enough Direct Instruction
The last item on this list of misconceptions about Math Workshop with Guided Math is that there isn't enough direct instruction with this model. The traditional way of teaching math was to stand at the front of the room and deliver direct, whole group instruction for the majority of the math block. However, research has shown that this is not how students learn best.
Although there is a shorter amount of time that you, the teacher, are delivering direct instruction, the time you do have with them is far more valuable. Students get 10-15 minutes of whole group instruction and 10-15 minutes of data-driven, personalized instruction in a small group. Students may get less direct instruction, but they actually get more face-to-face teacher time with this model.
Try a Collection of our Math Resources for Free!
We hope this information about common misconceptions about Math Workshop with Guided Math is helpful and would love for you to try these math resources with your students. They offer elementary students opportunities to practice grade level concepts and skills in fun and engaging ways and support you with providing differentiation in math. You can download worksheets specific to your grade level (along with lots of other math freebies) in our free printable math resources bundle using this link: free printable math activities for elementary teachers.
Check out these other math resources!