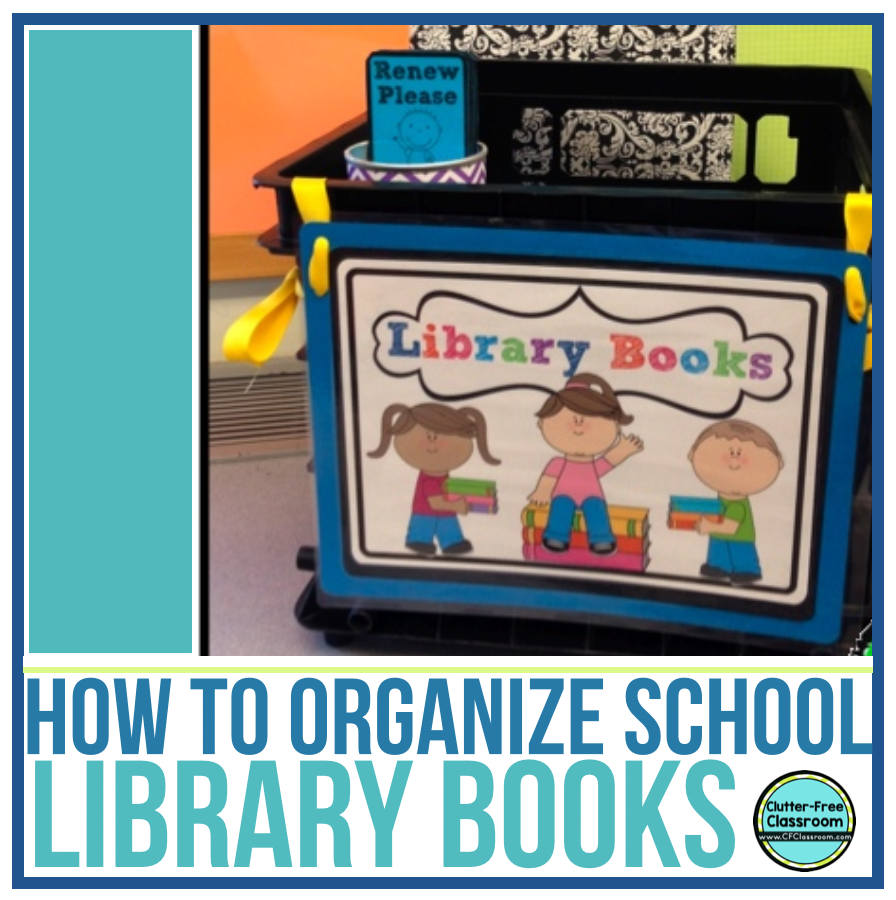 Does your school have a library for student use? It's important to help students be responsible when it comes to borrowing books and, like all aspects of your classroom, you'll want to develop a procedure for returning and renewing those books. Try out the two tips below!
Tip #1: Library Return Bin
Purpose: This will be where the students place their books that are ready to be returned or renewed from the library.
How to Make It: I made a sign which I printed in color, double-mounted, and laminated. I then used my corner rounder to give it a finished look. Next, I punched 2 holes on each side, threaded ribbon through them and tied it to a milk crate.
Tip #2: Library Book Renewal Stick
Purpose: In place of the sticky note, I made "renewal bookmarks." The students can write their number with a dry erase marker directly onto a bookmark and put it into the book to signal it needs to be renewed.
How to Make It: I printed the renewal sticks onto cardstock and laminated them. I used a Pringles can to store them. I love repurposing containers to create cheap, yet cute items for the classroom. I selected a piece of construction paper that matches my classroom color scheme to cover the can.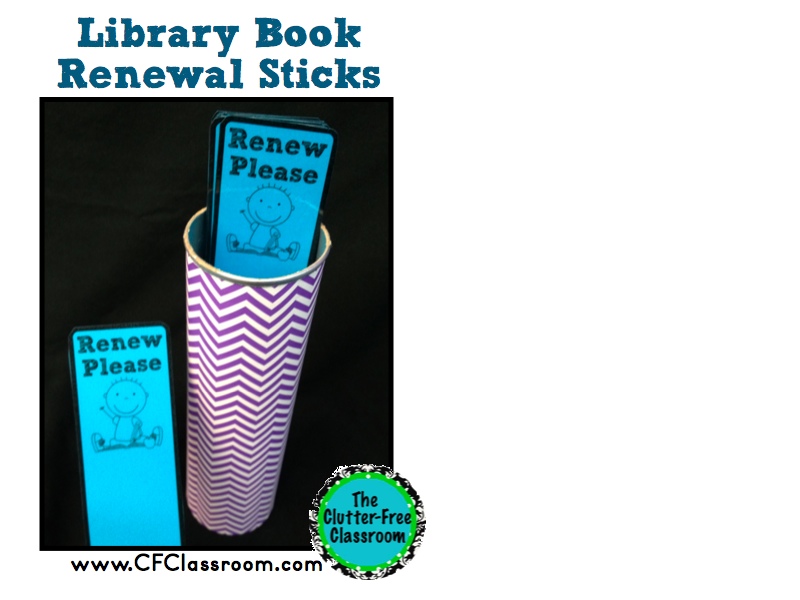 Tricks: A simple trick I discovered to make this process easier is to wrap the paper around the can and secure it with elastics and/or binder clips. I leave it like this overnight and the paper adheres much better as it holds the shape of the can. A second trick I used was solve the problem of the renewal bookmark being a bit shorter than the can. Simply stuffing the bottom of the can with some construction paper provided the perfect lift. Now the bookmarks stick up over the edge of the can and are easily seen.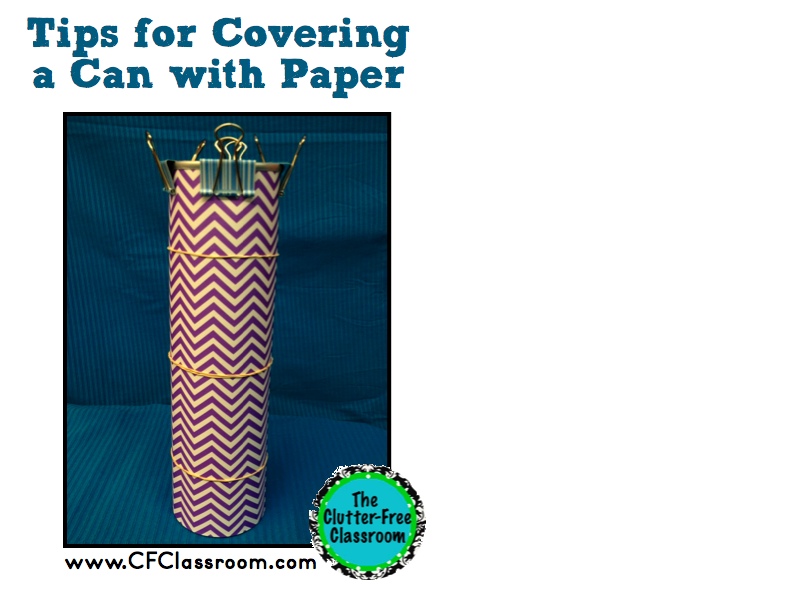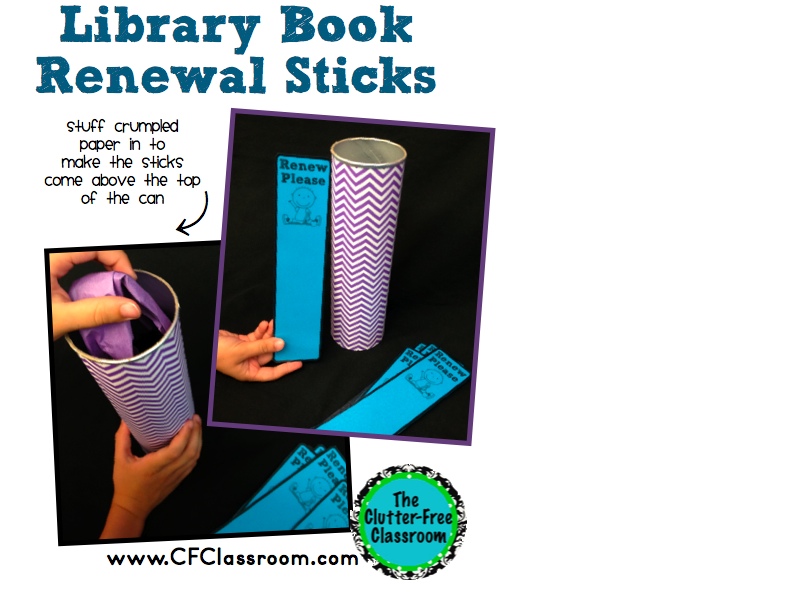 FROM THE POST: HOW TO ORGANIZE YOUR STUDENTS' INDEPENDENT READING BOOKS
Ideally your students will have a couple of books in their possession at one time, so it will decrease the need for students to get up and search for a new book during the designated reading time. If your students have more than one book in their possession at a time, then you'll need to have a method of managing the students' texts and materials for your independent reading block.
Ways to Organize your Students' Independent Reading Books
Bookmarks: If you have your students just reading one book at a time, then a simple bookmark with their name on it is an easy method for managing the book. You can have them keep this book in their desk or in a basket designated to their table.
Ziploc Bags: The most cost-effective option is to use a Ziploc bag for each student. While they are not good for storing a binder, they do work well for multiple books and a folder or composition notebook. The bags typically don't last all year, but they are cheap and easy to replace as needed. 
Book Boxes: Give each student a book box to store their independent reading books and a folder with related work. There are commercially made book boxes that are designed using a thick plastic.
Magazine Holders:  Many teachers use magazine holders as a student book box. I once used the cardboard version from Ikea. They were cheap and I liked that I could customize them easily because they were so plain, but they didn't last long at all. If you are going to use a cardboard box, I highly suggest you reinforce it with duct tape at the start of the year. Those style boxes are also available in metal.
Ice Cube Containers: I have found ice cube containers to work just as well as book boxes but are a fraction of the cost. You can usually find them at Walmart.
Baskets: Dollar stores often have a variety of baskets to choose from. The quality varies, but you can find some good options here. Because their selection is always different, I recommend purchasing a few extras at the start of the year to account for new students and breakage.
Canvas Totes: They offer an abundance of space and will last for more than one year. They can be personalized which is fun. They can be a challenge to store within the classroom. These are a good option if you have space to hang them or if you want the students to take their books between home and school regularly.
FROM THE POST: HOW TO ORGANIZE TEXT BOOKS IN A CLASSROOM
Granted we don't have a lot of textbooks at the elementary level, but most of us have some. I have two reading textbooks for each student, a social studies textbook, and a math reference book. I also have a set of dictionaries and thesauruses (on a side note I think the plural may actually be thesauri, but that just feels weird). Read below to get tips on where to store your textbooks.
This blog post will…
share tips for where to store textbooks in your classroom
suggest an idea for making use of otherwise wasted storage space
Places to Store Textbooks
Student Desks: If your students use desks then you could have them keep the books in there. The benefit is that they can take them out relatively quickly. The downside is that it often means books become damaged over time. Even if you do have desks, you may want to store your books in a separate area.
Book Shelves: I keep the social studies books together as a class set. When we need to use them I ask the table captains to go and get enough copies for their tables. Some teachers find it works better for them to store all the books for one student together on a shelf. In my case this would mean the two reading books, a social studies book and a math book would be clustered together and form a continuing pattern. I choose not to do it this way because I find grouping the like books together is much more efficient when it comes time to pass out and return the books. My reading curriculum comes with two books per student for the year. I have a set of very deep shelves and have found the perfect way to store these is to keep the current text in a row in the front and the book that isn't being used in a second row behind them.
Closet: If you don't have a deep shelf you may choose to put any unused books into storage in a closet or on a higher shelf that students don't access.