Do you know Todd Parr? Oh, how I love him. At home, we have his book, Underwear Dos and Don'ts. My twins can't get enough of that book. My son is 6 and he loves it, but he's a 6 year old boy and underwear is funny. The girls are still in diapers so the humor is lost on them, but yet they go nuts for it. They love how bold and colorful the pictures are. As I was reading it for the 847th time in a row the other night, an idea popped into my head. While my 3rd graders would be thrilled with me reading a book about underwear, it certainly isn't "school appropriate." Luckily, I have another one of Todd's books at school, It's Okay to Be Different. Check out the It's Okay to Be Different activities I created below!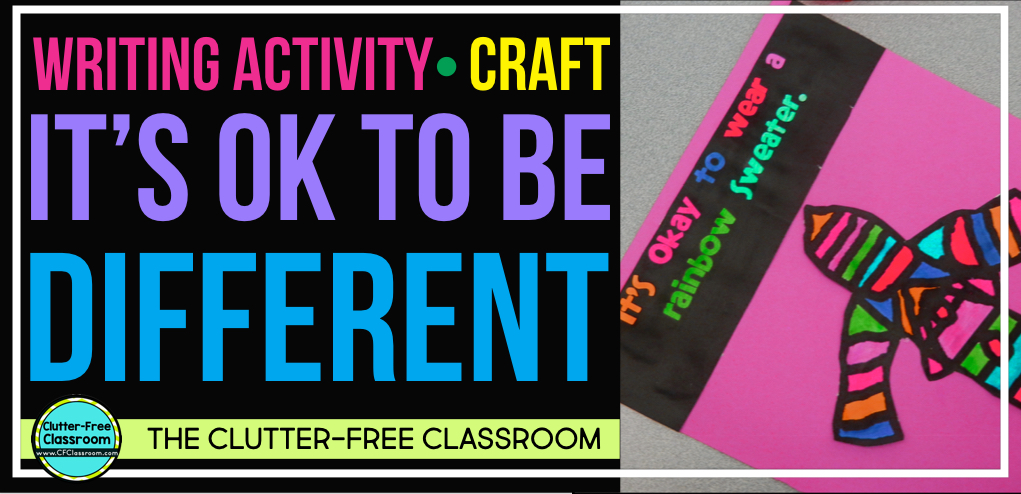 What are these It's Okay to Be Different Activities?
This It's Okay to Be Different resource is a collection of writing activities. They guide students through the writing process by completing a writing project inspired by the book, It's OK to be Different by Todd Parr. You can use this resource with his book or without to simply celebrate what makes us unique. It also works as a way to celebrate Martin Luther King Day.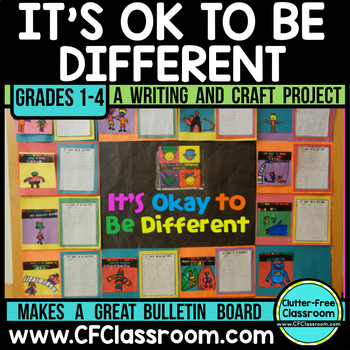 What is Included in this Resource?
This resource includes the following:
a brainstorming page to collect ideas
graphic organizer webs to organize paragraph writing
draft paper
final product paper
a simple sentence activity page with space to illustrate
directions for how to create the craft
pictures of completed art project and bulletin board examples
How to implement it in Your Elementary Classroom
Below are suggestions for how to implement this resource in your classroom.
1. Select which printables you would like to use from the resource.
This It's Okay to be Different resource includes several printables to choose from. Select which ones work best for you and your students.
2. Prep the lesson materials.
Simply print the materials you selected from the resource packet and grab the book. If your school library doesn't have this book, consider purchasing it from Amazon or finding a video of it being read aloud on Youtube.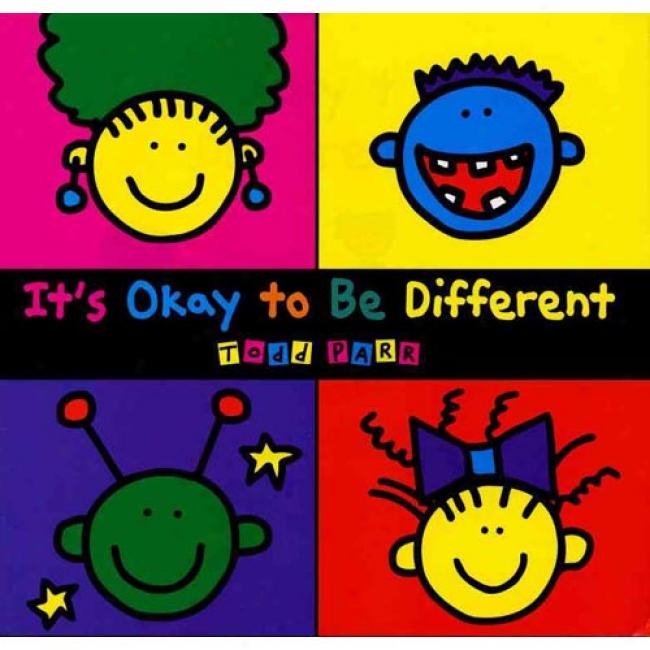 3. Read aloud the story to your class.
Talk about themes of anti-bullying and celebrating diversity. If you are using this book around MLK Day, consider connecting the story to him. Point out the style of the illustrations, the bright pages, the look of the book. Discuss the writing trait of organization and how each page starts off with "It's Okay to…"
4. Have students complete the brainstorming template.
You can find the brainstorming template in my It's Okay to be Be Different activities packet. Talk about the examples from the book. Some of the pages in the book are serious ("It's okay to be small.") and some are silly ("It's okay to eat macaroni and cheese in the bathtub"). Consider modeling the activity by creating it for yourself. Pass out the brainstorming printable and have students list the things that make them unique.
I LOVED reading their pages. They really provided me with a new perspective on my friends. It was great to read such personal snippets. They were sweet and honest and personal, but fun and positive as well. One of my students wrote, "It's okay to want to have your birthday party at Chuck E. Cheese." Another wrote, "It's okay to not like pizza." A third student wrote, "It's okay to sleep with a stuffed rabbit." and "It's okay to wear hand me downs."
5. Invite students to create the craft portion of the project.
In my classroom, I had each student pick one of the "It's okay…" statements they wrote on their brainstorming page. I was going to have them do an illustration (in the style of Todd), but opted to have them use Kid Pix and do a computer drawing. Oh my cuteness! They colored them with bright markers and cut them out.
Next, I glued them to construction paper squares. I typed their single sentence for them and they colored in each word as well. You can see an example of a final product below.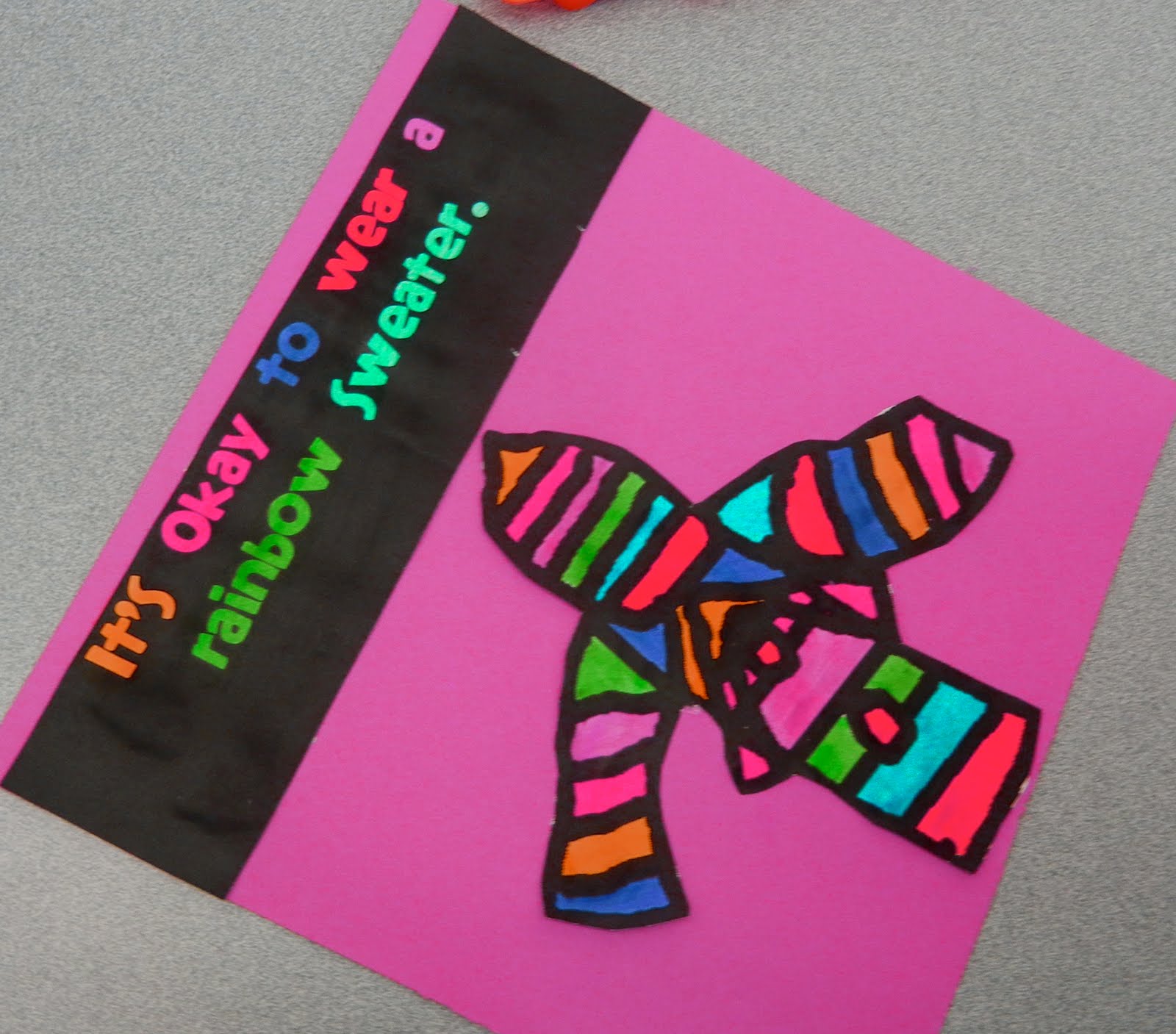 6. Have students complete the writing portion of the project.
Each student took the phrase they selected, used it as a topic sentence and composed a paragraph on the draft paper. I edited their writing and they then completed the final copy. The rough draft paper and final copy paper can be found in the It's Okay to be Different Writing Packet.
7. Display the final products on a bulletin board.
Display the artwork with the writing on your bulletin board. You are going to absolutely love the finished product!
In closing, I hope you found this post about these It's Okay to be Different activities helpful! If you haven't already, be sure to check out this It's Okay to be Different writing resource! And if you are looking for additional materials that could be used to celebrate MLK Day, then check out these Martin Luther King Jr. books for kids and these Martin Luther King reading activities!