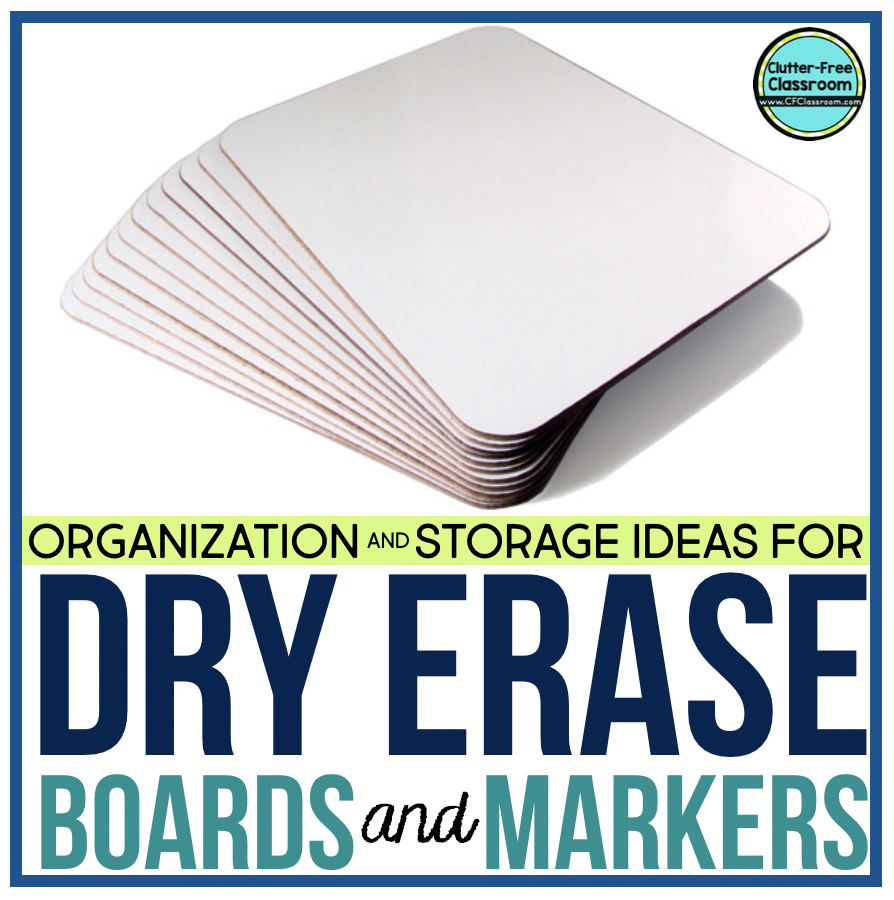 Do you have a class set of dry erase boards? As you know, using dry erase boards is a great way to save paper and motivate kids. They sure do love writing on those boards. But managing them can be tricky. Read below to grab some tips on how to organize them!
Ways to Use Them
Whole Group: I like to use them as a whole group and have students record and hold up answers.
Small Group: I like to use them in small group, reader rotations, and math workshop because they are more fun than paper.
Scrap Paper: I like to use them as scrap paper to save resources.
Tips for Organizing Dry Erase Boards
Basically each student will need three things: A board, a marker and an eraser. Determine if you want to contain these three items in groups based on what each student needs or type of tool.
If you feel it works best to keep all three of these things contained in packets for the kids to grab and use as needed, a gallon-sized bag works well for this purpose.
If you number your students consider also numbering a board, a marker and a bag. This increased level of ownership and responsibility will greatly decrease the mistreating of the boards and will preserve the life of the markers. I also find that limiting community supplies keeps your students healthier.
Use dark colored cloths as erasers. I recommend fabric over wipes and tissues because they are more environmentally friendly and also it makes for better classroom management as you can keep everything together as a kit. Using a dark color prevents them from looking really gross after just a few uses.
Some teachers suggest using socks because the students can leave them on the hand they don't write with and easily erase as they work. Cutting up old shirts or towels works well too. If doing the latter I recommend using pinking shears as they will cut the fabric neatly and limit fraying.
Ask a parent volunteer to launder them for you every few weeks. Just send them home with a student on a Friday afternoon and ask that they be returned on a Monday morning.
Really Good Stuff sells a storage center that can be used to house boards, markers and erasers. You can get the same effect by turning a magazine holder on it's side and placing baskets on top. If you are doing this I would suggest using a metal or wooden magazine holder and not a cardboard one as it will be much sturdier.
If you use dry erase boards in a small group setting often, you will find it useful to create a basket of boards, markers and wipes specifically for this purpose. It will save you time to have everything at the ready when instructing your group.
Aa class set of dry erase boards can be pricey, so you have to get creative and instead use plastic plates. At this time of year the kind I'm featuring are in abundance at places like Dollar Tree and Walmart. During other seasons Solo plates from party stores work too, but these are sturdier. They come in a bunch of colors. I bought a set of orange because the markers contrast pretty well with that color and I can see my kiddos' work from afar. I love how easy they wipe clean. If you have little learners, you'll find the edge of the plate is helpful as it contains the marker on the plate (said the mommy who has little ones who tend to color the paper and onto her table). I also love how they are light and easy to store. The entire class sets stacks and takes up only a few inches of valuable classroom space which helps to keep the room neat and organized.
You can also use page protectors and even small trays from the Dollar Store instead of white boards to save money.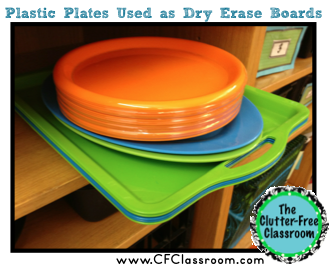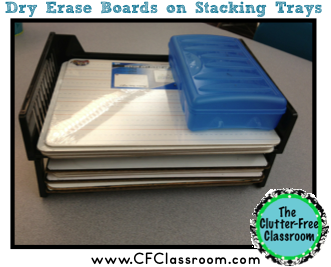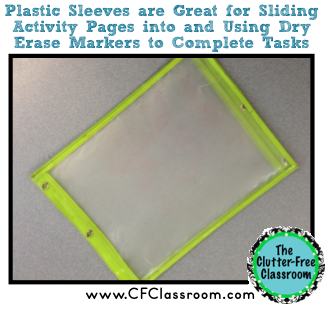 TIP FOR UPKEEP
Are the dry erase boards in your classroom looking old and worn? This teacher tip from the Clutter-Free Classroom will remove ink from dry erase boards and restore them to their original condition.
To restore dry erase boards that are hard to erase: spray a clean board with WD-40 and wipe dry with paper towels. The WD-40 fills in the dried pores of the board that hold in marker ink, making it easier to erase.