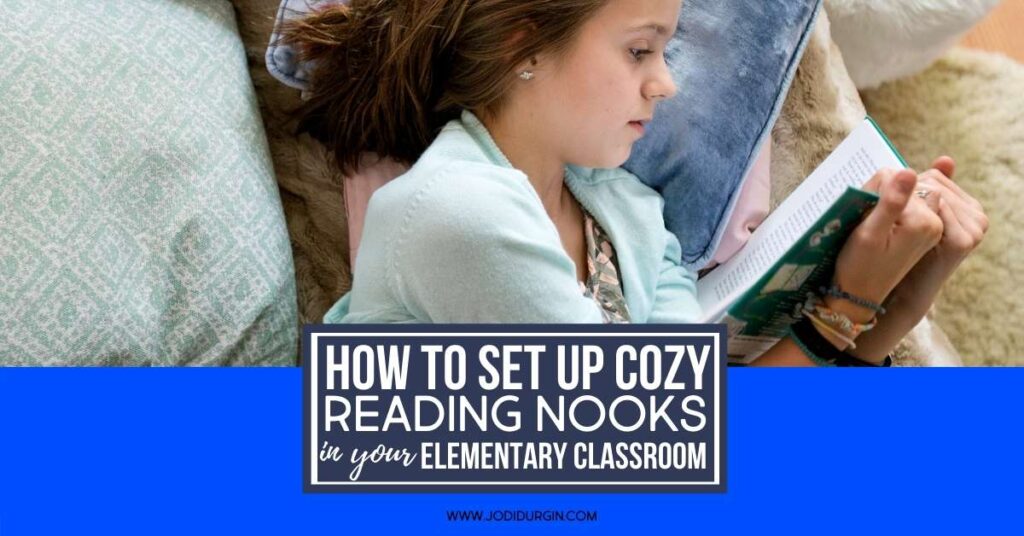 Teachers often look for classroom reading corner ideas or search for pictures of classroom reading nooks for inspiration. The great thing is that you don't actually need to go out of your way to design or create a reading nook because your students will find them on their own. Give a student a book and tell them to read where they want and you will surely find them tucked in corners, behind your desk, under tables, and in any other little nook or cranny they can squeeze into. However, if administration walks in and sees them lying on the counter, perched on shelves or planking between two chairs with their noses in books, they most likely will see it as a safety infraction and not a child's love of literature. This post will give you ideas for creating cozy reading areas in your classroom.
I should preface this by saying that when it comes to offering alternate seating in the classroom there are some guidelines to consider. I recently wrote a blog post about the problems associated with the flexible seating craze and included solutions for those problems so I encourage you to read that post in conjunction with this one.
If you have the space, you will probably want to set up a permanent area for relaxing with a book. Just be aware of how many students can use the area at one time and decide if it is worth designating that much square footage to a space that the whole class will not benefit from regularly.
If you have the space and want to dedicate it to a cozy reading area, I suggest you start by putting down an area rug to define the space. If fire codes do not prevent you from doing such, I also recommend bringing in softer lighting by adding lamps to the area. Next, set up some furniture.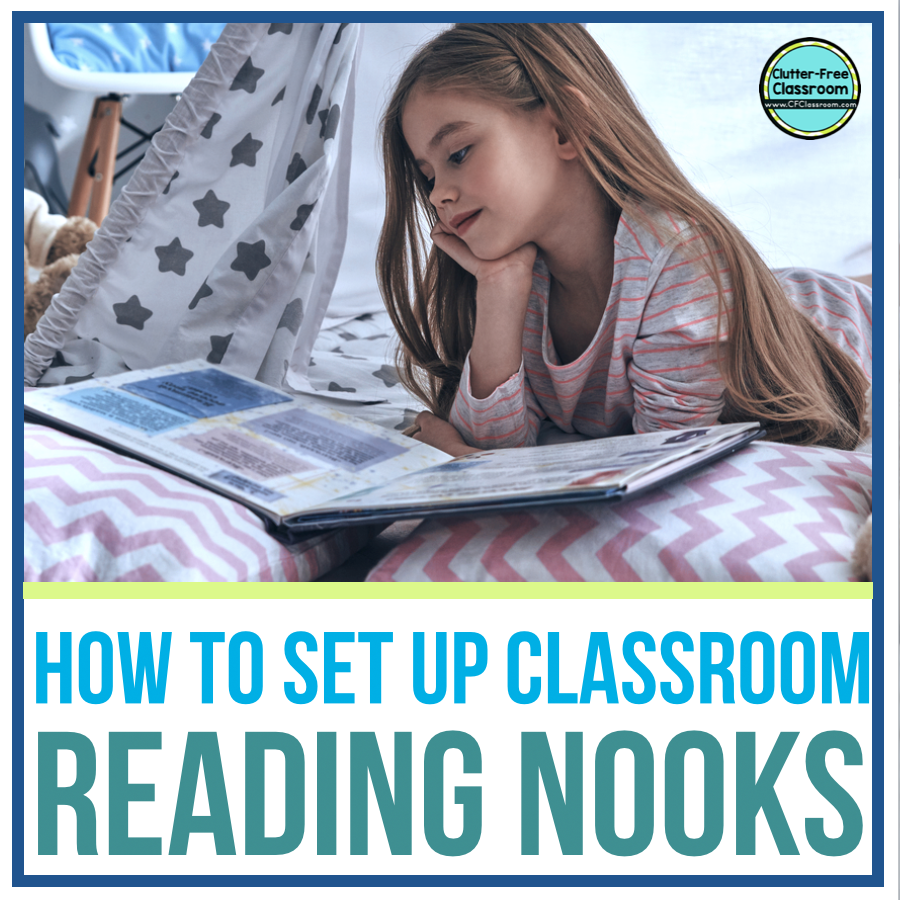 This blog post will…
explain what a reading nook is, it's purpose, and factors to consider when planning it
suggest items to use to create a reading nook
offers recommendations on how to determine spots
What is a reading nook?
A reading nook is a comfortable space in your classroom where students can read.
What is the purpose of a reading nook?
The purpose of a reading nook is to give students a comfortable space to read in order to foster their love of reading. We want it to be a very positive experience for students.
When planning your reading nook, you should consider three key factors:
Safety: This is the most important factor to consider. Make sure your reading nook follows all of your school's fire codes and does not put any students at risk.
Productivity: Make sure the reading nook is not too distracting. Remember the purpose is to get your students reading. Try not to make the reading nook too fun, so students are distracted and unfocused.
Comfort: Students are not able to learn and be productive if they are physically uncomfortable, so try to make the space comfortable for your students.
What are items I can use to create a reading nook?
Pillows
Towels
Blankets
Sleeping bags
Tents
Forts
Coolers
Bean bag chairs
Ottomans
Couches
Yoga mats
Papasan chairs
If you do not have the ability to designate an entire corner of the classroom, you may want to consider making portable reading nooks. This will enable students to read in areas of the classroom instead of sitting at their desks.
Adding combinations of the items below will get you started.
PILLOWS
Pillow soften the space. They can be picked up and easily taken to a different area of the classroom for comfy reading. The pillowcases can be washed. They pillowcases can also be changed out to match your classroom theme or color scheme or to add a pop of color.
TOWELS / BLANKETS
Kids love to spread out and read on the floor. To make it seem slightly less yicky (although truly no more comfy), teachers will sometimes have towels or blankets on hand. Again these can be washed which is always a bonus. Some teachers have each student bring in a towel from home to keep in their cubbies.
When I did a camping theme in my third grade classroom I included sleeping bags in the reading area. The kids would spread them out and read on top of them (not going in them was one of the rules) around the campfire.
TENTS and FORTS
These are a kid-favorite, but you'll want to gage your classroom climate to see if it works for you. My guidelines were that only one friend could be in it at one time and the flap needed to remain open. My teacher table was set up so that I could see inside.
OUTSIDE THE BOX SEATING
The same year I used a camping theme in my classroom, I brought coolers in from home. They were used for class meeting as seats. The kids also enjoyed sitting on them during reading time. They were great for storing things inside and I loved not having to store them in my house for the winter. Again, not my idea of comfort, but proves the fact that kids will find spots they enjoy reading in.
HOW TO INVOLVE YOUR STUDENTS AND MAKE SURE THE READING NOOKS WORK FOR YOU:
Work as a class to brainstorm a list of possible "reading nooks."
Provide the students with guidelines (need to be seen, can't disturb others, can not be on top of furniture, etc) and narrow down the list.
Create a "seating chart" or rotation schedule so that kids are not rushing to claim a specific spot.