Teaching biographies can feel intimidating at first, but once you have a solid understanding of the genre, a roadmap of how to teach it, and teaching resources and activities, it's easy! This post will equip you with all of that and more! You'll feel prepared (and maybe even excited) about teaching biographies!
This blog post will answer the following questions about teaching biographies:
Why is it important for students to read biographies?
How do I introduce the biography genre to my students?
What are some ideas for biography mini lessons?
What are some strategies for using mentor texts to model reading biographies?
How do I teach students to write biography reports?
The Benefits Of Students Reading Biographies
There are so many benefits of teaching biographies and autobiographies! Readers are transported into that person's life. They learn all about the person's achievements, struggles, culture, life lessons, and personality. Biographies can also teach us about the world through the eyes of the subject while allowing the reader to make connections to them. Most students can find biographies they enjoy when they find people to read about that connect with their likes and dislikes to top it off.
How To Introduce The Biography Genre To Students
The easiest way to introduce and teach biographies is by gathering as many biographies and autobiographies as possible from your classroom library, school, and public library. Make sure that all the books you collect are around your student's reading levels. This idea works for any theme.
Then, set out the books you collected on each of your students' tables and have them explore. Ask them to write down what they notice. What do all the books have in common? Have students write down their findings on chart paper.
Next, have each table share with the class what they noticed. They should come up with some ideas like:
They are all about people.
The person accomplished something big.
They all include essential dates or a timeline of the person's life.
They included real pictures or illustrations of the person.
The books all tell factual information, and there are no made-up stories.
Lastly, tell students that books with these characteristics are called biographies or autobiographies. Be sure to tell students the difference between biographies and autobiographies too. Create an anchor chart to hang up for students to reference throughout your biography unit!
4 Ideas For Biography Mini Lessons
After introducing biographies, try one of these mini-lesson ideas for teaching biographies!
Have students pick a person they are interested in learning more about. Then have them find books about the person and complete a research project about that person to present to the class. You could even take it a few steps further and have students share what they learned in costume as the person they researched in a wax museum activity!
Have students create a social media page of the person they learned about in their biography
Have students read about a person of interest, and then write journal entries as that person.
You could make it seasonal! Around fall, have students paint a pumpkin like a person they read about and present important events or accomplishments as they share their pumpkin. In spring, students could make biography flowers where the center was a photo of the person, and the petals are important events and accomplishments.
Strategies For Using Mentor Texts To Model Reading Biographies
Teaching biographies is simple when you use these strategies!
First, pick any biography or autobiography mentor text and read it aloud. Ok, maybe not ANY. Be sure to choose one that will be engaging to your students. Think about the things they enjoy and go from there. I love picture books because students can generally read them in one session. (Make sure you preview the text first and mark with sticky notes to remember to stop and discuss during the read-aloud!)
Stop at important dates, accomplishments, life lessons, or significant life events to discuss. I even stop to discuss any figurative language or text features included. This will help students with both reading and writing! Students generally have TONS of connections to share during biography read alouds that lead to great conversations.
How To Teach Students To Write Biography Reports
One way to help students learn how to write biographies is to write their first one about themselves! Students can brainstorm what should be included in their biography by creating a timeline that includes important events in their life. Then, they use the timeline to help them write their biography in chronological order. You can model this with a biography about yourself on an anchor chart for students to use if they need help. This is also an excellent way to get to know each other at the beginning of the year!
When it comes to writing biographies about other people, students need to have read several biographies to get an idea of how authors organize this type of writing. When you read aloud, be sure to point out that authors of biographies generally write the story of the person's life from beginning to end. So students will need to be familiar with sequential order/chronological order text organization. Have students fill in a timeline when you model during read alouds. Point out that biographies usually focus on a part of the person's life that taught them a life lesson.
Resources for Teaching Biographies
Here are some resources for teaching biography:
More Information about Teaching Biographies
This is a great project to complement a genre study of biographies, an author study, social studies concepts and more. I've recently updated the entire product so that it now includes an option to do the Living Biography Museum where families come into school and the students "perform" in character OR can instead be used simply as an independent research project in class or as a homework assignment.
The twist is that instead of having the students dress in costume (which can be a hassle for the parents since most kids can't put their own costume together) they make a poster board costume with a space for their head to pop through.
A-DOR-ABLE!!!
In the past I've done the living museum and had students prepare a brief speech to recite in character. This year I opted to send it home as a homework project and will instead take their photos with their poster board and display them with the written report.
This download now includes BOTH the original version and my new and improved updated version as well. If you have high achieving students who need enrichment this is a perfect activity for them to do on their own or you can use it with an entire class. It's ideal for grades 2-5.
This packet contains everything you need to have your students complete a project of their very own to present in class or at a Living Biography Museum.
THE PROBLEM THIS RESOURCE SOLVES
Are you looking to begin using a biography project? Perhaps you are just looking for something better than you already use. If so, this is the resource you NEED! It is a total game changer!
HOW IT WILL HELP YOUR STUDENTS
This resource is differentiated so all of your students will feel successful.
The resource makes a challenging concept accessible for students.
It offers opportunities to practice important skills without them even realizing it.
It facilitates a fun learning experience for students.
Project-based learning promotes high levels of engagement in students.
HOW IT WILL HELP YOU AS A TEACHER
This project offers differentiated options.
It gives you options so you can choose what works best for you and your classroom.
It is aligned to the Common Core Standards.
WHY YOU WILL LOVE IT
This is a comprehensive resource so it will lessen the burden of planning.
It offers hands-on learning experiences so students will be fully engaged in their learning.
The print and go resources will save you lots of time.
HOW TO USE IT IN YOUR CLASSROOM
You can either do the Living Biography Museum where families come in to school and the students "perform" in character OR it can instead be used simply as an independent research project in class or as a homework assignment.
WHY TEACHERS LIKE YOU LOVE IT
Check out these testimonials from teachers who've used it in their classrooms…
This has been the most enjoyed activity in my reading class all year! We are a "Leader in Me" school and the activities of researching a leader who has made the world a better place aligned perfectly with "Leader in Me" and Common Core. My students will long remember this activity!
– S. L. B.
I will never do biographies any other way! So much fun for both the kids and I! After all students have completed their presentations we take a class photo with their posters. One of my favorite activities!
– Buyer
I used this for our Black History Month project/presentation. It was a huge success. Students were excited to present to other classes and hear their classmates present as well. I look forward to using this again!
– Nicole L.
This was the basis for a project that took off in our school! Your product was the catalyst for me changing the way I teach. I know am looking for more meaningful and engaging projects for the students to do throughout the year. Thank you for this product and I am so glad I found it!
– Christa H.
This is great! You have saved me a lot of time. I am using this project for Black History Month, President's Day, and Women's History Month. Thank you!
– Tracy L.
You can read more great feedback from teachers just like you here!
WHAT IS INCLUDED
Grading Rubrics / Criteria Checklist
Directions
Graphic Organizer to Plan Writing
Graphic Organizer to Record Sources
Student Writing Pages
Poster Board Visual Directions
We had so much fun making these bio poster boards.
As a bonus, the kids learned a ton.
I started by having them complete oodles of activities from my biography packet which acquainted them with a whole bunch of famous folks.
Then I had them work in teams to research Benjamin Franklin. They had discussion about why he was famous. They talked about his accomplishments. Finally, they each wrote about him in the 1st person and performed a monologue as if they were Ben.
To make it oh-so-much-more-fun, I gave them each a poster board to use as a "costume."
I'm now having them each select their own historical figure of choice to repeat the process as an independent project at home.
I seriously loved this project. The kids did too.
They enjoyed walking around wearing their poster boards and singing, "Who flew a kite in a storm and made history…Ben Franklin Square Pants."
They also enjoyed having "conversations" with each other while wearing the poster board.
Kid 1: Hey Ben
Kid 2: Yo Ben
Kid 1: Ben I really liked how you proved lightning was electricity.
Kid 2: Thanks Ben. You know you're awesome right? I mean you signed the Declaration of Independence and all,
Kid 1: I know dude, right? I totally rock!
And then there was the boy who did a stellar job with his presentation…and then ended it by yelling, "Thank you Philadelphia. Ben Franklin has left the building."
Third graders make me laugh.
CLICK HERE TO PURCHASEMY LIVING BIOGRAPHY PROJECT PACKET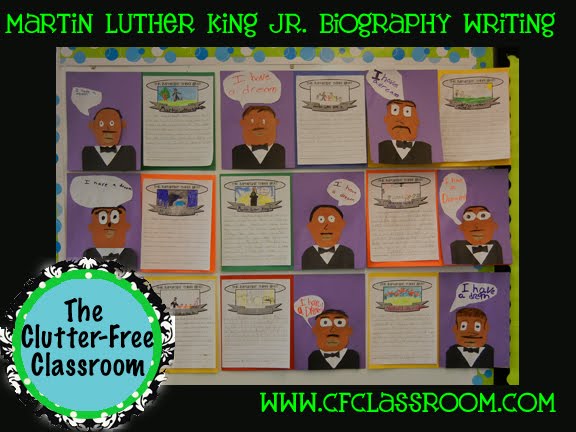 We kicked off our biography unit this week.
It's part of our social studies curriculum and technically it is a study of Massachusetts Biographies, but we began learning about the genre with a mini-study of Martin Luther King Jr.
I read several picture books and the students buddy read a free printable reader from A to Z.
We created a top-down web listing information that we learned about MLK.
Then I read The Important Book by Margaret Wise Brown, and the students completed an activity I created for my biography packet that was inspired by the book. They used the same format as Brown's book to compose their own version, "The important thing about Martin Luther King Jr. is…"
Finally, each of my friends made a portrait of MLK using the directions from TLC. They came out crazy cute. I hung each of them up even though I'll probably take them down and send them home soon. They were just too adorable not to display.
Today we did another activity (The I Am Poem) from the Biography Packet and a craftivity to go with it. It related so nicely to our autobiography's and the It's OK to be Different projects. I really feel like I am able to get to know my students on a completely different level through these projects. They really open up and share such sweet ideas and insight into who they are.
FROM THE ORIGINAL AUTOBIOGRAPHY POST:
You can see my other recent Biography Project:HERE
And can download the kit: HERE
Based on the number of my Emergency Sub Plans that are being downloaded between 9:00 p.m. and 6:00 a.m. each day lately, I'm inferring that I am not the only one living in "the house of sick." Between my own annoying illness and kids that keep getting sent home from school with varying symptoms this has been a whirlwind week of treks to the pediatrician, my primary care and sleepless nights.
Dislike.
And let's not forget that Monday was a National Holiday.
I did manage to make a cameo appearance at school for a couple of days and we were able to complete our "I Am" Biography Projects. Each of my friends will soon be doing this activity using a famous person, but we started with people they knew very well.
Themselves.
We tend to do a lot of "Get to Know You" Activities early in the year. Those are great. But, there is something special about working on autobiography projects once you've established a relationship and trust with your students. They really open up to you through their writing and you are able to see them in a different light.
We started by brainstorming ideas using the graphic organizer on the left. The direction was to record anything that popped into their minds. Next, we used highlighters to select one idea from each category to complete the draft page prompts shown in the middle. Finally, I edited with them and they wrote their final copies.
Those were glued onto half-sheets of posterboard. We drew thought bubbles around them and they watercolored a self portrait. Everything is more fun with watercolors.