Are you ready to celebrate Veterans Day in your classroom? This post shares facts teachers should know about Veterans Day. This will help you avoid the common mistakes some teachers make when teaching their students about Veterans Day. In addition, this post includes a list of Veterans Days activities for kids. Learn more below!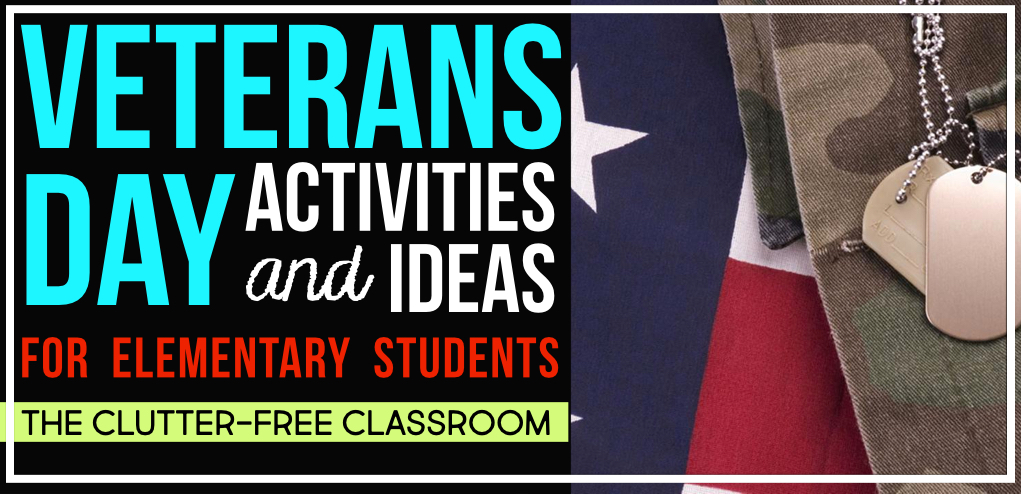 8 Veterans Day Facts for Elementary Teachers
There is no apostrophe in Veterans Day

.

However, there

is an "s" at the end of the word. This is because it is not a day that "belongs" to veterans, but rather it is a day for honoring all veterans.

Make sure you capitalize

"Veterans Day"

because it is a proper noun.

D

o not capitalize t

he words "veteran" and "veterans,"

w

hen you use them on

their own.

A common mistake teachers make is using the word soldier when teaching about Veterans Day. The word "soldier" refers only to members of the Army. In order to honor

 all those who've served, 

consider using the term "troops" when referencing this group and not "soldiers." Each branch has a unique term. An airman is in the U.S. Air Force, a marine is in the U.S Marine Corps, a sailor is in the U.S. Navy, a coast guardsman (or guardsman) is in the U.S. Coast Guard, and, as I mentioned, a soldier is in the U.S. Army.
Veterans Day is celebrated on November 11th of each year. This date was chosen because it marked the end of World War I.
Veterans Day became a national holiday in 1938.
Veterans Day pays tribute to all American veterans – living or deceased – who served their country. Memorial Day, on the other hand, honors veterans who died in service to their country.
It was originally called Armistice Day. In 1954, President Eisenhower officially changed the name of the holiday to Veterans Day.
The National Ceremony is held each year at Arlington National Cemetery where the president gives a speech and veterans are honored. 
4 Teaching Ideas for Veterans Day
Below are 4 teaching ideas for Veterans Day that you can implement in your elementary classroom.
1. Veterans Day Read Alouds
Reading aloud picture books is a great instructional strategy for sharing information about any topic. I have collected a lot of books over the years. They are packed with impactful stories and factual information! Below are some of my favorite Veterans Day Books for Kids:
2. Veterans Day Writing Activities
These Veterans Day writing activities are a great way to honor our country's veterans while strengthening 1st, 2nd, 3rd, and 4th grade students' writing skills. This resource includes graphic organizers to support students with organizing their thinking, draft paper templates, final copy paper templates, class book covers, and a bulletin board sign.

Use this Veterans Day writing packet with any prompts you select. It is a great complement to any Veterans Day craft project or bulletin board. The set includes differentiated versions that make it easy for you to modify the work to meet the individual needs of your students.
3. Veterans Day Reading Activities
These Veterans Day graphic organizers are great for helping students comprehend their reading prepare for text-based discussions, and organize their thoughts before writing.
Teachers love them because they cover every reading comprehension skill, require no prep – just print and go, and pair with every Veterans Day text, picture book, nonfiction article or reading curriculum story they already use.

4. Veterans Day Class Book
To complement the resources above, I have created a free Veterans Day printable to use in your classroom. These class book covers are a great way to share students' writing and many teachers use them to create a collaborative thank you card book to send to a veteran in their community or to a Veterans Hospital.
In closing, we hope you found these teaching ideas about Veterans Day helpful! If you did, you may also like these November activities for kids!