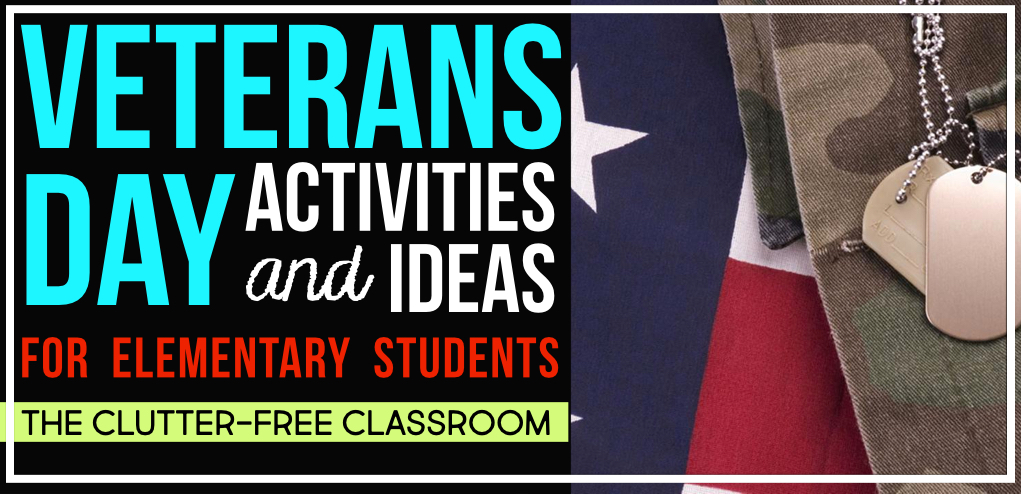 Are you prepared for Veterans Day in the classroom? This article shares 9 things teachers should know about Veterans Day. It will help you avoid the common mistakes some teachers make when teaching their students about Veterans Day and provide you with book titles and Veterans Day activity ideas.
3 Things to Know About Veterans Day:
People often question, "Is there an apostrophe in Veterans Day?"

There is not an apostrophe included in Veterans Day, but there is an "s" at the end of the word. This is because it is not a day that "belongs" to veterans, but rather it is a day for honoring all veterans.
Another question sometimes asked is, "Do I need to capitalize Veterans Day?"

Because "Veterans Day" is the name of a holiday it is a proper noun and therefore it is capitalized. The words "veteran" and "veterans" are not capitalized on their own.
A common mistake teachers make is using the word soldier when teaching about Veterans Day. The word "soldier" refers only to members of the Army. In order to honor

all the men and women who've served

consider using the term "troops" when referencing this group and not "soldiers."

Soldiers is specific to the Army.
The vocabulary terms specific to each branch:
US Air Force: Airman
US Marine Corps: Marine
US Army: Soldier
US Navy: Sailor
US Coast Guard: Coast Guardsman or just Guardsman
Veterans Day Facts for Teachers:
Veterans Day is celebrated on November 11th of each year. This date was chosen because it marked the end of World War I.
It became a national holiday in 1938.
Veterans Day pays tribute to all American veterans–living or dead – who served their country. Memorial Day honors veterans who died in service to their country.
It was originally called Armistice Day. In 1954, President Eisenhower officially changed the name of the holiday to Veterans Day.
Each year the National Ceremony is held at Arlington National Cemetery. The president gives a speech and veterans are honored.
The National Ceremony is held each year at Arlington National Cemetery where the president gives a speech and veterans are honored.
Below are some of my favorite Veterans Day Books for Kids. Click on any of the affiliate links to read summaries and reviews.
America's White Table
by Margot Theis Raven
"The White Table is set in many halls as a symbol for and remembrance to service members fallen, missing, or held captive in the line of duty. Solitary and solemn, it is the table where no one will ever sit. As a special gift to her Uncle John, Katie and her sisters are asked to help set the white table for dinner. As their mother explains the significance of each item placed on the table Katie comes to understand and appreciate the depth of sacrifice that her uncle, and each member of the Armed Forces and their families, may be called to give."

H Is for Honor: A Millitary Family Alphabet
by Devin Scillian was written by the son of a career officer. This book explores the branches of the Armed Services and speaks from the heart about the honor, privileges, and sacrifices of military families everywhere. Children will discover why drill sergeants have to be so tough, what it means to be patriotic and why we need Special Forces such as the Navy SEALS, the Green Berets and the Army Rangers. "H is for Honor" also explains why the annual Army/Navy football game is more than just a game, how much letters from home mean to soldiers, how often military families have to move and what life on base is like. With an underlying message of courage and commitment that every child can relate to, the book will be especially meaningful to those whose parents, siblings or other relatives serve in the Armed Forces.
The Wall
by Eve Bunting
A boy travels to the Vietnam Veterans Memorial with his father to seek out his grandfather's name. The well-matched text and illustrations are soft but stirring.
Reading Veterans: Heroes in Our Neighborhood
is a great way to introduce the idea that Veterans are part of our community. You may want to consider welcoming them into your classroom as guest readers.
I also like Veterans Day (Rookie Reader)
by Jacqueline S. Cotton because it is at a level the students can read on their own. It's part of the Rookie Readers Holidays books.
Do you need some literacy activities for Veterans Day? This Veterans Day writing packet can be used over and over again with any writing prompt and will save you time prepping and planning. The set includes differentiated versions that make it easy for you to modify the work to meet the individual needs of your students. Click on any of the images below to access and download the Veterans Day Writing Resource.
The graphic organizers are great for…
helping students to comprehend their reading
preparing for text-based discussions
organizing their thoughts before writing
Teachers LOVE them because they…
cover every reading comprehension skill
provide consistency
require no prep – just print and go
pair with every text, picture book, nonfiction article or reading curriculum story they already use
These can also be found in a HUGE BUNDLE that includes collections of graphic organizers for reading and writing that can be used with ANY BOOK for an entire year and includes over 950 thematic graphic organizers.You can get the bundle here or download the individual Veterans Day resources or the Veterans Day Freebie below.
To complement the resources above, I have created a free Veterans Day printable to use in your classroom. These class book covers are a great way to share students' writing and many teachers use them to create a collaborative thank you card book to send to a veteran in their community or to a Veterans Hospital.
SaveSaveSaveSave