Teaching is one of the most stressful jobs. I feel like every time I log onto Facebook I see articles and cartoons relating to how to reduce teacher stress and burnout. You work hard. Your job can be challenging. You're exhausted. But there is one saving grace: summer is coming! This means it is almost time for all you tired teachers to let out a collective sigh of relief followed by a loud WOO HOO! Read below to scoop up 5 strategies to reduce teacher stress this summer so you can start the new school year feeling refreshed.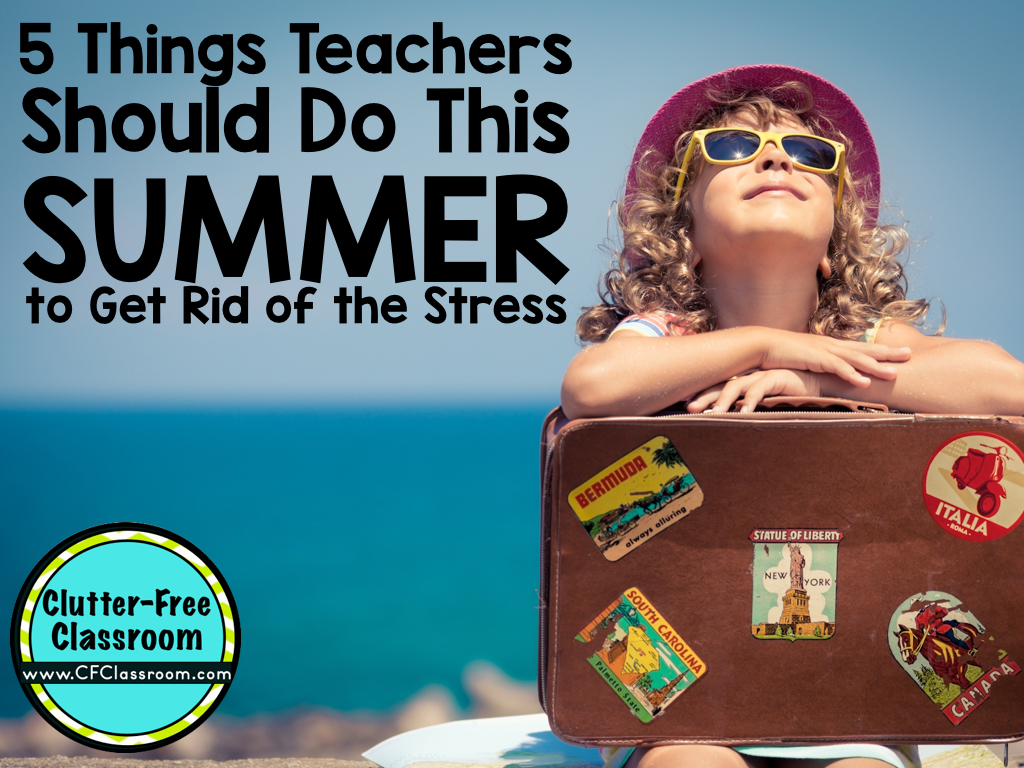 To help combat teacher stress and burnout and get you relaxed and recharged so you can go back and be a classroom rockstar again next year, I've compiled 5 things for you to do throughout the summer.
The good news is you get to stop writing things like, "plan guided math lesson" or "copy spiral review homework" on that list and start writing fun alternatives like "go to the beach" or "see a movie with a friend." I would love to see you add at least a few of these to that list as well.
It is time to destress, start building healthy habits and use the extra time to lay the foundation for a stress-free new (school) year.
5 Ways to De-Stress During the Coming Months
Below are 5 ways to reduce teacher stress this summer.
1. Get active.
The first way to reduce teacher stress is to get active. Consider the following:
Begin each morning with a walk. 
Attend the daytime sessions at a local gym that take place when you are normally at school.
Swim in pools, lakes and oceans. 
Take a class to try something new, like paddle boarding or kayaking. 
Go for a bike ride. 
Start doing yoga. 
2. Read books just for fun.
The second way to reduce teacher stress is to read. Consider the following:
Do not worry about identifying the main idea and supporting details. 
Don't think about how to construct an open response based on events in the text. 
Simply pick a book you want to read, find a comfy place to curl up with the book and enjoy. 
Bonus points if you read a real book made of actual paper.
3. Get creative.
There isn't much time to explore creative outlets during the school year. Consider trying the following this summer:
Draw, scrapbook, or simply color.
Adult coloring books are insanely popular right now. Just grab some pencils and shade the day away.
Buy a set of watercolors and paint outside.
4. Spend at least one entire day on the couch.
This might be my favorite! Consider the following:
Binge watch a TV series.
See what Chip and Joanna are up to.
Watch reruns of your favorite childhood shows.
5. Connect with one old friend each week.
The final way to reduce teacher stress on this list is to connect with friends. Consider the following:
Make a lunch date.
Plan a weekend trip together.
Have a long talk on the phone.
Get together for coffee (iced coffee…it's summer).
Send a good old-fashioned snail mail letter or greeting card.
We hope this post about how to reduce teacher stress this summer was helpful! If you did, then you may also be interested in these posts: